Delaney and Morisot Ochre: This Week in Self-Portraits
Friday, April 24, 2020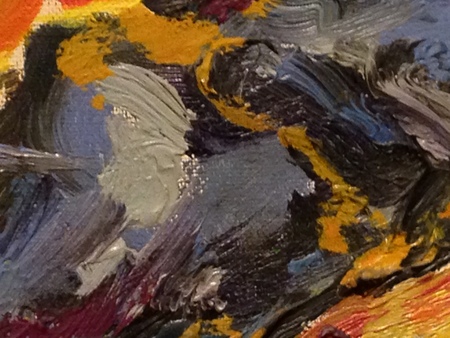 Yesterday, looking at pictures of Beauford Delaney's Untitled, 1965, I noticed a kind of ochre in the corner that I hadn't remembered being part of the palette. It's down in the lower right corner, near the rosy orange, under the diagonal of green.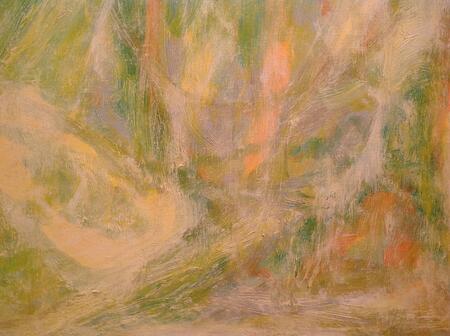 Beauford Delaney, Untitled, 1965. Art Institute of Chicago. Photo Rachel Cohen.
I have also been going through Morisot paintings this week, and her self-portrait, with its ochre, came into view.
Berthe Morisot, Self-Portrait, 1885, Musée Marmottan Monet. Photos Rachel Cohen.
Ochre was so important that she used it to show her own palette, the physical artist's palette that she the painted painter held:
*
Following ochre, I started to think about the two of them together. Which I anyway do fairly often because two shows – Berthe Morisot: Woman Impressionist, and Beauford Delaney and James Baldwin: Through the Unusual Door – have been two of the deep experiences of learning about a painter that I've had in the last three years. Here is a self-portrait Delaney did that is, among other things, a consideration of ochre.
Beauford Delaney, Self-Portrait, 1962. Collection of halley k Harrisburg and Michael Rosenfeld. Photos Rachel Cohen.
Both are painters who have been difficult to see – with works widely dispersed and a very large number in private hands. Both long under-recognized, so not part of every large group show on Impressionism or Modernism. Both were courageous, independent, and, about painting, self-assured.
At what layer of presence does a person's perception of themself reside? Is it the innermost layer, private and nearly inaccessible to anyone else? Or is it the outermost layer, where they present themself to the world? Or is it just beyond the edge of the self?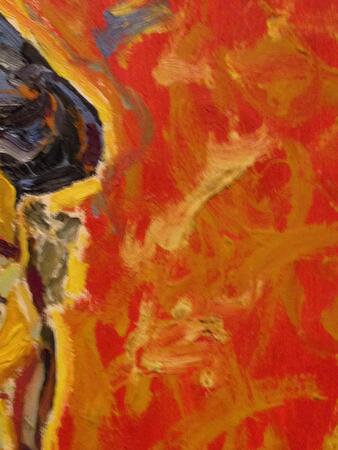 Part of what I love in both Morisot and Delaney is the way layers over- and under- layer.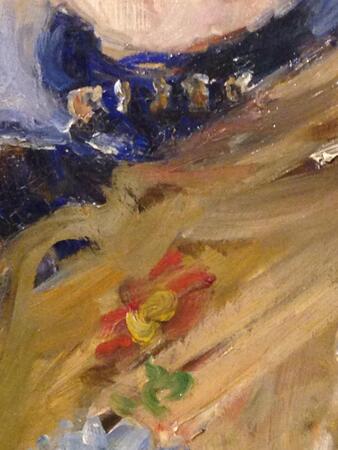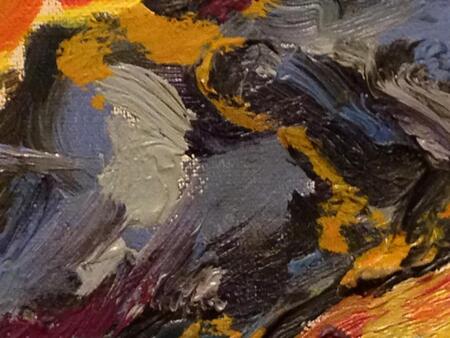 *
Learning as I go, I look up ochre. It is a family of pigments — red-yellow-brown. It comes out of the earth, and all the members of the family have in common the presence of iron oxide. It is the ferric element that gives the yellow. Earliest artistic use uncovered so far: pieces of ochre with abstract designs carved into them at the Blombos Cave in South Africa, 75,000 years ago. Used on every continent inhabited by people, important in cave and mural work among Aboriginal people, Greco-Romans, Egyptians.
Both Morisot and Delaney would have used ochres that came from the Vaucluse part of Provence in France, where the famous red and yellow cliffs were the central source for the finest pigments for artists for two hundred years, after Jean-Étienne Vastier discovered the method of refining that clay in the 1780s. So there is also a mineral proximity.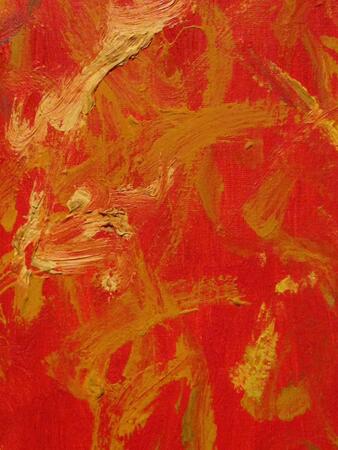 *
The Self-Portrait, 1885 is the main Morisot self-portrait. Delaney painted himself many, many times. Each also painted another person at all the stages of that other person's life. Delaney painted a man he was friends with, and mentored, and loved, James Baldwin, whom Delaney first met when Baldwin was still a teenager. Morisot painted her daughter Julie (nearly a third of her paintings are of Julie).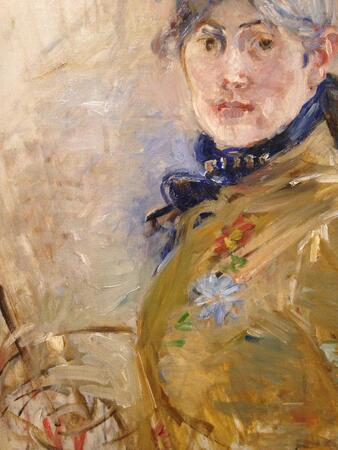 Morisot painted the 1885 self-portrait in between the paintings of her daughter that I showed earlier this week. Her daughter was growing beautifully, was observant, was interested in painting and loved her mother's painting; they were close.
Delaney painted this self-portrait in 1962, in a year when he moved back into Paris after several very important years living in Clamart, outside of Paris, where he had really understood his own abstract style, and where he had often sat in the evenings with Baldwin looking out a window together.
Seeing yourself in other people, seeing other people and being free of yourself for a while, taking pride in someone else, all of these may let a self-portrait swing out.
Morisot – A Daughter at the Window
Monday, April 20, 2020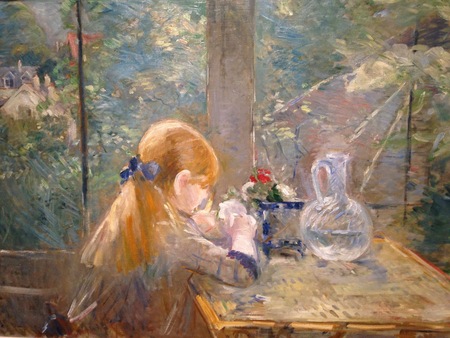 A daughter at the window is poignant. She is here with you, in the interior, but she is thinking of what lies beyond.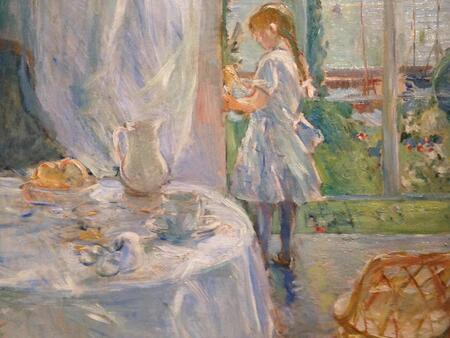 Berthe Morisot, Cottage Interior, 1886. Musée d'Ixelles. Photos Rachel Cohen.
Berthe Morisot painted and drew her daughter Julie probably several hundred times. There are masterpieces of Julie as a baby with her wet nurse, as a toddler swinging her foot in a chair, as a little girl with her father in the garden. I've studied three of Morisot's daughter as a little bit bigger girl, with her auburn hair pulled back, near windows, looking out windows.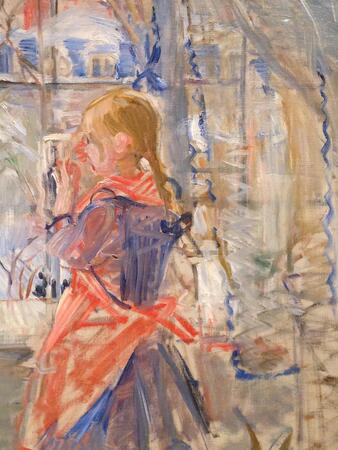 Berthe Morisot, Child in a Red Apron, 1886. Rhode Island School of Design Museum, Providence. Photos Rachel Cohen.
A daughter at the window is free also – she has her own thoughts even if she knows you are watching her.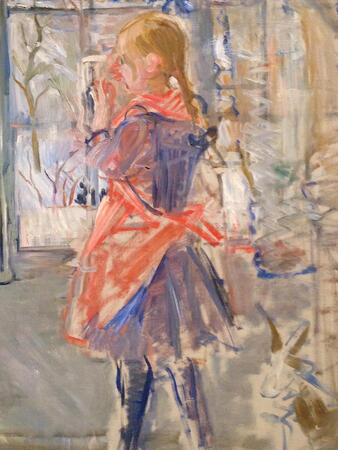 Windows are so important right now, in our confinement. These days, our children often go to watch the birds and squirrels out the back window, with great enjoyment, but they go less than they used to to the front window, where we can see people going by. I think it makes them feel too wistful.
These window paintings of Julie were mostly done at houses in the country, where the two painter-parents would go with their only child for summer months. It would be radiant and solitary.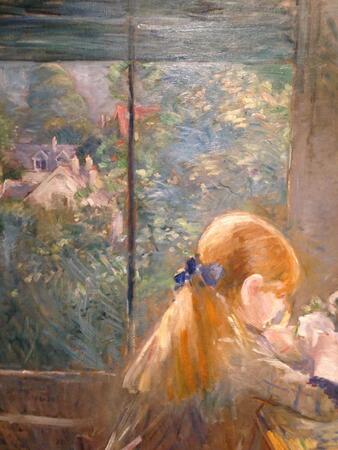 I imagine that the three of them worked on observation together, and Julie, from the diary she left, did grow up to be very observant of color in the natural world.
I imagine that, much later, it was a beautiful experience for the daughter to look again out the windows of her childhood, in the paintings her mother had made. She would be able to see what she saw, and what her mother saw.
Sometimes, watching our daughter at the window these days, I think that that is a part of every window, a mother or father standing behind, perhaps slightly reflected in the glass, watching us watching the world.
Morisot Following Black
Frederick Project: Closed and Open
Sunday, March 22, 2020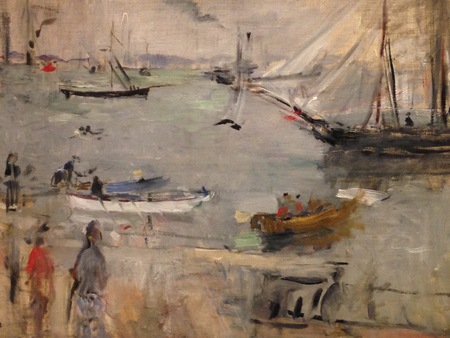 The first Morisot I ever really paid attention to was a small watercolor from the Clark Institute of Art (currently closed) that I happened upon in an exhibition of works on paper at the Frick (closed) in New York.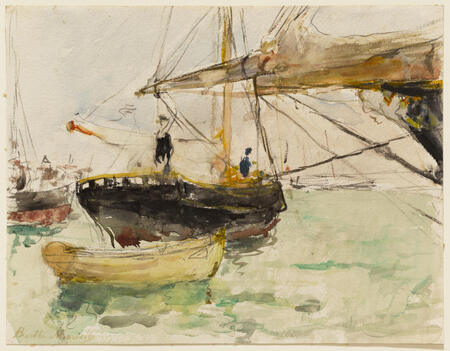 Berthe Morisot, Before a Yacht, 1875, Clark Art Institute, 8 1/8 x 10 9/16 inches.
I was taken by it.
And then, that afternoon, saw five of her paintings in a show on Impressionism and fashion at the Met (closed). By this fortunate set of circumstances, I was, in a single day, persuaded that I had missed one of the great painters in history, in a period I had studied extensively. It turned out that I was seeing an edge of transformation, after a century of consistent neglect, institutions and scholarship were beginning to attend to Morisot.
I set about repairing the absence in my own understanding – searching out her paintings in Paris (Musée Marmottan Monet, closed), in Chicago (Art Institute, closed), and then getting to spend many days in the 2018-2019 Morisot retrospective, which I covered for Apollo.
Now I could talk to you about Morisot for a day and a night. And I want to tell you everything, because there has never been anyone who handled paint with more freedom, and once you really begin to look at them, they blow space open.
*
This morning, I went back to my photos from the Morisot retrospective, which I first saw in the luminous installation at the Musée National des Beaux-Arts de Québec (MNBAQ closed). I wanted to follow the blacks of yesterday's Hokusai, those night-time blacks, which had an extraordinary boldness and freedom.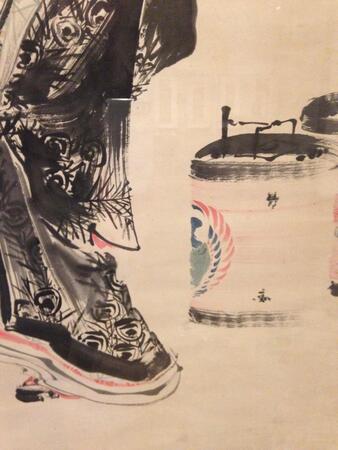 Katsushika Hokusai, Courtesan and Paper Lanterns, 1798/1800, the Weston Collection.
Detail photo Rachel Cohen.
Morisot would not have seen the Hokusai, but she was familiar with Japanese work of the Edo period, which was avidly collected in Paris. Some of the collectors were Morisot's friends Degas and Monet, and her brother-in-law Édouard Manet, another marvelous painter of black.
My eye lit on this harbor scene, English Seascape. It's probably from the same trip to England, in 1875, when she made the watercolor that first caught my attention. Morisot would go down to the harbor and sometimes go out on the boats, enjoying the challenge of working while she went up and down with the waves.
I don't have a picture of the whole, but this is all but the left edge: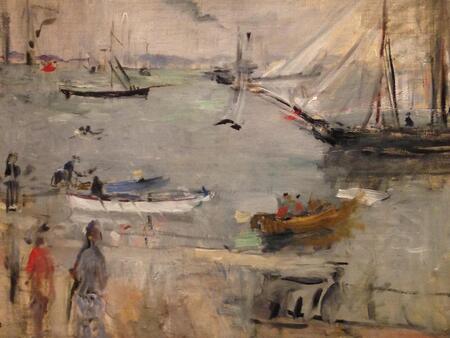 Berthe Morisot, English Seascape, 1875, European private collection, 17 inches x 25.
Detail photo Rachel Cohen.
Black holds this together. Stretches the space apart.
You stand at the lower left, with these two figures: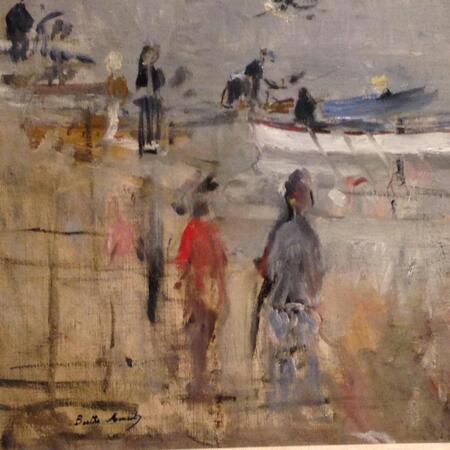 And before you is a great ship, dissolving into air: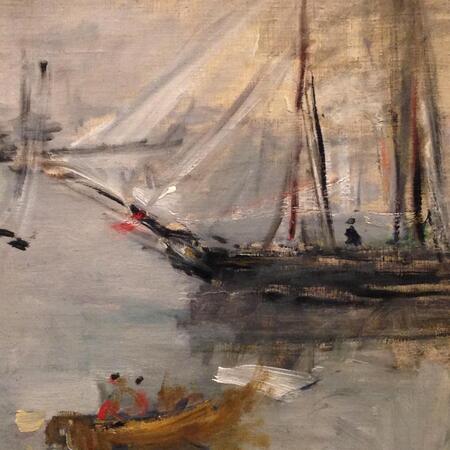 And just look at this space: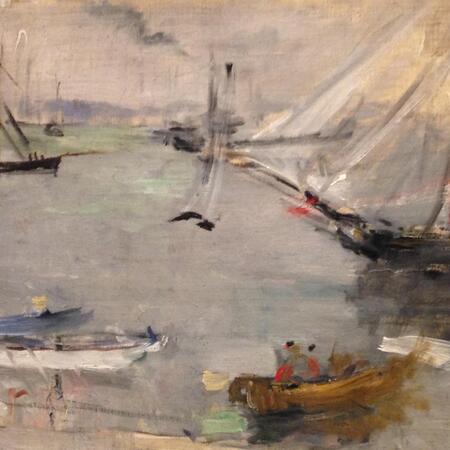 Second in a Series
Wednesday, February 4, 2015
The Bath
is a print, or a series of prints, made by Mary Cassatt in 1891 – at the height of her powers and at a moment when her interest in Japanese prints opened a wonderful set of visual ideas in her mind.
Her powers were considerable. When Pissarro visited her studio in April of that year he wrote of her work to his son Lucien (the two Pissarros had been experimenting with prints themselves.)
You remember the effects you strove for at Eragny? Well, Miss Cassatt has realized just such effects, and admirably: the tone even, subtle, delicate, without stains on seams: adorable blues, fresh rose, etc…. the result is admirable, as beautiful as Japanese work, and it's done with printer's ink! [Letters to Lucien, p158]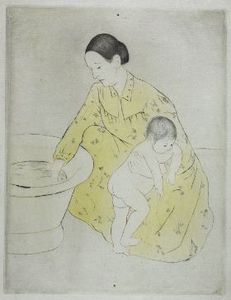 Many of Cassatt's prints are now regarded as technical masterpieces. She pulled sheets herself in her studio, and also had the help of an extremely talented printer, Modeste Leroy, whom she took the unusual step of crediting, as is the Japanese tradition. The prints are marked
Imprimée par l'artiste et M. Leroy / Mary Cassatt.
At the Fogg Museum right now, one may see a sequence of nine versions of
The Bath
, the first print in a set of twenty-five. Cassatt worked on
The Bath
in a great many stages because, as she said, "I was entirely ignorant of the method when I began." [
Mary Cassatt: The Color Prints
, p45] The whole series originally had the subtitle "an attempt at imitating Japanese printing," although she later dropped this description.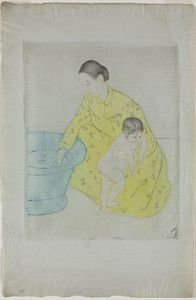 Cassatt had studied Japanese prints for twenty years, and owned many of them by the time she undertook the series; her interest in Japanese style had been given new point by an important exhibition of Japanese works that took place at the Ecole des Beaux-Arts in 1890. In a well-known letter to Berthe Morisot, Cassatt exhorted her to see the exhibition:
… you could come and dine here with us and afterwards we could go to see the Japanese prints at the Beaux-Arts. Seriously, you must not miss that. You who want to make color prints you couldn't dream of anything more beautiful. I dream of it and don't think of anything else but color on copper. [letter from Cassatt to Morisot, quoted p36 of Mary Cassatt: The Color Prints.]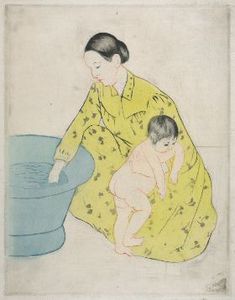 The Japanese influence on
The Bath
is evident right away. You can see it in the particular shade of blue that makes the basin of water a significant equal weight in the picture, in balance with the mother and the child; it is in the pattern on the yellow dress that has gone from being penciled in to being part of the plate; and it is in the outlined figures that seem almost cut out and then laid over the background.
Cassatt's color prints are stylized and also about style. Here style is not ornament. The hallmark of these prints may be their tenderness, but here style is paring down and juxtaposing in order to achieve a kind of force.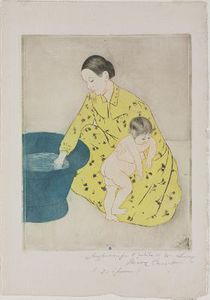 Delacroix's Palette
Saturday, June 28, 2014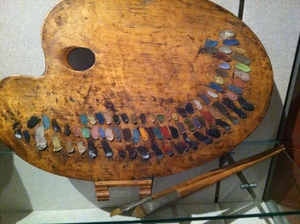 The final studio in which Delacroix worked is also, spatially, the last in a series of seclusions. It's a wonderful large square, lit by immense skylights, and surrounded by gardens that Delacroix filled with a profusion of flowers, their colors of his own careful choosing. The studio building is behind, and separate from, the apartment in which Delacroix lived. This apartment is itself on a private courtyard holding quiet entrances for a few buildings. The courtyard is off a small quiet square, really a slight geometric expansion of a narrow street, the Rue Furstenberg, an untrafficked byway not far from the great church of St. Germain des Pres.
The studio was recommended to Delacroix by the restorer and color merchant Etienne Haro, who knew that the artist, unwell in his later years, needed to be within walking distance of St.-Sulpice, where he had undertaken a last sequence of great murals.
When he was young, Delacroix once said to his friend Charles Baudelaire, he could only work if he knew he had somewhere to be that evening, a ball, music, but as he grew older, the discipline of work grew in him and he worked indefatigably. He had visitors, but not so very many, and he kept his last illness private. Even a good friend like Baudelaire was shocked by the news of his death and wrote sorrowfully of how they would no longer find him in that grand square space "where reigned, in spite of our rigid climate, an equatorial temperature."1
* * *
A study in hot and cold, Delacroix as a personality and an artist was in continual motion between shade and gleam. He was revered for his color sense, both daring and precise, and the palettes now on display at the Musée Delacroix make his color sense dramatically visible.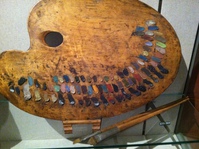 Here you can see, unusually, not a rainbow or color wheel, but hot colors intermingled with cold ones, and dark contrasts grouped together with corresponding brights. The artist mixed his shades in advance and kept careful notes of each one's composition. In
Les Palettes de Delacroix
(1930), Léon Piot noted that when Delacroix was ill, he would have his palette brought to his bed and spend the day there mixing colors. Baudelaire wrote, "I have never seen a palette as minutely and delicately prepared as that of Delacroix. It resembled a bouquet of flowers, knowingly arranged."2 On its website, the Musée Delacroix points out that as time went on the artist, "fragmented more and more the tones, focusing less and less on real color as opposed to shadows, halftones, and reflections."
Baudelaire evidently felt sympathetic to, and recognized by, the atmosphere created by Delacroix's color. "It seems that such color thinks for itself, independently of the object it clothes," Baudelaire is said to have said, "The effect of the whole is almost musical."3
* * *

This palette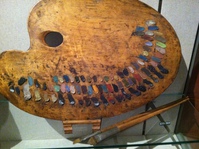 was said to have been given by Delacroix to Henri Fatin-Latour, a great admirer of Delacroix. Fatin-Latour, angered by the lack of official commemoration of the master's death, painted an
Hommage à Delacroix
.
The group portrait includes Fatin-Latour himself (in white blouse), James McNeill Whistler (standing center,) Edouard Manet (standing immediately to the right of the portrait of Delacroix) and Baudelaire (seated right corner.)
Six years later, Fatin-Latour painted a similar group portrait, called
A Studio at Batignolles
that, with its depictions of Manet, Renoir, Zola, Bazille, and Monet, stands as both manifesto for and document of the Impressionist movement in something like the manner of John Trumbull's
Declaration of Independence
: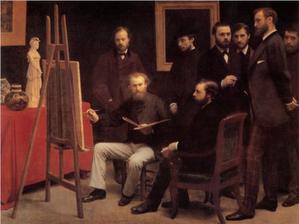 The palette that may have belonged to both Delacroix and Fatin-Latour was eventually donated to the Musée Delacroix by the granddaughter of Léon Riesener, and the Riesener family, through its friendship with the Morisot sisters, provided another, personal, conduit by which the palette of Delacroix was transmitted to the Impressionists.
* * *

This summer, the Musée Delacroix has an exhibition of works that show the influence of Shakespeare on Delacroix. Like Berlioz, Delacroix was greatly moved by the force of drama in the works of Shakespeare and there are wonderful etchings of instants of great intensity from Hamlet (Hamlet on the terrace approached by his father's ghost, the moment before the stabbing of Polonius, the moment "up, sword" of deciding not to kill Claudius at prayer). There is also an oil sketch of Léon Riesener, a cousin and confidante of the painter, himself a painter, and a legatee of Delacroix's.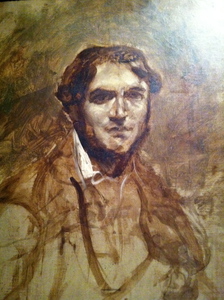 This portrait shows a broad and sympathetic face, tones all of brown and white. In the background and upside down are discernible sketches for another picture, Hamlet and Horatio in the cemetery with the skull of Yorick.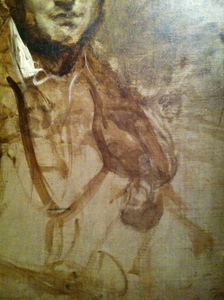 Bequeathal, and legacy were vexed issues for Delacroix, who, says Baudelaire, was increasingly preoccupied with which of his contributions would endure.
Walter Benjamin notes the aptness of Léon Daudet's phrase for Baudelaire. Daudet writes that Baudelaire had a "trap-door disposition, which is also that of Prince Hamlet."4 I take this to mean a theatrical, or a magician's, feeling for circumstances and their manipulation. Appearances and disappearances, sudden dispersals, going within to get out. There seems to be something of Delacroix in the phrase, too.
* * *

Another inheritor of Delacroix was Berthe Morisot, who, in an early summer of her training as a painter was working side-by-side with her sister in the town of Beuzeval in Normandy. Their father had rented for them a mill belonging to Léon Riesener, and the Morisot sisters were soon close to, and much encouraged by, the whole Riesener family. In her notebook, Berthe Morisot recorded an anecdote they related: "Delacroix composed his palette with such precision that he could have it prepared each morning by Jenny, his maid, while he was painting his Apollo ceiling or rather while he had Andrieux paint it as he remained below. One day, he called out to him to use a No. 2 pink and Andrieux thought he would catch him out with a No. 3. 'No, no, exclaimed Delacroix, I said a No.2.' That is absolutely the sensation of a musician."5


* * *

I see two ways out of this series of reflections: one is to try to see further inside the man, the other to try to see further into the legacy of his works. These efforts do not amount to the same thing, but perhaps could be displayed immediately next to each other.
Walter Benjamin, whose interest in Delacroix grew in part from Benjamin's profound relationship to the works of Baudelaire, notes that Delacroix was interested in photography, and that his paintings "escape the competition with photography, not only because of the impact of their colors, but also (in those days there was no instant photography) because of the stormy agitation of their subject matter. And so a benevolent interest in photography was possible for him."6 The ever more profound and fragmentary sense of color, and the idea of creating motion through the juxtaposition of contrasting colors, these went on being a significant part of how painting responded to photography through the rest of the 19th century.
Baudelaire said that his friend Delacroix was a peculiar combination of the "sauvage," and the "homme du monde." He was, writes the poet, "passionately enamored of passion, and coldly determined to seek out the means of expressing passion in the most visible manner."7 In his austere seclusion he would, Baudelaire wrote, find the colors in which to bathe his scenes so that they had their own life. "As a dream is placed in the colored atmosphere proper to it, so a conception, become a composition, must moves in a colored milieu particular to it."8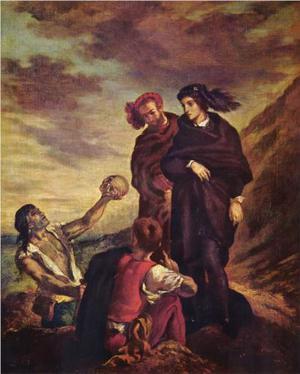 Hamlet and Horatio in the Cemetery, Musée du Louvre
1 Baudelaire,
Critque d'art
, "Eugene Delacroix, son oeuvre et sa vie," p421, translations mine.
2 Baudelaire,
Critique d'art,
p408
3 from Ernest Seillière,
Baudelaire
, (Paris, 1931) cited in Walter Benjamin,
The Arcades Project,
edited Tiedemann, translated Eiland and McLaughlin, (Cambridge, 1999) p277.
4 Daudet,
Les Pélerins d'Emmaus
, Paris, 1928, p101, cited in Benjamin,
Arcades Project
, p265.
5 Morisot, Notebook, 1885, 1887-8, p12-13, cited in Marianne Delafond and Caroline Genet-Bondeville,
Berthe Morisot or Reasoned Audacity,
Paris, 2011, p16
6 Benjamin,
Arcades Project
, p678.
7 Baudelaire,
Critique d'art
, p418, p406.
8 Baudelaire, p408.
In Chicago
Wednesday, September 7, 2016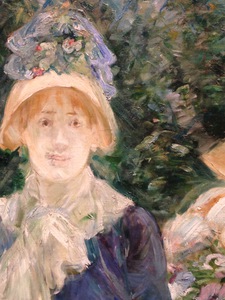 We have moved to Chicago. I went to the Art Institute soon after we arrived and was happy to see that the museum has a wonderful Berthe Morisot. I have wanted to keep thinking about her. I find that I remember vividly each experience I've had of her work in the last few years: two watercolors from the Clark, an exhibition at the Met that had several of her paintings, a visit to the Musée Marmottan while M played with S in the public gardens. The peculiar density of atmosphere that Morisot achieves seems like something to learn from. Perhaps I am affected by knowledge of her biography, and her early death, but it feels to me as if she knew there might not be much time, and that she put everything she knew, about a person, a child, a garden, a hat, into each painting.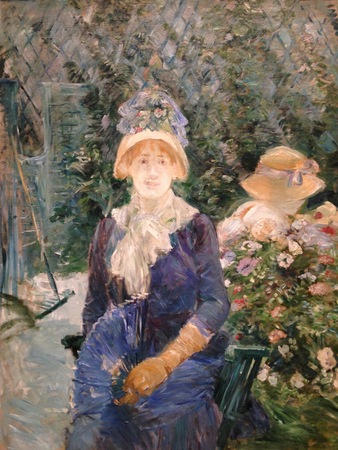 One thing, I think, is that she is able to keep everything in motion. This morning, a first day of school, the perpetual motion of everything and everybody – all our objects, all the four of us, all our places and people – feels overwhelming, but look at how she brings the garden to the dress, the fan away from and toward the dress, the dress itself toward blue, toward purple, toward the body and the air.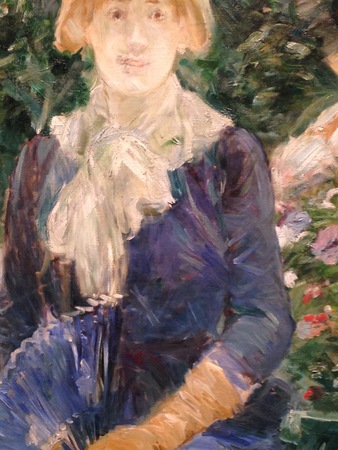 I don't think it is a photographic accident that the face of the woman becomes clearer and more meaningful when looked at with the hat and figure of the child behind her. Morisot has done something with the beige and white shades of their two heads and hats that allows my eye to make a relation between the two figures. The woman's face becomes less ghostly, I see what she thinks about and how she feels happiness and even love across those green strokes to the child.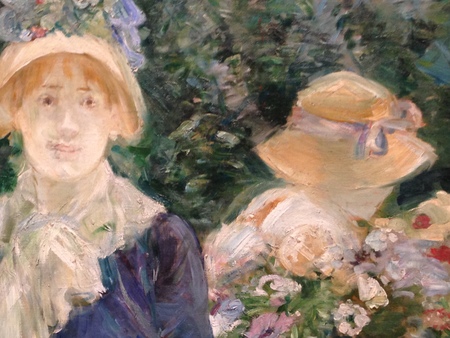 When I look back at our pictures of the summer, I see that we were often sitting where sand or green plants or water made a continuousness between us and the children. I feel I will miss this in the greater distinctness of fall.
In summer there is the challenge of making meaningful and definite that which is blurred by heat and continuity and abundance. Morisot has not forgotten the work of it. This morning, I am especially fond of that rake, like a paintbrush, like a pen, to one side.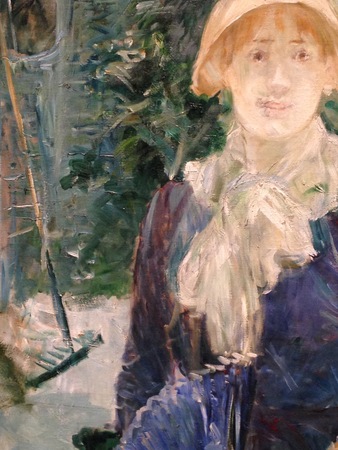 Morisot in Paris
Wednesday, June 4, 2014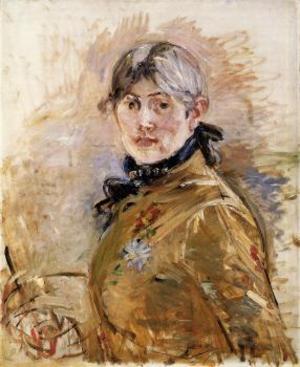 At the Musée Marmottan last week a chance to really see Morisot: a whole room of the paintings; a smaller room with fifteen watercolors and a selection of works she owned; drawings by the artist and by members of her family; and a special exhibition of paintings from private collections that contained several further canvases.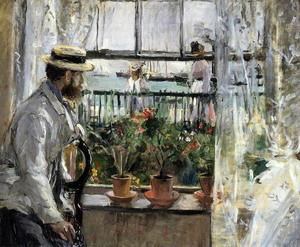 [Edouard Manet at the Isle of Wight, c1875]
Struck, afresh, by the strange quality of paint as she used it. Very thick, the strokes seeming to hang almost like banners in the air, sometimes gauzier as curtains, but sometimes veritable stripes, and yet the works are of great transparency, luminous and fresh, the air always dewy, a light breeze stirring.
[La Fable, c1883, currently on display in Impressionism Privé at the Marmottan]
Some of this she worked out from Corot, one of her early teachers and a good friend, whose thick greens also manage to be ever-light and full of air. Some of the weight she had from Manet, the painter she probably worked in closest conjunction with, a lifelong companion in art, and in family life, since she was married to his brother. But where Manet is deliberately opaque, Morisot is spacious, and a peculiar kind of space, as if interior to the paint itself. The text at the Marmottan acclaims her, in my view rightly, one of the great watercolorists of her day, and suggests that her practice in watercolor influenced her objectives in paint. This seems plausible but does not really begin to answer the question: how?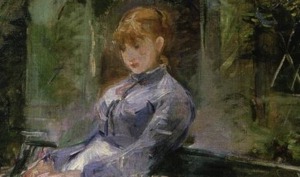 Private Collection II (with Paul Valéry)
Monday, June 3, 2013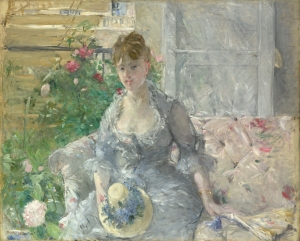 Some weeks later I remembered that I had read something about Berthe Morisot, long ago, in a book by Paul Valéry, a collection of occasional pieces about painting with the somewhat misleading title
Degas, Manet, Morisot
. I hurried back to read the passages on Morisot, three really, altogether perhaps ten pages.
The man who wrote the introduction to the volume decided, rather ruefully, that, despite living among the Impressionists and being himself so intelligent, Valéry's writing about them was only in a limited way perceptive. The poet seems in a way to take the painters and their achievements for granted. But, for me, these few passages, coming as they do from a man who was married to one of Morisot's nieces, and lived in the house that had been Morisot's, offer something more than useful about "Tante Berthe." Morisot's daughter and her cousins had grown up surrounded by paintings: Morisot's and also those of their close friends – Renoir, Degas, Monet. Berthe Morisot was Berthe Manet, as she was married to Édouard Manet's brother, Eugène. I've read Morisot's correspondence with Stephane Mallarmé now, too, and the letters give the impression of life intensively lived among a few choice acquaintances. "Rare and reserved," Valéry says; the work, too, is private.
Of all the artists he encountered, Valéry weighed it out, Morisot, he thought, was the one:
to live her painting and to paint her life, as if the interchange between seeing and rendering, between the light and her creative will, were to her a natural function, a necessary part of daily life. It is this which gives her works the very particular charm of a close and almost indissoluble relationship between the artist's ideals and the intimate details of her life. Her sketches and paintings keep closely in step with her development as a girl, wife, and mother. I am tempted to say that her work as a whole is like the diary of a woman who uses color and line as her means of expression. (119)
This might be a subtle way of dismissing a woman's work – another woman damned with praise for her understanding of the quotidian – but it doesn't strike my ear that way. Valéry also says of her canvases:
Made up of nothing, they multiply that nothing, a suspicion of mist or of swans, with a supreme tactile art, the skill of a rush that scarcely feathers the surface. But that featheriness conveys all: the time, place, and season, the expertise and swiftness it brings, the great gift for seizing on the essential, for reducing matter to a minimum and thus giving the strongest possible impression of an act of mind…. (121)
The surprising texture of paint in her handling, the odd inward structure of the material, these phrases of Valéry's, give something to think about.
Landscape of La Creuse, 1882, Private Collection.
Woman Hanging Out the Wash, 1881, Ny Carlsberg Glyptotek
Young Woman in a Rowboat, Eventail, 1880, Private Collection.
Citations from: Valéry, Paul,
Degas, Manet, Morisot.
Translated by David Paul. Edited by Jackson Matthews. With an Introduction by Douglas Cooper. Princeton University Press: 1960.
Paintings: see the Athenaeum.
Private Collection
Monday, May 13, 2013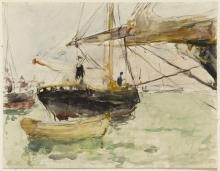 A small watercolor by Berthe Morisot was the most surprising thing I saw on our trip to New York. At the Frick, on loan from the Clark, in that basement space they use for special exhibitions and works on paper, in an assortment of drawings by French Impressionists. The watercolor is of a dark boat floating in green water among other crafts – masts, bow, lines for sail and anchor, a few indistinct figures moving about their work. Colors wonderful – shadows of boats reflecting darker green below, sense of movement, mass, buoyancy. Apparently she drew while herself on a neighboring boat and relished the difficulty of getting the lines while she herself went up and down. A much better draughtsman than I had realized, learning from Turner's watercolors in ways that I've not seen others do, allowing the colors to make a structure. Who is she? Berthe Morisot. The images I know are of her, especially Manet's portraits, not by her. At the Met later that day four or five really wonderful paintings by Morisot as part of their "Impressionism and Fashion" exhibition. The women in these paintings – reclining or sitting, looking in mirrors or at us – emerge out of a shaded and subtly modulated atmosphere. The air itself is thick with paint that condenses in the figure. Clothes are beautiful. A manifestation of what animates their wearers. These women have not been dressed, they dress themselves. I had little time, but tried to look carefully at just these paintings, promising myself that I would spend more time with them one by one in the museums where they reside. In the gift shop, quickly scanning the one book on Morisot, I saw to my disappointment that nearly all her work is in private collections.
A Shawl for Morisot
Tuesday, September 10, 2019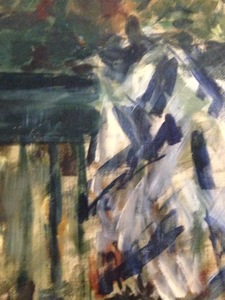 Last summer, the summer of 2018, I was immersed in the work of Berthe Morisot.
I spent three days in Québec City, at the Musée national des beaux-arts de Québec, at the revelatory Morisot retrospective, which I reviewed for Apollo Magazine.
https://www.apollo-magazine.com/berthe-morisot-comes-into-her-own/
I was one of the critics who called for a reconstitution of our understanding of Impressionism with Morisot centrally placed. I said that scholarship and consideration should be given to Morisot in relation to Manet, Degas, Renoir, and Monet, on all of whom she had considerable influence, both as a painter, and as a close friend. I speculated about shows I would like to see – shows of Morisot and Monet, a show on landscape painting, another on gestural painting; another, A Woman Alone: Paintings by Morisot, Toulouse-Lautrec, Valladon, Manet.
In the year that followed, I saw the Morisot show again, in Philadelphia at the Barnes Collection. The months passed, and, in the back of my mind, I went on with a kind of subconscious labor. It really is hard work to change received notions about significance. I have loved Morisot's work for years, and sought it out in every museum I can; I have been writing about it in this notebook since 2013.
http://rachelecohen.com/blog/Impressionism/Morisot/23
And yet, it is so engrained in my apprehensions – what is important in a painting, what constitutes a discovery, what I am looking for as I first cast my eyes over a canvas – that I am still just at the very beginning of seeing Impressionism again with Morisot worked through my vision.
This summer, of 2019, there was a show at the Art Institute of Chicago called Manet and Modern Beauty. I reviewed this show for Apollo, too, and saw it five or six times over the course of the summer. The Manet show was many years in the planning, and so it would have been hard for the curators to take account of the 2018 Morisot show. It did not seem fair to criticize this lack in my review.
Nevertheless, I feel a missed opportunity, to let the Manet show build upon what was brought out by last year's Morisot show. The curators' choice to focus on lesser known works – Manet's green garden paintings, his late portraits of women alone, his interest in fashion, the delicate still lifes of his last year of illness – meant that they did turn their attention to the paintings most directly in conversation with Morisot. But this conversation was only acknowledged briefly in one wall text, next to a nude that Morisot had bought for herself at Manet's estate sale after his death. The show focused on the influence several other women had on his work, women with whom he enjoyed conversation, whom he painted, and to whom he sent lovely illustrated letters. But what of one of the geniuses of the period, who was his sister-in-law, and whom he saw sometimes daily, whose paintings he owned and valued, who had painted next to him for nearly fifteen years, and whom he had painted fourteen times? Surely his ambitions in these greener domains had to do with his relationship with Morisot?
* * *
I think it might be interesting to get all the way down to the fine grain of looking at one painting, to see if I can bring out what it would be to see Manet with Morisot in mind. I am trying to give myself the consciousness of someone who, as a child, had always seen Morisots displayed prominently in important museums, had always been told that the freedom of her brushwork was one of the great achievements in the history of paint, one that had opened the gates for gestural abstraction in the 20th century.
At the Manet show, I round a corner and see this: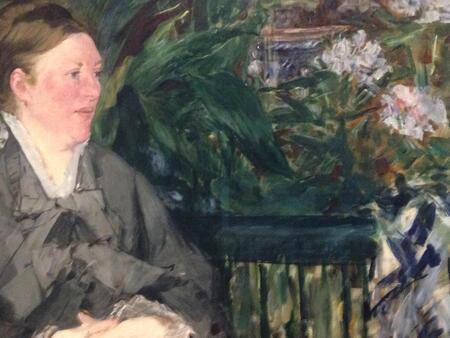 And the first thing I think, is 'look at that shawl on the right, that is pure Morisot.' That is just the way that she gets volume by feathered strokes of white – the rush and power of a swan.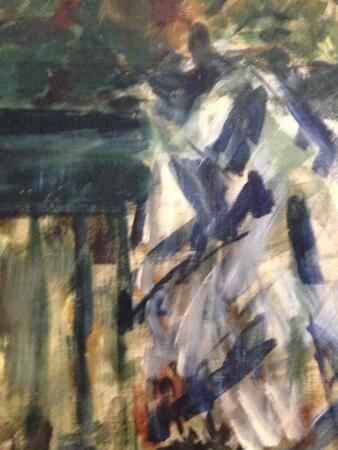 I look at the date, signed and dated by the artist in 1876, but, because of a complex set of different historical accounts, considered by curators to have been worked on in the range of 1876 to 1879. Suzanne Manet was a pianist, from the Netherlands. She kept this portrait for herself, and it was not displayed publicly. Eventually, in 1895, she could no longer afford to keep it, and she had to sell it.
Édouard Manet would already have thought of Morisot as a virtuoso of white. Some years before, she had given him her painting of 1869, The Harbor at Lorient, with a woman seated on a stone wall, dressed in white with touches of dark blue. In 1876, beginning this painting of his wife, stopping by Morisot's studio, which was the center room of the family home, a studio that he saw both because he paid attention to her work, and whenever he went to see his brother, he could have seen The Mirror (1876) taking shape: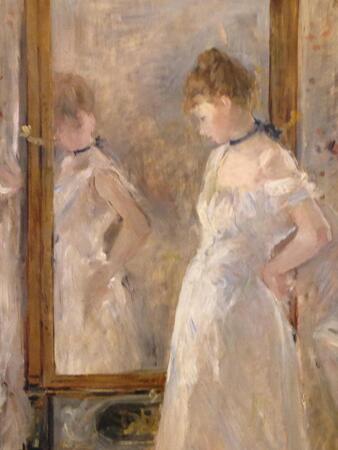 He would have seen her white cloths over a long fence, in Hanging the Laundry Out to Dry, from the previous year, of 1875,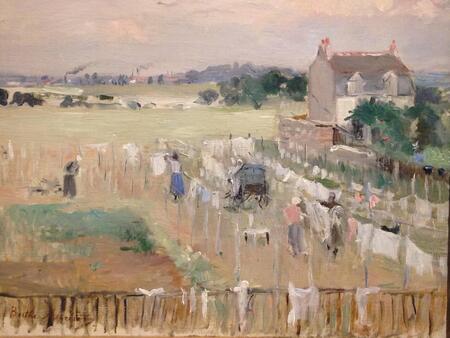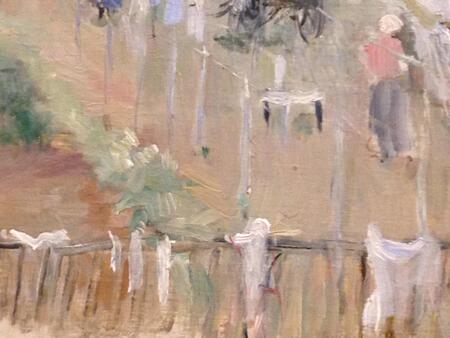 Perhaps his eye would have been caught by these two girls, from a painting done in England, also in 1875. She often intermingled white with blue around children, and the waists and necks of women: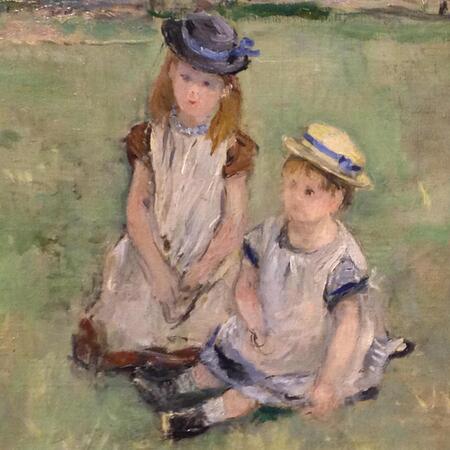 He would certainly have known this 1875 portrait, In England, of his brother looking out the window.
How related their two private paintings are: on the left, loved spouse; dark green connecting rail – of a window, of a bench – ; white effusion on viewer's right.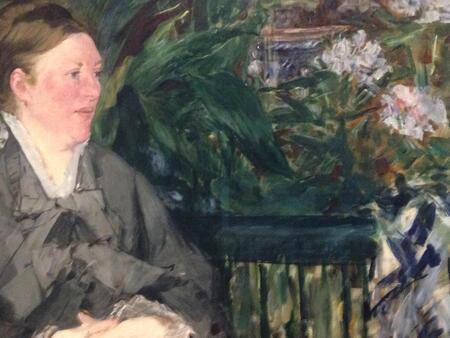 Manet had a wonderful eye, and he knew what to borrow. In that white scarf or shawl thrown over the back of the green bench, he interlaces a deep many-shaded blue. It was as if he saw it and tossed it off, a magnification of what Morisot was already doing and would do more of. This combination was, and would go on becoming, one of Morisot's most characteristic – she would use them again and again – her own complex white, with touches of that deep bright blue.
Near the arm of a woman dressed for a ball, in 1879: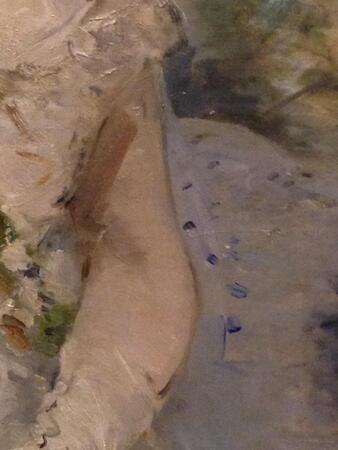 Her daughter, Julie Manet, daughter of the painter Eugène Manet, niece of Édouard Manet, uniting three painters, painted here with her nurse, in 1880.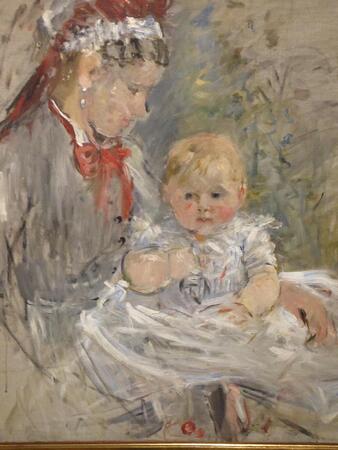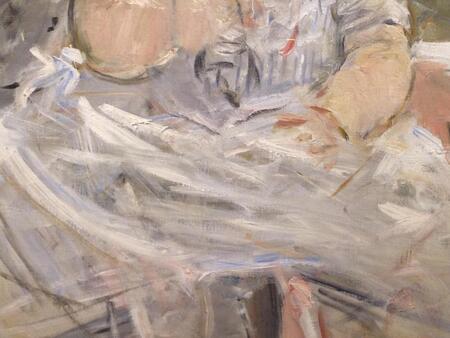 The shawl Manet painted is a record and a prediction, and it is a guide for looking at Morisot's work, and for how he looked at it. It is as if it were Morisot's shawl, perhaps she left it visiting one day, that he has included as a part of the portrait of his own talented wife. Four adults, three painters and a musician, their private thoughts and the world they shared.
When she painted Serving Girl in 1886, her brother-in-law had been dead for three years. She had thought so much about it -- there it is, pooled again, above and beneath the woman's feet.