Turner Looking
Frederick Project: Abstraction and Retrospect
Tuesday, March 24, 2020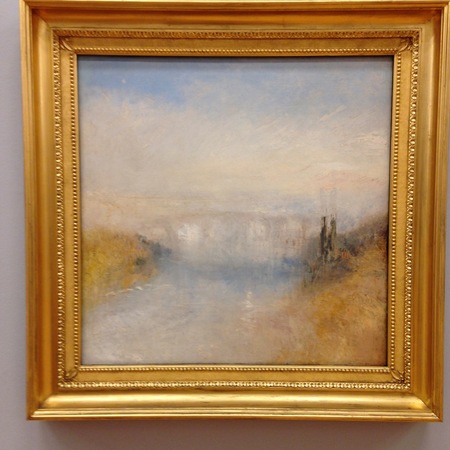 I am interested in the time layers of paintings.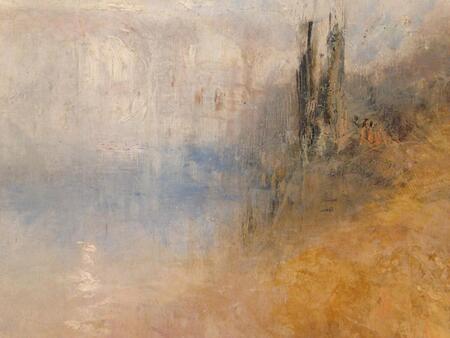 I always go back to J.M.W. Turner (1775-1851), painter of hundreds of oils (radical landscapes, history paintings, the abolitionist Slave Ship, scenes from his teeming imagination), of thousands of watercolors (a lingering soft touch, delicate effects of light, hundreds of studies of Venice, an inspiration to the Impressionists), and artist of some 30,000 works on paper (wonderful sketchbooks, studies in history, architecture, travel.)
Turner died, impoverished and strange, in London in 1851 and a huge bequest went to what is now the Tate Museum in London; when you are there, you can, almost always, go look at Turner paintings, Turner watercolors. I love them, and have made a number of visits, and seen a couple of Turner exhibitions, and Slave Ship is at the MFA in Boston, where I used to live, and I spent a lot of time with it, and all of this now blurs together, hundreds of Turner impressions.
We were in London in 2016. On the day of the Brexit vote, I went to the Tate to see the Turners. I was in luck. The Tate had on display some of the paintings that interest me most, the late oils that are like the watercolors. I loved this, probably unfinished, square one.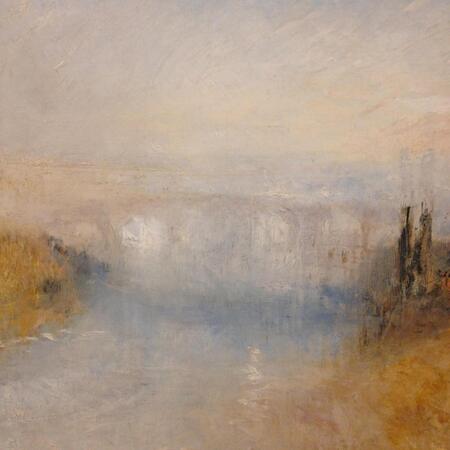 I did not think the Brexit vote was the beginning of a historical era. The polls suggested that the result would be remain. Still, it was a nervous, agitated day.
The late oils are extremely abstract, almost like studies in paint, unbelievably radical for the 1840s, long before Impressionism took hold in Paris. In the 1840s, most of the trained painters in the European capitals were working at highly-finished, realistic history paintings that now look like propaganda for capitalism and empire. Turners look like paint.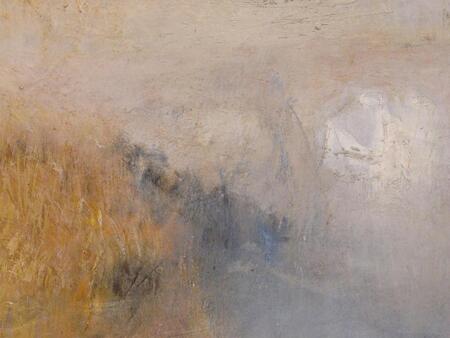 Watercolor is a medium that necessitates quickness, decision. You may make it in layers, returning to it over many days, but everything you lay down remains. I believe that most of Turner's watercolors were made in one impression. He called them "colour beginnings." Here is one from the same period on a similar theme:
J.M.W. Turner, The Moselle Bridge, Coblenz, ca. 1842, Yale Center for British Art, watercolor, 19.13 x 24.25 inches, public domain.
He used watercolor to study transient effects of light. But I think he found in the watercolors unities of understanding that then interested him to consider in paint, which had been, sometimes still is, a much slower medium, built up over weeks, scrubbed out and done again. Here you can see how it resembles watercolor, but still has the scrapes of paint: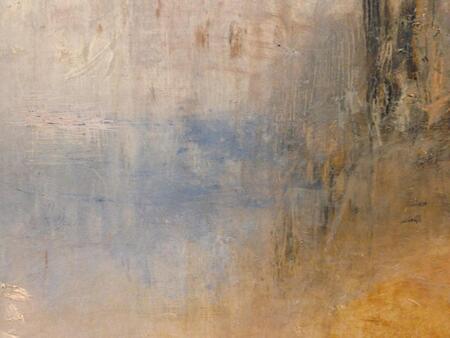 *
The wall text for A River Seen from a Hill says that it might be an Italian landscape.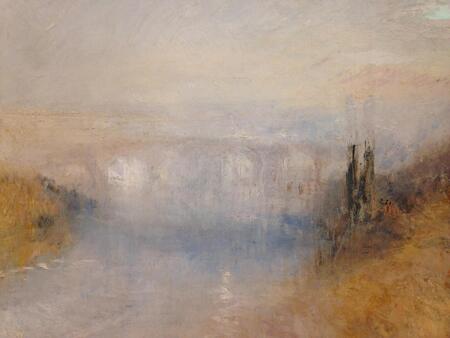 Turner loved Italy, the most of all the places he traveled to, and made several extended trips there. The first, in 1802, came when the Peace of Amiens made European travel possible for British artists. He stored up impressions, perhaps knowing that the peace might not last. The Napoleonic Wars returned; it would be seventeen years before he could return to Italy. In the meantime, as I have been reading this morning, he studied up on Italy, and when he did return, in 1819, he had imaginary, classical ideas of Italian cities and landscapes – these ideas then continued next to, and clashed interestingly with, and had to be revised to accomodate – what he also painted, the complex, impoverished places which he was actually visiting.
He went again ten years later. When he painted A River Seen from a Hill, ca. 1840-5, it had been some fifteen years since he had been in Italy.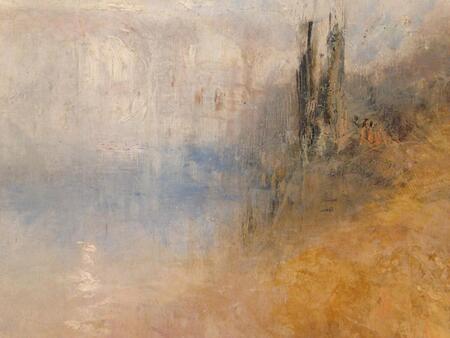 If you think of an abstraction as something that allows you to hold two far apart things on a kind of common ground, then history is one of our most radical abstractions, across time.
Part of what astonishes in this painting, is that, when you first see it, on the wall, in its frame, there is clearly a bridge in the center. But when you get up close, the bridge begins to dissolve.
The painting resolves at a certain distance. You can only get perspective on it, as I can only begin to see what the day of the Brexit vote meant, from some ways away.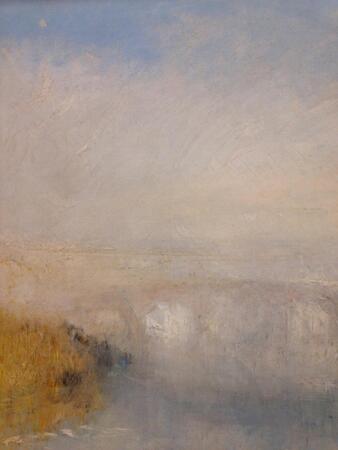 But, you also have to look close. Because you would assume you know how a bridge is made out of paint, but you don't. When you really look close you see that what makes a structure that stands over time is quite different than you thought: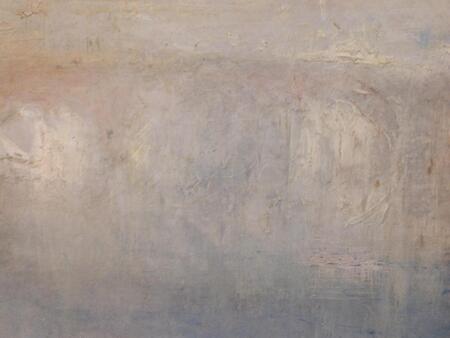 Looking at a photo taken by one person looking in England, of a painting of places another person looked at and remembered in Italy, layers of places that at some periods in history we can go to, and at other periods we can't, you can feel contemplation changing. Retrospect, the holding layers of time in odd proximity, makes memories that learn from water.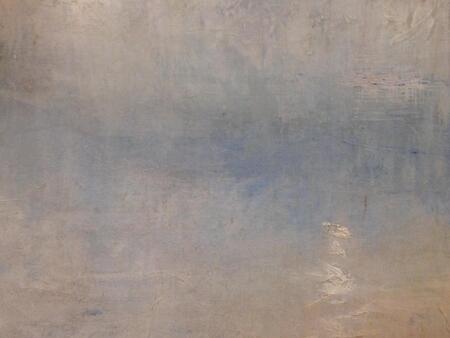 Hokusai Turned Sideways
Frederick Project: Colors and History
Saturday, March 21, 2020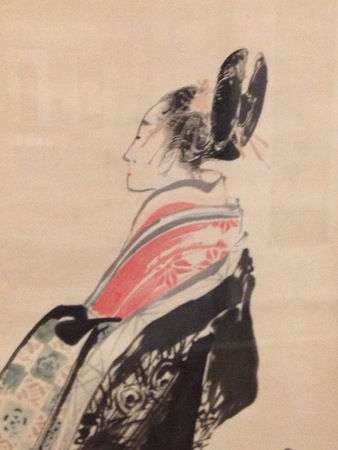 Because it was behind glass, I could only photograph it sidelong.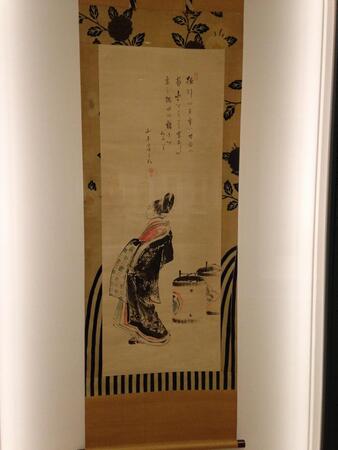 It came as a great relief. In the Art Institute of Chicago's show of 2018, Painting the Floating World: Ukiyo-e Masterpieces from the Weston Collection. Room after room of courtesans – the highly-paid ones in their graceful rooms which they still could not leave unless a patron could be persuaded to purchase their contracts; and the ones who worked the docks at night, with stalls for quick transactions – all posed for a viewer's eye, and, also, for my eye. The figures were very beautiful, and had a complicated agency, they had dressed themselves, were color artists of the first order, a few had written poems which were included, in their handwriting, what western nude had ever written on her canvas, still, there was a fundamental transaction, and it was wearying.
Then, Hokusai. She is turned sideways.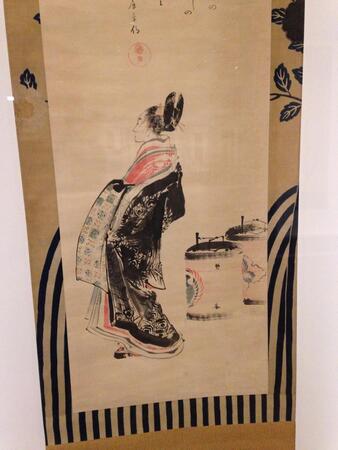 She is looking at something else, the air, her world.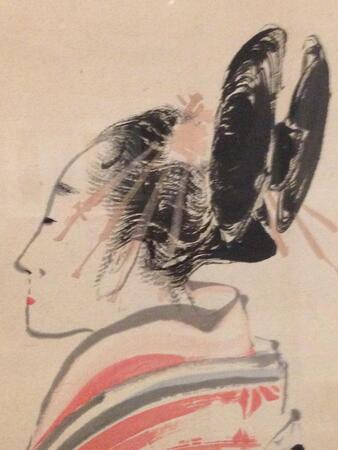 If you look at her without her feet, the picture comes to pieces, so that her walking, her stepping forward on her own sandal is crucial to the understanding.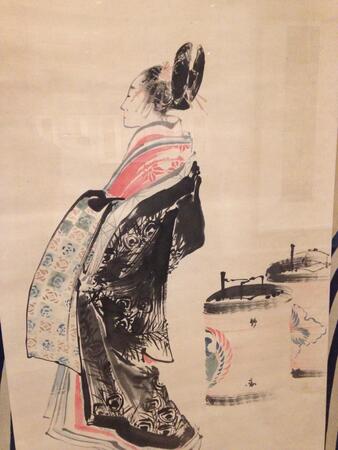 She is a whole being, and I can join in being her – feel a freedom in my thoughts when I try to think as her, all intelligence is possible – how is this conveyed?
The scroll is carefully mounted and framed by fabric, like the quilted edges of the Faith Ringgold story-quilts, and, like them, it is given an interpretation in language that is included. Above her hair, calligraphy:
Hokusai's friend, Santo Kyoden (1761-1816), who frequently collaborated with him, has written the poem, which the Art Institute translated:
Gold for the release of the oiran
wagered against chrysanthemum waters
from an enchanted valley!
Fine Sumida wines alone
fill the cup of the novice courtesan.
Santo kutsu Kyoden
The wall text explained. Two kinds of wine. One, magical, the chrysanthemum waters, associated with the highly-paid and knowing courtesan, the oiran, who might be able to get a patron to purchase her release – gold for the release. But the novice courtesan, she had merely Sumida wines, from the Sumida river that runs by the Yoshiwara district, the red-light district of Edo. Constraint acknowledged.
Another liberty is the boldness of the brushwork.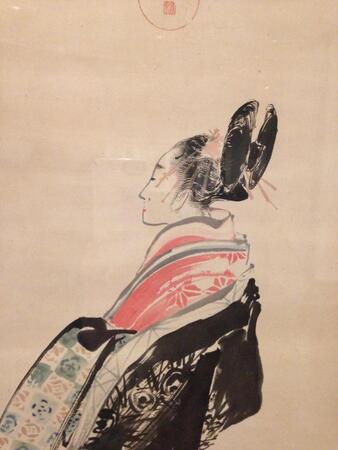 And another in the way the scroll shows the night, it must be night. In the clothes and the lantern. Their black ink absorbs the night and radiates it.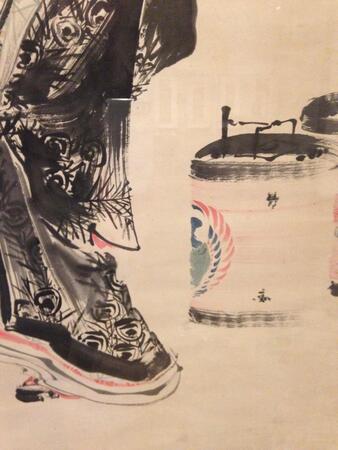 The lanterns are made of the same paper that the scroll itself is painted on. They are upstanding, and let you think about paper, and how it can show the night.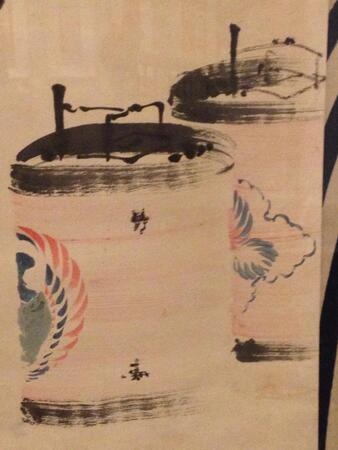 The lanterns become one of the frames – like the fabric, like the poem – a way the picture can refer to itself. They are part of what gives the picture, and the woman in the picture, and me, looking at the picture, a first-person stance, freedom of mind.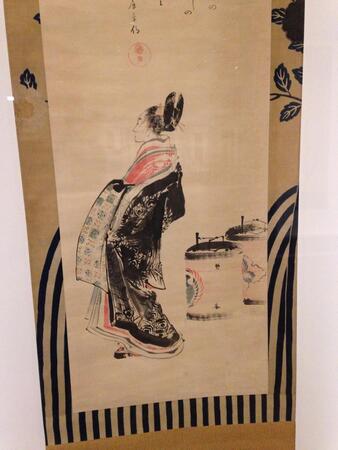 Cézanne Still and Blue
Frederick Project: To Resolve
Thursday, March 19, 2020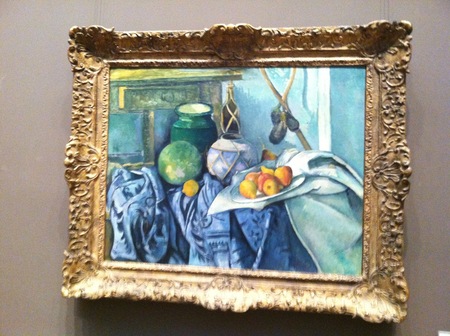 Today I'm going to work on how Cézanne's blue resolves.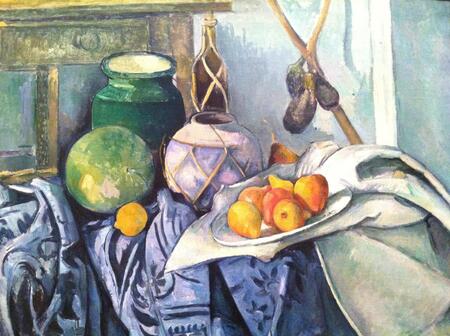 One sense of resolve is to determine to go forward. Cézanne's perennial project. Famous for destroying his canvases, for painting them out and scraping them off and beginning again, for going out on the road every day to set up his easel and work again at the view of the bay, the view of the mountain. Speaking to few, often frustrated, lonely.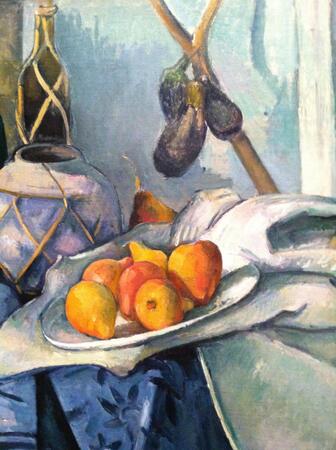 The resolve took great force of character because it was full of uncertainty. He never was sure. Which points back toward an earlier sense of the word resolve, to melt, dissolve, reduce to liquid. See his acknowledged unsteadiness.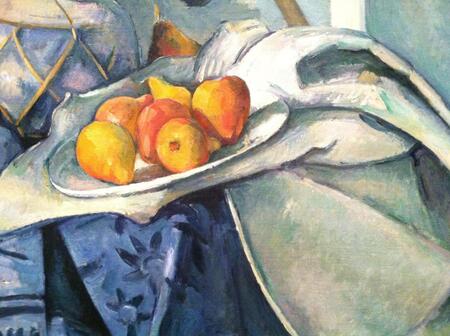 We say that photographs have high resolution when we cannot see the separation of their elemental particles. This could mean that the particles are thoroughly dissolved into the medium, the liquid inks, the electronic fields of color. Highly resolved is when things that have been separate are made continuous.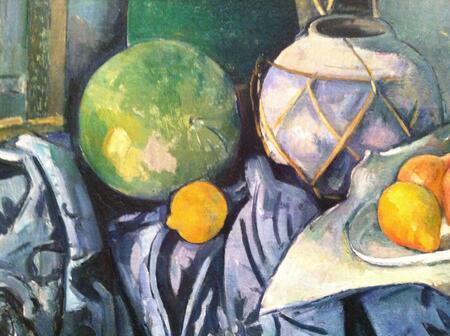 For Cézanne, blue is a key to resolution. Blue knew how hard he worked and was gracious with him.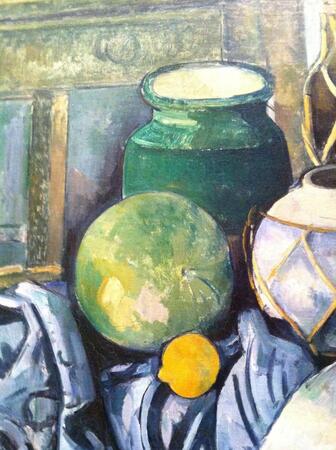 The resolution to go forward in uncertain circumstances – a resolution that seems especially necessary to get hold of today – would take its force from a thousand small divergences coordinated into one medium.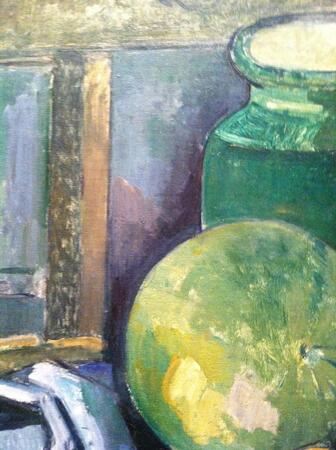 This is the incredible property of paint: a liquid medium in which the elements of the world may be dissolved and reconstituted anew.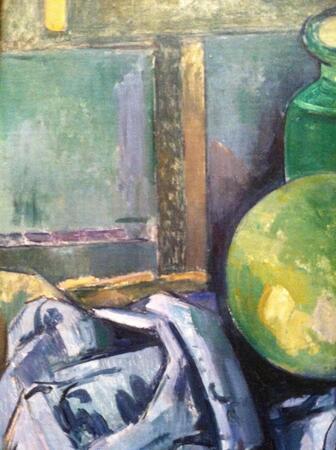 Elliott Hunter
Wednesday, October 24, 2018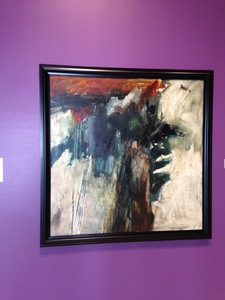 Yesterday, at the Smart Museum, "The Time is Now!" I was immediately struck by this painting:
A large square, four feet by four feet. Each inch compels.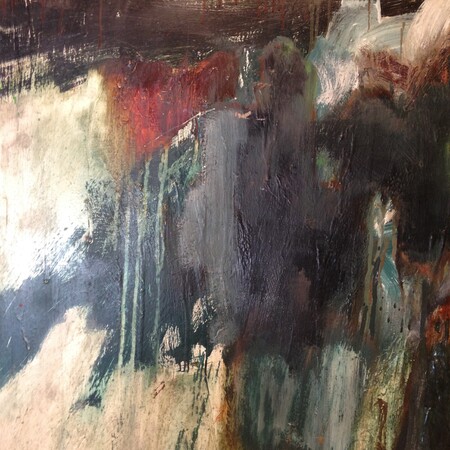 The painter is Elliott Hunter.
It was made in 1967, and is called Grasshopper.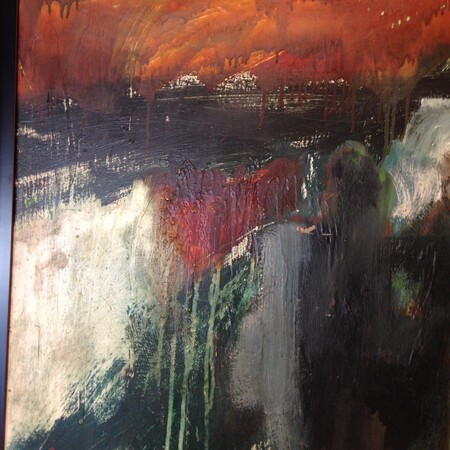 Twice, recently, I have seen grasshoppers on the pavement. Once along the curved inlet behind the bus stop at 47th and Lake Park. Holding very still, I thought as if recognizing the coming cold. A second, not far from the Pot Belly Sandwich place as I was hurrying through the parking lot, to pass the now-empty grocery store that was called Treasure Island. This second, also very still, not jumping away at my passage. The second made me think of the first – a pattern, a time of the year. The second week of October, when the grasshoppers begin to hold still on the pavement.
Something of the brittleness, and perhaps also something of the ebullient potential of the close-held grasshopper.
After a while, a face: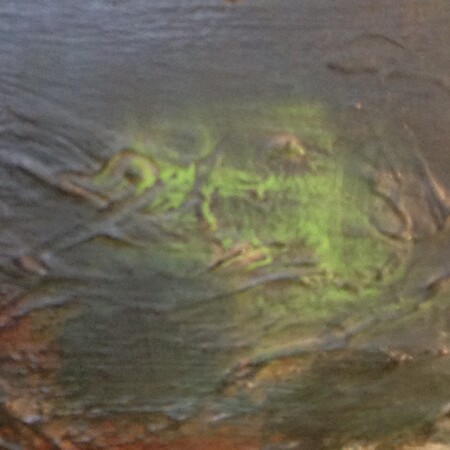 A new painter – I am learning gestures: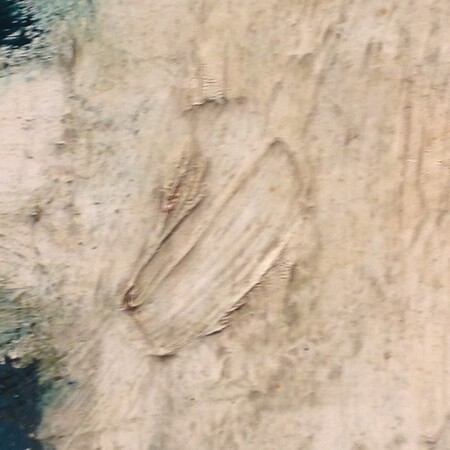 There is another work by the same artist in the exhibition. This one, called Black Depression, also makes me stand still. I will visit it again before attempting to say something.
When I get home, I search. The painter, Elliot Hunter, is mentioned in a piece in the Chicago Tribune about the simultaneous exhibitions of work by Chicago artists that are currently running across the city. This is where I have first seen the work, at "The Time is Now: Art Worlds of Chicago's South Side, 1960-1980" which illuminates the Smart Museum of Art this fall. There are no other mentions of Elliot Hunter on the web. Odd, the balked unfamiliar feeling that there is nothing to sit with online. So, for the next person, from the summary in the exhibition catalog:
Elliott Hunter (1938-1970) was a painter and muralist. He studied at the School of the Art Institute of Chicago and was a founding member of the Seventy-Ninth Street Collective and the Organization of Black American Culture (OBAC) in Chicago in the 1960s. He contributed to the Wall of Respect mural and later joined Edward Christmas, William Walker, and Eugene "Eda" Wade to paint the Wall of Dignity mural in Detroit in 1968. He died at age thirty-one following a brief illness.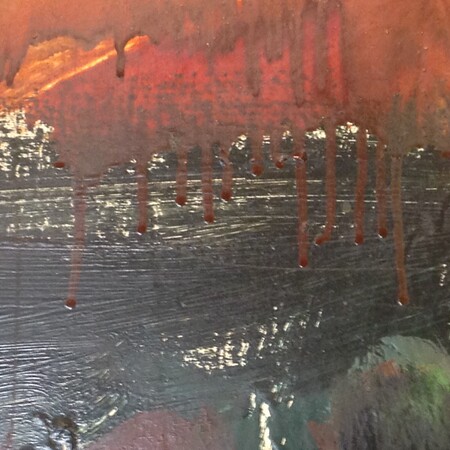 First in a Series
Sunday, September 29, 2013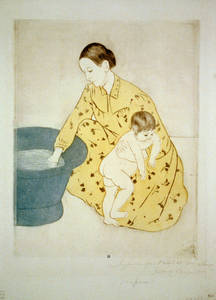 On a fleeting visit to the Cleveland Museum of Art late last December – five women of three generations, including the baby and her much-admired five-year-old cousin L. – I caught a first glimpse of something that seemed suddenly very interesting, or rather it was as if I had already for a while been interested and had come upon the occasion when a dim returning attraction becomes a definite line to pursue.

We were a small cloud of Brownian motion bounding and rebounding in that museum's great atrium, recently-completed, and its great white rooms – it was almost by accident that we found ourselves in a small exhibition of Mary Cassatt's prints. On one side of a hallway a room with works on paper having to do with life in Paris – something of Degas, something of Toulouse-Lautrec. And on the other side of the hallway the room of Cassatt prints. Their fine yellow, slightly Japanese in tone, women seated, stillness, design. In the different impressions, deliberation. I didn't have time to look comparatively, and envied the men and women spending a careful hour in that room.

Last weekend, at the Raven bookstore, a find: Mary Cassatt: The Color Prints, by Mathews and Shapiro, for an exhibition in Boston, DC, and Williamstown, 1989-1990. And last night, reading late, found the thought I might have had, or begun to have, that dark December day.

In 1879, at the invitation of Degas, Cassatt began exhibiting with the Impressionists. Later that fall, she made a trip to the Alps – I imagine one of those trips during which vision is clarified and from which one returns full of the energy to redouble one's efforts. She found that Degas, Pissarro and Bracquemond had the idea for a new print journal, La jour et la nuit. She joined in. "At the moment," Degas wrote to Bracquemond of the project, "Mlle Cassatt is full of it."

At the Impressionist exhibition the following spring, Degas, Cassatt and Pissarro showed etchings they had been doing over the winter. Interestingly, they showed early "preliminary" states as well. [The states of an etching are prints made at different stages from the same plate, often there are considerable changes both because the artist may draw and scrape out aspects of the design, and because the plate itself changes and wears in the process of being printed.]

The Impressionists were unusual in valuing preliminary unfinished states, and this bears an important relation to their understanding and depiction of time. As Shapiro and Mathews point out: "States thus must be seen as a larger work of art; in a sense they form a "series" as in other Impressionist groups of related works." Cassatt, they continue, "keeps reworking the plate and redefining the lights and darks in endless variation as if to capture the changing light of the actual scene."

On Photography I
Saturday, October 5, 2013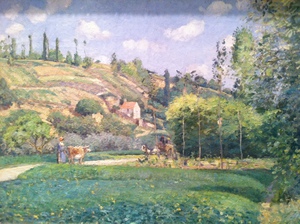 After years of scorning people who come to museums and take pictures – souvenir-hunters! they don't even look at the paintings! – on Tuesday I found myself in the Impressionist rooms at the Met zealously photographing details with my iphone held up in front of the canvases. I had two impulses, or justifications: it seemed expedient – I was in New York for a day only, had a mere hour with the pictures – this was a way to take notes. And at the same time, or even before the thought of expediency occurred to me, I also knew that having details of paintings is very helpful if you are going to post about them. Already the fact of keeping this notebook is changing the way I go to museums.
The second picture I took showed me that the modest magnification of the iphone makes an enormous difference in what you can see. I started with some little Boudin figures at the beach:
I have always felt that if you wait long enough and give yourself patiently to the act of looking your eye will learn to see at this level of detail. But here, presto, the machine could do it instantly – and then looking at the painting with the naked eye I could see it all myself, trained, in a second, by the clarification of the machine.
As I went on, taking pictures of Constables and Daubignys, and made my way to the Pissarro room, I began to experience some of the pitfalls of the new method. The iphone camera overclarifies. It sharpens contrasts, defines edges where the paint is deliberately ambiguous. So that I was in fact learning to see a painting that wasn't the painting I was looking at. I had to try to compensate in the other direction, photographing so quickly that the camera had not yet quite had time to resolve the image, and this seemed to more clearly approximate the paint as it was actually there.
Still, the exciting thing was that I could actually keep track of the sequence of my observations. For example, I saw this beautiful Pissarro from 1874, the year of the first great Impressionist exhibition, painted at Pontoise, one of Pissarro's favorite places to paint.
I saw the picture whole:
Then my eye went to this passage of paint in the foreground:
Then to the cowherd of the picture's title:
A cart further along:
Paint to right foreground, the yellow, blues and lavendars:
Stretch of cultivated field down to earth:
[ Technology suggests and constrains. I find I am limited in the number of images I can post. Just at this moment of drama, when we are about to see further into the picture, I will have to ask my reader to wait. The rest of the sequence will be found under Pissarro, On Photography II ]
In the far reaches: Calvino
Tuesday, October 15, 2013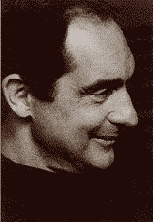 Posted here and at the 92nd Street Y as part of their 75th Anniversary celebration:
http://92yondemand.org/Topic/75-at-75/
If I were trying to explain to someone what happens when you are reading Calvino and then sit down to write and find that, somehow inevitably, a strange derivation of Calvino has pervaded your own style, I would say that, first of all, you notice that your adjectives are different. Their purpose now is to distinguish types, genres, members of phyla, not to describe a person you would know on the street. Choosing names for characters you find that the names suggest ideas about people, not actual people. Dialogue evaporates, what little there is is estranged, lines are spoken
as if
and often sound like an imitation of speaking or as though a figure in a myth were speaking. The writing is cool, a little distant, textureless. Even after all these adjustments, however, the lines still probably fail to achieve what Calvino's writing does, which is to live permanently in the imagination of its readers as depictions of kinds of experiences. Fragment by fragment, he is constructing a great classificatory scheme of experiences.
Reading Calvino has always made me feel at once delighted admiration for the majesty and delicacy of his structures and within that a smaller yearning for a different Calvino, one who would now and again leave a physical trace. I started reading Calvino in 1993, about eight years after his death and some ten years after the reading he gave on March 31, 1983, at the 92nd Street Y. I have, in the twenty years I've been on the lookout for Calvino, met a few people who knew him or were related to him, and this has given me ways of guessing something about his presence and manner. Memories of these encounters are important to me. At the same time, I am dubious about them. What they hold is not Calvino as he wrote and chose to present himself, but Calvino constrained by the laws of the planet to leave impressions of his existence. I am not sure if these faint lines constitute the Calvino I am looking for.
I approached listening to the recording of the reading he gave at the Y with some trepidation, a combination of hope that I would at last encounter a further Calvino and fear that I wouldn't like him, not as much as I like the ever-elusive Linnaeus of urban life, finding his way through a labyrinth that is also northern Italy and Paris from the 1940s through the 70s. I delayed listening for a long time and, when I finally began, played only a few seconds here and there, forming the mistaken impression that he read chiefly from
Mr. Palomar
. As this was a book of his I hadn't read, I thought I'd better order it and read it before listening to the recording. In this matter, too, it was possible to introduce a series of delays.
When at last I forced myself to sit down and begin, I kept my pen ready to hand, although whether my notes would track him or defend my idea of him I didn't yet know. He began by reading a series of selections from
Invisible Cities
in English and Italian. The audience laughed at the end of these sections. A slight change in tone—the entrance not quite of warmth but of discernible shared amusement—would come into his voice after this laughter. He had clearly intended to offer a joke just where, on the page, I had felt something more like the writer turning away.
At least two Calvinos could be discovered in the readings of these fragments. The one who read in careful, hesitating English the translations of his own work by William Weaver seemed tactful toward others but awkward. The other spoke in sure, rapid Italian, offhand in its exactitude and as if giving directions, which, especially in the stories of
Invisible Cities
(a sort of travel-guide to the effortfully-inhabited world), Calvino is. Neither man would be particularly easy to approach, but two routes in make a citadel more accessible than one.
In his design of the program—of course there was a design, and an elaborate one—these few pieces were to be understood as introductory. For now—gently, mildly, as personally as it is possible to speak while giving nothing away—he turned to the body of his intended reading and explained to his audience that he worked by writing many related stories over long periods of time. These, he continued, "I classify in series." Once filed, they "become my books." At later moments in the recording, he introduced examples: amorous tales came under the rubric "Casanova's Memories"; another set concerned "everyday objects as a means of communication between human beings." The process had just the same sort of structures as the work. I was pleased, relieved, disappointed.
As the reading went on, I noted its progression of elements: 3 stories from
Invisible Cities
, followed by 2 from
Mr. Palomar
, then 1 of the everyday objects that mediate between people: "ice." Then he said he would read from "Casanova's Memories," a series, he pointed out, parallel to
Invisible Cities
. He read three from this series, and in my notes I marked 3, 2, 1, 3.
In one of my favorite Mr. Palomar stories (in the book it is number 1.3.3., "The Contemplation of the Stars," in the section "Mr. Palomar Looks at the Sky," in the group "Mr. Palomar's Vacation"), Mr. Palomar goes to the beach at nighttime to attempt to look at the stars. He is frustrated by his inability to hold on to the names and locations of the stars, by his slipping glasses and obscure astronomical charts. He has what seem to me very human hopes: to know something thoroughly, to find himself by losing himself in vastness, to be part of the movements of the universe's time.
Perhaps I particularly like this story because my most cherished report of Calvino also came to me on a beach, though under a warm late September sun. I was staying on an island off the coast of Sicily and had gone down to the rocks to swim. I had gone together with an older woman, L., who had seemed very sympathetic when I first met her, at the one village bar, with some friends. She had heavy glasses and wore a long muumuu over her bathing suit, and, despite trouble with her hip, she climbed resolutely up and down the sandy path that led to the rocks. We sat in the sun watching the sea, and she must have asked what Italian writers I read. When I mentioned Calvino, she said that she had known him when they had both worked at Einaudi. A very precise man, she said, reserved, unto himself, and she made a gesture as if to settle a cravat by pulling it back toward the breastplate while drawing her torso up and back. I try to think of this gesture, of her body physically replaying his body—a gesture I have attempted myself the few times I have told the story—as a little double-humped bridge, an aerie crossing from the island of Calvino to the island of L. to me.
In the scene where Mr. Palomar sits on the beach, searching for the stars as he struggles with his chart, chair, and glasses, he is, unbeknownst to him, gradually surrounded by other nighttime beach-goers. "Mr. Palomar hears a whispering. He looks around: a few paces from him a little crowd has gathered, observing his movements like the convulsions of a madman."
Perhaps a public reading, even one for an adulatory crowd, held for Calvino some element of this scene, the faint ridiculousness of the preoccupied intellectual on display. His crowd at the Y, though, is enthusiastic, applauding vigorously as the third of the romantic interludes, "Irma," draws to a close. "You want more," he says, teasing a little. I imagine him raising an eyebrow.
And then he reads another one, an encore, though it must have been planned. It is a long piece, involving the themes of all the other pieces, and it is another "everyday object," matching the previous one, so that the overall pattern is now 3, 2, 1, 3, 1. This one is on the subject of telephones and is called "Before you say hello." It is my favorite, one I imagine going back to listen to a long time from now. Some alienated, sleepless night, I will search through my iTunes folder for "19830331-00000-Calvino," slide the time marker to 21:55 from the end and find some consolation in hearing this again. The first time I hear it, it inverts the reading and my experience of listening to it.
Is it strange or isn't it that the finale of that evening's efforts, the longest piece he reads, should be on the topic of estrangement, a meticulous analysis of how it feels to be a business traveler calling one's lover from a foreign city and failing to get through. The focus of interest is neither of the two characters, but the experience of the telephone. Enumerated are the sequence of specific sensations and emotions wrapped up with pressing the pad of one's finger into the rotating dial, the despair one feels as one hears by the tones that one has failed to get out of the national network and into the great global one, and, especially, the peculiar desire and frustration that come with knowing that, should the lover in fact answer, there is really nothing to say.
Technologically all of this is obsolete, although it did evoke within me the long-unthought-of physical sensation of the rotary phone. But it is obvious that the experience as a whole—the attempt to reach the loved one through a complex ethereal network whose portal of entry into the physical world is a small imperfect unreliable device to which one hangs on by one's fingertips—has become so much more the way life feels that I feel, listening to him, that he is only incidentally reading for the people that night, sitting in their chairs and rearranging their sweaters, and really he is reading for me, hunched at my computer, straining to catch in the sound of his voice and careful pronunciations the message he bears for a latter-day civilization now completely encompassed by the paradox of technological ever-presence and alienation in precisely the way his story would seem to predict.
The Calvino gesture that I learned from L. on the rocks on the island off the coast of Sicily, the most familiar thing I have of Calvino, is a gesture of his withdrawal. The paradox of this is too obvious to relish. But it sits well next to this experience of hearing him read "Before you say hello," which, in saying so precisely how things are, does, as dark humor will, comfort a little. The exact name for the vast reaches of remoteness has, when it is pronounced, a kind of tender proximity. Perhaps in another forty years Calvino will seem much closer to the readers and listeners of that era than he does to us. No doubt they will reside in still another galaxy of technological experience. Perhaps there will be no writer for whom they feel more affection, or who gives them a like sense of speaking kindly to them from an all-seeing past. On this evening at the Y, after a brief preamble, the first line of his own that he reads is from
Invisible Cities
: "If you choose to believe me, good."
Some Pages Into August, 2013
Monday, August 12, 2013

Some books with which I'm underway:

John Dewey, Art as Experience.

Brenda Wineapple, Ecstatic Nation: Confidence, Crisis, and Compromise, 1848-1877.

Rachel Kushner, The Flamethrowers.

John Rewald, A History of Impressionism.