Ruth Asawa Sculpture in Air
Wednesday, July 8, 2020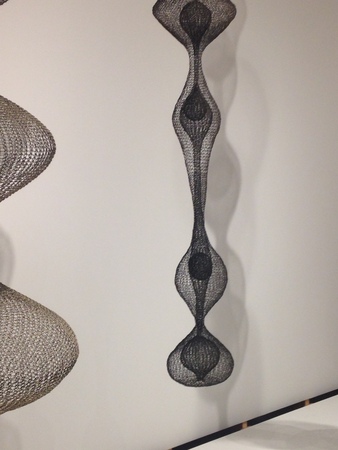 Today I was drawn to Ruth Asawa's wire sculptures, which I learned about (long after many else had) from the show at the Art Institute of Chicago, In a Cloud, In a Wall, In a Chair: Six Modernists in Mexico at Mid-Century. I went to the show several times, but only took a few photographs, and do not have the proper credit line for the group of sculptures, but the central form in the top picture is the one described in the credit line above, made in 1951.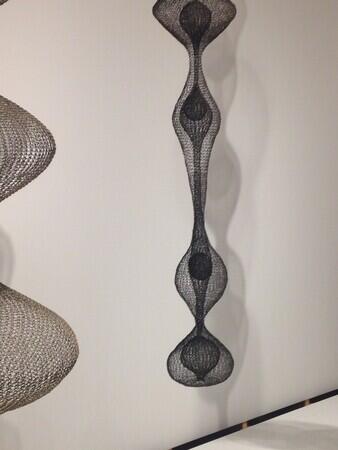 On the last visit, our daughter liked this drawing that Asawa made in relationship to the sculptures, and I liked it, too.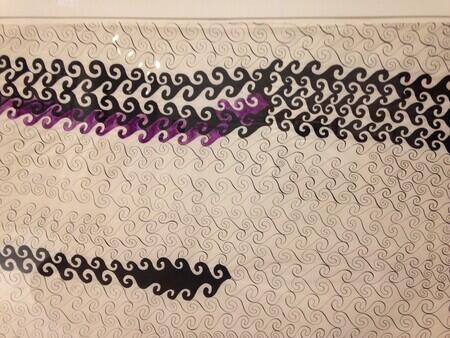 Perhaps it follows in certain ways from the Beckmann drawing I wrote about late on Monday night. I seem to be thinking about survival of different kinds, about lines, and the color black. The Beckmann drawing was in made in 1949, when Ruth Asawa was about twenty-three, and had gone to Black Mountain college to study. In 1942 and 1943, she and her family had been in the internment camps that the US government set up for people of Japanese descent. This had been a very difficult experience, and she had drawn a lot while in the camps. She made more than one trip to Mexico, and the exhibition described how, in 1947, studying the traditional way wire egg baskets were made had an important effect and helped her find her way with the wire sculptures.
I went to visit the website for her work and legacy, and was pleased to find that there will be a Ruth Asawa postage stamp in August.
Anni Albers Scripts
Wednesday, April 29, 2020
This week I seem to be thinking about art that thinks about writing.
I spend a lot of my time thinking about how to write about art. A reversal is interesting: how art considers writing.
Earlier this week, I looked at Tara Geer, and at Alberto Giacometti, both of whom use line in ways that think about writing. Today when I woke up what was in my mind was Anni Albers Study for Six Prayers, IV, which I saw a few times at the Art Institute last fall, in their Weaving Beyond the Bauhaus exhibition.
Going back through my photos, I was able to find four, and none was of the entire work. So here is the whole Anni Albers Study for Six Prayers, IV as offered by the Art Institute's website.

I am grateful for the skill and nuance of the museum's photographers, but I burst out laughing when I saw this. I am used to how poorly paintings reproduce, but have given little thought to the problems for textiles. I think I will have to do some work to restore the experience of looking at it before I can think about its ideas of writing.
It is 77 and ¾ inches long and 19 and 7/8 inches wide. So taller than a tall person and narrower. But in presence near to a person. When it is mounted a foot or so off the floor, you look up for the encounter.
I saw the title soon after I saw the work, and can no longer remember first associations independent of the title, Study for Six Prayers, IV. So, a sense of the sacred, and also of levels of devotional work, not just the prayers, but studying for the prayers. And a sense of the piece ramifying outward – there would be others, perhaps five other prayers, at least three other studies – a hanging wall of related considerations. This gives a breadth, like seeing one column and thinking of the colonnade.
How to be specific about texture. The materials themselves will give some sense: linen, jute and rayon. From the linen, the sacramental sense, fineness to go with certain seasons, certain occasions, a stand-offish fabric that holds true even around bodies that are diffuse in heat or sleep. From the jute, a coarse fibrousness, like a jute bag, a sisal rug, but here, with immense skill, held close and made extremely fine. From the two together a sense that the piece would not be soft to the touch, but upright, a little stiff. And, unlike a bag or a rug, complex to the touch, many close sensations, that each stitch would have a sheen to it.
The Art Institute offers:
Linen, jute and rayon; end sections: plain weave with supplementary, paired patterning warps and supplementary binding wefts; center section: plain weave with supplementary brocading wefts, alternating two-color main warp in pairs; edges bound in ribbon of cotton and rayon
I'm not sure if the black lines that pattern the center section are in rayon. My memory is that the lines overlaid the weaving, but when I zoom in on my photographs, it seems that the black is recessed. Questions I cannot answer.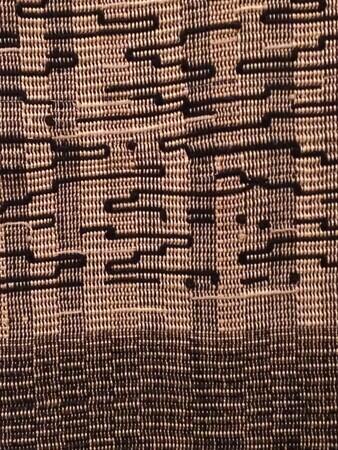 The times I saw this work, and all the times I have thought of it, the word rune comes to mind. Ancient runes. The sense of a very old script used for a religious purpose. Tracing the script perhaps in itself a devotional rite.
Study for Six Prayers, IV was made in 1965/66, five years after the Giacometti portrait that I looked at yesterday. The second world war had a particular definiteness. I don't remember now if the wall text made specific mention of a connection to Judaism, but I had held a sort of intuitive sense that this was a mourning piece.
The internet is always ready to concretize and empty fleeting intuitions.
[The piece was commissioned by the Jewish Museum, to commemorate the six million Jewish dead in the Holocaust. Anni Albers was Jewish, from a secular, wealthy family in Germany. There were in fact six panels, Six Prayers, for which this one was a study, and all were recently hung together at the Tate Modern show of Albers work, in what looks to be a room of great power. An article in the Telegraph, linked below, itself links to a podcast about the panels, which I have not listened to.]
I'll try again to concentrate. What the reflections of this work are on writing. That the written word has a power of evocation and continuity. That prayers are in words. And we know this, so that we specify wordless prayers when they happen. That words repeated with small variations make a ceremony, or a ritual. That we are not sure whether the dead write, but their language does seem to come through to us.
Looking closely, I notice the dots close to the upper and lower borders. These seem significant. As preliminary marks that will be joined together into the script, or as punctuation? A beginning, or an ending – the arising, or the completing.
Giacometti Difficult Hand-Writing
Tuesday, April 28, 2020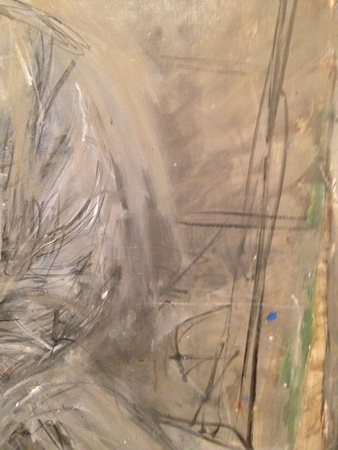 Writing of Tara Geer's work yesterday put me in mind of Giacometti, whose line in drawings and in paintings also has a quality of being written.
This is from the Geer of yesterday: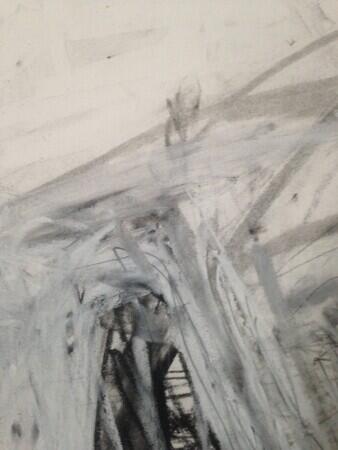 Giacometti's hand: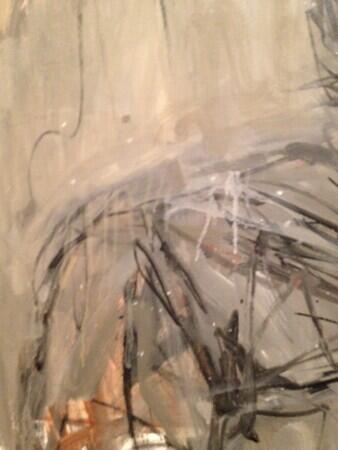 He, too, is calligraphic: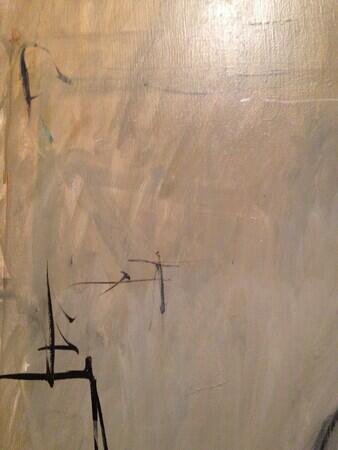 These details are from a Giacometti that I spent a fair amount of time with at the Harvard Art Museums, a portrait of the art critic David Sylvester.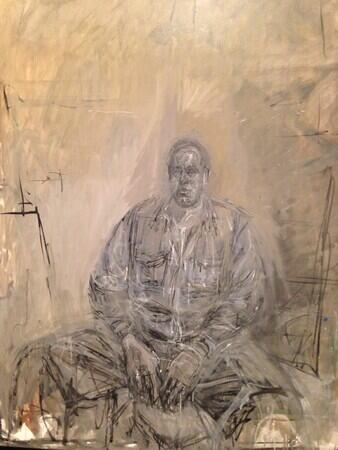 I wrote an entry about the portrait for this notebook in 2014, about the way the figure seems to coalesce from the background. I said this felt deeply humane.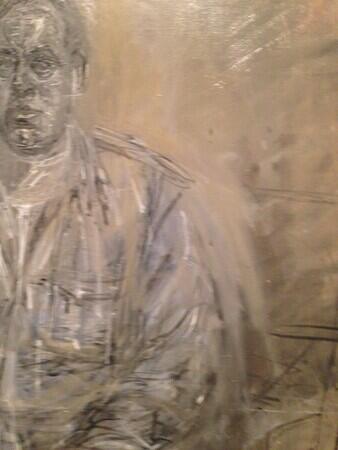 I still have my photo of the wall text for the picture, and, when I go back to look at it, the voice of the museum announces that this portrait, painted in 1960, is a recognition of peoples' "unspeakable brutality," and that the face is like a "death's head or skull." In the classes I teach on writing about art, we often debate the different styles of wall texts in museums, and I would probably class this one as intrusively over-written. But, anyway, it's interesting that I didn't remember anything of that language or what must then have been my resistance to it. Nor, I find, had I really remembered the particulars of the painting.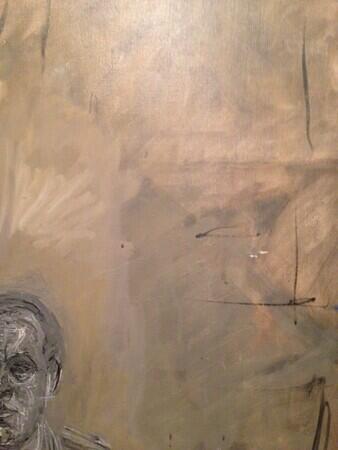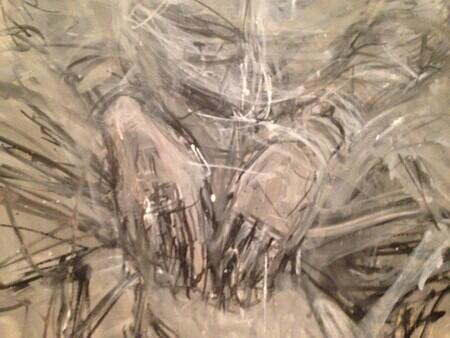 The impression I held in mind was of a lot of white gouache about the head, and of the head and its expression as gentle and something I could get close to. Looking at my photographs, I am surprised by how large the widespread legs are, by how much black is the structure of the hands and legs, by the recessed quality of the head, and, perhaps most of all, by the very beautiful luminous beige that is the atmosphere.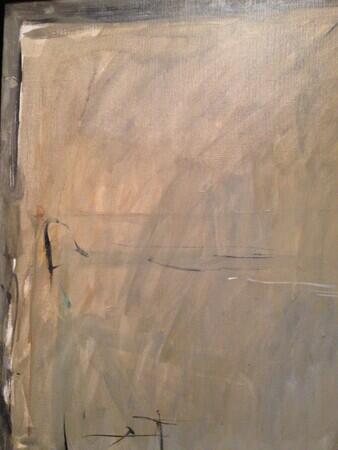 Despite having blurred all this, I can still get back the feeling of coming to rest before this painting, which is large, and rises well above my head so that I can square my shoulders and look up at it.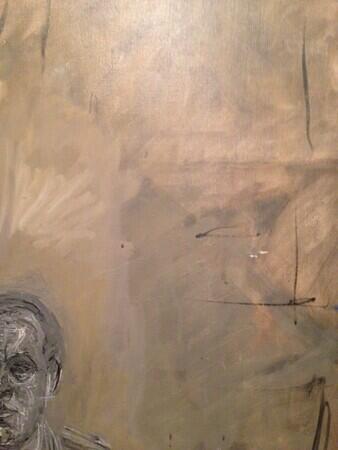 The feeling, which is a very specific relief to me, is that it has all been written. By a person who was here before and painted this.
Weekend Space Tara Geer
Saturday, April 25, 2020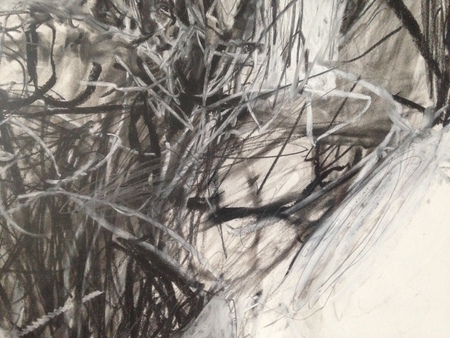 I met the artist Tara Geer at the MacDowell Colony in 2002. For the next nine years or so, we were both living in New York, and I spent quite a bit of time at her studio, looking. Eventually, I came to have three of her works, which are drawings.
This is one that does not have a title, done before May of 2013, probably in early 2013 or late 2012.
It is work that takes attention very seriously, and I hope, even through these photos, will offer contemplation, at the end of another difficult week, looking ahead to another difficult week.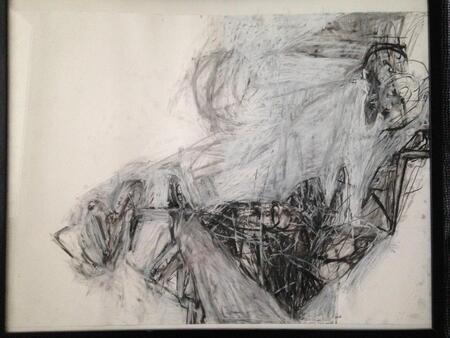 Some areas of the drawing: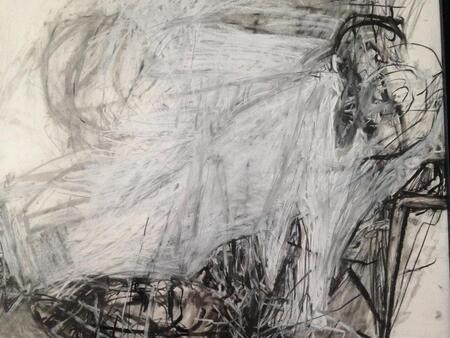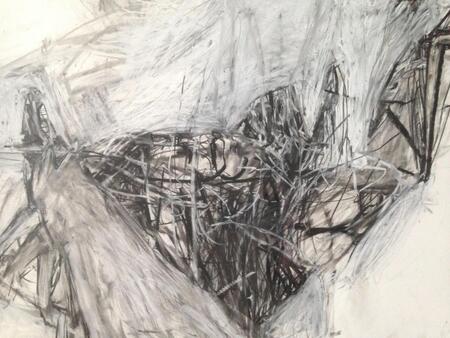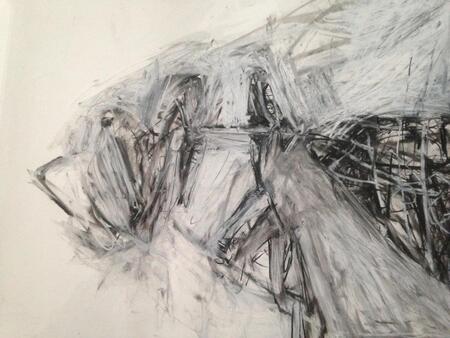 Closer: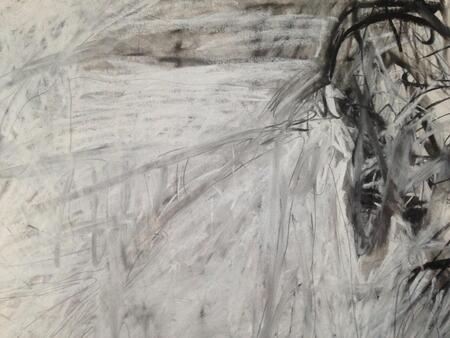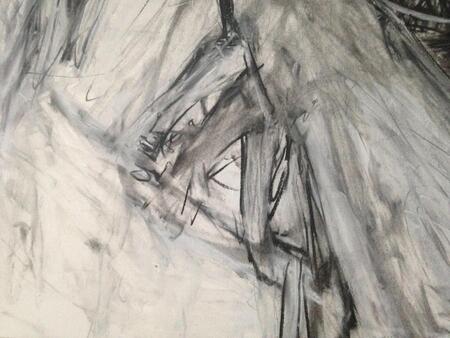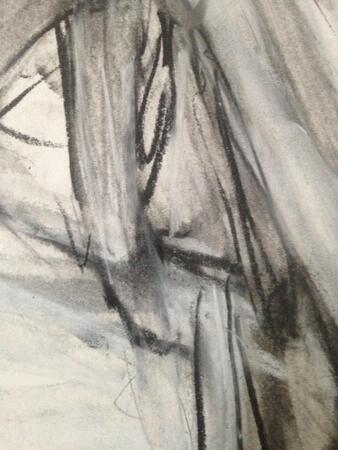 Staying close, movement and edges: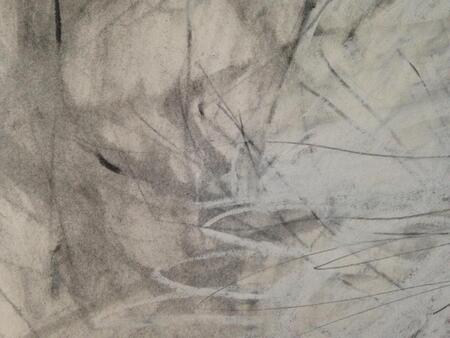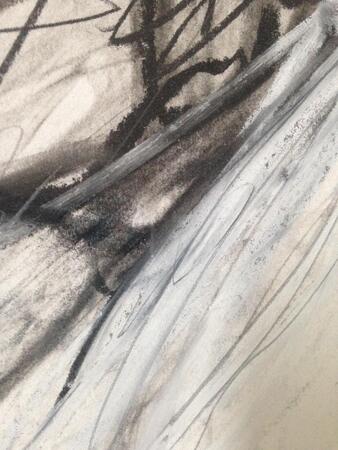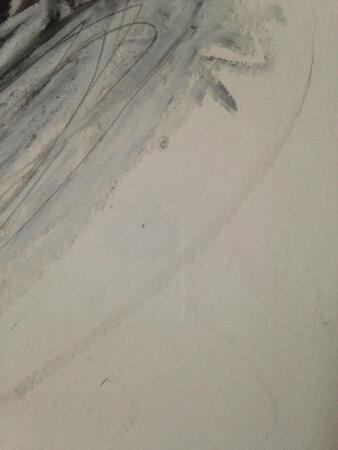 Morisot Following Black
Frederick Project: Closed and Open
Sunday, March 22, 2020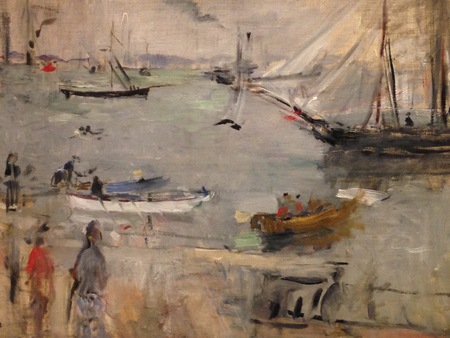 The first Morisot I ever really paid attention to was a small watercolor from the Clark Institute of Art (currently closed) that I happened upon in an exhibition of works on paper at the Frick (closed) in New York.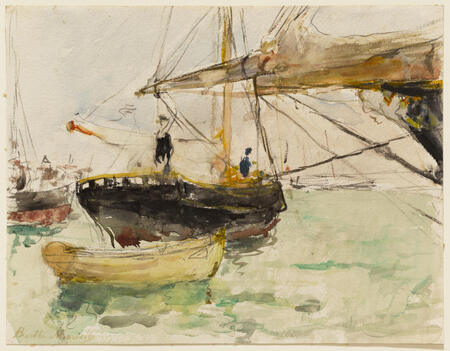 Berthe Morisot, Before a Yacht, 1875, Clark Art Institute, 8 1/8 x 10 9/16 inches.
I was taken by it.
And then, that afternoon, saw five of her paintings in a show on Impressionism and fashion at the Met (closed). By this fortunate set of circumstances, I was, in a single day, persuaded that I had missed one of the great painters in history, in a period I had studied extensively. It turned out that I was seeing an edge of transformation, after a century of consistent neglect, institutions and scholarship were beginning to attend to Morisot.
I set about repairing the absence in my own understanding – searching out her paintings in Paris (Musée Marmottan Monet, closed), in Chicago (Art Institute, closed), and then getting to spend many days in the 2018-2019 Morisot retrospective, which I covered for Apollo.
Now I could talk to you about Morisot for a day and a night. And I want to tell you everything, because there has never been anyone who handled paint with more freedom, and once you really begin to look at them, they blow space open.
*
This morning, I went back to my photos from the Morisot retrospective, which I first saw in the luminous installation at the Musée National des Beaux-Arts de Québec (MNBAQ closed). I wanted to follow the blacks of yesterday's Hokusai, those night-time blacks, which had an extraordinary boldness and freedom.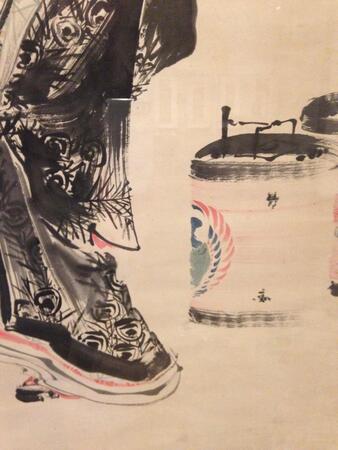 Katsushika Hokusai, Courtesan and Paper Lanterns, 1798/1800, the Weston Collection.
Detail photo Rachel Cohen.
Morisot would not have seen the Hokusai, but she was familiar with Japanese work of the Edo period, which was avidly collected in Paris. Some of the collectors were Morisot's friends Degas and Monet, and her brother-in-law Édouard Manet, another marvelous painter of black.
My eye lit on this harbor scene, English Seascape. It's probably from the same trip to England, in 1875, when she made the watercolor that first caught my attention. Morisot would go down to the harbor and sometimes go out on the boats, enjoying the challenge of working while she went up and down with the waves.
I don't have a picture of the whole, but this is all but the left edge: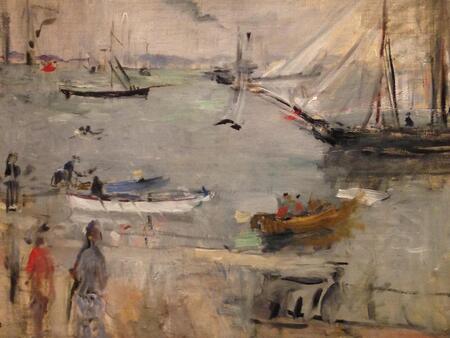 Berthe Morisot, English Seascape, 1875, European private collection, 17 inches x 25.
Detail photo Rachel Cohen.
Black holds this together. Stretches the space apart.
You stand at the lower left, with these two figures: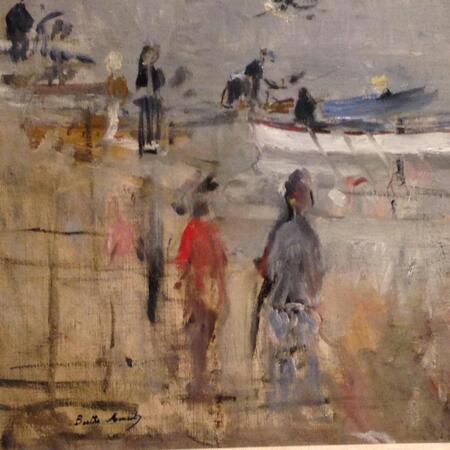 And before you is a great ship, dissolving into air: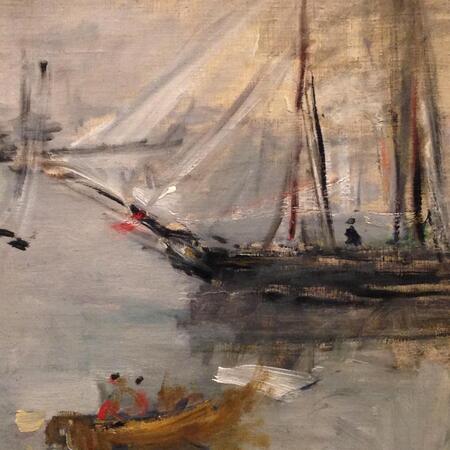 And just look at this space: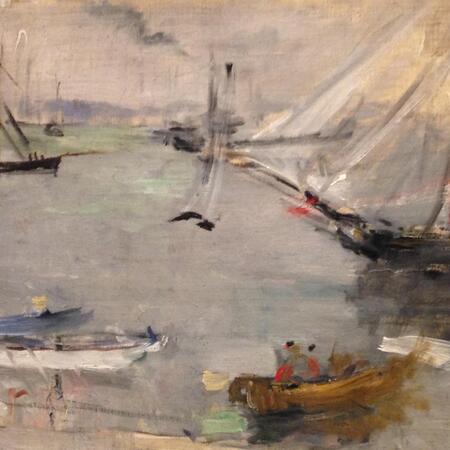 Hokusai Turned Sideways
Frederick Project: Colors and History
Saturday, March 21, 2020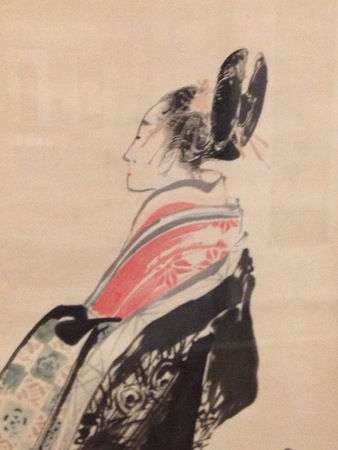 Because it was behind glass, I could only photograph it sidelong.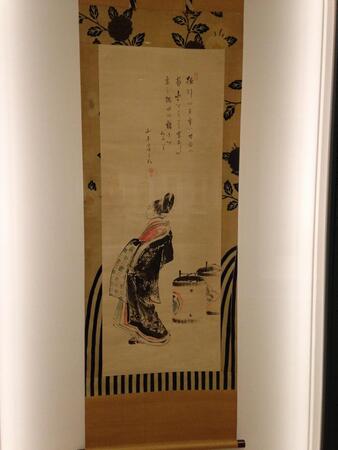 It came as a great relief. In the Art Institute of Chicago's show of 2018, Painting the Floating World: Ukiyo-e Masterpieces from the Weston Collection. Room after room of courtesans – the highly-paid ones in their graceful rooms which they still could not leave unless a patron could be persuaded to purchase their contracts; and the ones who worked the docks at night, with stalls for quick transactions – all posed for a viewer's eye, and, also, for my eye. The figures were very beautiful, and had a complicated agency, they had dressed themselves, were color artists of the first order, a few had written poems which were included, in their handwriting, what western nude had ever written on her canvas, still, there was a fundamental transaction, and it was wearying.
Then, Hokusai. She is turned sideways.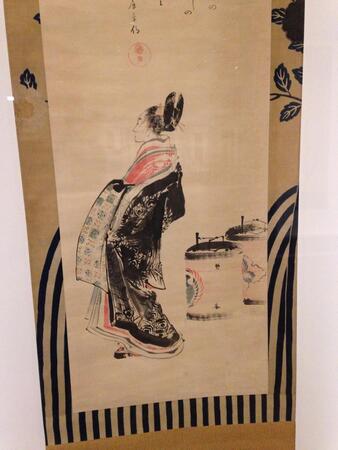 She is looking at something else, the air, her world.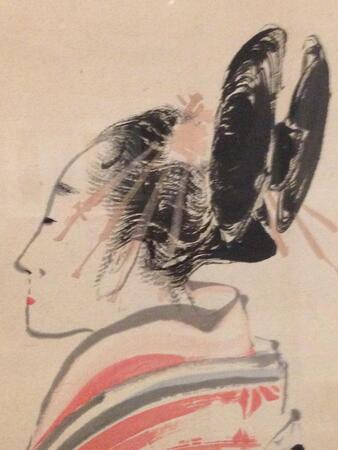 If you look at her without her feet, the picture comes to pieces, so that her walking, her stepping forward on her own sandal is crucial to the understanding.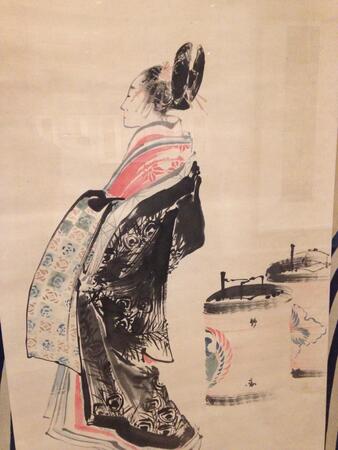 She is a whole being, and I can join in being her – feel a freedom in my thoughts when I try to think as her, all intelligence is possible – how is this conveyed?
The scroll is carefully mounted and framed by fabric, like the quilted edges of the Faith Ringgold story-quilts, and, like them, it is given an interpretation in language that is included. Above her hair, calligraphy:
Hokusai's friend, Santo Kyoden (1761-1816), who frequently collaborated with him, has written the poem, which the Art Institute translated:
Gold for the release of the oiran
wagered against chrysanthemum waters
from an enchanted valley!
Fine Sumida wines alone
fill the cup of the novice courtesan.
Santo kutsu Kyoden
The wall text explained. Two kinds of wine. One, magical, the chrysanthemum waters, associated with the highly-paid and knowing courtesan, the oiran, who might be able to get a patron to purchase her release – gold for the release. But the novice courtesan, she had merely Sumida wines, from the Sumida river that runs by the Yoshiwara district, the red-light district of Edo. Constraint acknowledged.
Another liberty is the boldness of the brushwork.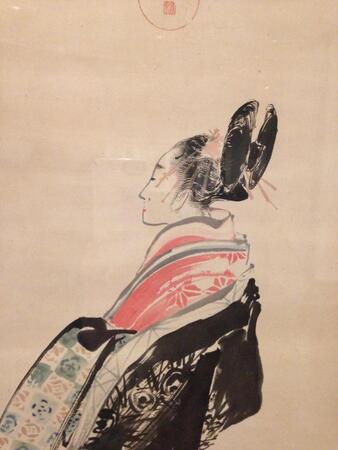 And another in the way the scroll shows the night, it must be night. In the clothes and the lantern. Their black ink absorbs the night and radiates it.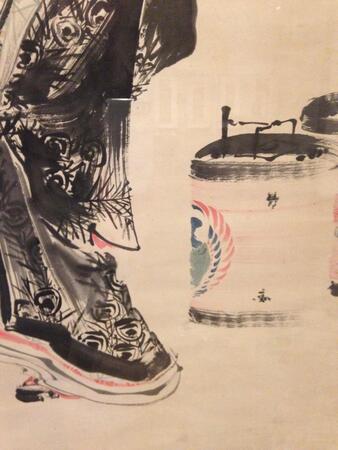 The lanterns are made of the same paper that the scroll itself is painted on. They are upstanding, and let you think about paper, and how it can show the night.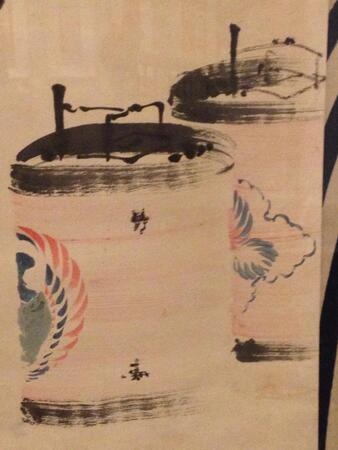 The lanterns become one of the frames – like the fabric, like the poem – a way the picture can refer to itself. They are part of what gives the picture, and the woman in the picture, and me, looking at the picture, a first-person stance, freedom of mind.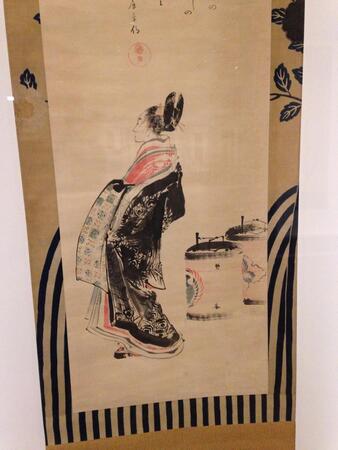 Tara Geer: Carrying Silence
Monday, August 12, 2013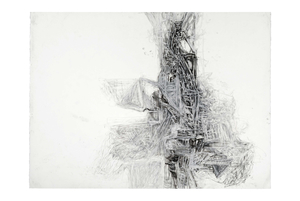 At Glenn Horowitz, 87 Newtown Lane, East Hampton, NY, 11937, through September 3, 2013. Here is the first section of my catalog essay, "Looking at Tara Geer's Drawings":
One way to begin is just by quietly trying to notice things. In "walk along the border," your eye might be drawn by the smudges off to the left, or by the white surround and the sense of movement in the white surround.
In my notes: white area with a little falling black squiggle; then other little black details, these somewhere between figures and lines, running on a diagonal from lower left to upper right.
Almost like little embedded panels – as if there is a progress toward the final window.
In the gray an effect of a waterfall down the right-hand side.
A gray patch and a gray triangle make a space between them.
On the right, the softness almost of hair.
An immense variety of texture.
The central column like vertebrae.
This central black part is strangely flat like a mosaic and also has a lot of depth.
A problem I returned to in looking: the skein in the lower right corner seemed dirty in a way that was familiar. After a while I felt that it looked like an old cobweb in which flakes of dirt have gathered. Hesitatingly, I mentioned this to Tara and she said that for a long time she had been stopping the freight elevator at her studio between floors so that she could study the cobwebs. This – the suspended elevator, webs between floors, painstaking attention to the derelict – could be a sort of parable for Tara Geer's way of looking. The drawing is a meditation on space. It is full of respect for spiders.