Memory that lives in the landscape -- John Constable
Friday, August 7, 2020
A painting I have been thinking about this week is John Constable's The White Horse, which is a painting I used to love at the Frick Museum and to visit regularly for many years. At that time, the Frick did not allow pictures, and I never took them anyway, and so I have no detail photographs of the kind I now use to go back and look, and can only reproduce here this distant internet picture.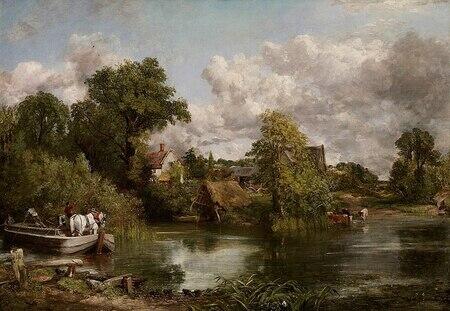 John Constable, The White Horse, 1819, the Frick Museum, poor quality reproduction from the internet.
I have a kind of memory of paint that generally only comes back when I am in the presence of the picture, and can take up the same stance toward it that I have taken before. It comes from seeing the areas of paint in the picture with sufficient focus to see the layers that are not visible in a standard reproduction. I do not have the kind of memory that some great art critics have, where they can call up the quality of the picture, but if I am with the picture, then I can feel how I have looked at the paint before, the way a blue overlays a gray, and the resultant shimmer is something I know. It just feels nice to be in contact with it again. Sometimes this kind of knowledge adds together with other things to make an interpretation of the picture that is worth sharing, sometimes it is just a private pleasure.
Next week I am going to begin teaching Emma at the 92nd Street Y, and so I am thinking about the landscape of Highbury, the village almost populous enough to be a town, in which the novel takes place. It is in Surrey, a little to the south of London. The characters walk there, in detail, all through the book, and I have read it so much that I seem to feel the dirt and pebbles beneath the soles of my shoes, the thickness of the grass, the heat of certain days and drenching rain on others.
It turns out that you can see The White Horse very close up, through the wonders of the internet, at the Frick Museum's website. When I went to look, I caught my breath. Reproductions had given me no sense of the time I had spent with the painting, but now I could see it. Especially the area of the water in the center, with its reflections, the way the water plants spike through the water. Especially something about the attitudes of the two figures on the boat with the horse, especially the small black birds wheeling in the clouds above the largest tree. It came back, the picture.
Here you can enter to see the White Horse at the Frick
A little more research uncovers that the oil sketch for this painting is at the National Gallery of Art in Washington DC. They make their works available, so I can show this one, and something of the wonderful qualities of its paint. Here is it complete:
John Constable, The White Horse, oil sketch, 1818-1819, National Gallery of Art, higher quality reproduction from the museum's website.
Constable's practice was to make these huge 4 x 6 foot sketches for each of his large landscape paintings. He painted the places he knew best, in his own country, in Suffolk, and particularly the valley around the river Stour. Now, with our modern eyes and preference for the free handling of Impressionism and Abstract Expressionism, many of us prefer the sketches to the finished paintings. And this is indeed a work of great beauty, which I saw in a wonderful exhibition of Constables at the Tate Gallery in 2006 which united many of the best known six-foot paintings with their correspondent six-foot oil sketches.
Here you can come closer to what the paint feels like: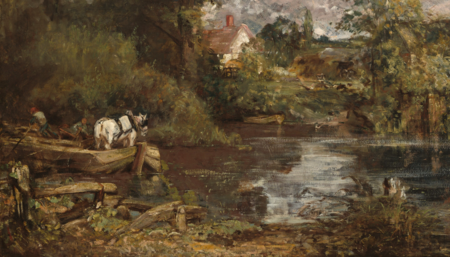 The sketch has its own layered history, described in detail at "The Constable Project" on the NGA's website. In brief, for a long time it seemed that the oil sketch Constable should have done for the White Horse, following his regular practice, was missing, but there was instead some kind of clumsy refinished copy of the Frick's painting that didn't seem good enough to be a Constable. The museum's curators realized that someone had overpainted what was in fact the sketch, to try to make it look more finished and were able to strip away that layer to get down to the oil sketch, which lives now in all its resplendent and calm beauty.
Memory that lives in the layers – of dirt on familiar roads, of clouds in familiar skies, of paint in familiar pictures – that is what the regular traversal of a certain landscape may teach us.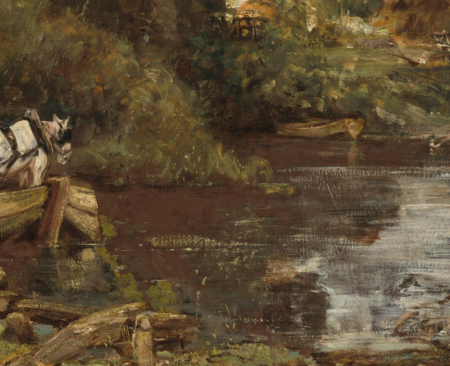 Kano School: Kyoto at Peace
Tuesday, June 9, 2020
Continuing to think about the rare quality of light at Promontory Point on Sunday. Mellow clear June light of a temperate day. And also light imbued by the people who sat together, sheltered on the rock ledges of a public park, returned to our lake after months of sequestration, with an early tenuous sense that a less violent future might be possible.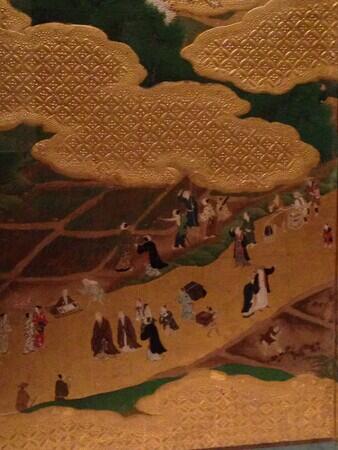 At first sight, you might think, as I did, that this screen has too much gold on it to take it seriously. I recoil from things which seem to announce their opulence – cannot bear touring European palaces, can rarely take pleasure in Rococo, run from rooms housing the gilded dinner plates of the elite. And I do not usually like shiny textures, not glitter on t-shirts, not gold lamé, often not gold. But sometimes gold in Italian paintings of the middle ages has seemed burnished and significant, not as a display of wealth, but as a different past-material aspiration. There is tin, there is bronze, and there is this metal, so soft it can be very very thin, you can paint with it and it will give a light like nothing on earth, and so it might be a way of thinking about heaven.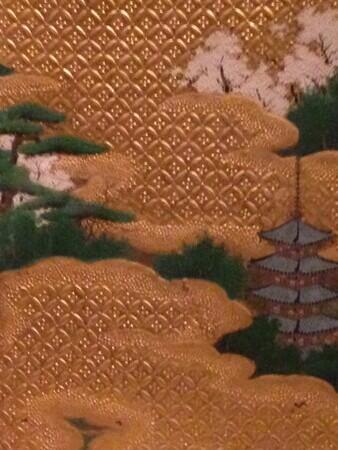 Gold clouds in 17th century Japanese art indicated an imagined landscape.
These photos are from one of two screens, the artists or artists are not known, the painting is identified as Kano School, ca. 1620s. The screens were probably commissioned by someone of the samurai class. This part of the scene is a samurai picnic. It is cherry blossom season. Look at the blossom texture against the gold.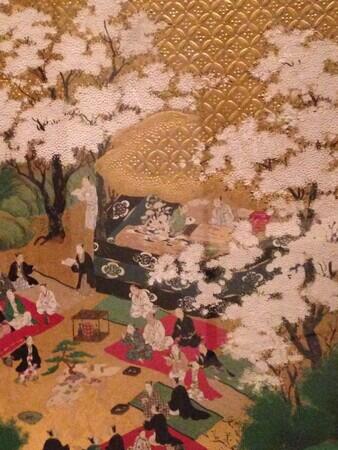 There are more than 300 figures in the two screens together. Only one, the left screen, which shows Yasaka Shrine, was on display when I saw it. The figures are of every social class.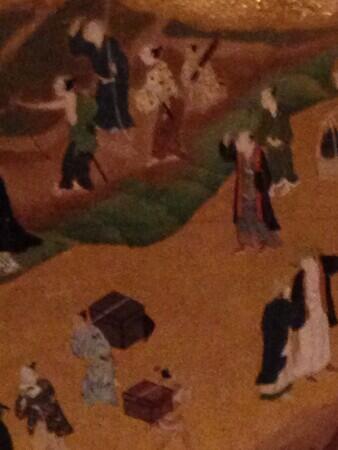 I saw this screen at the Metropolitan Museum of Art in December of 2019, as part as one of the four rotations of the year-long exhibition Kyoto: Capital of Artistic Imagination, which I was reviewing for Apollo Magazine.
It was gold and I did not expect to be taken with it. But I couldn't help it. It was very delicate, the figures were so tiny. And they were not so very finished, they had a drawn quality. The pleasure of miniatures, and also the wistfulness of great miniatures. I sat down on the bench.
A French couple passed through. The man looked, hesitated. Sat down on the bench. This is something, he told the woman he was with.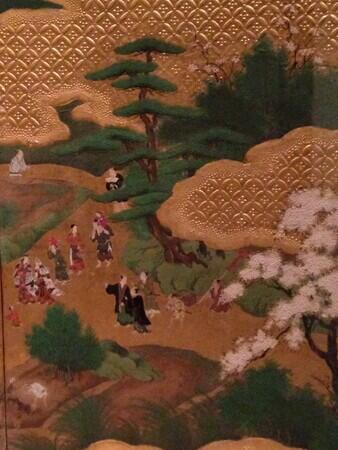 I think it was the explanatory text that signaled to me a significance of the work, and let me believe in my own reaction, which was appreciative and not discounting, despite the gold. The encouragement was the reason I took more pictures than I ordinarily would have.
The Met has produced a small feature on Amusements at Higashiyama in Kyoto, with detail photographs that are much more highly resolved than mine, and allow one to take in the faces and gestures. You can see the photos at the link at the end of this entry.
There is also a three-minute video with a curator describing the work that is like the kind of gallery talk I would normally run away from were I in a gallery, but we're not, in galleries, for now.
The Met's photos are highly finished, horizontal, in keeping with the shape of the screen itself and the computer screen. Still, partly because my own photos are primarily vertical, I think they convey better the experience of thinking about the relationship of the figures to the metal clouds. And, because they are more dim, they give more sense of the complexity of the work's own thinking about the meaning of the metal.
It was the last line from the wall text in the exhibition that opened my understanding, and remained with me, and is the reason the screen came back to my mind this morning:
"Masterpieces of the Kano School, the screens survive in remarkably fine condition and, though relatively small, convey the celebratory spirit of a country finally at peace after nearly a century of civil war."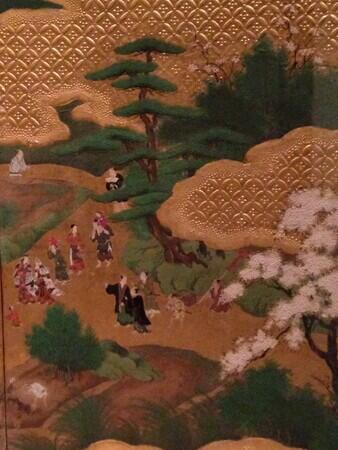 Beauford Delaney and Protest
Monday, June 1, 2020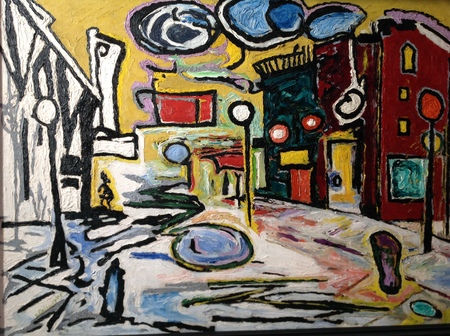 In these hard days, the sounds of our neighborhood are of the unusual silence of the pandemic, the birds singing, of sirens, both ambulance sirens and police sirens, of the 7 pm neighborhood pot-banging in solidarity with the Black Lives Matter protestors, the muffled greetings between neighbors, masked and at a distance, the imagined sounds of videos of police violence that I have not played, but have read about, the imagined sounds of protests that I have not attended, but feel I can hear from a few miles away, and the imagined sounds of shattering glass that I cannot hear, but know to be happening a few streets from here.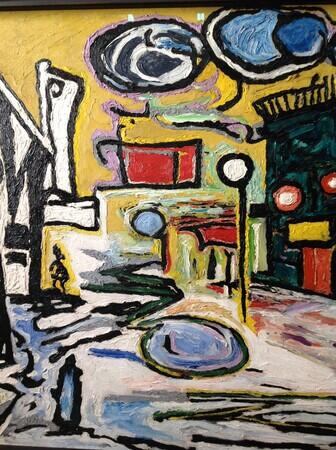 I am thinking, as I often am, about the relationship of art and protest. I want there to be art, I want there to be protest.
In February, I was a plenary speaker at a conference called Beauford Delaney and James Baldwin: In a Speculative Light. It was an excellent conference, and I am still very actively involved with what I began to learn there – still reading books by the other speakers, still turning over in thought their stray comments and questions, which lodged in my mind.
I can hear helicopters overhead, as we did last night until late into the night
To write my remarks, I spent quite a bit of time with the four works by Beauford Delaney that I could see in Chicago. My remarks focused on a great self-portrait belonging to the Art Institute of Chicago: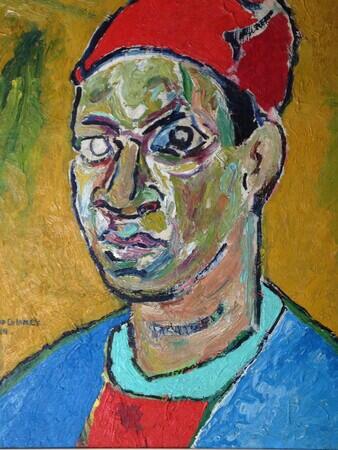 Beauford Delaney, Self-Portrait, 1944. Art Institute of Chicago. This, and all detail photographs, Rachel Cohen.
And on an important landscape belonging to the Terra Foundation of Art, which Delaney painted of the streets in Greenwich Village, where he lived and worked:
I take this self-portrait, painted in 1944, and this streetscape, painted in 1948, to say something about what it was to be a man whom others immediately saw as Black, and, it seems, a man who saw himself as Black, and to say something about city streets, and what kind of space and consciousness they may make for derogation and self-assertion.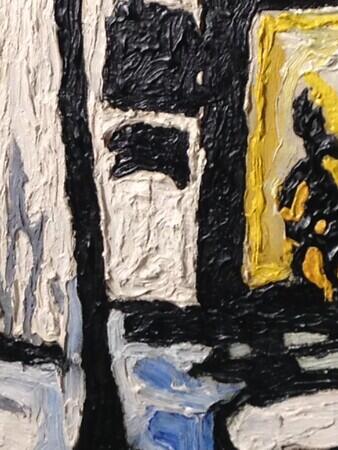 I also think these works talk about other things that are not necessarily related to these subjects.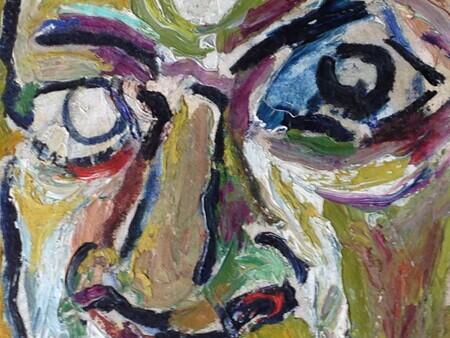 This morning, I have been reading Stephen Best's book None Like Us: Blackness, Belonging, Aesthetic Life, and in particular its chapter on works by the artist El Anatsui. Stephen Best is interested in thinking like and with these works. The book is having an effect on my thinking, though I am only in the early stages of being able to say what I am learning.
Months ago, when I stood in front of the self-portrait, it seemed to me that Delaney was urging me to think with paint, and perhaps that he was even amused at the literalness.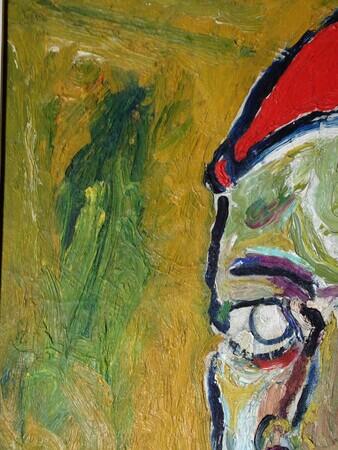 I have been writing about works by Delaney in different entries in this notebook. The first entry in the Frederick Project, and an experience from which this whole project draws continuing energy, was about a Delaney watercolor that belongs to the Knoxville Museum of Art. Another entry looked at a set of nine drawings, self-portrait sketches; another at an abstract oil painting; another at a self-portrait and its use of ochre next to a self-portrait by Berthe Morisot.
I think there are places where art and protest overlap, some where they are mutually illuminating, other places where there may not be much relationship, or a negative one. I think it would be a kind of pretense to say that art is redemptive, or that by studying art I may make progress or help others to make progress.
I try to hold to the sense that art and protest may both make room for reflection.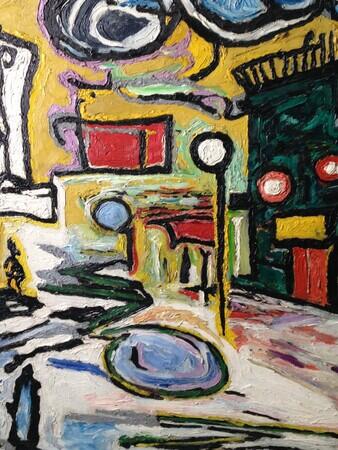 This week I am and will be thinking about the city streets around our house, which is in the Kenwood neighborhood built by meat-packing millionaires around 1900, and which is also on the South Side of Chicago, I am going to try to think very locally. About these two works – the landscape and the self-portrait. And about all the little areas of paint, which I am fortunate to have hundreds of pictures of. I wonder if it will be possible to make a kind of heterogenous topography, area by area, showing one neighborhood of meanings in a painting.
Rembrandt – Somber
Tuesday, May 12, 2020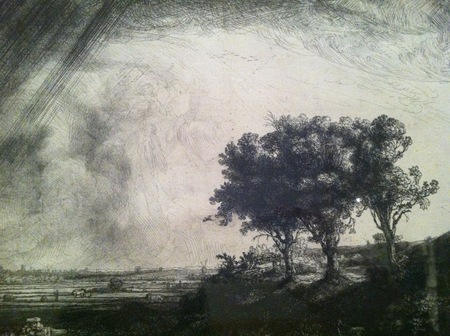 Today three different messages of death reached me. A colleague's father has died, from a long illness, not the coronavirus. It is very complicated for the son to go; he will have to quarantine away from his family on his return.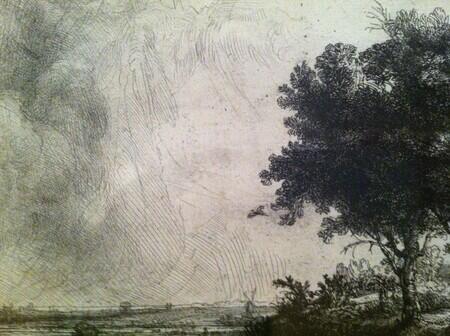 At noon, I gave a virtual reading with another colleague, who lives on a block one block away from me. Both of us read about memorialization. After the reading, my colleague said that five households on his block - I can see the backs of these houses through my study window as I write this – have lost or are losing someone of the grandparents' generation.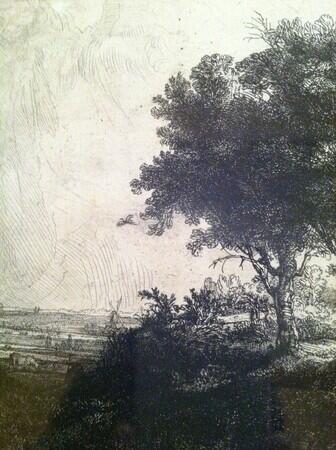 And I received an email from a cherished friend that his mother is dying in a nursing facility, also not of coronavirus, and no one, not even her husband, can go to be with her.
**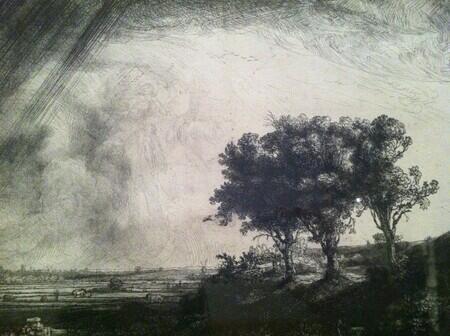 I first saw Rembrandt's Three Trees (1643) in the first art history course I took in college – which was the last class taught by the wonderful Seymour Slive before his retirement. As a special present to him, the Fogg Art Museum held a show of Rembrandt etchings that coincided with the class. My dormitory was on the same block at the museum, and I went so often and stood so long that going to see the etchings became like going home.
Ever since, for nearly thirty years, every Rembrandt etching I see in person is like a kind of embrace. Even the light-hearted ones have a solemnity to them, and a softness. Ink was gentled on his etching plates, as a great rider brings horses into their full expressiveness.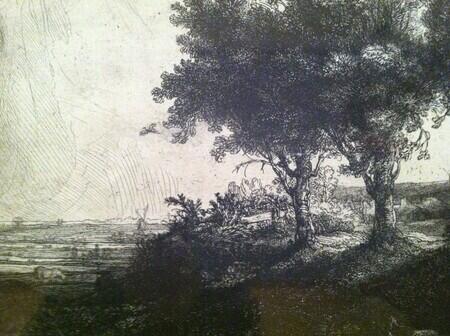 The Metropolitan Museum of Art has an etching of Rembrandt's Three Trees that I just happened to pass one day when I was visiting New York after long being away. I took a few pictures. Today, I was so glad to find them. Just look at the ink and the illumination.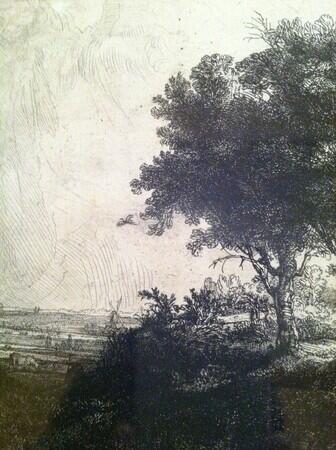 The text on the Met's website says that the "unusual cloud formations left of center" may be because Rembrandt had initially sketched another subject on the plate, one for The Death of the Virgin, which he ended up needing a larger plate to complete. I didn't know, but I might as well have, because the landscape is suffused with ideas of eternity.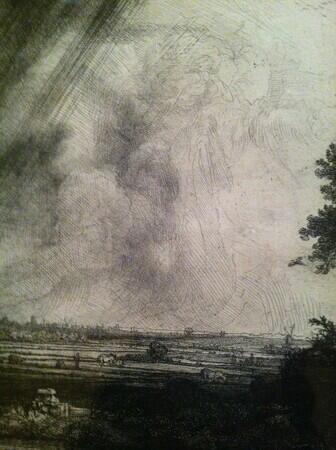 for Peter Helm
Vidura Jang Bahadur On Photography
Friday, May 8, 2020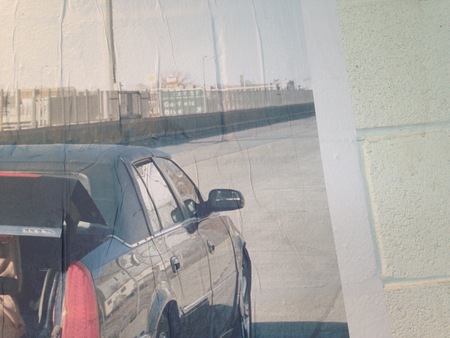 In the spring of 2017, Vidura Jang Bahadur installed a series of photographs he had taken at the Muffler Shop at 359 E. Garfield Blvd near Washington Park on the South Side. The building is owned by the University of Chicago and is a part of its art initiatives. Bahadur's photographs were street photographs – of people at the lake shore and in the parks on the south side, of storefronts and prairie grasses, some portraits of an individual or a small group, some larger crowd gatherings.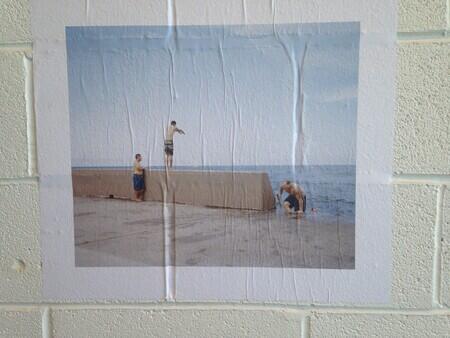 In the photographs there was stillness and composure, and I also felt the photographs raised the issue of arbitrariness, how these people came to be in this place. The images are de-saturated, which gives a sense of incompleteness. The photographs had mostly been taken in 2016 and were untitled.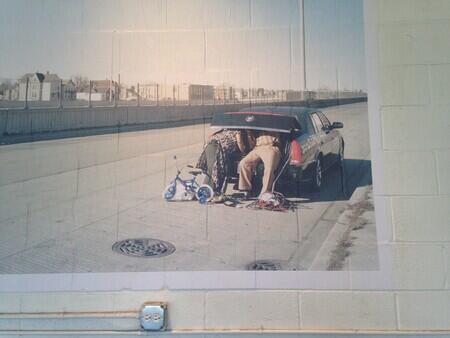 This is a different detail of the same photograph: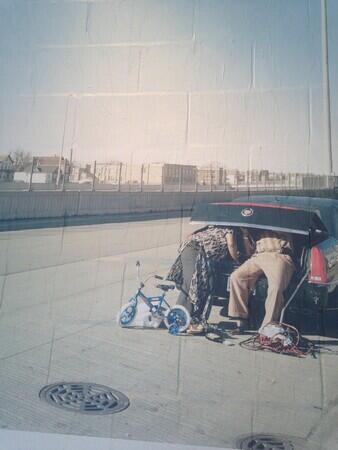 Bahadur is interested in urban planning, and in the catalogue for the show, he wrote of how the city of Chicago has been "carved" into "distinct racial geographies," by policy, through the built environment. The show was a part of the Department of Visual Arts MFA presentations for the year, and in the space there were also works by another artist, Kyle Hossli; I did not take any photographs of Hossli's work. The ensemble of works for the spring was called "And…and…and," the group of works by Bahadur did not have a specific title.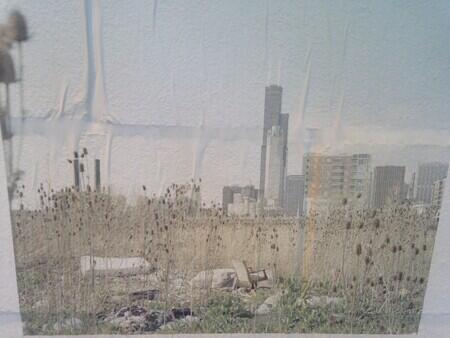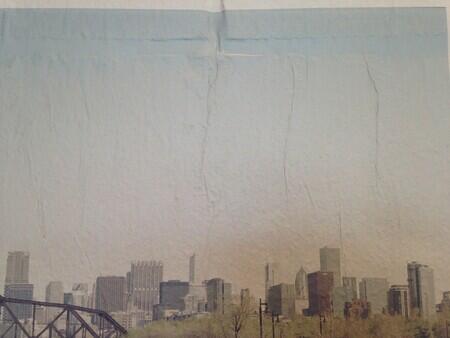 The spring of 2017 was my first spring in Chicago, and the end of Vidura Jang Bahadur's second year in the city, and in the MFA program. Before Chicago, Bahadur had worked as a photographer for many years in India, China, and Tibet, and had particular interests in photographing people who had migrated or been forced to migrate. At the University of Chicago, he had enrolled in the first course I taught there, on the essay and moving through landscape. In the years since, he and I have collaborated on several projects – working together to edit and design a community anthology and a set of chapbooks, both are of writing and images by other people having to do with migration. He also recently took the photograph I use as my author photo. At the time I saw the show, though, we knew each other less well. It is also the only show of his work that I have seen.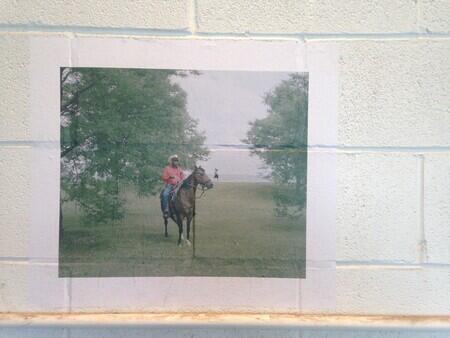 *
Bahadur has not shown these photographs in commercial galleries, and it was important to him to install the show in a way that recognized that the images were of the neighborhood, taken of the neighborhood and in some way belonging in and to the neighborhood. Some were also installed outside the Muffler Shop building on a nearby wall and storefront.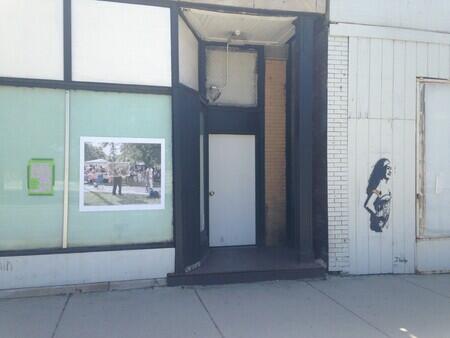 He printed the images on regular bond paper and pasted them to the walls of the Muffler Shop using wall adhesive and to the nearby exterior spaces using wheat paste. When the show was over, he washed the interior walls down, the photographs disintegrated and the images receded into the digital archive; some vestiges of the exterior images remained until last year. I went to the show close to the end of its time, and was very aware of how transitory the images were, that they were soon to be washed away.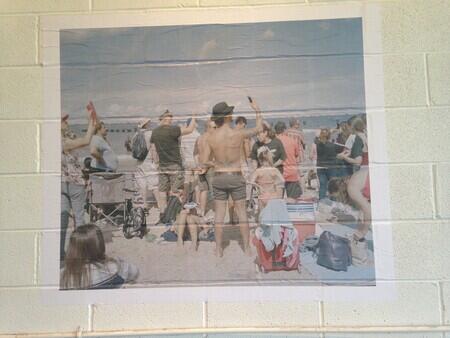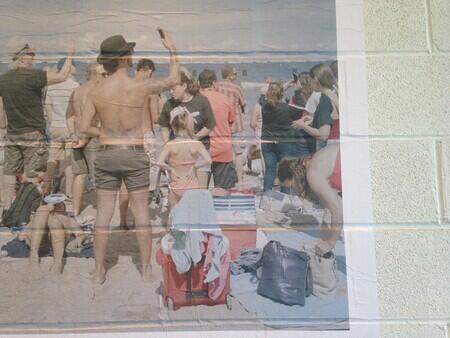 It made me see more acutely how much I assume, and invest in, the permanence of photographs. I take them to be a record that will outlast me, and to be in some way both immaterial and valuable, almost as if the point of the living were to achieve itself in the image. This show made them material — wrinkled and faded and pasted and less the point. This man on the horse did not achieve his meaning in being photographed (though he knows how to pose for a photograph) – he had his meaning, and has it still, somewhere else, when this photograph is washed away.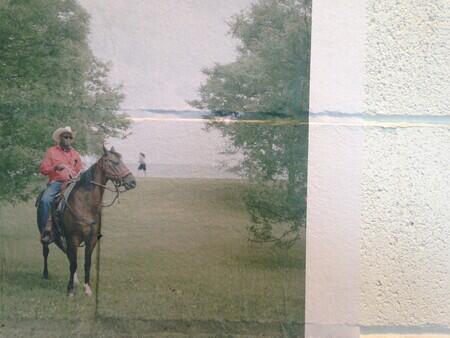 One thing that is striking to me now, going back through the photographs, is how much the show affected my own photographs of the show. I began to veer to the sides, taking pictures of the pictures with the sockets and bricks that were near to them. My photographs of the Vidura Jang Bahadur photographs look a bit like Vidura Jang Bahadur photographs. This seems a complex wit on the part of the artist, to have created this effect, or the opportunity for this effect.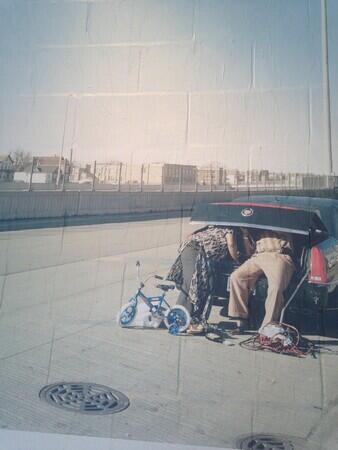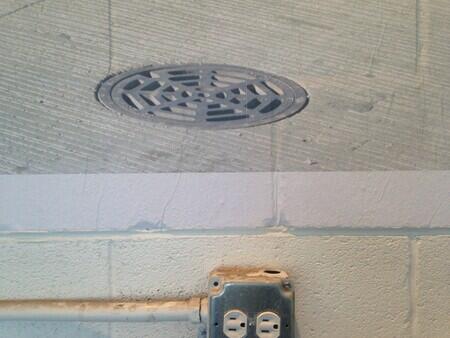 When I saw the show, I began from the inside of the space, and the images I have concentrated on were mostly mounted in the interior. Vidura Jang Bahadur was there on the day I saw the show, and he told me that he later thought he would have liked to install more of the images outside. I also spent quite a bit of time with the outside images and I found them, and their installation, trustworthy and clarifying. When I write on Monday, I would like to try to think about why.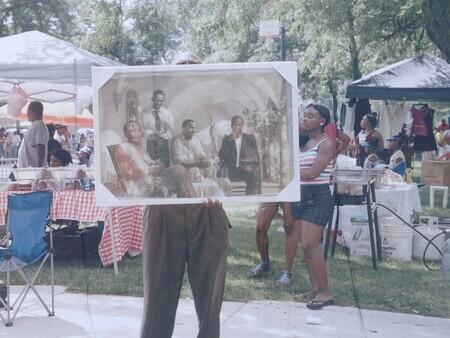 Weekend Countryside Pissarro
Sunday, May 3, 2020
Sunshine today put me in mind of three Pisssarros at the Metropolitan Museum of Art.
Camille Pissarro, A Cowherd at Valhermeil, Auvers-sur-Oise, 1874. Metropolitan Museum of Art. Photos Rachel Cohen.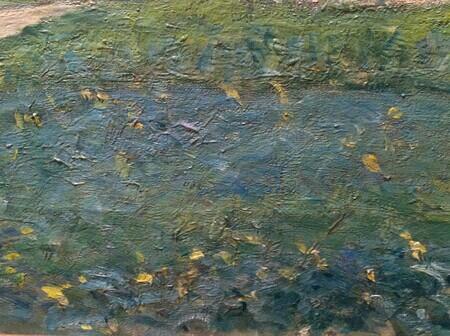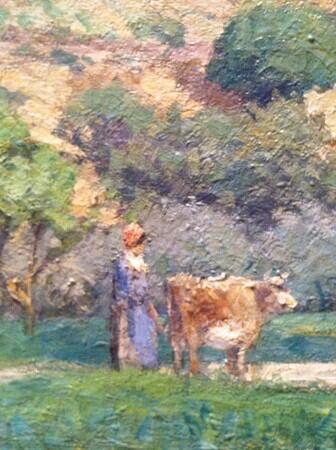 And, second:
Camille Pissarro, Jallais Hill, 1867. Metropolitan Museum of Art. Photos Rachel Cohen.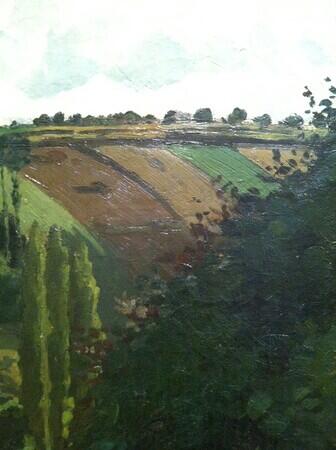 Third: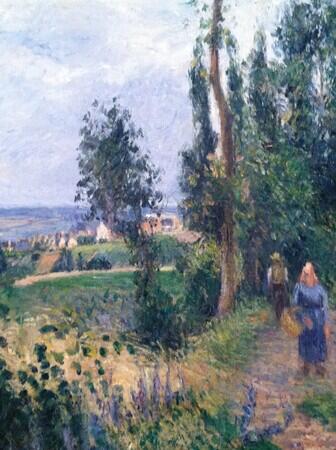 Camille Pissarro, Cotes des Grouettes, near Pontoise, probably 1878. Metropolitan Museum of Art. Photos Rachel Cohen.
May the weekend bring you sunlight and repose.
Poussin on Earth Day
Wednesday, April 22, 2020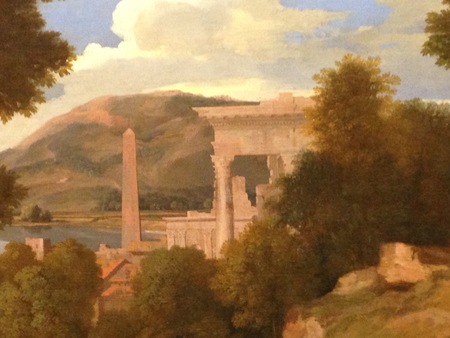 It is Earth Day, and I want to think about the earth's time.
My colleague Kathleen Blackburn, who writes about the environment and works with the Fresh Water Lab at the University of Illinois, has drawn my attention to a book I have been thinking about without yet having read, Rob Nixon's Slow Violence and the Environmentalism of the Poor. The thought is that we can understand and respond to crises with an immediate time horizon, but that we have a very hard time acting as if, even perceiving that, we're in crisis when something is prolonged.
This is one of the many aspects of this very strange sheltering season where it is possible to see deep connections between our responses to the flu pandemic and our environmental consciousness.
What is a slow crisis – and what kind of sensory perception and intellectual clarity do you need to attend to it?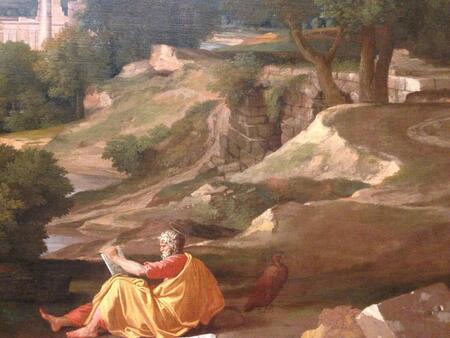 *
I started looking at Poussin because Roger Fry thought his paintings were wonderful, and I thought Roger Fry, especially his book on Cézanne, was wonderful, and I had never liked Poussin's paintings at all, found them strange and, with their often mask-like faces and statue-frozen physical poses, even a bit repellant, and I thought if Roger Fry was so into them, and I disliked them so fervently, there must be something there and I would take the challenge. It was probably competitive, to be honest, if this was the most difficult painter, damned if I was going to be left behind.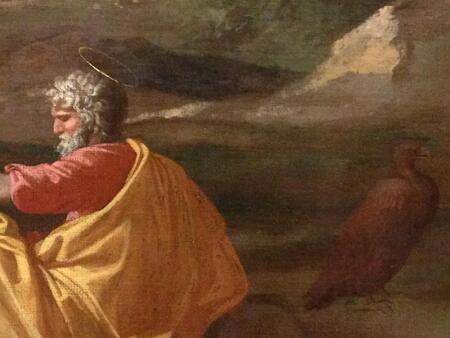 Around 2005, I had cobbled together enough money to stop working for a few months, and to go to Paris, and I went to the Louvre every week. It took most of that time, but eventually I got it. And then it was just like it so often is when you ruefully look back at your former self – it wasn't so hard really, it just took patience, practice, letting go of certain assumptions, being a little simpler, more tender, growing up a bit.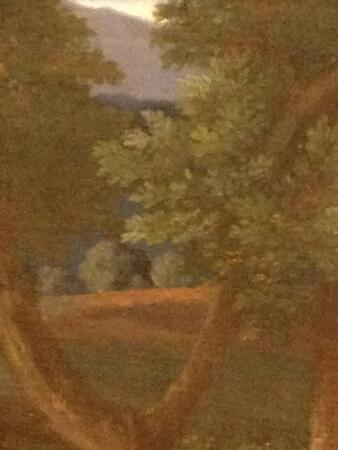 They are learned paintings. Carefully built around stories from the bible and classical literature. Set in idealized landscapes that combine layers of history in the way Rome itself does. Poussin spent most of his career painting in Italy, which is how he got qualities of light that the French love but usually can't do, though Cézanne could get close, by living in the South and looking a lot at Poussin.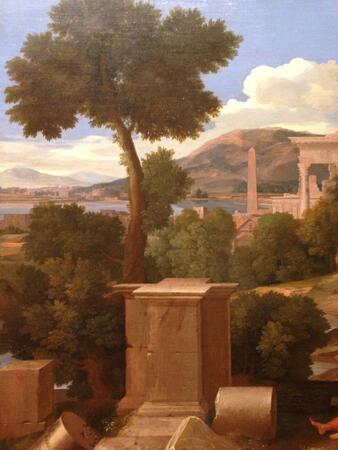 The light may be one way in.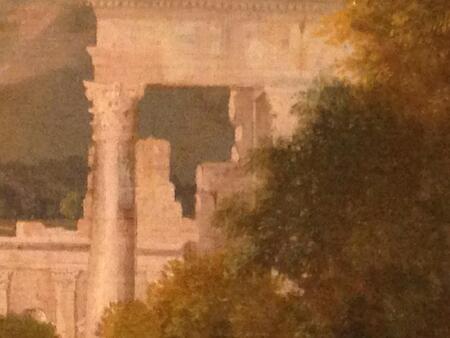 For me it was the greenery, and the great self-portrait at the Louvre, which I'll show, even though I have no photos of my own.
Nicolas Poussin, Self-Portrait, 1650. Musée du Louvre.
I spent so many days standing with this painting. He came to be a living person for me. I believed in the expressions of his face, that he had the depth of human knowledge that I saw there. I used to imagine him looking through the eyes of his self-portrait at the gallery of his paintings at the Louvre, and that helped me, too, to imagine what he might have wanted from paint.
The heroic and tragic paintings set in cities took the longest, and I still sometimes get repelled by them. But the landscapes, oh the landscapes.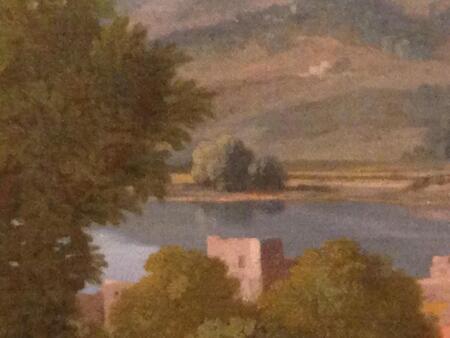 After that, to see a Poussin was always a beautiful day, a banner day. I lived with the ones at the Metropolitan Museum of Art in a prolonged way, years of weekly visits. And then came the great show at the Metropolitan, which defined Poussin for a generation, Poussin and Nature: Arcadian Visions. This was the chance of a lifetime. Poussin thought about the human relationship to the landscape. He already knew what we now understand: that there is no landscape on earth that is independent of human life and perception. And that if you take a long view, holding many layers of history in mind, you get a different kind of visual perception, and that you can then act differently, move differently.
When we moved to Cambridge, it was like a gift from the gods that there was a great, very late, possibly unfinished Poussin at the Fogg Museum. By then I was taking photographs of art, and I took so many photos of it that I learned to photograph Poussin. You don't want it too sharply in focus, or it becomes like an architectural model, all the layers built out of plywood and all the artificial trees poking up.
When we moved to Chicago, I went right away to see the Poussin that I had already often visited at the Art Institute, of St. John on Patmos, with the eagle who was the symbol of his gospel.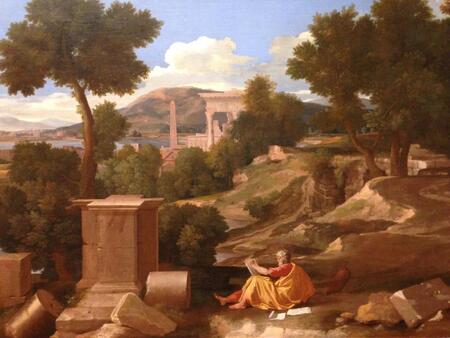 *
My favorite news stories in this time are the ones about the animals coming into the centers of cities. Sea lions near shop windows in Argentina, deer in Nara, Japan, mountain goats on city streets in Wales, herds of buffalo walking down highways in India. There are coyotes on the streets of Chicago.
This season, we are seeing what the earth looks like slowed down.
Poussin would know how to paint this.
There are eagles just behind us.