Delaney, Self-Portrait with a Red Hat
Thursday, June 4, 2020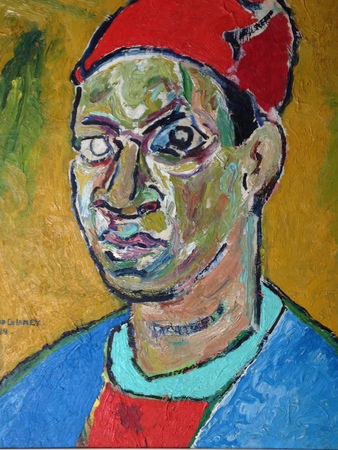 Today, I just want to look at this self-portrait by Beauford Delaney, carefully, and from different distances.
It was painted in 1944. Yesterday, I was writing about 1943 – the year when the Harlem insurrection broke out on the night after James Baldwin's father's funeral, which was also the day of Baldwin's 19th birthday. When Beauford Delaney found the money to pay for the father's burial, and Baldwin drove through the streets of shattered glass to the burial. And then left Harlem and moved down to the Village to live with Delaney for a while until he got on his feet.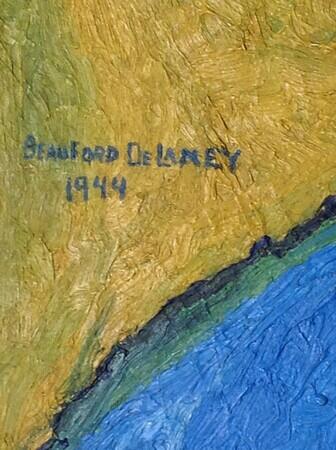 In other words, this painting is a part of the conversation Beauford Delaney was having with himself in 1944, after those events, when Baldwin was living nearby, and they were often at Connie's Calypso, the restaurant, and spending their time with musicians, and listening to records on Delaney's Victrola. It was 1944; more than one and half million African-American people were serving in the US armed forces by the end of the war in 1945, and Jim Crow was still in full force on the home front.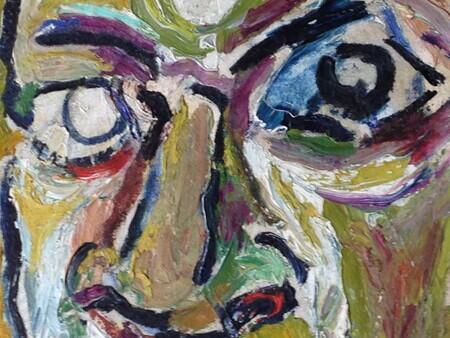 What is self-regard?
**
The day I visited with this painting, in the storage basement at the Art Institute of Chicago, I was not alone. The woman who arranged my visit and sat on a broken chair in the background while I looked was Julie Warchol, Collection and Exhibitions Manager. She kindly brought out and turned on a conservation lamp, so that I could really see. This means that I got better pictures than even a museum can take, because, in Delaney, the paint is so thick that it really casts shadows, which your eye sees right away, but most photographs don't show. It is a little bit as if you are looking at a sculpture made of paint.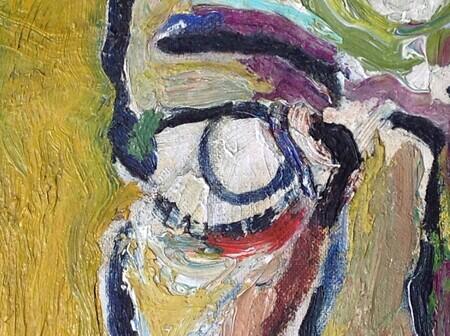 I think it may be easier to intuit relationships between sculpture and music than it is between painting and music. Music has a spatialness, and you move around in it, backwards and forwards and looping in time the way you walk around a sculpture.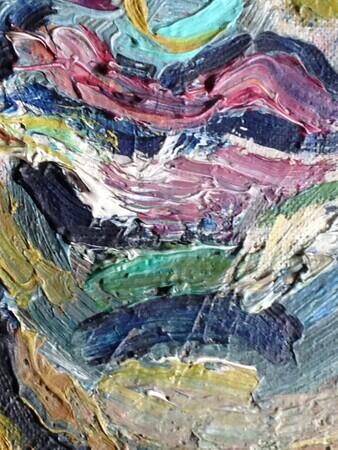 The sculptured paint seems to have special significance around what looks like a scar at the figure's neck. Some art historians think this was a place where Delaney changed the proportions of the figure. Others imagine this as a more direct comment on history and its violence.
Delaney often let the canvas show through here and there, and those places are generally important. Cézanne did this, too, and we know that Delaney spent a lot of time thinking about Cézanne. These spaces are material and sculptural. You can see the canvas and the weave, with its implicit gaps, and it also makes you aware of how thin or thick the paint may be.
**
Before I had spent significant time in the presence of Delaney paintings, I think I would not have said that he is a painter in whom one feels geometry, as one feels it in the Florentine painters, in Poussin, and in Cézanne. But if you are actually standing with these paintings and staying open to them, then you do feel geometry. I think it is an interesting thing about the racialized education I go on receiving that I had assumed, without having really seen any paintings by Delaney, having seen only reproductions, that Delaney was an abstract painter who moved by color that was – and I know this is crazy – somehow divorced from space and spatial considerations.
Why would I think that a Black painter wouldn't work from a theoretical sense of space?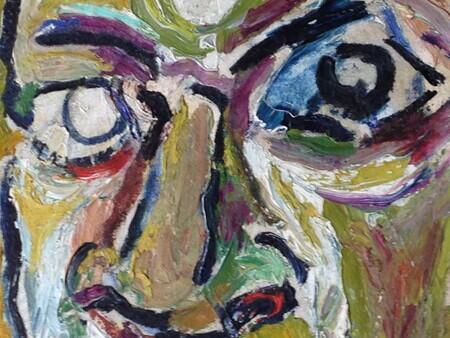 It's in my own assumptions, but I think it's also in the photographs of Delaney's paintings. We know that photographs are not without bias, and that the flattening of photography reduces our understanding of painting's intentions, but I think probably many works by people of color, even the ones that are in the museums, even the ones that have been photographed a million times, will need to be re-photographed by photographers who believe that the artists are working from a place of intense abstract awareness before art critics and art historians, working necessarily from reproductions, will be able to give the works their due.
**
There are several different ways that the red hat in this painting is Florentine.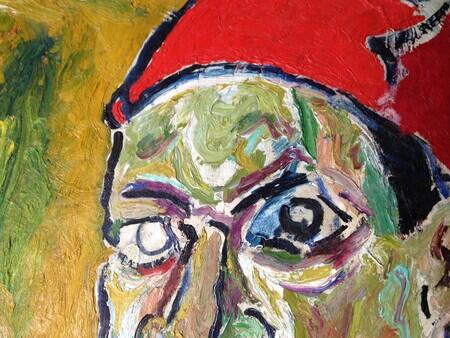 This morning, I went to look at my pictures, and I remembered that in looking at the painting, I thought that red mattered a lot, the reds of the hat, and the way they bring out other reds, red was being used, very intentionally, to make a certain kind of space. I got that far in the presence of the painting.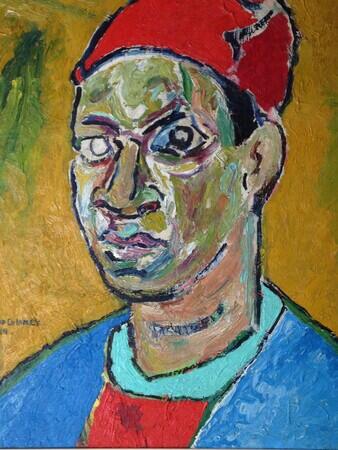 Then, this morning, I thought that the range of reds in this Delaney know about Florentine spatialization – of a kind I was trying to write about here last week in thinking about Michelangelo's red chalk drawing of staircases. And I searched for Florentine portraits in red hats. The most famous one in America is Youth in a Hat that used to be attributed to Botticelli and still sometimes is, though the National Gallery now gives the painting to Filippino Lippi, who studied with Botticelli after his own father, the renowned painter Filippo Lippi, had died.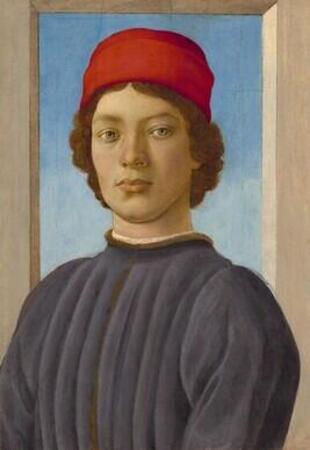 Filippino Lippi, Youth in a Hat, c. 1485. National Gallery of Art, Washington DC. Museum website image.
I got the kind of chill that researchers get as a significant connection emerges. For this painting entered an American collection with huge fanfare in 1937 when Andrew Mellon purchased it to be part of his unprecedented gift of paintings to form the National Gallery of Art, a gift that was covered extensively in newspapers in 1937. The core of the National Gallery was built over the next few years, and was opened with a dedicatory ceremony in 1941, at which President Roosevelt said, as was widely quoted in the newspapers:
"The dedication of this Gallery to a living past, and to a greater and more richly living future, is the measure of the earnestness of our intention: that the freedom of the human spirit shall go on."
At the moment, it's a speculation, but it would be interesting if the notes could be found to fill in Delaney's relationship to the paintings at the National Gallery. We know he went repeatedly to visit Isabella Stewart Gardner's collection, admired Gardner, and can presume that he was interested in the Gardner's rich holdings in Italian art of this period.
**
Look at these two photographs: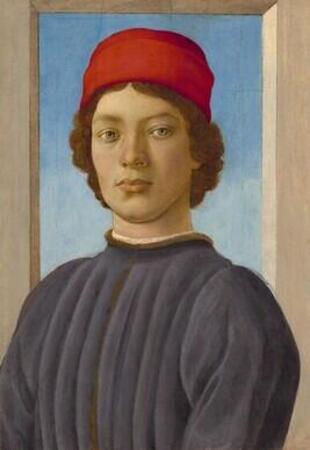 My photograph of the Delaney is an awkward photograph, but a true one, of the storage space, and includes the white frame, which I don't know the history of, but which very much underscores the relationship to the white frame that Filippino Lippi painted right into the portrait he made. I haven't seen the Lippi in person, but, even in reproduction, Delaney's formal and painterly innnovations open a conversation between me and the painting that I cannot begin with the Lippi.
The geometry of the Lippis and of Botticelli was the geometry of the wave, the undulant line. And it is in part the uneasy relationship between their windy watery world and the perspectival geometry of their city that places them among the very queerest painters of the many queer Florentine schools.
I think I see a clue in the hat. To me, the line in Delaney's hat, here it is upside down so the shape is as clear as possible, is related to the indented shape of the hairline of the youth in a hat:
**
The confidence of Delaney's painting. This self-portrait is like Rembrandt doing his self-portrait as Titian's Man With a Quilted Sleeve.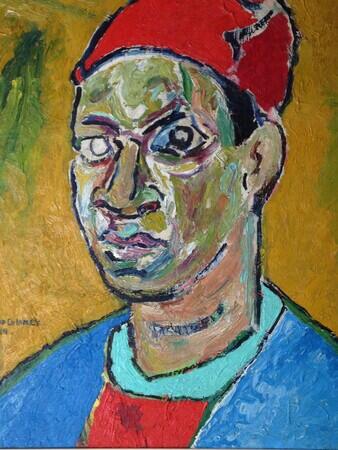 Some day, there will be a new, earnest dedication, to a greater and more richly living future. Perhaps a curator will imagine a show in which these two paintings will hang together, and the people who come to see them will be as open as Delaney himself was in 1944, and they will just walk up the hill to look out from the high place, these eyes that will be windows on to whatever that world will be.
Stockholder Rose's Inclination
Friday, May 22, 2020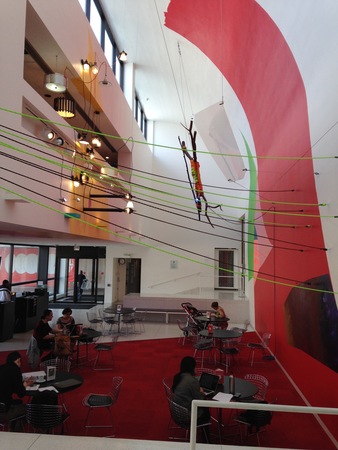 Red was also painted on to the sidewalk. The red stretched up in a big painted arc on the back wall that curved up on to the ceiling and stretched toward the windows of the second floor, windows that you cannot really see from the lobby space below but which shone on the red. And red ran in the carpet under the tables where students sat and drank coffee, across the floor of the lobby, out the museum doors, and on to the sidewalk, where it was met by triangles of yellow, blue, green, and lavender. The work felt red.
Inside, up on the wall that faced the great red curve there were lights, a great many of them, electric lamp lights of different kinds, and stretching across that space there were ropes, thick nylon ones of green and black, and there was a sort of large woven talisman, suspended among the ropes, and made of tree branches and of orange and other colored yarn. The whole thing was a very unusual combination of loftiness and invocation and wryness, and it made me laugh.
Rose's Inclination by Jessica Stockholder, was installed at the Smart Museum of Art for two years, from 2015-2017, and was there when we arrived in Chicago, so that it became the museum for me. Three years have passed since it came down, but I still sometimes miss it when I walk into the lobby. And the way I miss it is a little like the way I miss the large, gangly, beautifully soft viburnum that had to come out of our garden because of the beetles, and which had a personality that was a part of the whole. But Rose's Inclination was much larger and more intelligent – she had a force and dynamism.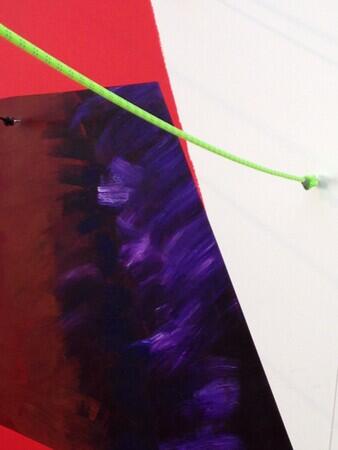 When I stood looking up at Rose's Inclination, I sometimes thought of Marcel Duchamp's alter ego, Rrose Sélavy (Rose, c'est la vie) and of his Large Glass with the intricate relationships among the absurd parts that nevertheless give a sense of bodies and personalities.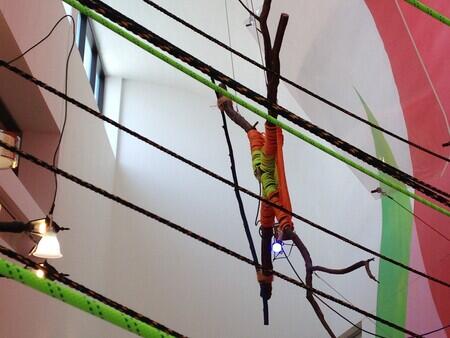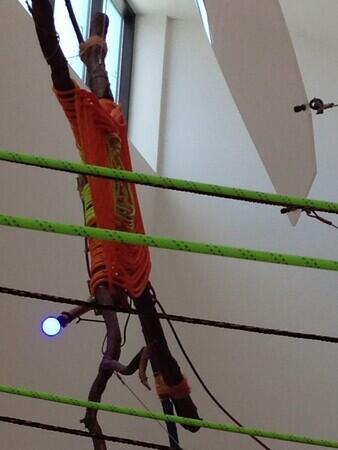 The whole system of Rose was there in Rose's Inclination, the lamps and ropes and paint and branches she needed for the currents of her energy and ambition to flow. And Rose even seemed to have outgrown her artist, which suggested a fearlessness on the part of the artist that was very delightful – to see an artist with such powers at work and at play at once.
I'm not sure I can think of another work I've seen that actually seemed to grow, not just to move, but actually to share with plants the activity of growing before one's eyes. In this week, where I am thinking about vegetation, about Vuillard, Mondrian, Vostell, about plants and the kinds of abstract understanding they make available, about material — tapestry, paint, water, concrete, leaves and stems — and the way it may derive itself and send itself forth — this week, I have been leaning forward to get back to Rose's Inclination.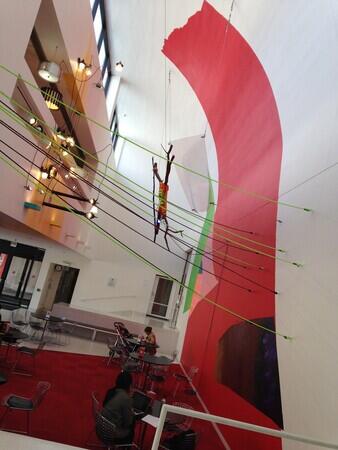 Jessica Stockholder is a colleague at the University of Chicago, and a wonderful writer. The wall text she wrote for Rose's Inclination was not especially large, and was an indispensable part of the experience. This is how the wall text looked.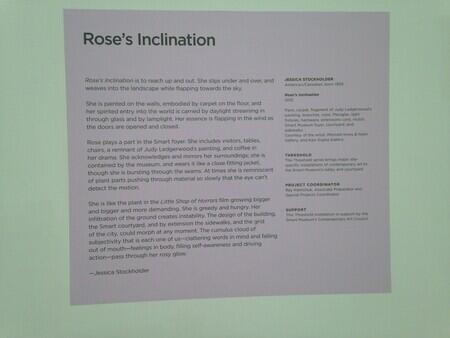 Here is the artist's writing in full:
Rose's Inclination is to reach up and out. She slips under and over, and weaves into the landscape while flapping towards the sky.
She is painted on the walls, embodied by carpet on the floor, and her spirited entry into the world is carried by daylight streaming in through glass and by lamplight. Her essence is flapping in the wind as the doors are opened and closed.
Rose plays a part in the Smart foyer. She includes visitors, tables, chairs, a remnant of Judy Ledgerwood's painting, and coffee in her drama. She acknowledges and mirrors her surroundings; she is contained by the museum, and wears it like a close fitting jacket, though she is bursting through the seams. At times she is reminiscent of plant parts pushing through material so slowly that the eye can't detect the motion.
She is like the plant in the Little Shop of Horrors film growing bigger and bigger and more demanding. She is greedy and hungry. Her infiltration of the ground creates instability. The design of the building, the Smart courtyard, and by extension the sidewalks, and the grid of the city, could morph at any moment. The cumulous cloud of subjectivity that is each one of us—clattering words in mind and falling out of mouth—feelings in body, filling self-awareness and driving action—pass through her rosy glow.
— Jessica Stockholder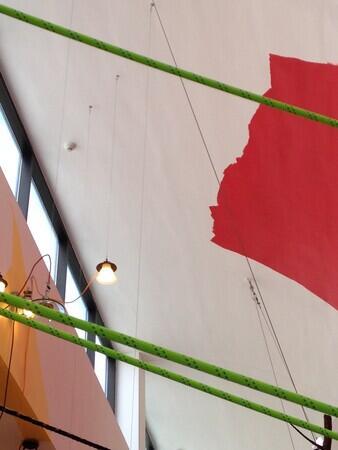 Weekend Glimpse: Cézanne Bouquet for Mother's Day
Sunday, May 10, 2020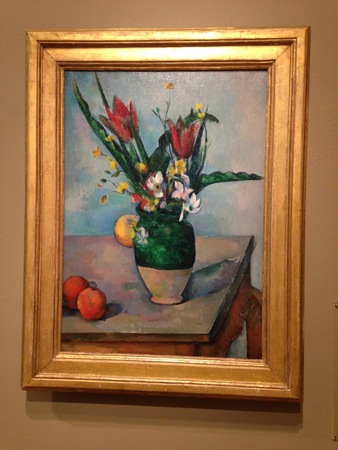 Here is a Cézanne, The Vase of Tulips, from about 1890. It is at the Art Institute of Chicago. I took the photos.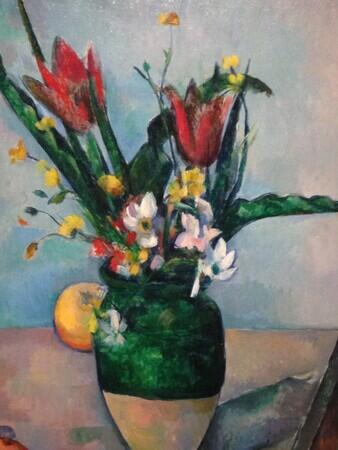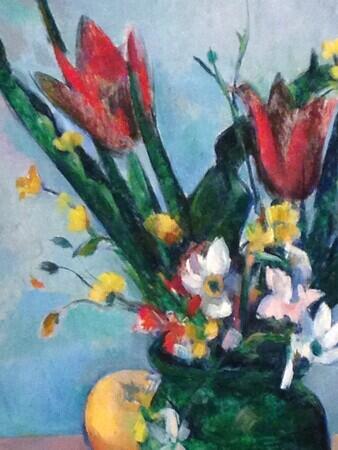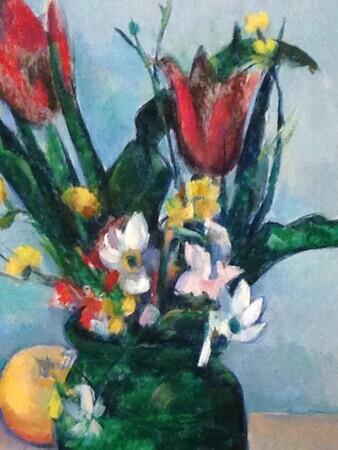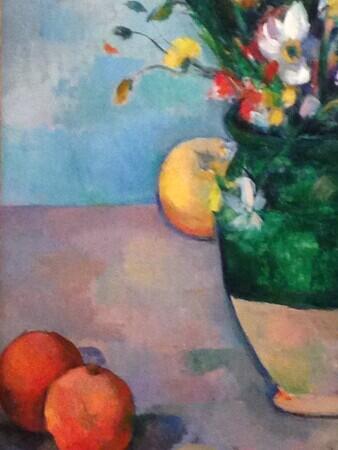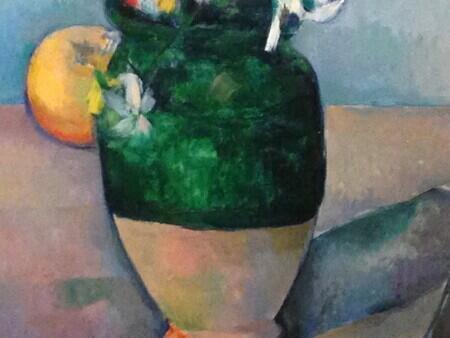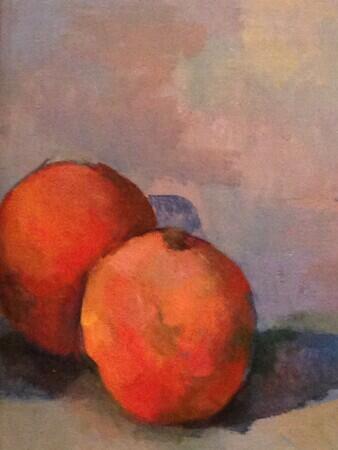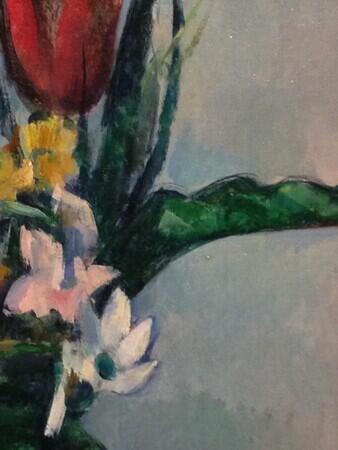 Happy Mother's Day
Faith Ringgold Story Quilts
Tuesday, May 5, 2020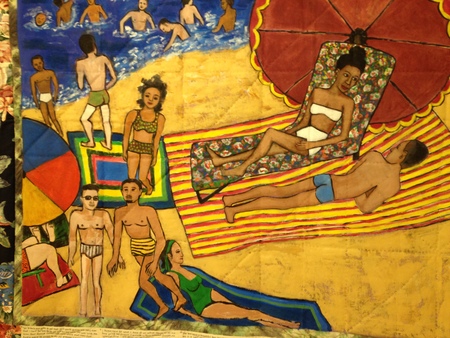 "On the Beach at St. Tropez" was the first Faith Ringgold story quilt I'd seen, and I was completely unprepared for the encounter.
I was floored. And know what that expression means as I find it is the right one: it means my soul rushed down to the floor so that I could look up and take the measure of this.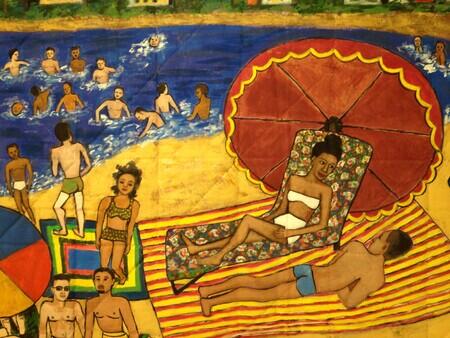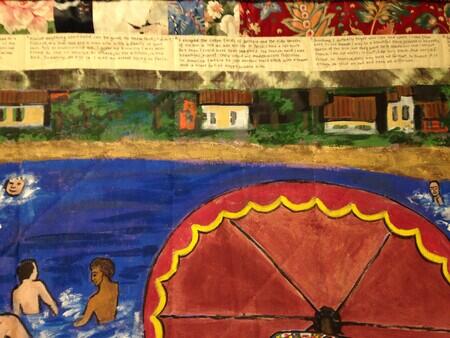 I had already read the wall text, so I knew that there was a character, Willia Marie Simone, an African-American artist who had gone to Paris in the 1920s and had a wonderful, historically very nearly possible but not quite, life in art.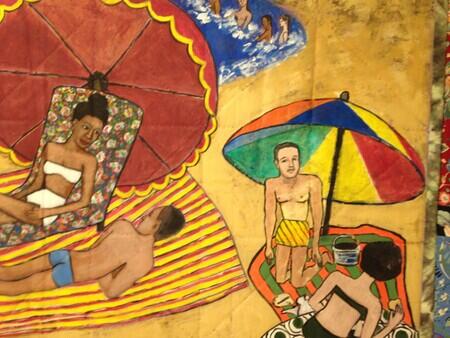 Willia Marie Simone had known Gertrude Stein and James Baldwin and other people in the Paris settings where I had also tried to depict Stein and Baldwin in my first book. I knew that territory of imagination well, and I had thought about different kinds of impersonation that may open in that vicinity.
I looked for a while at the color.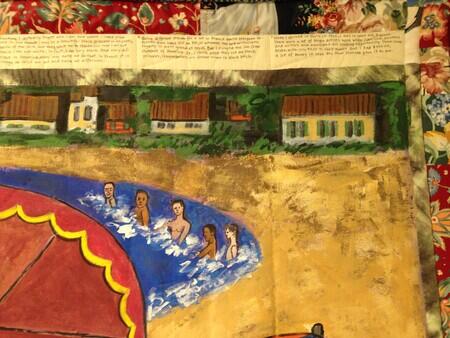 And then I began to read the words. And I laughed out. It was so funny, the tone. This character, her audacity, and self-involvement, the way she said absolutely true things and self-serving things and loving things and perceptive things and things ground out of economic and racial reality and how she seemed alive to people and their bodies.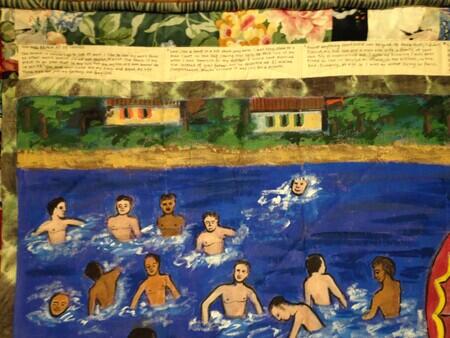 I wrote about On the Beach at St. Tropez almost as soon as I started doing this project, this museums-are-closed-and-what-do-I-want-to-look-at-in-the-room-of-my-computer project. But the pictures I had taken weren't sharp enough to show the text. I could find the wit in the swimmers' faces, the loungers' bodies, but the deliberateness I knew was there was hard to bring through.
A kind colleague from the Smart Museum, Berit Ness, saw my post and sent over a higher-resolution image. And I read the text eagerly. But then I couldn't quite find the humor and boldness that had been so strong in my first impression.
I've read through it several times over the last six weeks. The closest I come to getting the impression back is when I scroll across the image with the words still in my mind. It was the impression of both together that gave the language its tone. Read with the painting, it's a speaking voice. You are the child getting the letter, from this mother, yours, who sent you off to live with Aunt Melissa so that she could paint and go to the beach at St. Tropez, but who lives in this realm of vividness that is like no other thing in life, and you are also the knowing person in a museum who feels the inextinguishable rightness of this written personality, the slyness and tenderness of the faces and gestures here observed, and you can laugh.
Here is a kind of center of the story quilt. The text is numbered, and the passages below are 10, 11, 12, 13, 14.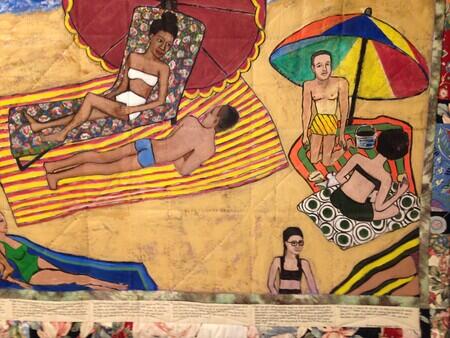 10 is at the base of a column of space with the central figure watching the young man lying below her, then under the woman in the green bathing suit lounging on blue towel.
I find the line breaks are important:
10. You are such a beautiful boy, my son, and if you want to judge
me it is your choice to do so. But it will only make us both
sad. I cannot change my past or yours. I abhor criticism. It is
so useless to be judged in your later years, when you have
no time to change. We must learn to change all that is amer
à doux, bitter to sweet.
*
Not too long after we moved here, I bought, at the 57th Street Bookstore, a book of poems for children called Bronzeville Boys and Girls. The poems are by Gwendolyn Brooks. Each is about a child, and the title of the poem is the child's name, and sometimes something about the child. "Narcissa," "Vern," "Robert, Who is Often a Stranger to Himself," "Eunice in the Evening."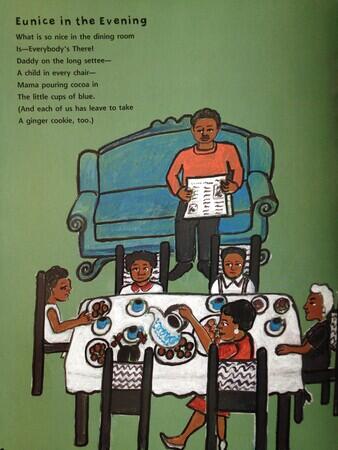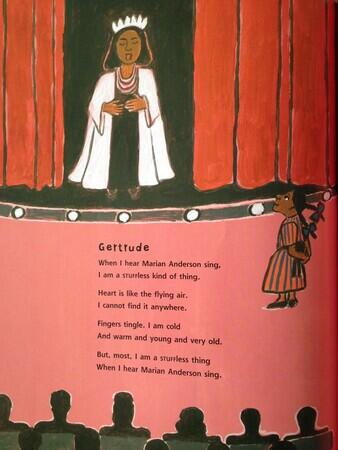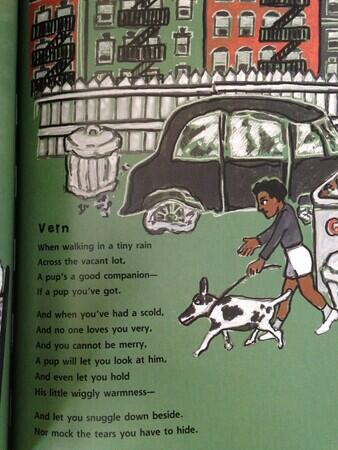 It was only while we have been in shelter, and reading those poems again, that I realized that the illustrations in our book are part of a new edition from 2007, and were made by Faith Ringgold.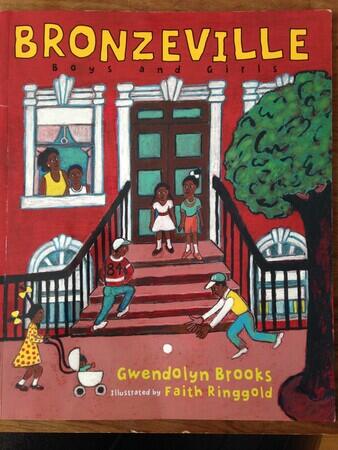 Since mid-March, every day, almost every day, that we are sheltering, one or the other of us takes the children and we walk to Gwendolyn Brooks Park, which is about six blocks away, and we look at the sculpture of her there by Margret McMahon, that McMahon made in close collaboration with Gwendolyn Brooks's daughter Nora Brooks Blakely. Every day, I try to think about how to write about Gwendolyn Brooks. I do not know how to write about Gwendolyn Brooks.
Bronzeville Boys and Girls, words and paintings, is a masterpiece. Because of the Ringgolds, you may hear the voices in ways you didn't expect. Tomorrow, I will try to think about the sounds of this.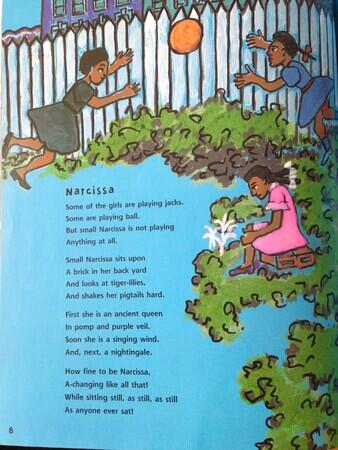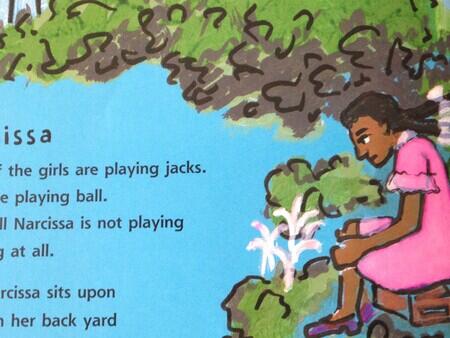 Faith Ringgold at St. Tropez
Frederick Project: Colors and History
Friday, March 20, 2020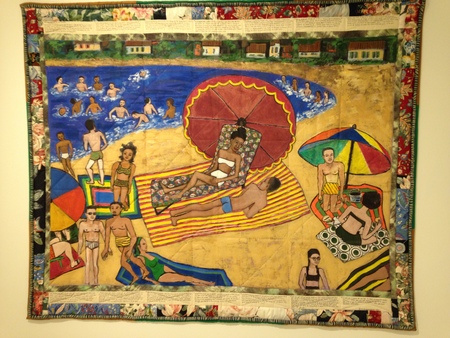 Thinking of intense experiences of color in the last few months. Immediately Faith Ringgold. Her painted canvas and quilt On the Beach at St. Tropez, from the series of twelve story-quilts The French Collection, which came as a revelation in the Smart Museum of Art's show called Down Time: On the Art of Retreat this past fall.
You walked into the gallery and were literally flooded with color.
Ringgold paints on canvas then stitches the canvas to quilt, finishes the backs with cotton batting. A bravura painter, years of careful experiments with pigment to get the skin tones she wanted, the flatnesses and depths of water, cloth, patterns.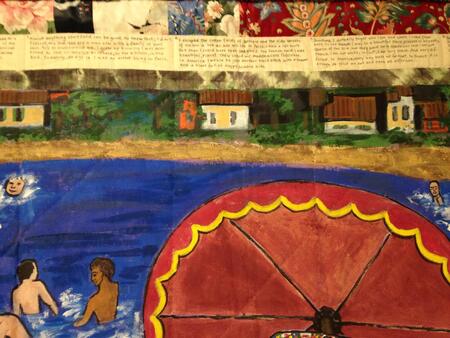 You are also immediately aware of the story – border of carefully written incidents running along the edges. The stories are about Willia Marie Simone, a fictional character with some qualities of the painter and some of the painter's mother and some that are the character's own. (I will try to decipher one of the stories for a later entry, my pictures are smaller than I had thought.) Willia Marie Simone ran away to Paris at the age of 16, in the 1920s, and had a storied life. The work is so very witty.
There are many articles that follow a well-worn, useful, but somehow insufficient path, explicating how, in this series, Faith Ringgold insists on the place of African-American women and artists who have been left out of history and museums. Looking at this quilt, the size of a wall, its flooding colors, my impression was more of something that shrugs its shoulders and rises.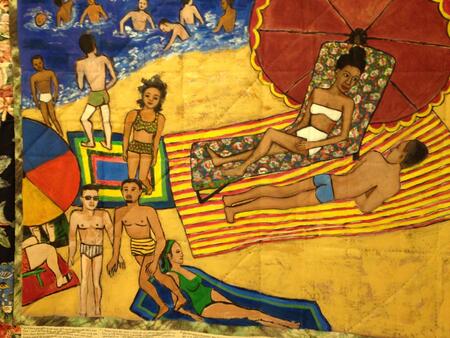 It's all there, really: the quilters of Gee's Bend, making their glorious abstractions from the worn clothes of their families who labored; the bathers of Cézanne and Degas stretching back to the bodies of the Italian Renaissance; the rogue persona storytellers in Zora Neale Hurston and Fernando Pessoa; all these kinds of work that Ringgold had done her training with, and had loved enough to do justice to them (meaning that she saw them whole, with their beauties and the things they failed to see). She knew them, and had thrown them over her shoulder, so that art could rise anew.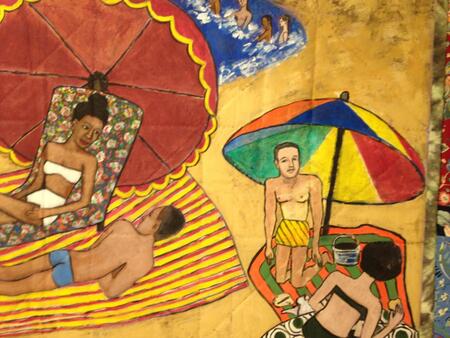 Color tells stories that cannot be abstracted from history – joyful as a child in sand, forceful as a woman at the height of her powers, unforgetting as age.
Down Time: On the Art of Retreat at the Smart Museum of Art was curated by Leslie Wilson in collaboration with the students University of Chicago's department of art history's course Exhibition in Practice.
Close Observation
Monday, January 20, 2014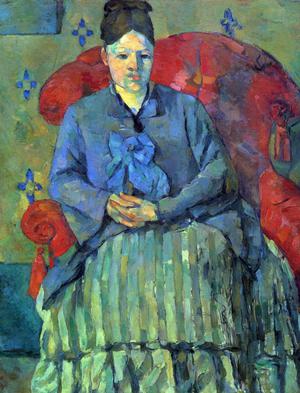 A woman, long blue shirt carefully tied over striped skirt, sits in a red chair. She leans a little to her right, our left, elbow on the arm of chair. Her hands are folded.
Cézanne's way of painting faces means that you can look at them or not. Everything has surfaces and depths. Much of the meaning of the figure is not in the face. The folded hands are important and beautiful.
Between the forefingers and thumbs are a green that relates them to the skirt below, a blue consonant with the blue shirt above. Shapes of laced fingers echo shape of dark what seems to be locket or pendant about neck.
Somewhere Roger Fry writes about the courage of Cézanne's face-on verticality. The painting ought to be static, there is so little motion in the way the figure and face are arranged. All the motion has to come from the paint itself.
The red armchair. Faces, designs, flowers in it. Begins to have an unusual kind of softness around her.
The model is Hortense Fiquet, for many years his mistress and eventually his wife. He painted her almost thirty times.
The skirt.
Another place of conjunction. Red tassel over yellow wall with blue wainscoting, edge of blue shirt over skirt. All this is beautiful, orderly, loved, observed, and yet paint.