William Walker Public Art
Tuesday, April 21, 2020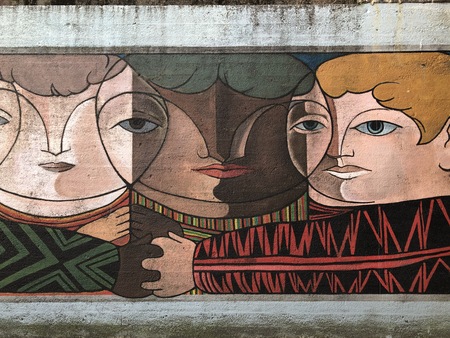 Today I want to think about public art. Art that I can still go visit, that anyone can still go visit, even though all the museums are closed. Often vulnerable and often unprotected, and also, beautifully, always there. Even in the dark of night, in snow, in a pandemic.
In our neighborhood of Hyde Park in Chicago, there is a masterwork at the 56th Street Metra Underpass. It is called Childhood is Without Prejudice, and it is one of the few surviving murals by William Walker, who was a foundational figure in mural art. Painted in 1977.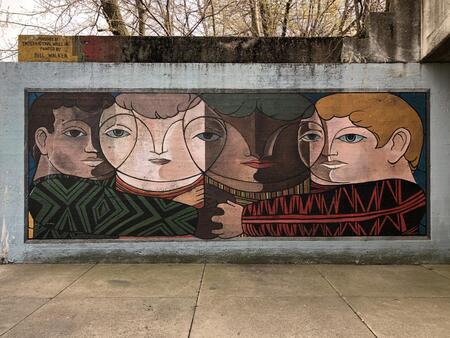 I learned about it from a student of mine not long after we moved here in 2016, and now I look at it several days a week. Glance, really, through a car window as I drive to pick up our two children from their school which is nearby. Sometimes, on foot, I pause for a bit.
The overlapping faces are moving. I feel one child leading to another.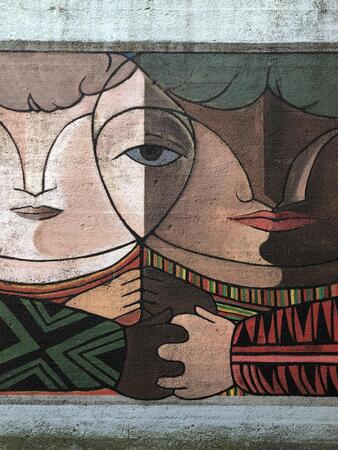 I love this join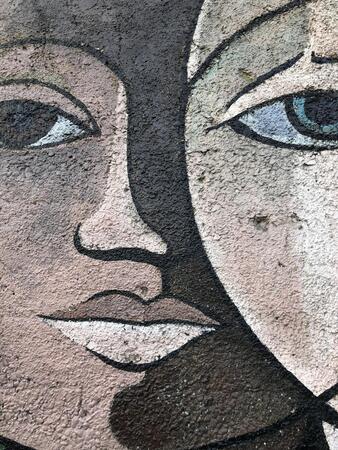 And these
The texture of the paint on the wall is wonderful.
*
William Walker was born in Birmingham, Alabama in 1927. He fought in the Korean War, studied fine arts at the Columbus College of Art and Design, was influenced by mural painters from the Mexican tradition, and helped to create the Organization for Black American Culture (OBAC) and the public art movement more generally in Chicago in the 1960s. He was one of the central painters for the Wall of Respect, which was a public testament of respect, with large-scale portraits of significant African-American figures on a wall at 43rd and Langley on the South Side of Chicago. It had a tremendous influence, leading to similar murals in cities across the country, some estimate as many as many as 1,500 community murals.
In a book called Walls of Heritage / Walls of Pride: African-American Murals by James Prigoff and Robin J. Dunitz, I read a beautiful passage of William Walker reflecting on the Wall of Respect, preserved in an interview with Victor Sorell in the Smithsonian Archives of American Art, 1991.
People had a great attachment to that wall. I suppose maybe it was because they didn't have anything. We came in the spirit of love and respect and giving. We didn't ask anything other than their cooperation, and once we got into it, we could even (safely) leave our paint on the scaffold…
That wall meant many things to many people. I saw a young man sitting in front of the wall. His back was just resting on the wall. So I said, 'How are you doing, brother?' He said, 'I'm gaining my strength.' I saw people cry. I suppose the people in that community realized they had something that other people wanted to share and deal with. I don't think we, the artists, fully realized what we had created in relation to how people would attach themselves to it. As far as doing anything to the wall, that was unheard of. When the wall was first executed, the people would come all hours of the night. It was a truly wonderful thing.
I often think of that man sitting against the mural, gaining his strength.
*
Walker painted Childhood is Without Prejudice on this particular wall on 56th Street and Stony Island Avenue because it is across the street from Bret Harte Elementary, where his children went to school. Many of his murals were self-sponsored. There are three panels, the other two are in a somewhat different style, also of children, but without the overlapping faces. The other two are more under the bridge, and less weathered. All three have been conserved through heroic efforts of restorers, particularly Olivia Gude, who is a muralist herself and has a mural on the other side of the underpass. Walkers' panels are about nine feet high.
Last December, I took our son's class of four-year-olds to visit the painting. I showed them slides of the painting first. There was a beautiful moment when we saw the mural and the children took off running for it. I wrote about this in a piece for the New Yorker online, published today. They tried to leap into the painting. In a lifetime of looking at art in museums, I have never had a feeling for a painting so jubilant, shared, and free.
The other day, I went by Childhood is Without Prejudice with our two children, to look at it, and to measure its height. Some homeless people had pots and pans and sleeping bags distributed under the underpass and in front of the painting. The people were not there, but their things were. Since then I have been thinking about the people who have slept in front of that painting over the years, their childhoods, their thoughts about paint.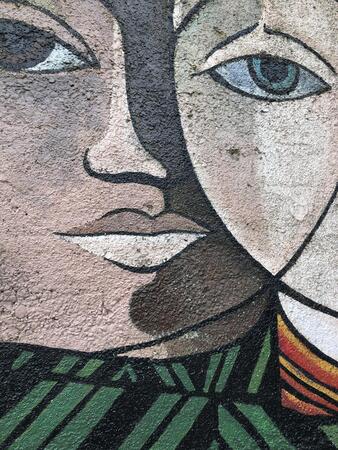 Private Collection II (with Paul Valéry)
Monday, June 3, 2013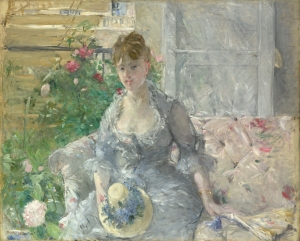 Some weeks later I remembered that I had read something about Berthe Morisot, long ago, in a book by Paul Valéry, a collection of occasional pieces about painting with the somewhat misleading title
Degas, Manet, Morisot
. I hurried back to read the passages on Morisot, three really, altogether perhaps ten pages.
The man who wrote the introduction to the volume decided, rather ruefully, that, despite living among the Impressionists and being himself so intelligent, Valéry's writing about them was only in a limited way perceptive. The poet seems in a way to take the painters and their achievements for granted. But, for me, these few passages, coming as they do from a man who was married to one of Morisot's nieces, and lived in the house that had been Morisot's, offer something more than useful about "Tante Berthe." Morisot's daughter and her cousins had grown up surrounded by paintings: Morisot's and also those of their close friends – Renoir, Degas, Monet. Berthe Morisot was Berthe Manet, as she was married to Édouard Manet's brother, Eugène. I've read Morisot's correspondence with Stephane Mallarmé now, too, and the letters give the impression of life intensively lived among a few choice acquaintances. "Rare and reserved," Valéry says; the work, too, is private.
Of all the artists he encountered, Valéry weighed it out, Morisot, he thought, was the one:
to live her painting and to paint her life, as if the interchange between seeing and rendering, between the light and her creative will, were to her a natural function, a necessary part of daily life. It is this which gives her works the very particular charm of a close and almost indissoluble relationship between the artist's ideals and the intimate details of her life. Her sketches and paintings keep closely in step with her development as a girl, wife, and mother. I am tempted to say that her work as a whole is like the diary of a woman who uses color and line as her means of expression. (119)
This might be a subtle way of dismissing a woman's work – another woman damned with praise for her understanding of the quotidian – but it doesn't strike my ear that way. Valéry also says of her canvases:
Made up of nothing, they multiply that nothing, a suspicion of mist or of swans, with a supreme tactile art, the skill of a rush that scarcely feathers the surface. But that featheriness conveys all: the time, place, and season, the expertise and swiftness it brings, the great gift for seizing on the essential, for reducing matter to a minimum and thus giving the strongest possible impression of an act of mind…. (121)
The surprising texture of paint in her handling, the odd inward structure of the material, these phrases of Valéry's, give something to think about.
Landscape of La Creuse, 1882, Private Collection.
Woman Hanging Out the Wash, 1881, Ny Carlsberg Glyptotek
Young Woman in a Rowboat, Eventail, 1880, Private Collection.
Citations from: Valéry, Paul,
Degas, Manet, Morisot.
Translated by David Paul. Edited by Jackson Matthews. With an Introduction by Douglas Cooper. Princeton University Press: 1960.
Paintings: see the Athenaeum.