Gwendolyn Brooks in Our Neighborhood
Friday, July 24, 2020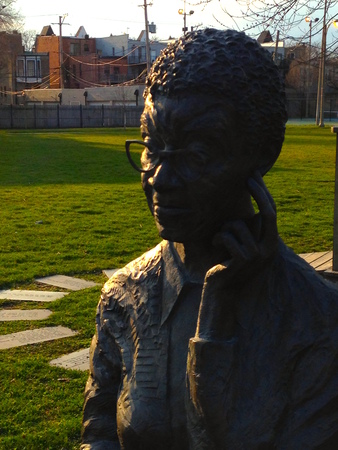 I originally wrote this entry on May 6, 2020, and have reposted it in conjunction with a new piece up at Literary Hub that continues the walking around this sculpture that goes on being so important to me. That piece is at:
Jane Austen, Gwendolyn Brooks, and Walking on the South Side
May 6, 2020
In our neighborhood, at 46th and Greenwood, is Gwendolyn Brooks Park. And in Gwendolyn Brooks Park there is a statue of the poet, which is believed to be only the second statue of an African-American woman in Chicago.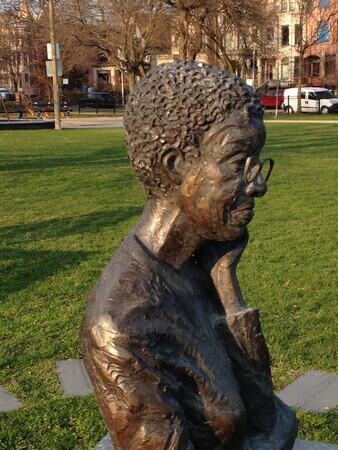 The sculptor is Margot McMahon, an artist who specializes in public projects and in sculptures of people who play what get called ordinary roles in the making of city life. The sculpture was McMahon's idea, as part of the centennial celebration for Gwendolyn Brooks, and she approached Nora Brooks Blakely, daughter of the poet, who suggested that the park named for Brooks would be the right place, and then the two worked together to develop the sculpture and its installation. It was unveiled on June 6, 2018, the poet's birthday.
The statue of Gwendolyn Brooks shows the poet's head, face, and glasses, and the upper part of her torso, arms and hands.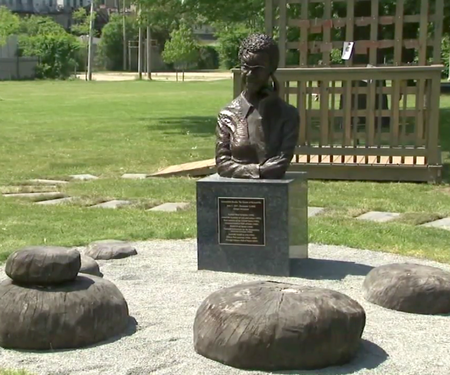 Installation photo from Margot McMahon's website, photographer uncredited.
Behind is a wooden structure that is like the poet's porch. Porch and figure are joined by a winding set of stepping stones that have inscribed on them quotations from Annie Allen, Brooks's book of 1949 about the coming of age of Annie Allen, a book which won the Pulitzer Prize. Annie Allen is a very difficult modernist text that I have been learning to read for a few years now, and do not feel confident that I am yet really reading.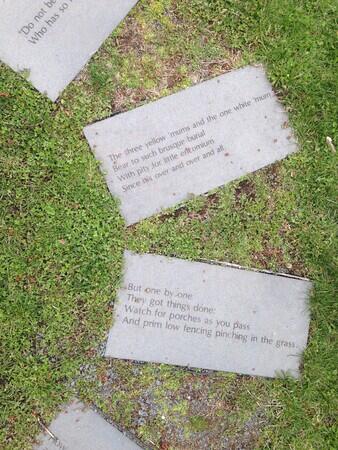 I am learning about this sculpture, as I am learning about the poetry, by visiting it many days in these months. It is of great value to me to have a thoughtful sculpture growing from a writer's life that I can go and look at, and be in the space of.
*
Yesterday I wrote about Brook's book of poems for and about children Bronzeville Boys and Girls with art by Faith Ringgold. It is interesting that in all Brooks's work, as in Faith Ringgold's, there is the sense of the presence and importance of children. Yesterday, I listened to some of a wonderful reading that Brooks gave when she became poet laureate at the Library of Congress. She began by reading three poems by girls from Chicago that had been submitted as part of the programs she ran as poet laureate of Illinois.
Annie Allen is difficult, and, at the same time, many of the lines make complete sense to children. When we take our children to Gwendolyn Brooks park, we sometimes read out the quotations that are on the stones. They both like the first one:
How pinchy is my room! they say, with a lot of relish. The rooms of our house are not that narrow, and we are grateful for that. At the same time, it is a phrase that makes a new stronger sense at the moment.
Annie Allen begins with a memorial poem for Ed Bland who was killed in Germany on March 20, 1945 – seventy-five years ago this spring. Then begins the first real section which is called Notes from the Childhood and the Girlhood. The line appears in the first poem, in which Annie Allen is born, the poem is called "the birth in a narrow room." I am going to type out the poem at the end of this entry.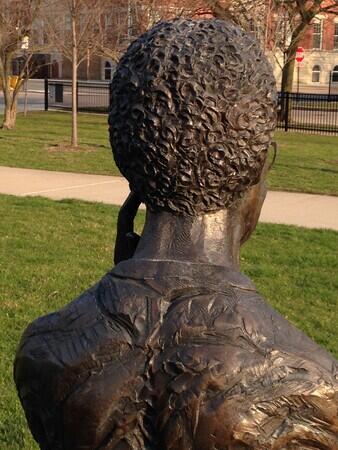 On Monday, I walked up to Gwendolyn Brooks Park on my own – it was very cold. I wanted to take a few more pictures of the sculpture, but a mother was standing near it with her child. The child was wearing a brown jacket with the hood up, and running up and down on the stones, and putting out her or his arms like an airplane. The installation also originally had some wooden hassocks arranged in a circle around the poet, to invite sitting to listen to her think, maybe read. These hassocks have mostly come apart, there is one and part of another still there. The child in the brown jacket sat on the remaining one and looked up at Gwendolyn Brooks and for a while I stood in the corner of the park and watched them in their private colloquy and then I turned and walked home.
*
Weeps out of western country something new.
Blurred and stupendous. Wanted and unplanned.
Winks. Twines, and weakly winks.
Upon the milk-glass fruit bowl, iron pot,
The bashful china child tipping forever
Yellow apron and spilling pretty cherries.
Now, weeks and years will go before she thinks
"How pinchy is my room! how can I breathe!
I am not anything and I have got
Not anything, or anything to do!"—
But prances nevertheless with gods and fairies
Blithely about the pump and then beneath
The elms and grapevines, then in darling endeavor
By privy foyer, where the screenings stand
And where the bugs buzz by in private cars
Across old peach cans and old jelly jars.
Faith Ringgold Story Quilts
Tuesday, May 5, 2020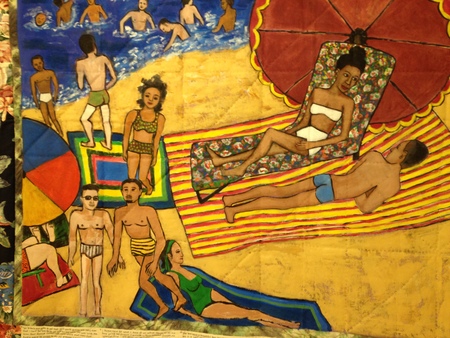 "On the Beach at St. Tropez" was the first Faith Ringgold story quilt I'd seen, and I was completely unprepared for the encounter.
I was floored. And know what that expression means as I find it is the right one: it means my soul rushed down to the floor so that I could look up and take the measure of this.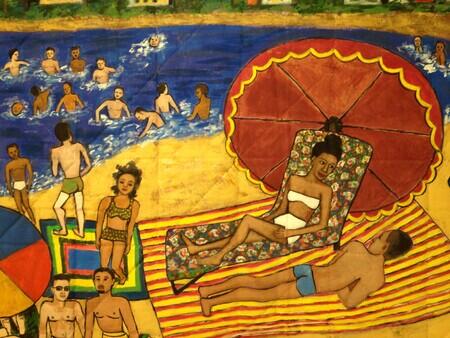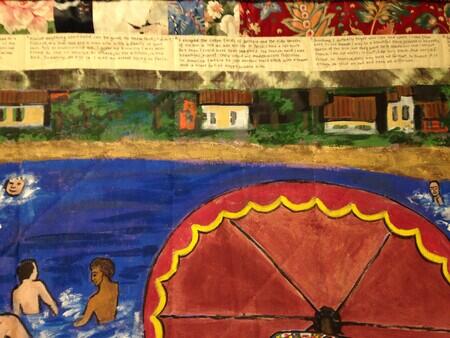 I had already read the wall text, so I knew that there was a character, Willia Marie Simone, an African-American artist who had gone to Paris in the 1920s and had a wonderful, historically very nearly possible but not quite, life in art.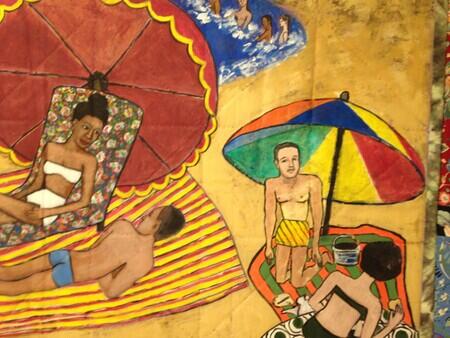 Willia Marie Simone had known Gertrude Stein and James Baldwin and other people in the Paris settings where I had also tried to depict Stein and Baldwin in my first book. I knew that territory of imagination well, and I had thought about different kinds of impersonation that may open in that vicinity.
I looked for a while at the color.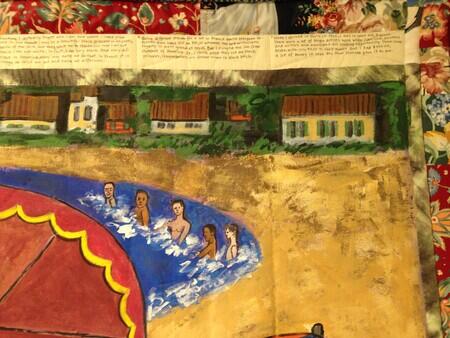 And then I began to read the words. And I laughed out. It was so funny, the tone. This character, her audacity, and self-involvement, the way she said absolutely true things and self-serving things and loving things and perceptive things and things ground out of economic and racial reality and how she seemed alive to people and their bodies.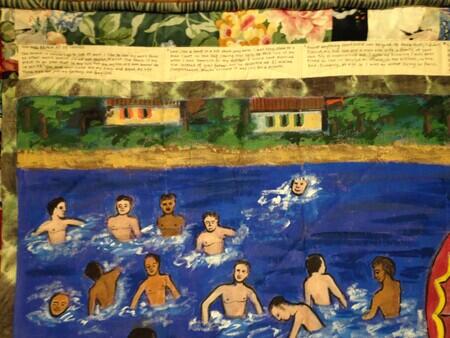 I wrote about On the Beach at St. Tropez almost as soon as I started doing this project, this museums-are-closed-and-what-do-I-want-to-look-at-in-the-room-of-my-computer project. But the pictures I had taken weren't sharp enough to show the text. I could find the wit in the swimmers' faces, the loungers' bodies, but the deliberateness I knew was there was hard to bring through.
A kind colleague from the Smart Museum, Berit Ness, saw my post and sent over a higher-resolution image. And I read the text eagerly. But then I couldn't quite find the humor and boldness that had been so strong in my first impression.
I've read through it several times over the last six weeks. The closest I come to getting the impression back is when I scroll across the image with the words still in my mind. It was the impression of both together that gave the language its tone. Read with the painting, it's a speaking voice. You are the child getting the letter, from this mother, yours, who sent you off to live with Aunt Melissa so that she could paint and go to the beach at St. Tropez, but who lives in this realm of vividness that is like no other thing in life, and you are also the knowing person in a museum who feels the inextinguishable rightness of this written personality, the slyness and tenderness of the faces and gestures here observed, and you can laugh.
Here is a kind of center of the story quilt. The text is numbered, and the passages below are 10, 11, 12, 13, 14.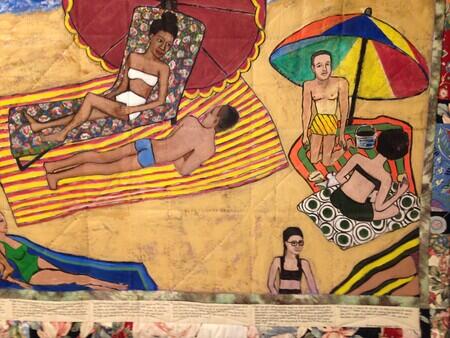 10 is at the base of a column of space with the central figure watching the young man lying below her, then under the woman in the green bathing suit lounging on blue towel.
I find the line breaks are important:
10. You are such a beautiful boy, my son, and if you want to judge
me it is your choice to do so. But it will only make us both
sad. I cannot change my past or yours. I abhor criticism. It is
so useless to be judged in your later years, when you have
no time to change. We must learn to change all that is amer
à doux, bitter to sweet.
*
Not too long after we moved here, I bought, at the 57th Street Bookstore, a book of poems for children called Bronzeville Boys and Girls. The poems are by Gwendolyn Brooks. Each is about a child, and the title of the poem is the child's name, and sometimes something about the child. "Narcissa," "Vern," "Robert, Who is Often a Stranger to Himself," "Eunice in the Evening."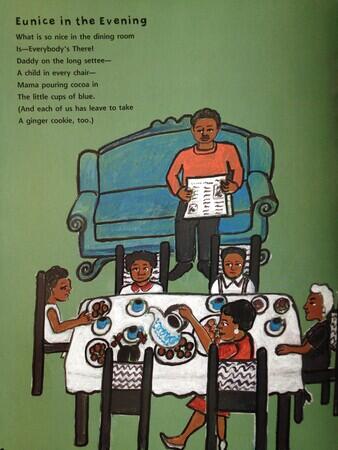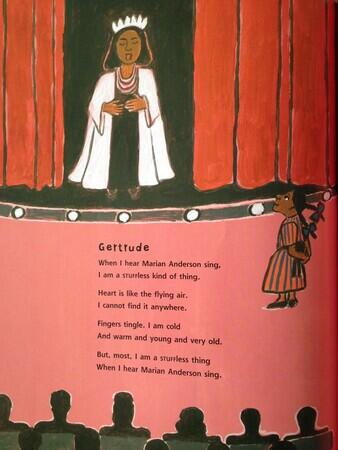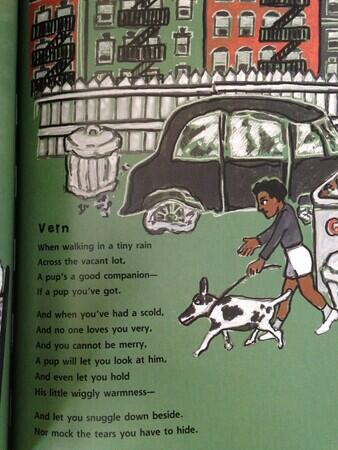 It was only while we have been in shelter, and reading those poems again, that I realized that the illustrations in our book are part of a new edition from 2007, and were made by Faith Ringgold.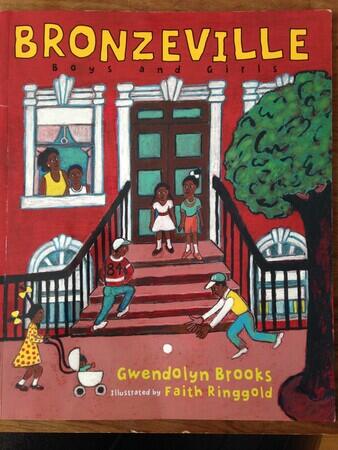 Since mid-March, every day, almost every day, that we are sheltering, one or the other of us takes the children and we walk to Gwendolyn Brooks Park, which is about six blocks away, and we look at the sculpture of her there by Margret McMahon, that McMahon made in close collaboration with Gwendolyn Brooks's daughter Nora Brooks Blakely. Every day, I try to think about how to write about Gwendolyn Brooks. I do not know how to write about Gwendolyn Brooks.
Bronzeville Boys and Girls, words and paintings, is a masterpiece. Because of the Ringgolds, you may hear the voices in ways you didn't expect. Tomorrow, I will try to think about the sounds of this.