Pissarro in March, in memory of Richard Brettell
Sunday, March 21, 2021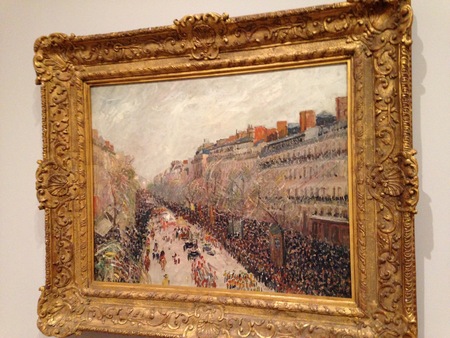 In 1897, Shrove Tuesday fell in March, and, in Paris, the annual Mardi Gras parade came down the Boulevard Montmartre on a blustery day. At a window overlooking the Boulevard, Camille Pissarro waited, brushes at the ready. The previous month, in February, he had begun an ambitious project, which would result in sixteen paintings of the Boulevard Montmartre, showing winter giving way to spring. Pissarro painted in the mornings, the afternoons, and the evenings; he painted in snow, rain, and the rare sunshine; he painted grey, and, when it came at last, he painted green. And he painted people – hailing cabs, rushing down the street, pausing to talk, cleaning, shopping, loitering.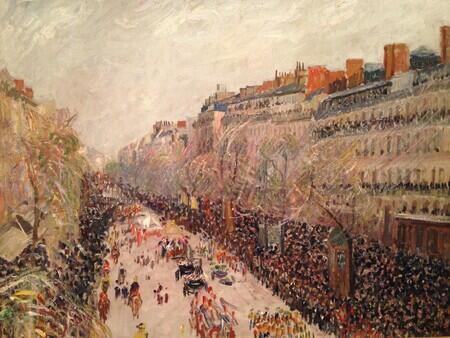 Three of the sixteen canvases in the series of the Boulevard Montmartre show the parade crowd from that Shrove Tuesday. In the first, there is a thick column of organized marchers, the second also has a very large volume of people filling the street, and this last one, which belongs to the Harvard Art Museums, seems later in the day, when the people were more scattered about, the onlookers fill the sidewalks, the trees were festooned with confetti, and afternoon brightness could be discerned in certain pinks. I saw it at what I still think of as the Fogg Museum while we still lived in Cambridge, probably in 2015. I was already very interested in Pissarro; I was only beginning to realize how interested.
A little before that, in the summer of 2014, I had given a talk at Edith Wharton's house, The Mount, and at the dinner after the talk met the director of the Robert Sterling Clark Museum. I told him that I was working on a project about painting and time and Impressionism, and he said I should come and talk to Richard Brettell, who was in residence at the Clark that season, and he set it up for me. We were only out in the Berkshires briefly, and the next day we went to the Clark, and looked at a few paintings, and I was admitted to the research area, and sat at a long table with Richard Brettell, notebook out, and I asked him cloudy questions about time and Impressionism and he answered briskly and with seeming enjoyment. Though I did not know his work then, I at least had the good sense to say that this was all in formation and a happy opportunity offered by the museum's director and his good will. He told me to read Arnold Hauser's The Social History of Art, which I subsequently did, and found very helpful. Somewhere I must have the rest of my notes from the conversation.
Later, I bought the catalogue of a profound show that Brettell co-curated at the Dallas Museum of Art, with the Philadelphia Museum of Art and the Royal Academy in London, called The Impressionist in the City: Pissarro's Series Paintings. The only time that Pissarro's great series paintings from the city, more than 300 canvases in 11 series, have been seen together. Not even in his lifetime were they so exhibited. The show was in 1992-93; I was in college, knew nothing of such things. The painting I would later see at the Fogg, Shrove Tuesday, Boulevard Montmartre, was presented. They were able to assemble twelve of the sixteen works from the series. Paging through the catalogue this morning, I felt MARCH. I felt the trudging grey of February give way to the wet windiness of March, felt the people eating their last feast and going out into the streets for the complicated celebration of their coming atonement, felt the thinning out of Lent and March, which is not our religion, Pissarro and I are both Jewish, but is one accompaniment of this season, one interpretation of this season.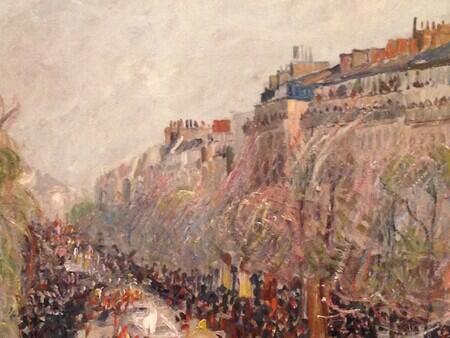 This morning I looked around all the bookshelves in the house until I located another book I had found, after meeting Brettell, a catalogue for a show called Pissarro's People, 2001, which he wrote the text for. I bought it in anticipation of a future when I would learn more. I think it is probably a great book on Pissarro, the culmination of many decades of study. I just tore the plastic wrap off this morning.
Knowledge is so fleeting. The thin crackle of the plastic wrap between my dry garden-hardened fingers, and as I crumpled it up to throw it away, I had the illusion that that was the meeting, the rich hour and exchange of few emails from the summer of 2014, crinkled up and fleeting away.
Richard Brettell died in July of 2020, of cancer, at the age of 71. I learned of his passing earlier this winter. I go on learning about Pissarro.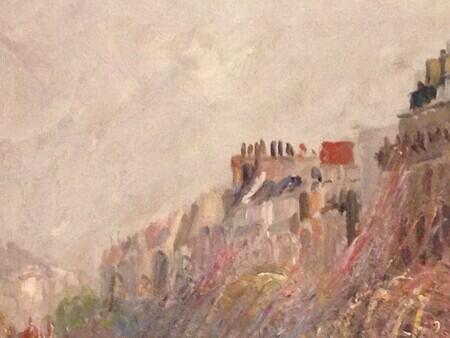 Winter Gardening Pissarro
Friday, January 22, 2021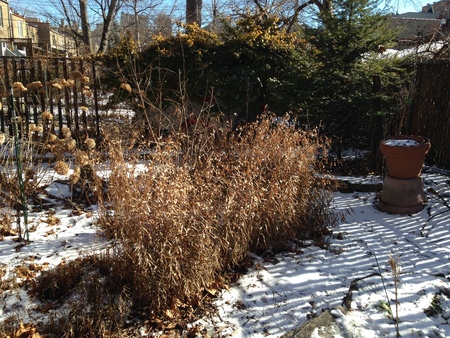 Yesterday it went up to 39 degrees in Chicago, which is warm right now in January, and it was a lovely day, sunny and quiet. Looking ahead to many cold days, I had seen this one on the horizon and planned to use it for a pleasant task in the garden, cutting the dry Northern sea oats. These are beautiful grasses with very lovely seeds in a pattern like a short bit of wheat. They are already in profusion in our garden, and the dry stalks need to be cut in January or the seeds are too successful and take over the garden.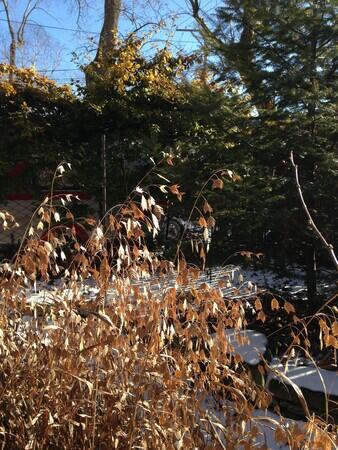 There was snow on the ground, a little less than an inch, enough that my boots left clear prints, a glittering soft snow that had fallen the day before but kept its whiteness, and this added to the sense of warmth and good cheer. It is a small urban garden, that seems bigger than it is because it was densely planted by the previous owner; you are never far from the house or the alley that runs behind the garden.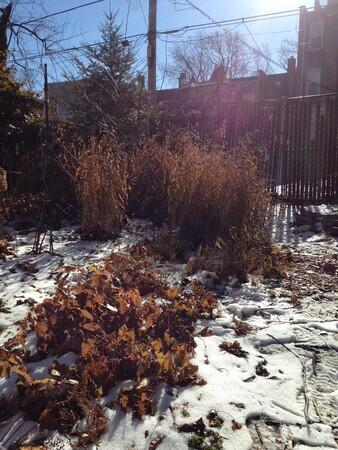 Yesterday, many workmen were out doing different projects and had parked along the alley, there were sounds of chopping and grinding. On the other side of the fence from me, there was a pick-up truck parked, perhaps twenty feet from where I worked, and three men were gathered near it, talking and laughing. I was a little uneasy without my mask, and I was also glad to hear people.
Our daughter had used her fifteen-minute break from online school to come out with me, but now she was back inside at her computer, and I was just cutting the grasses.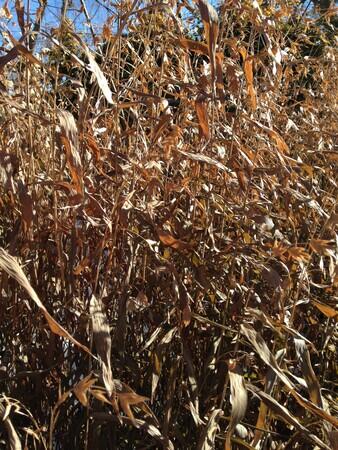 What came to mind was a winter Pissarro. Rabbit Warren at Pontoise, Snow, 1879. I looked at it again during the brief months when the Art Institute was open – I've loved it and I loved it again.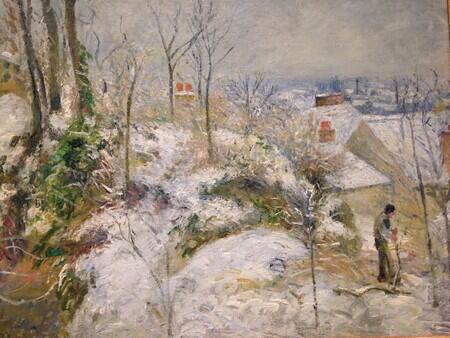 Camille Pissarro, Rabbit Warren at Pontoise, Snow, 1879, The Art Institute of Chicago. All detail photos Rachel Cohen.
You bend a hand-full of grasses and you cut them a few inches above the base. An ordinary garden clippers will cut about ten stems at a time. You try not to let too many seeds fall on the snow, but seeds fall on the snow. And look beautiful.
The Pissarro is of a man standing, on some kind of hillock, in the snow, and he is proportioned small – it is the landscape around him that matters, although he matters, too.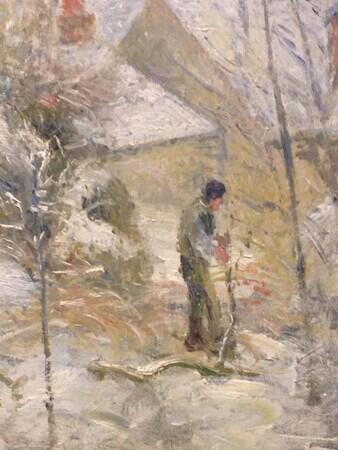 He was a fine man, Pissarro. He worked very hard all his life, never had quite enough, loved his large family, was Jewish, radical, Danish-French-Carribbean, born on the island of St. Thomas which was then the Danish West Indies, he was for Dreyfus, he was Cézanne's treasured teacher, he had a long beard, and he painted with his own genius.
In the winter garden, cutting dry Northern sea oats, I thought of this landscape, and drew strength.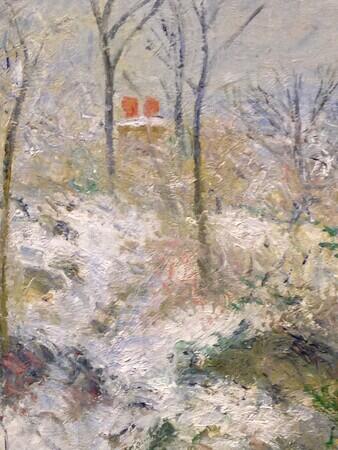 Yesterday, I had a message from a colleague at the Art Institute. Times are hard there, the museum has closed again and many people have been furloughed. The AIC workers have set up a mutual aid society. Many kinds of aid can be given and received at this website, and you can donate money to the group here, which I did this morning, a colder day, 14 when we got up and began to ready ourselves.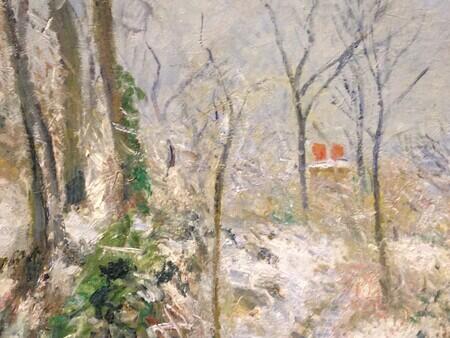 1879 was an especially severe winter, and Pissarro was one of the great snow painters. But it wasn't the snow in Rabbit Warren at Pontoise, Snow that brought the painting to mind, it was the sense of the thin lines of dry brush around the figure, the sense of his activity even as he holds still. In winter things are so near to death and, restrained, so active. A handful of thin lines, dry stems.
* * *
I find now that I have already written about Rabbit Warren, Pontoise in this notebook -- last April, the last snow of last winter. "Pissarro. Out of Season." When I wrote about it then, I said that I had thought to save this painting to write about later, I had expected to write about it in this winter, the winter of 2021, and that it was hard to imagine what that winter would be, and that I was writing of it in April because it had snowed. I had forgotten this when I thought of the painting, wrote of it again. So here are two moments of this pandemic year with Pisssarro -- one from an unexpectedly snowy day in April of 2020, another from an unexpectedly warm day in January, 2021, mutually reflective.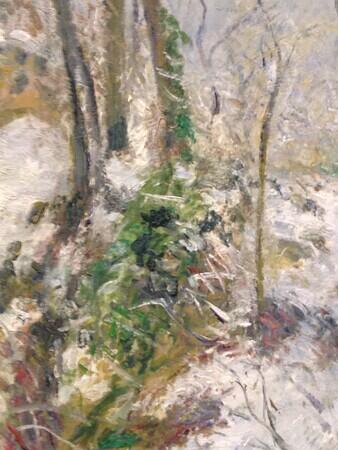 * * *
Often for these notebook pieces, I write a little dedication line at the end. While I was working in the garden, a few people came to mind. One was Richard Brettell, art historian, curator and museum director, whom I met once, and whose books on Pissarro matter very much to me. I wrote the dedication, and, imagining that I would send him a note, searched for him and found that he died of cancer in July of this past year.
Richard Brettell was a curator of European paintings at the Art Institute of Chicago in the 1980s, and so he would have known this painting well. When I have had time to think about his work and to revisit in mind the hour I spent talking with him, I will try to write about that.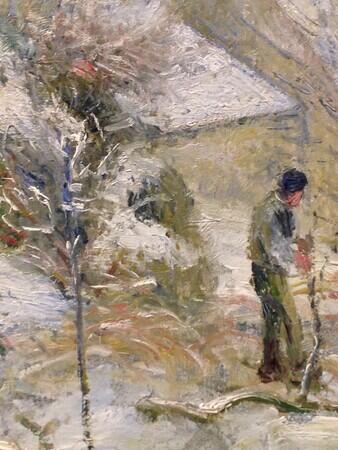 The news of his death seemed to have come through the dried grasses, the sense of the painting. But his death was not what I set out to write about. I set out to tell you that yesterday it was 39 degrees in Chicago, it was sunny, there was snow around the sea oats, three men talked in the alley near a truck, and that the scene made me think of Pissarro.
For friends and colleagues, studying Pissarro, carrying paintings outside of museums, working in gardens – the late Richard Brettell, Nancy Chen, Melissa Seley, Lawrence Weschler.
If you think of each act, Pissarro
Thursday, May 14, 2020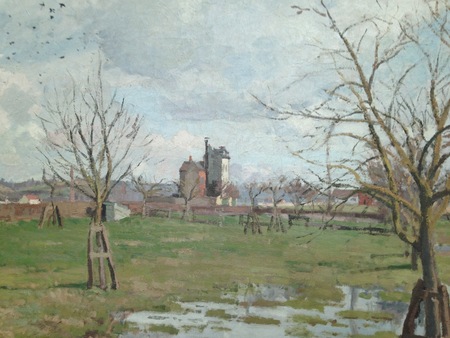 If you think of each act. I mean, every time a person comes into contact with someone else or a living being, or the life of the world. Every time she talks to the cashier as she pays for groceries at the store, or calls the pharmacy about a prescription, every time she does or doesn't nod to a person she passes as she's out walking, every time she puts out bird seed or chases away a rat who has come to eat the bird seed, or decides to bring in the bird feeder for now and moves a dry leaf so a fern can struggle on. Every time she answers the children with a laugh, and every time she answers sharply, impatiently, every time she writes a note back, every time she doesn't.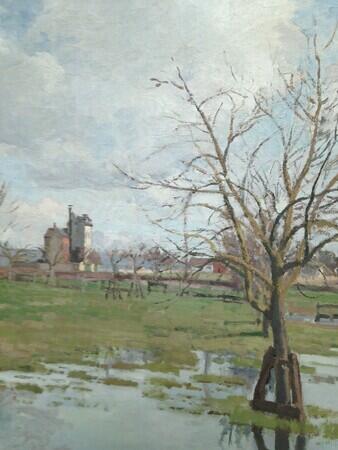 If you think of each act as a drop of rain. Then every life would have millions. Millions and millions of tiny acts. A vast ramifying sky of rain pouring down.
This morning it is raining torrentially. Rain is pouring in cataracts across our windows, and seeping in the back basement door to run down the cement floor, rain is pounding on the windows and the roof.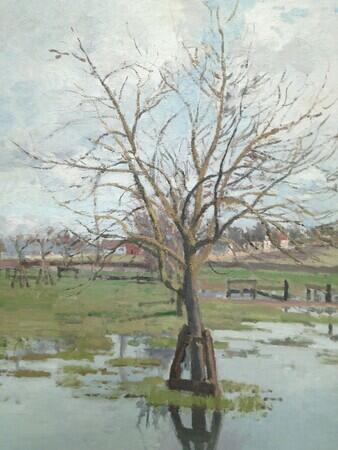 My old friend's mother has died. Not of coronavirus, of other long illnesses. He and his siblings couldn't go to her. She died in the night of May 12th becoming May 13th. I never met her, but my friend is a kind, insightful, brilliantly perceptive person, formed in the rain of thousands upon thousands of her tiny acts, kind and unkind, and so I know something of the weather she carried.
When my father died, seven years ago, the weather was so present to me. It was in storms that I felt he was closest again. I looked to the sky for signs.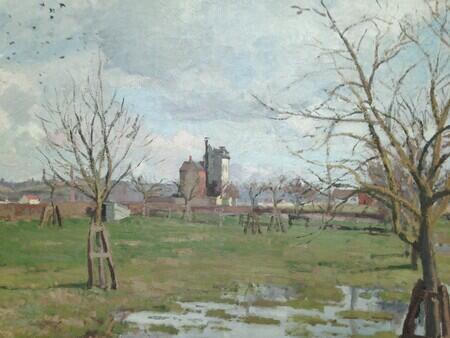 Three Pissarros Over Time
Monday, May 4, 2020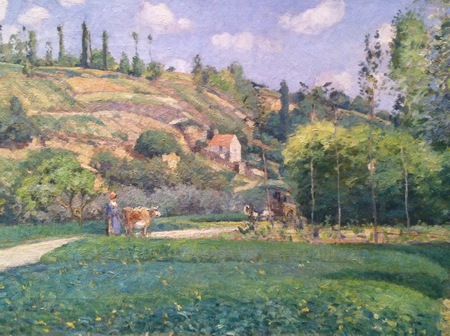 A Pissarro landscape has a special quality. As in a Monet, the vegetation has a lift, but this is even a bit more pronounced, so that there is a strong space around the leaves, which have a kind of brio.
Detail from Camille Pissarro, A Cowherd at Valhermeil, Auvers-sur-Oise, 1874.
As in a Sisley, there are glints, and the overall effect is quite bright, but the strokes are not quite as thin as Sisley's.
Camille Pissarro, Cotes des Grouettes, near Pontoise, probably 1878. Metropolitan Museum of Art. Photos Rachel Cohen.
*
To understand the painter who emerged in the 1870s, it is useful to look back a little into his history. Like all of the central generation of Impressionists, Pissarro followed Manet through the 1860s. Paint is smooth and areas of color fairly large, as here, in 1867, Jallais Hill. Beautiful, and with a certain opacity, something the eye moves over, but there is an incipient sense of through.
Camille Pissarro, Jallais Hill, 1867. Metropolitan Museum of Art. Photos Rachel Cohen.
Detail from Camille Pissarro, Jallais Hill, 1867.
Pissarro and his companion, later his wife, Julie Vellay had to flee Paris during the Franco-Prussian War. When they returned in 1872, they found that the Prussians had destroyed more than 1400 of his paintings done over twenty years. So the record of his early understanding of landscape, and of paint, is incomplete. Some think that these destroyed paintings would have shown the birth of Impressionism. This one from the Met is one of only 40 that remained, and becomes important in showing the great spatial and geometric clarity that underlay all his work.
Detail from Camille Pissarro, Jallais Hill, 1867.

Detail from Camille Pissarro, Jallais Hill, 1867.
By 1874, look how the mass is made with freedom and movement. How many colors are stippled through one another. This is how form and space are made.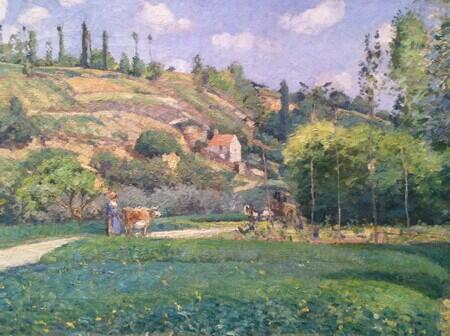 Detail from Camille Pissarro, A Cowherd at Valhermeil, Auvers-sur-Oise, 1874.
Detail from Camille Pissarro, A Cowherd at Valhermeil, Auvers-sur-Oise, 1874.
Detail from Camille Pissarro, A Cowherd at Valhermeil, Auvers-sur-Oise, 1874.
1874 is the year of the First Impressionist Exhibition, brought about in large part by Pissarro and his activity, his work as a uniting force. He was a primary articulator of the injustice of the old Salon system; he was always strong in his defense of working people as subjects of art; having grown up a child of Jewish shopkeepers in St. Thomas, he understood the dynamics of the colonial world and its cosmopolitan capitals, and this allowed him to see landscape, its cultivation and its colors, with a different kind of eye.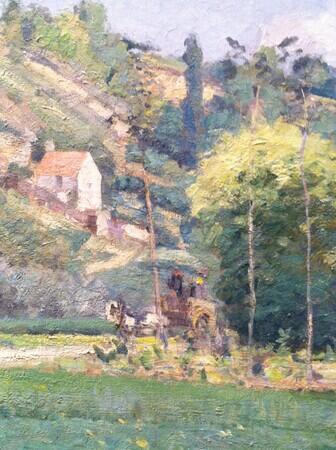 Detail from Camille Pissarro, A Cowherd at Valhermeil, Auvers-sur-Oise, 1874.
*
Pissarro, ever alert to new developments, joined Seurat and Signac in the pointillist movements of the 1880s, taking color juxtaposition to an extreme. Perhaps these theories felt like a confirmation of convictions he'd had all his life about how to make space by the application of small areas of color; he would say that he preferred the scientific to the romantic. The three landscapes I am looking at here are not from this pointillist period, but they are not disconnected from Pissarro's steady experimentalism.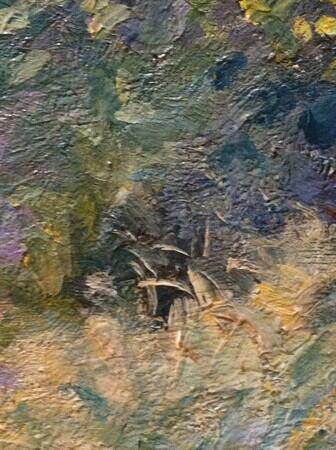 Detail from Camille Pissarro, A Cowherd at Valhermeil, Auvers-sur-Oise, 1874.
Going back through my own entries on Pissarro, I find that it was seeing these landscapes in 2013 that first allowed me to start my own method of photographing the details of paintings. Pissarro himself was not as interested in photography as Degas and Caillebotte and others who were serious photographers. But he was very modern.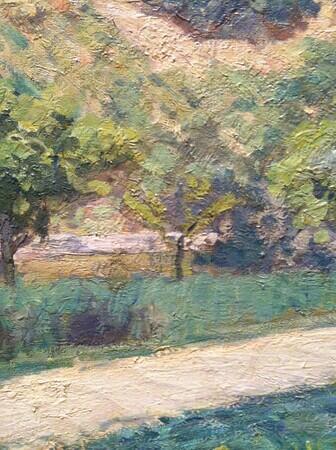 Detail from Camille Pissarro, A Cowherd at Valhermeil, Auvers-sur-Oise, 1874.
Landscapes by Pissarro might seem a little less than Monet, not as powerful in their color, not as complete and radical an accomplishment as Monet's great series paintings or his late abstract works. What makes them so strikingly modern is a little hard to identify.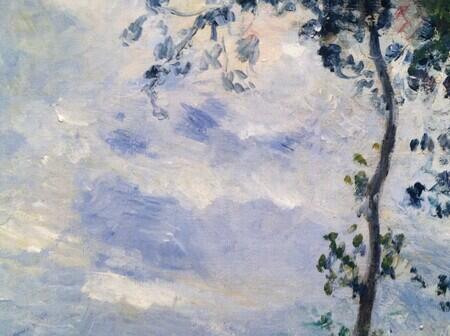 Detail from Camille Pissarro, Cotes des Grouettes, near Pontoise, probably 1878.
What I see thinking about these three paintings today is a definiteness and clarity, a structure in space that emerges over time, and comes not in spite of gentleness or nuance, but somehow together with these qualities.
Detail from Camille Pissarro, A Cowherd at Valhermeil, Auvers-sur-Oise, 1874.
Pissarro wrote a volume of letters to his son Lucien, a volume now famous, but at the time a strong record of the running thoughts of a gifted and impoverished man. [My edition is the one edited by John Rewald in 1943, and later translated by Lionel Abel.]
On November 20, 1883: Remember that I have the temperament of a peasant, I am melancholy, harsh and savage in my works, it is only in the long run that I can expect to please, and then only those who have a grain of indulgence; but the eye of the passerby is too hasty and sees only the surface. Whoever is in a hurry will not stop for me.
Weekend Countryside Pissarro
Sunday, May 3, 2020
Sunshine today put me in mind of three Pisssarros at the Metropolitan Museum of Art.
Camille Pissarro, A Cowherd at Valhermeil, Auvers-sur-Oise, 1874. Metropolitan Museum of Art. Photos Rachel Cohen.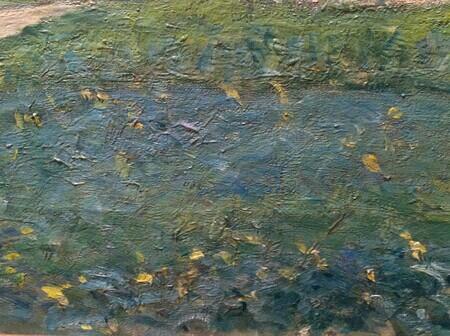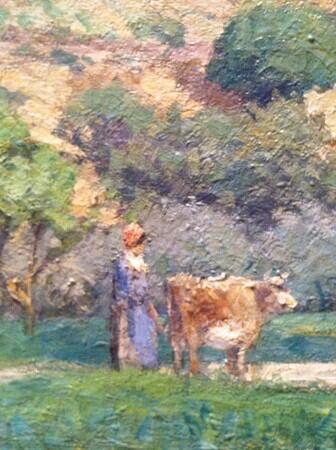 And, second:
Camille Pissarro, Jallais Hill, 1867. Metropolitan Museum of Art. Photos Rachel Cohen.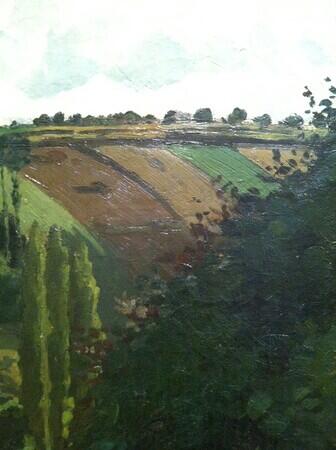 Third: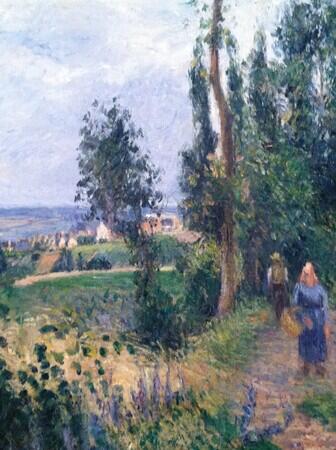 Camille Pissarro, Cotes des Grouettes, near Pontoise, probably 1878. Metropolitan Museum of Art. Photos Rachel Cohen.
May the weekend bring you sunlight and repose.
Pissarro in Snow
Out of Season
Wednesday, April 15, 2020
Snow this morning.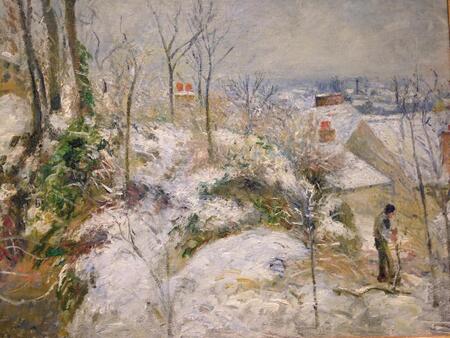 This painting – Rabbit Warren at Pontoise, Snow by Camille Pissarro, 1879 – is a regular point of reference for me, one I visit fairly often at the Art Institute. I had thought that writing of it would wait until next year. (Will we be inside again? There are questions and predictions about future waves of the disease. Hard to grasp what the year will be.)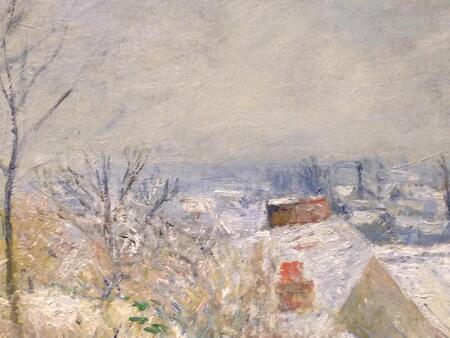 Most winters I write a little about snow and painting because snow is painting in nature.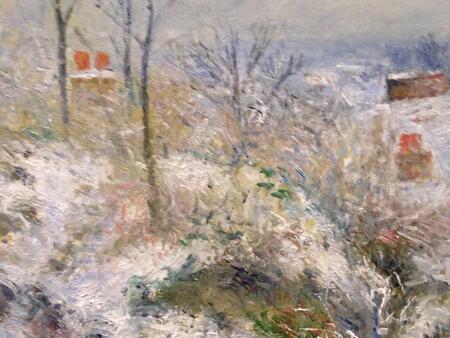 Pissarro was a great snow painter. He painted nearly a hundred paintings in which snow was a central theme. This winter, of 1879, was an especially severe one in France, and there are many great snow paintings from that year.
The snow over the rabbit warrens gives this a hummocky shape.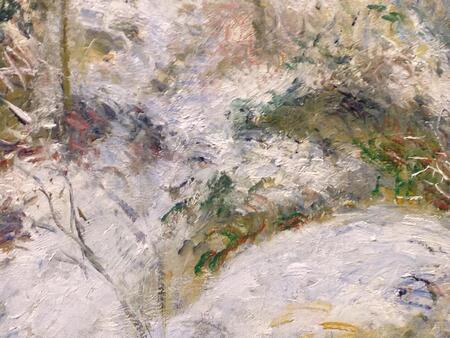 One of the difficulties with painting layered white is that you get too much opacity and a painting loses its depth. Besides the quality of actual snow is not of airlessness. There have to be other colors layered in to get the feeling of the snow.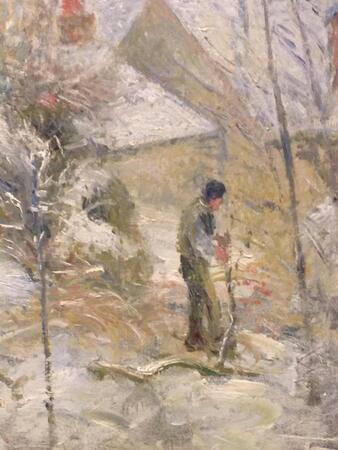 I remembered – walking out this morning to fill the bird feeder, to see how the daffodils were managing bent under their burdens – that to enter a landscape of snow seems almost like entering paint.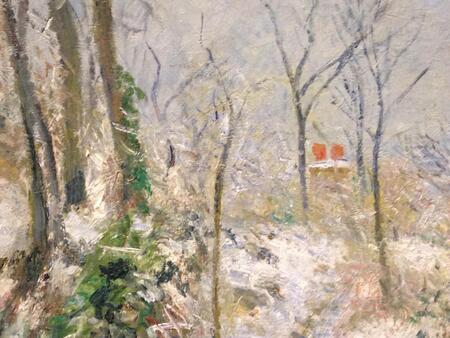 Some paintings are seasonal. To feel the air in them out of season is like trying to pack for a trip to a different climate, you can't really guess with your body how it would feel.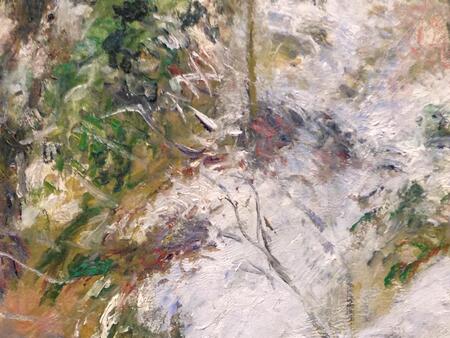 The snow is already melting here as I write this. And I notice this odd bright green that Pissarro used. Perhaps the painting too is of snow early or late, stretched beyond its season.
Pissarro and Public Spaces
Frederick Project: Commons
Saturday, March 28, 2020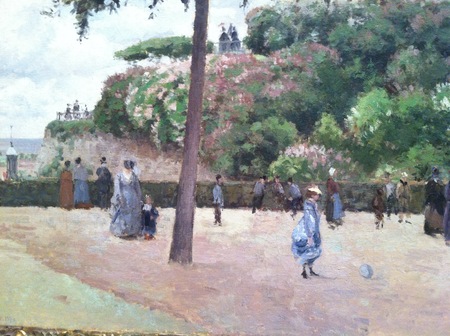 Yesterday in Chicago the lake front and many of the public parks closed. A day or two earlier, there had been a beautiful warm day, and too many people went out to the places we always go to. Jackson Park was closed, too, where the children and I have been going to keep track of spring, and to run around the perimeter of what they call 'the circle garden.' This morning, I am thinking about the relationship between museums and public parks, places whose colors we see, year in and year out, changing and constant.
Camille Pissarro was one of Impressionism's great painters of urban spaces – streets of Paris seen from a balcony in snow, on days of parades, traffic circulating, barges at work along the river. There is a wonderful book about his work on city life, the monograph from an exhibition, The Impressionist and the City: Pissarro's Series Paintings, by Richard Brettell and Joachim Pissarro.
This morning I happened upon a few photos I took of a Pissarro that's at the Metropolitan Museum of Art, The Public Garden at Pontoise, 1874. This beautiful space is connected to the person walking through it, her dress and the feet we can't see in the upper right.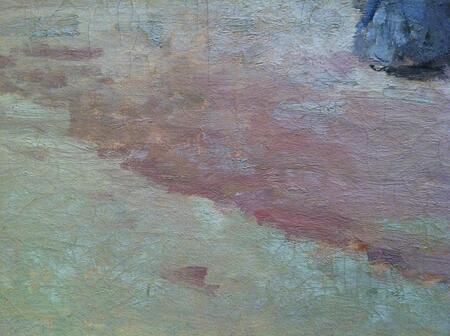 Pissarro was, to my mind, the most radical person in the Impressionist group. Born to Portuguese-French-Jewish parents on St. Thomas, which was then the Danish West Indies, living in Venezuela, then in Paris, a figure whom many historians think held the French Impressionists together, by the breadth of his vision and the kindness of his heart, an appreciator of all their individual talents, probably the one among them with the deepest commitment to portraying working people, the mentor Cézanne needed in the period he most needed it, going ahead into neo-Impressionism with Georges Seurat and Paul Signac, writer of beautiful letters to his friends and his children, a person I have sometimes wished to write a book about.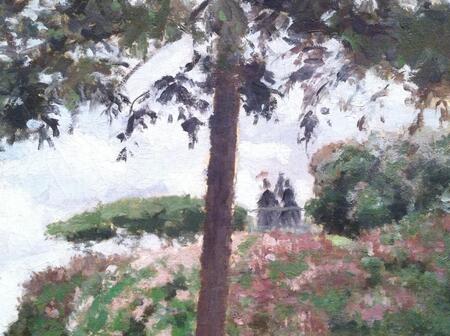 This is just spring, taking the air on a simple day in Pontoise, one hundred and forty-six years ago. I last saw it in the fall of 2013, on an overnight trip to New York without our daughter, then one and a half. I missed her physically, missed the stroller I would have been pushing had she been there.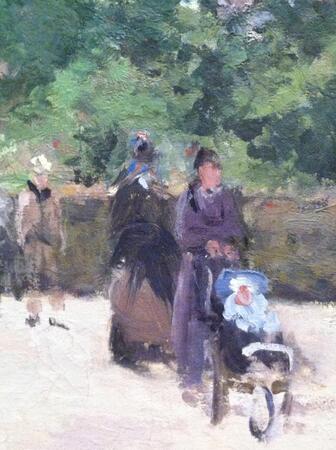 This morning I miss our parks through the children, the way the tree bark feels under their hands. This will be such a different spring than any other we have had. Without the places of common discovery.
Second in a Series
Wednesday, February 4, 2015
The Bath
is a print, or a series of prints, made by Mary Cassatt in 1891 – at the height of her powers and at a moment when her interest in Japanese prints opened a wonderful set of visual ideas in her mind.
Her powers were considerable. When Pissarro visited her studio in April of that year he wrote of her work to his son Lucien (the two Pissarros had been experimenting with prints themselves.)
You remember the effects you strove for at Eragny? Well, Miss Cassatt has realized just such effects, and admirably: the tone even, subtle, delicate, without stains on seams: adorable blues, fresh rose, etc…. the result is admirable, as beautiful as Japanese work, and it's done with printer's ink! [Letters to Lucien, p158]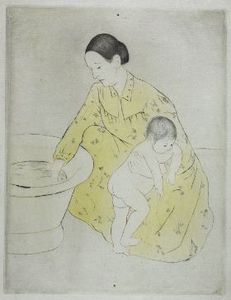 Many of Cassatt's prints are now regarded as technical masterpieces. She pulled sheets herself in her studio, and also had the help of an extremely talented printer, Modeste Leroy, whom she took the unusual step of crediting, as is the Japanese tradition. The prints are marked
Imprimée par l'artiste et M. Leroy / Mary Cassatt.
At the Fogg Museum right now, one may see a sequence of nine versions of
The Bath
, the first print in a set of twenty-five. Cassatt worked on
The Bath
in a great many stages because, as she said, "I was entirely ignorant of the method when I began." [
Mary Cassatt: The Color Prints
, p45] The whole series originally had the subtitle "an attempt at imitating Japanese printing," although she later dropped this description.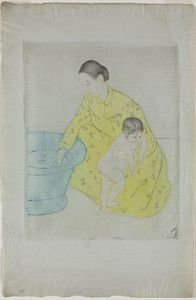 Cassatt had studied Japanese prints for twenty years, and owned many of them by the time she undertook the series; her interest in Japanese style had been given new point by an important exhibition of Japanese works that took place at the Ecole des Beaux-Arts in 1890. In a well-known letter to Berthe Morisot, Cassatt exhorted her to see the exhibition:
… you could come and dine here with us and afterwards we could go to see the Japanese prints at the Beaux-Arts. Seriously, you must not miss that. You who want to make color prints you couldn't dream of anything more beautiful. I dream of it and don't think of anything else but color on copper. [letter from Cassatt to Morisot, quoted p36 of Mary Cassatt: The Color Prints.]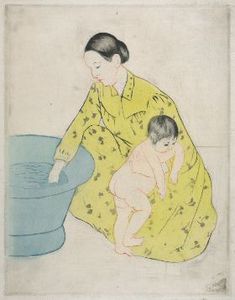 The Japanese influence on
The Bath
is evident right away. You can see it in the particular shade of blue that makes the basin of water a significant equal weight in the picture, in balance with the mother and the child; it is in the pattern on the yellow dress that has gone from being penciled in to being part of the plate; and it is in the outlined figures that seem almost cut out and then laid over the background.
Cassatt's color prints are stylized and also about style. Here style is not ornament. The hallmark of these prints may be their tenderness, but here style is paring down and juxtaposing in order to achieve a kind of force.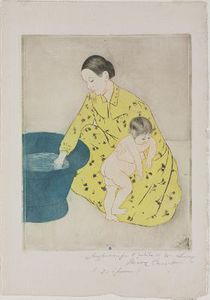 Toward Spring
Wednesday, April 2, 2014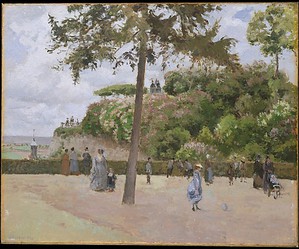 In
The Times
this morning, an item suggesting that blossoming in the New York City parks will be unusually overlapping this season. I remember this from certain springs. In general it would be so carefully painted in Central Park – first the yellow forsythia, then delicate whites and rose of cherry and dogwood, then the heavier magnolias. But that occasionally these would run together. The effects could be beautiful, but sometimes I remember thinking that the palettes jarred, and that I preferred the slow procession, each tree gravely taking its turn to step forward.
Here, though, we long for spring, hurried or deliberate. Three brave clusters of dark purple crocuses in our yard, in a particularly sunny and warm place close to the house, are the only flowers I've seen. Today, when the baby and I went out to the country for a walk, we saw forsythia so tight and ashen that it seemed weeks away from bloom. Staring now out the study window, by dint of straining, I can begin to pretend that the faintest shade of yellow-green limns the edges of the severely closed branches.
Struggling to recall the sensations of public parks in spring, I was put in mind of a Pissarro I looked at last year at the Met.
The Public Garden at Pontoise
painted in 1874.
Perhaps those massed bushes would be rhodedendrons? And lilacs?
The people do not seem especially joyful – their faces are deliberately not given in detail. But they move about in an air that is full of leaves and flowers, and the people, too, look at the coming-and-going clothes of the boy on the left, are not bound tightly anymore but are carried by the fullness of spring.
And when they climb to the heights of the hill to look out across the water, the light among the treetops is radiant.
In a different spring, from Paris, Pissarro wrote to his son Lucien -- it was the first of March, 1884 -- of how he looked forward to being in the house that they had taken in Eragny. It had a garden and fields. "It is about two hours from Paris. I found the country much more beautiful than Compiegne, although that day it was still pouring torrents. But here comes the spring, the fields are green, outlines are delicate in the distance."
I have been imagining how that delicate green arrival felt to him. Look at this, from the lower left, where the painting becomes a pure study of color:
Quotation from Pissarro,
Letters to his Son Lucien,
edited by John Rewald and translated by Lionel Abel, p58.
Snow
Saturday, February 15, 2014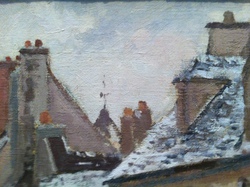 At this time last year, in the days when my father was dying, it snowed and snowed. From the hospital windows, it had its beauty. The hallway near the elevators had windows that looked down on to a sort of large courtyard, not rustic, but still made precise by the snow. People crossed and you would see dark footprints. These would then be covered. The footprints and their being covered, traces of particular steps and shoes, then again white -- the tiny brevity of each passing figure, of the length of time in which the marks each made were visible, and then the snow.
The Impressionists painted snow -- in cities, in villages, over fields -- and snow itself seems their subject. The Dutch painters made snowy landscapes for tiny figures to skate in, but the Impressionists gave the element pride of place. They must have loved snow, which is, itself, painting. (In the time I've been writing this the pine tree outside my window has got light traces of white on every outside branch.) And it is painting as the Impressionists thought of it -- stroke after stroke, strokes themselves visible, paint as paint, so that you watch the illusion accumulate and marvel. And the snow's relations with light -- at once so wide and so complex -- to absorb, dampen, reflect, sometimes seemingly to generate. Outside my window it gets whiter and whiter, and the dark of the looming sky finds its balance in the intensification of white on the ground.
Time is slower in the snow. You can see it passing before your eyes. Discrete white that you can follow just long enough to feel that you were following it before it was lost, but over and over so that the seconds fill, and the minutes.
*
A man in a blue hat, walking vigorously -- I can see his head and shoulders beyond the fence with its white lines, through the scrim of white air -- passes the stop sign, makes his way along the road, goes behind the pine tree now more white than green, leaves the visual field.
Passages: Pissarro
Sunday, November 24, 2013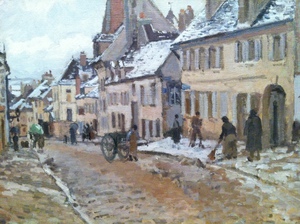 Camille Pissarro, theorist and mentor of the Impressionist movement, was known for giving sound advice. Here are some of his thoughts as later recollected by the painter Louis Le Bail (in Rewald,
The History of Impressionism
). They're in the order that Le Bail wrote them down in, but I've broken them into territories, and set them to some iphone details I took of the last Pissarro I looked at,
Pontoise, the Road to Gisors in Winter
, 1873, at the Museum of Fine Arts in Boston:
Look for the kind of nature that suits your temperament. The motif should be observed more for shape and color than for drawing. There is no need to tighten the form which can be obtained without that. Precise drawing is dry and hampers the impression of the whole, it destroys all sensations. Do not define too closely the outlines of things; it is the brush stroke of the right value and color which should produce the drawing.
In a mass, the greatest difficulty is not to give the contour in detail, but to paint what is within. Paint the essential character of things, try to convey it by any means whatsoever, without bothering about technique.
When painting, make a choice of subject, see what is lying at the right and at the left, then work on everything simultaneously. Don't work bit by bit, but paint everything at once by placing tones everywhere, with brush strokes of the right color and value, while noticing what is alongside. Use small brush strokes and try to put down your perceptions immediately.
The eye should not be fixed on one point, but should take in everything, while observing the reflections which the colors produce on their surroundings. Work at the same time upon sky, water, branches, ground, keeping everything going on an equal basis and unceasingly rework until you have got it. Cover the canvas at the first go, then work at it until you can see nothing more to add.
Observe the aerial perspective well, from the foreground to the horizon, the reflections of sky, of foliage.
Don't be afraid of putting on color, refine the work little by little.
Don't proceed according to rules and principles, but paint what you observe and feel.
Paint generously and unhesitatingly, for it is best not to lose the first impression. Don't be timid in front of nature: one must be bold, at the risk of being deceived and making mistakes. One must have only one master – nature; she is the one always to be consulted.
On Photography II
Saturday, October 5, 2013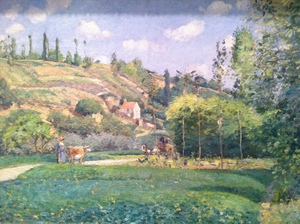 [This is the second installment of visual notes on this Pissarro, documented by iphone.]
Stretch of cultivated field down to earth:
Shape of path as it curves back:
Shape of hill crest, cypressed, below sky:
Step back to look at whole again:
Dark paint, just dashed on, group of trees:
Really dark, low dark hole, yellow grass across lower right corner:
Look again at dark paint just dashed on of upper tree:
Once having looked at these two dark areas, upper tree, lower hole, the whole right side of the picture has beautiful depth:
Now the interior looks quite different, rougher paint:
What would Pissarro have made of this fragmentary way of writing down the seeing of his picture? Would he know right away that, as happened in his own time, our new tools have changed the experience of sight? He was the great theoretician among the Impressionists, the one who articulated what they were after. But in all the letters to his son Lucien that are such a full statement of his thought I cannot find a single mention of photography.
He does, though, indicate how important the idea of the series was to his way of thinking. In a letter from the summer of 1895, he writes that he is sorry that Lucien has been delayed in getting to Paris for now he will miss seeing "the Monets. This is a great pity, for the Cathedrals are being much talked of, and highly praised, too, by Degas, Renoir, myself and others. I would have so liked you to see the whole series in a group, for I find in it the superb unity which I have been seeking for a long time." [June 1, 1895]