On green on my birthday
Wednesday, May 19, 2021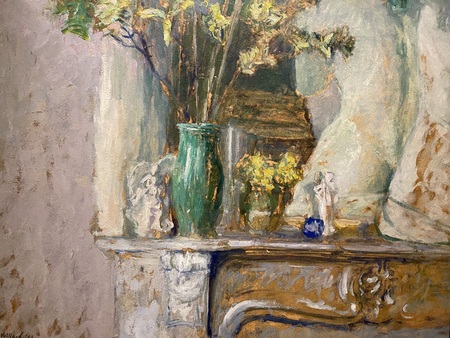 On green on my birthday.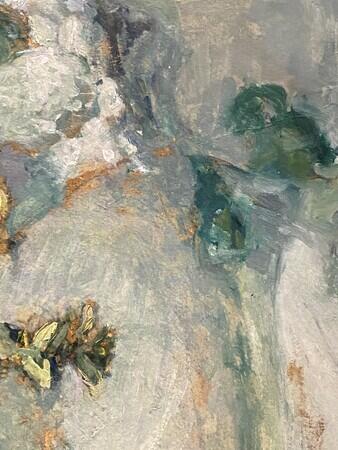 Yesterday, I traded green poems with @le_jardin_robo. They posted a Helen Frankenthaler I'd not seen, titled "a green thought in a green shade." Someone remarked the title and I commented that it's from an Andrew Marvell poem, "The Garden," which I remembered because I had unwittingly cited the poem earlier this year and someone had written, in turn, to tell me.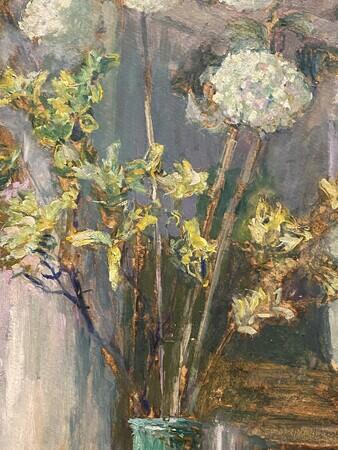 I looked up the poem to check the line, and followed the poet in his garden reflections, mid-seventeenth century and so complicated it will take me weeks to work it through. Two stanzas seemed where I would begin:
What wond'rous life in this I lead!
Ripe apples drop about my head;
The luscious clusters of the vine
Upon my mouth do crush their wine;
The nectarine and curious peach
Into my hands themselves do reach;
Stumbling on melons as I pass,
Ensnar'd with flow'rs, I fall on grass.
Meanwhile the mind, from pleasure less,
Withdraws into its happiness;
The mind, that ocean where each kind
Does straight its own resemblance find,
Yet it creates, transcending these,
Far other worlds, and other seas;
Annihilating all that's made
To a green thought in a green shade.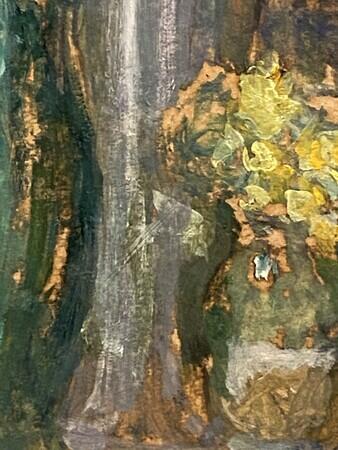 Yesterday, I went about my day. I taught my class, showed them some details of trees from Poussin's painting St. John on Patmos, 1640, a painting beginning to preoccupy me again, especially going back to T.J. Clarke's The Sight of Death. The students are finding their voices – through them I am learning about liberation struggles in Palestine; about black holes in interstellar space and a notorious prison in India called the Black Hole of Calcutta; about David Hockney's ipad drawing techniques – about freedom, in short, I am learning about freedom. And our beloved family is with us, for the first time in more than a year, and last night at dinner our theoretical physicist drew out for us a new possible understanding of how we might conceive of ten dimensions of the universe, and its finitude or infinitude. The children are all interested in shades of color and how to mix them and we have been doing a lot with colors while our painter is here, and in the evening, after the children were asleep, she explained the rules of a new game they have brought for us, called Hues, and we practiced yellow shades. Before sleep I looked at Gomswamy's Spirit of Indian Painting, and in the morning when I first woke I studied a painting by Nihal Chand, from c. 1735 that I hadn't seen before, "The Boat of Love," an astonishing verdant painting.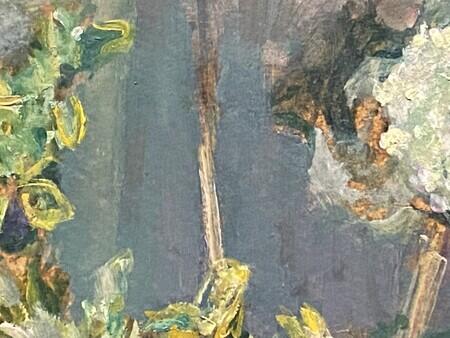 This morning @le_jardin_robo had traded me back my Andrew Marvell for a different green poem, Garcia Lorca's "Romance Somnámbulo," which, as translated by William Logan Bryant begins and ends:
Green, how I want you green.
Green wind. Green branches.
The ship out on the sea
and the horse on the mountain.
A magnificent revelatory poem that will also take weeks and months. And today is my birthday and I read it thinking of this green garlanding itself through and around life which is also death, and of how this year I want to read more Lorca and more Marvell and more other things. I exchanged birthday greetings with an old dear friend, another painter, who shares this same birthday. I began to think of this very particular green, array of greens, in a painting by Édouard Vuillard that I have been visiting, Guelder Roses and the Venus of Milo, c.1905.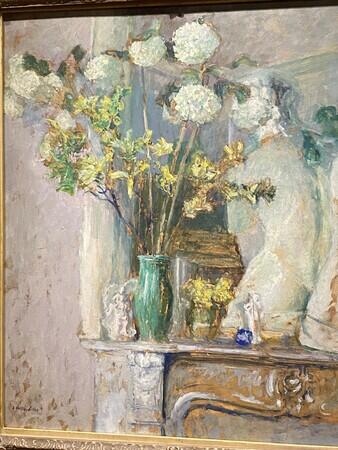 And I thought this was the painting for this birthday. See the green thought in the green shade, annihilating all that's made. I would love to go over it with you, that vase, look at that vase, its existence and green beliefs, but there isn't time, I must make haste.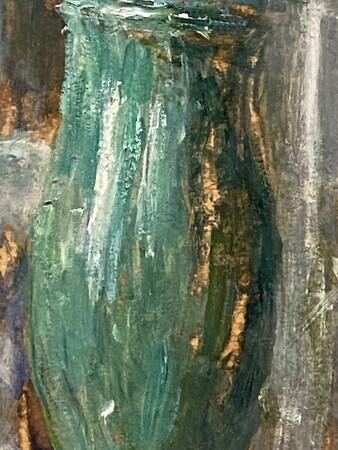 This morning I couldn't write even this much, I went to a board meeting of the Pozen Center for Human Rights, a board I have just the privilege of joining today, and I heard three people present their decade of work with the Prison Neighborhood Arts / Education Project, their work with artists, scholars, students inside and outside this prison. And I ran at the end of this board meeting to pick up our son, his immense dinosaur Greenie in our back seat, which some of his classmates wanted to stroke, Greenie is soft, their delicate fingers, it is all right now, for there to be touch. And driving back through our neighborhood we saw walking jauntily, cheerfully, my daughter, on her way to her learning group with her friend and their teacher, and pulled to the corner and she waved so happily and ran to the open car window because she had found a six-petaled lilac blossom, a tiny, tiny thing and wanted me to bring it home and press it, and she dropped it lightly through the window and went on to her group with her friend, and we brought this tiniest blossom home. Our family's painter, who was born in Russia, was just telling us a few days ago that in Russia the six-petaled lilac blossom is as lucky as the four-leaf clover – you eat it to bring the luck, but the children decided pressing was reasonable. And home we came, and he led me to measure the dame's rocket plants in our back garden, which are growing ebulliently, with abandon, inches in hours, now 57 inches high at the highest stalk, and we weeded a little, and he found a four-leaf clover and we pressed that, too, Irish and Russian luck circling around us, our families who fled Ireland and Russia when there were no more potatoes, when the British and Russian armies were too terrible, some would be born and others would not.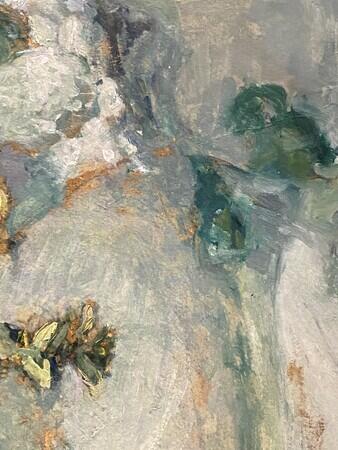 The day is fleeting, fleeting, I have been writing while my husband takes two of the household's children to pick up a cake, a caramel cake, here is the car they are returned.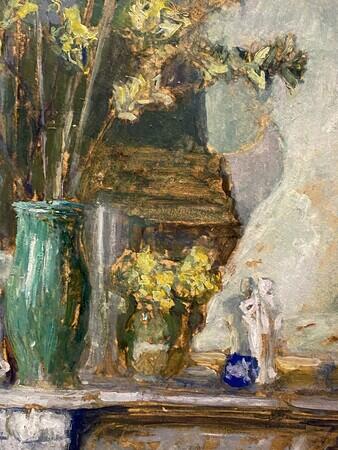 And here is the last green I want to add. Last summer, I wrote an essay partly thinking over a sentence that Lionel Trilling wrote about his students reading Jane Austen. He said he thought Austen seemed to them a "world in whose green shade life for a moment might be a green thought." A little after I published the essay, I got a kind note from Martha Bowden, professor of 18th century literature, to let me know that Trilling would likely have been thinking of Marvell's "The Garden," a poem I did not then know. I haven't thought much about the lines of green in the time since she wrote, but Helen Frankenthaler brought it back for me, and now I have two green poems, and these paintings like green strands running through.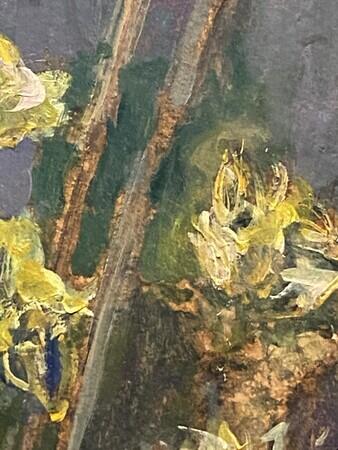 for Elina Mer, for Latham Boyle,
and for Peter Helm, on our shared birthday
Yesterday, I traded green poems...
Vostell Concrete
Thursday, May 21, 2020
In the fall of 2016, when we had just arrived in Chicago, I began to get emails about a concrete car, a 1957 Cadillac encased in concrete, that would be traveling the streets of Chicago before being permanently parked in a University parking garage. This seemed promising and suggestive, and though I was unable to attend the parade, a small trail of reflection began.
Concrete Traffic, Created 1970, Originally Installed 1970, Reinstalled 2016. Conceived by Wolf Vostell and created by Chicago artisans. Located at Campus North Parking Garage 5525 S Ellis Ave, Chicago. Photo Rachel Cohen.
There was then a show, "Vostell Concrete," including the car and some fifty other works in concrete, which opened in early 2017 at the Smart Museum of Art. I was not prepared, when I walked in, for the immediate sensation of a sharpening understanding.
Why would covering, in concrete, a great variety of physical existences — parts of images that look like collages of drawings and large travel postcards, a book, a designer chair, parts of bodies, a car — give me the sudden feeling that I understood the material reality of modernity? Here, somehow, was landscape, and space, as I actually experience it. And why had I never paid enough attention to the terrible and quite beautiful matter of concrete?
Detail of Concrete Traffic, photo Rachel Cohen.
In my mind, I could see the people of the world producing this enormous volume of concrete and covering the earth in it. I could see the permanence of the concrete, but also the way that, viewed from another time scale, it moves and grows and erodes and breaks down. I could see its potential verticality. And the way it impedes circulation but is also in a kind of motion. Even now, when I go back to my photos, the work fills my mind with thoughts.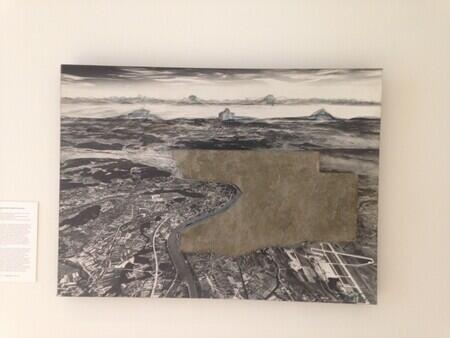 The curator of the show was Christine Mehring, a professor in the University of Chicago art history department, who was then a new acquaintance and has since become a friend. Christine gave me a tour of the show, and I went several times, so I am now working from a consolidation of things she said and things I noticed.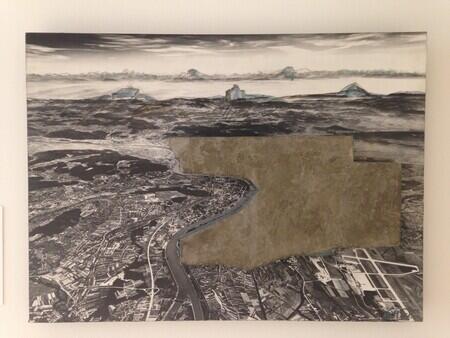 Wolf Vostell (1932-1998) was one of the co-founders of the artistic movement Fluxus, known for its performance and installation pieces, for creating artistic work by, for example, giving a group of viewers directions for a walk they were to take. Fluxus artists were connected with the ephemeral, the psychological, with a performance-based critique of the military capitalism that was getting a stronger hold in the 60s. Concrete can be suffocating and deadening, and it would seem like a material that is antithetical to performance, and yet it turns out to be a helpful material to think with.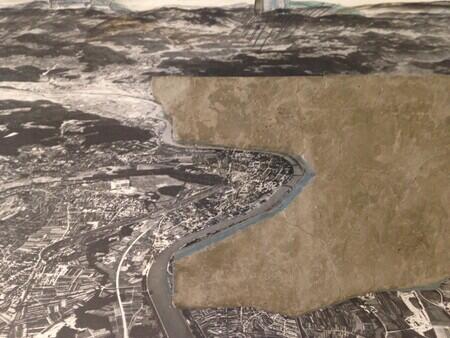 This week I set out to consider vegetation, and, over the weekend, as I anticipated what I might write about, I knew that Vostell's concrete ought to follow Vuillard's tapestry in green and Mondrian's abstraction through trees.
Concrete is a contrasting texture, radically different under the hand than leaves and stems. There is also something right in placing concrete next to plants – a sidewalk around and through which persistent green will work its way. Most surprisingly, concrete is also like vegetation, in its adherence to the ground, its spread, the way it is generated from sand.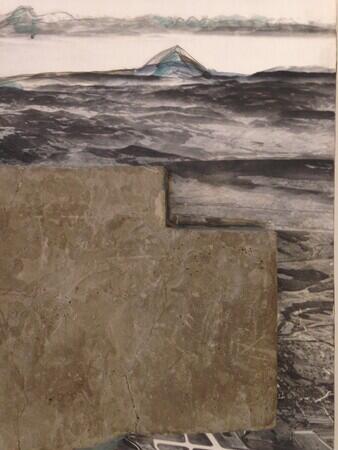 for Christine Mehring
Vuillard and Vegetation
Monday, May 18, 2020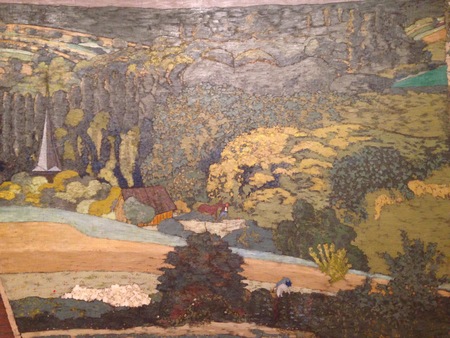 This week I want to think about vegetation and growth. I have been reading a long poem by Francis Ponge from Le Parti Pris de Choses, which my friend Massimo sent on to me – happily, since I cannot find my copy of it. In the poem "Faune et Flore" I find the line: "Il n'y a pas d'autre mouvement en eux que l'extension." Extension is their only movement.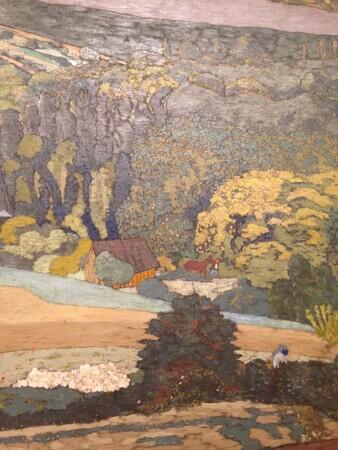 It has rained enormously over the last few days. The last five springs have been the rainiest five years on record in Chicago and the surrounding farmlands. It is impossible to continue to grow certain crops, like apples, at these rates of rain, and this is accelerating the closure of family farms in our region. Apple-picking is a part of the fall for Chicago children, but last year, there was nowhere to go.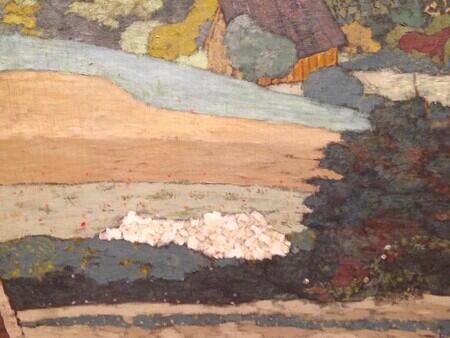 This morning, the door to our back garden was still steamy from the rains. Through the thick dripping mist, I could see that the garden has grown inches and shades – the solomon seal, the ferns, the goat's beard, bittersweet, and climbing hydrangeas have all shot upward and outward, the space between the plants has filled in and overlapped, dirt is almost no longer visible, and the whole garden has darkened and come into a mid-spring green, where yellow is less prominent, but not yet the darker shades of summer, an intense middle green, like the greens of grass, with some gray and white, here and there red undertones.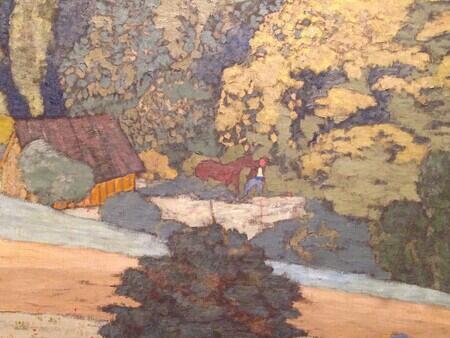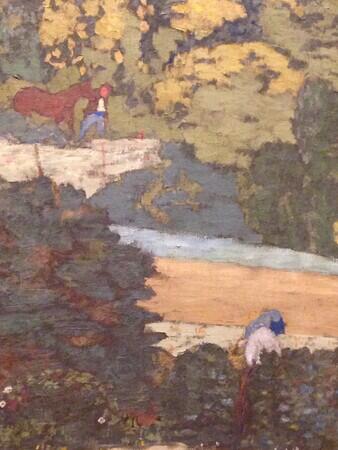 The Vuillard, Landscape: Window Overlooking the Woods, from 1899, was meant to invoke a tapestry. The borders and edges are deliberately handled to remind a viewer of medieval and Renaissance tapestries, with their areas of flowered ground, their banners and undulant terrain. It is made in textures of growth.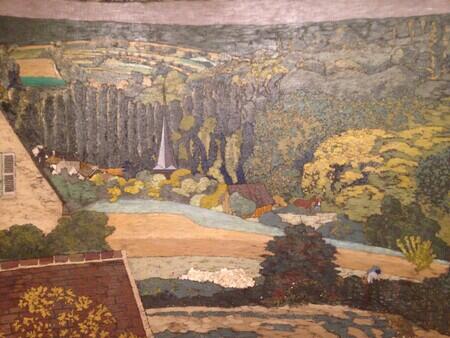 Today I am struck by the urgency of vegetal growth. The plants making themselves out of the soil in phenomenal bursts. That color green which is so sensitive to light, and derives extraordinary propulsivity from light.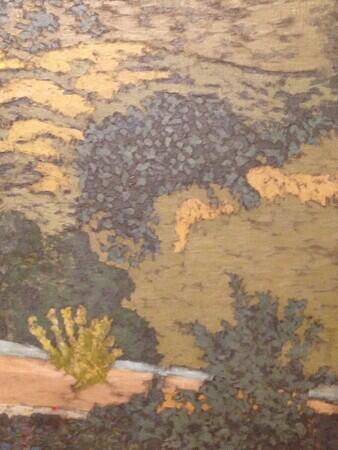 Weekend Glimpse Vuillard
Saturday, May 16, 2020
This painting by Édouard Vuillard is called Landscape: Window Overlooking the Woods. It was painted in 1899. It used to hang in a different room on the second floor of the Art Institute of Chicago, in a side room against a dark red wall. This was a quite wonderful color that brought out the richness and browns that are an important part of it.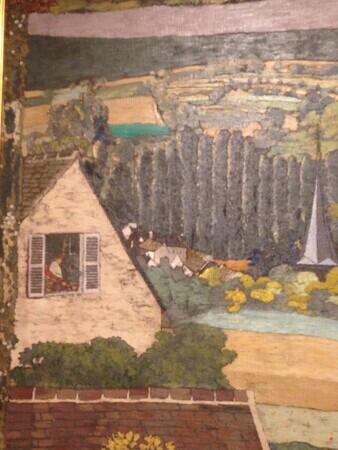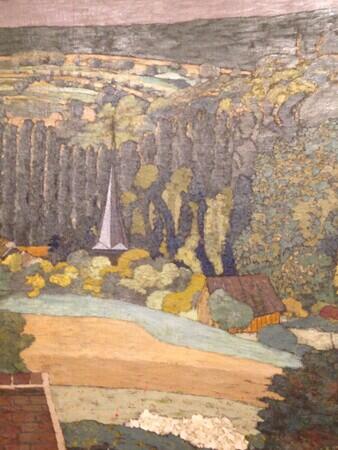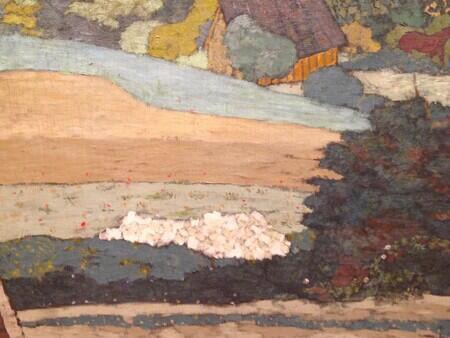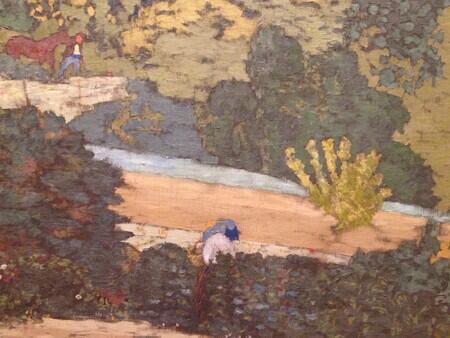 It is always nice to take a deep breath before this painting, which is massive — eight feet high and more than twelve feet long. It was meant to feel like a tapestry, and it does.
Wishing you a deep breath.
Garden Windows
Sunday, February 19, 2017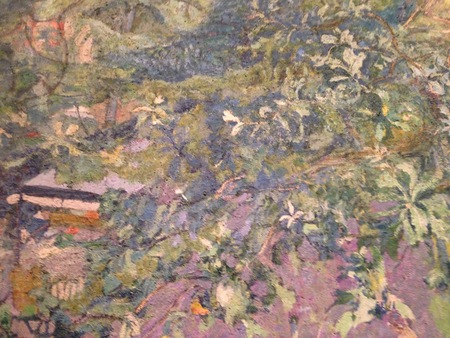 I was standing in our kitchen this afternoon, and the light from the garden was coming through the windows, garden light, unlike any other, and I started to think of painted gardens. How it is that sometimes the paint itself is even more beautiful than the real light.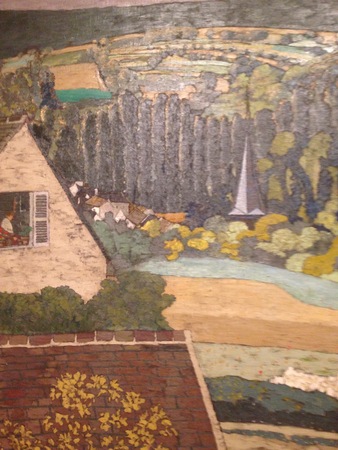 Yesterday and today the air is full of light, sixty-four degrees, sixty-seven degrees, days like April. The trees are rushing to throw off their silver February garb. Green shoots are already up in the garden, although next week it is to freeze.
A friend of my friend's has died. We are in different cities and cannot take a walk together. He wrote that it would be nice to go to a museum.
The last time we were in the same city – he was here, in Chicago – we went to the Art Institute, and looked at this and that, and what we were taken by was Vuillard. In one room, there are two beautiful earth-banners.
Landscape: Window Overlooking the Woods
, 1899, is twelve feet long, eight feet high.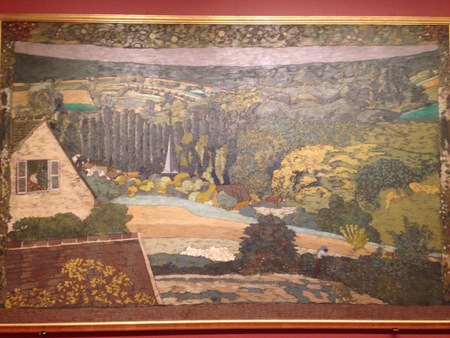 The other,
Foliage—Oak Tree and Fruit Seller,
1918, is a little over nine feet across, some six feet high. You could go every day to look at them.
I had just seen them for the first time a few days before my friend's visit, so we could begin together. There is a woman on the left side, with a child, there, back in the leaves, that is the fruit seller.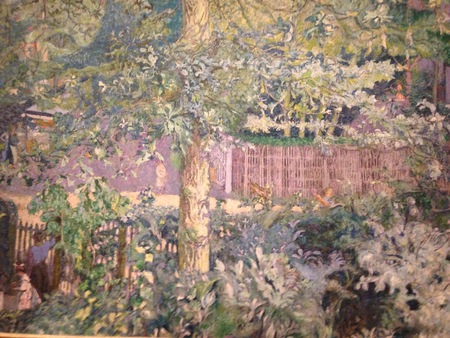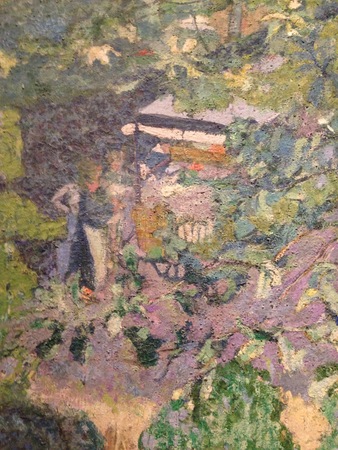 In making
Foliage—Oak Tree and Fruit Seller
, Vuillard used the medium of distemper, in which paint pigments are bound with melted glue. You have to paint quickly, it dries very fast. The wall text also points to the "closely ranged tones of the palette." Sage against olive against forest. In life, friends are like this, right up next to each other, in contrast and bound in their shared medium.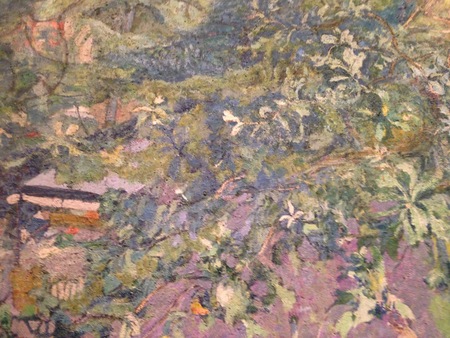 The abstraction of paint, that it may represent both the thing and the light, both the evanescent and the enduring, that would be a comfort, if we could go and look at it today.