Winter Gardening Pissarro
Friday, January 22, 2021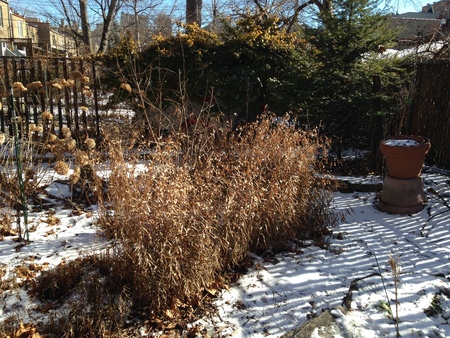 Yesterday it went up to 39 degrees in Chicago, which is warm right now in January, and it was a lovely day, sunny and quiet. Looking ahead to many cold days, I had seen this one on the horizon and planned to use it for a pleasant task in the garden, cutting the dry Northern sea oats. These are beautiful grasses with very lovely seeds in a pattern like a short bit of wheat. They are already in profusion in our garden, and the dry stalks need to be cut in January or the seeds are too successful and take over the garden.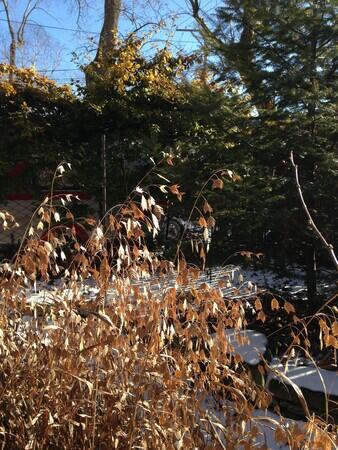 There was snow on the ground, a little less than an inch, enough that my boots left clear prints, a glittering soft snow that had fallen the day before but kept its whiteness, and this added to the sense of warmth and good cheer. It is a small urban garden, that seems bigger than it is because it was densely planted by the previous owner; you are never far from the house or the alley that runs behind the garden.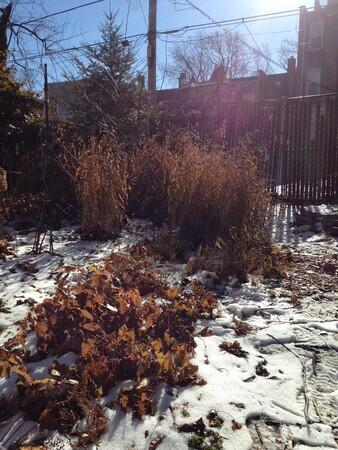 Yesterday, many workmen were out doing different projects and had parked along the alley, there were sounds of chopping and grinding. On the other side of the fence from me, there was a pick-up truck parked, perhaps twenty feet from where I worked, and three men were gathered near it, talking and laughing. I was a little uneasy without my mask, and I was also glad to hear people.
Our daughter had used her fifteen-minute break from online school to come out with me, but now she was back inside at her computer, and I was just cutting the grasses.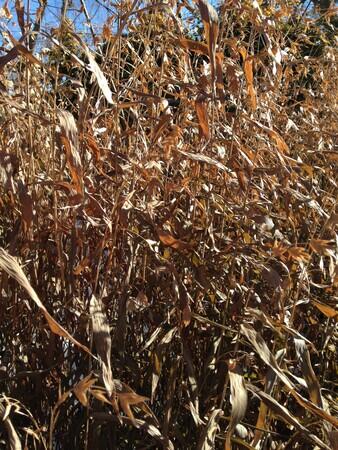 What came to mind was a winter Pissarro. Rabbit Warren at Pontoise, Snow, 1879. I looked at it again during the brief months when the Art Institute was open – I've loved it and I loved it again.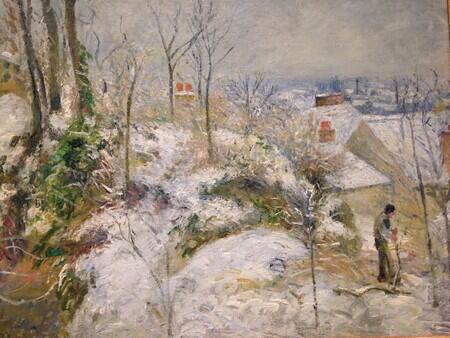 Camille Pissarro, Rabbit Warren at Pontoise, Snow, 1879, The Art Institute of Chicago. All detail photos Rachel Cohen.
You bend a hand-full of grasses and you cut them a few inches above the base. An ordinary garden clippers will cut about ten stems at a time. You try not to let too many seeds fall on the snow, but seeds fall on the snow. And look beautiful.
The Pissarro is of a man standing, on some kind of hillock, in the snow, and he is proportioned small – it is the landscape around him that matters, although he matters, too.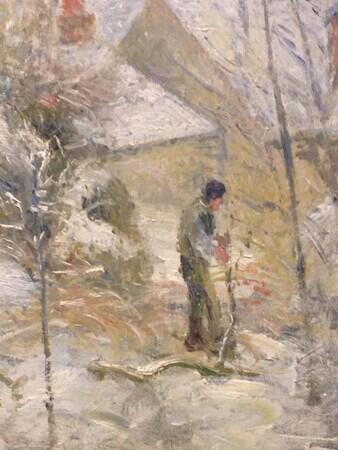 He was a fine man, Pissarro. He worked very hard all his life, never had quite enough, loved his large family, was Jewish, radical, Danish-French-Carribbean, born on the island of St. Thomas which was then the Danish West Indies, he was for Dreyfus, he was Cézanne's treasured teacher, he had a long beard, and he painted with his own genius.
In the winter garden, cutting dry Northern sea oats, I thought of this landscape, and drew strength.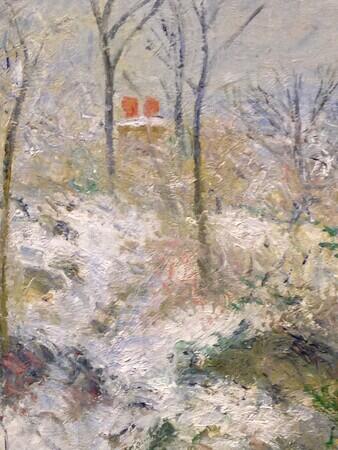 Yesterday, I had a message from a colleague at the Art Institute. Times are hard there, the museum has closed again and many people have been furloughed. The AIC workers have set up a mutual aid society. Many kinds of aid can be given and received at this website, and you can donate money to the group here, which I did this morning, a colder day, 14 when we got up and began to ready ourselves.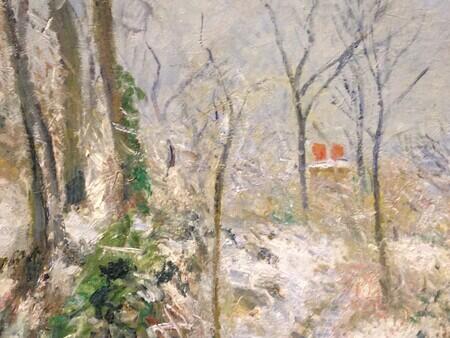 1879 was an especially severe winter, and Pissarro was one of the great snow painters. But it wasn't the snow in Rabbit Warren at Pontoise, Snow that brought the painting to mind, it was the sense of the thin lines of dry brush around the figure, the sense of his activity even as he holds still. In winter things are so near to death and, restrained, so active. A handful of thin lines, dry stems.
* * *
I find now that I have already written about Rabbit Warren, Pontoise in this notebook -- last April, the last snow of last winter. "Pissarro. Out of Season." When I wrote about it then, I said that I had thought to save this painting to write about later, I had expected to write about it in this winter, the winter of 2021, and that it was hard to imagine what that winter would be, and that I was writing of it in April because it had snowed. I had forgotten this when I thought of the painting, wrote of it again. So here are two moments of this pandemic year with Pisssarro -- one from an unexpectedly snowy day in April of 2020, another from an unexpectedly warm day in January, 2021, mutually reflective.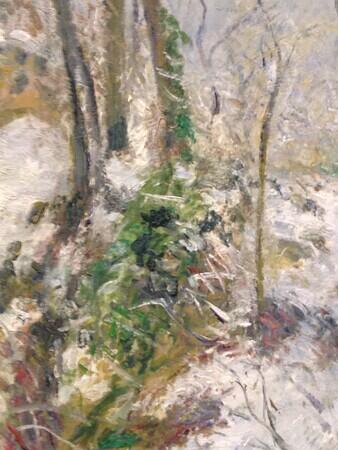 * * *
Often for these notebook pieces, I write a little dedication line at the end. While I was working in the garden, a few people came to mind. One was Richard Brettell, art historian, curator and museum director, whom I met once, and whose books on Pissarro matter very much to me. I wrote the dedication, and, imagining that I would send him a note, searched for him and found that he died of cancer in July of this past year.
Richard Brettell was a curator of European paintings at the Art Institute of Chicago in the 1980s, and so he would have known this painting well. When I have had time to think about his work and to revisit in mind the hour I spent talking with him, I will try to write about that.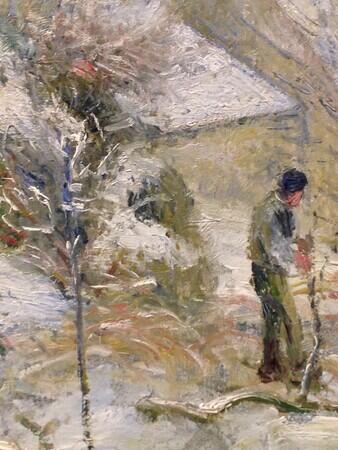 The news of his death seemed to have come through the dried grasses, the sense of the painting. But his death was not what I set out to write about. I set out to tell you that yesterday it was 39 degrees in Chicago, it was sunny, there was snow around the sea oats, three men talked in the alley near a truck, and that the scene made me think of Pissarro.
For friends and colleagues, studying Pissarro, carrying paintings outside of museums, working in gardens – the late Richard Brettell, Nancy Chen, Melissa Seley, Lawrence Weschler.
Morisot, Occasionally
Friday, May 15, 2020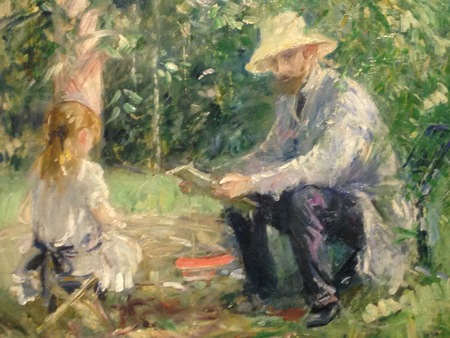 I went to Québec City in the summer of 2018 to cover Berthe Morisot: Woman Impressionist. I had never been to Québec City before, and I had not been away from the children for two nights in a row. Our daughter was then six, and our son three and a half.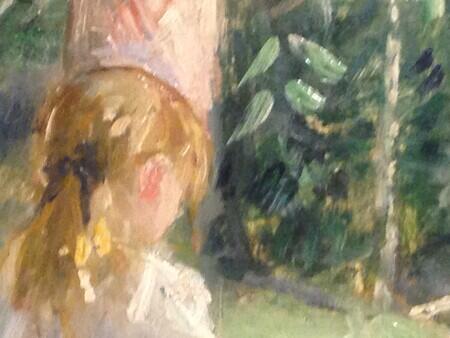 Both Québec City and the Musée National des Beaux-Arts du Québec (MNBAQ) were built with French models in mind, and then also built to be of a different place. So the buildings and collection assembled into the MNBAQ are connected to European museums, but are substantially built around the work of Inuit artists from the far north of the continent and of other artists working in Canada today and in the last century, and, in the city, the winding stone streets and battlements recall Normandy, but look at the Atlantic quite differently.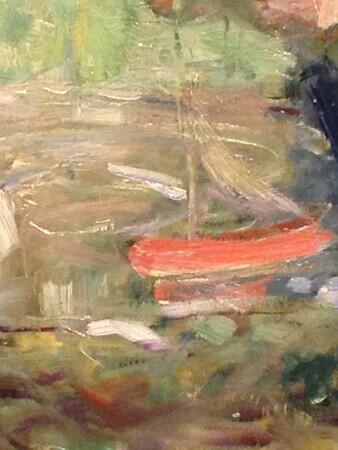 I did things I used to do all the time, and hadn't done so much of in recent years. I walked far, stood long hours in the museum, sat outside alone at a café. I was interested in my own thoughts, and I was bored by them. In this environment, it was possible to remember both the pleasures and failures of an old life, and to respond to a vigorous and interesting contemporary situation. Morisot, I thought, might have found it interesting to see her work in a place that drew on France and was not France. Just far enough away, just near enough by, to make space for reflection.
**
One of the paintings I photographed most in the show was this one that Morisot painted of her daughter and her husband in 1883.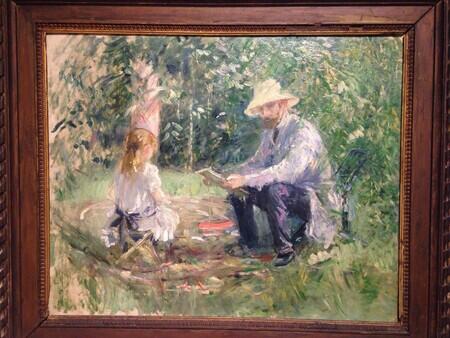 Her husband was Eugène Manet, it seems necessary to add immediately, brother of the famous painter Édouard Manet and himself a very fine painter, who was not interested in exhibiting his work. The daughter was Julie Manet, who would grow up to be a part of a rich cultural life, and important in establishing the legacy of her mother and of other painters. A quality of sustaining attention would already have been perceptible in the child, and to the child.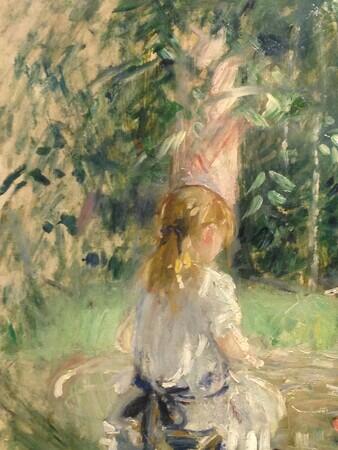 I loved the intimacy and directness of the painting – him facing the painter, her facing away. Their world, their world together. How it was just right for them is there in the painting, though no one else would live within it as the three of them had.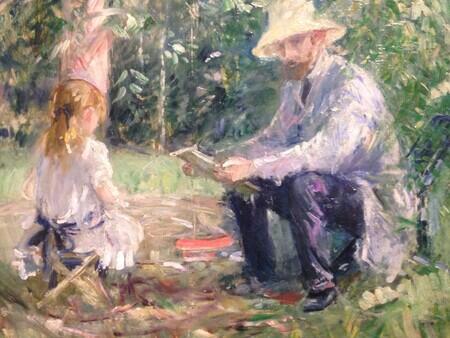 I loved the freedom of the paint – the radiant boldness of the little girl's dress, the dash of rose-orange in the toy sailboat, and especially the leaf or two that reach over his shoulder.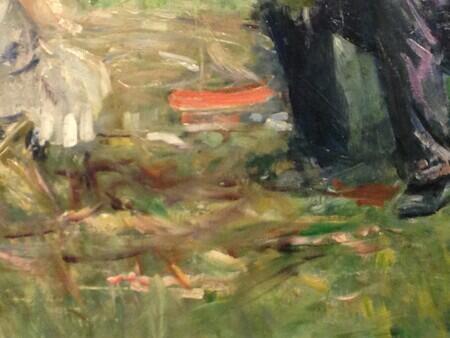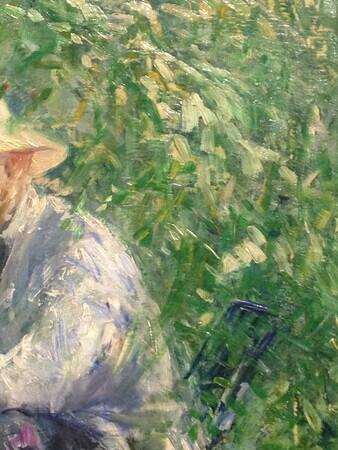 I went to the show three times, and for most of the paintings, I photographed them only once, but I made two complete sets of images of this one, beginning with the painting in its frame, and taking a dozen details. This morning it interests me that several of the pictures from the second set are sharper, as if, overnight, I had come to a clearer understanding of the painting, present when I saw it again the next day, but that some, both of the details and the whole, is best captured in the pictures I made first. A continual back and forth, shifting perspectives.
**
When the four of us get up in the morning, and go to the kitchen and begin the day, I often choose our coffee cups out of hopes for what the day may be like. This morning, for M, I picked a mug I brought back for him that says Québec City in ornate black letters on one side.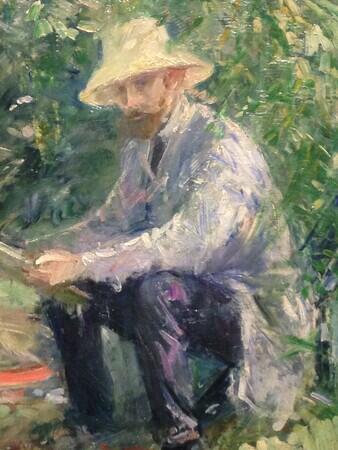 for Matt Boyle
In Chicago
Wednesday, September 7, 2016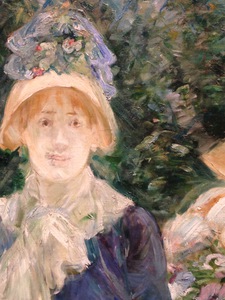 We have moved to Chicago. I went to the Art Institute soon after we arrived and was happy to see that the museum has a wonderful Berthe Morisot. I have wanted to keep thinking about her. I find that I remember vividly each experience I've had of her work in the last few years: two watercolors from the Clark, an exhibition at the Met that had several of her paintings, a visit to the Musée Marmottan while M played with S in the public gardens. The peculiar density of atmosphere that Morisot achieves seems like something to learn from. Perhaps I am affected by knowledge of her biography, and her early death, but it feels to me as if she knew there might not be much time, and that she put everything she knew, about a person, a child, a garden, a hat, into each painting.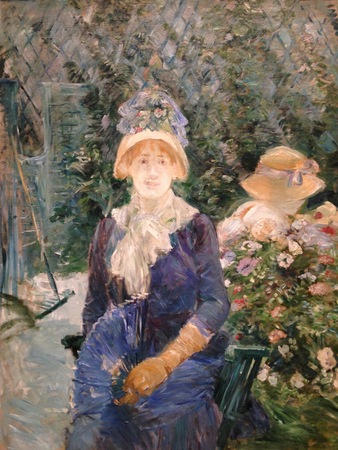 One thing, I think, is that she is able to keep everything in motion. This morning, a first day of school, the perpetual motion of everything and everybody – all our objects, all the four of us, all our places and people – feels overwhelming, but look at how she brings the garden to the dress, the fan away from and toward the dress, the dress itself toward blue, toward purple, toward the body and the air.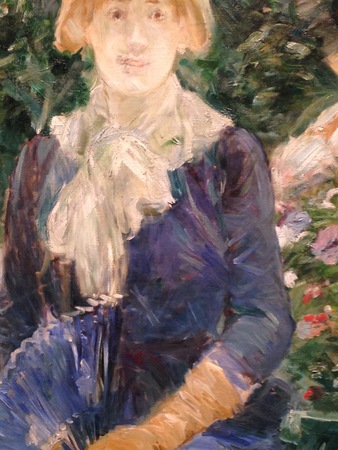 I don't think it is a photographic accident that the face of the woman becomes clearer and more meaningful when looked at with the hat and figure of the child behind her. Morisot has done something with the beige and white shades of their two heads and hats that allows my eye to make a relation between the two figures. The woman's face becomes less ghostly, I see what she thinks about and how she feels happiness and even love across those green strokes to the child.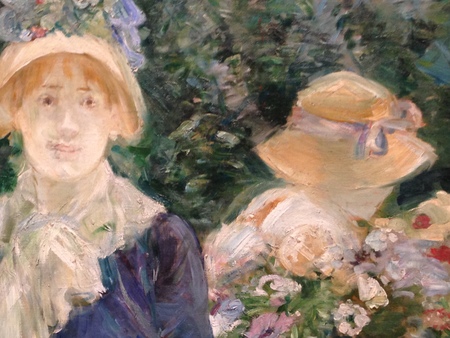 When I look back at our pictures of the summer, I see that we were often sitting where sand or green plants or water made a continuousness between us and the children. I feel I will miss this in the greater distinctness of fall.
In summer there is the challenge of making meaningful and definite that which is blurred by heat and continuity and abundance. Morisot has not forgotten the work of it. This morning, I am especially fond of that rake, like a paintbrush, like a pen, to one side.