On green on my birthday
Wednesday, May 19, 2021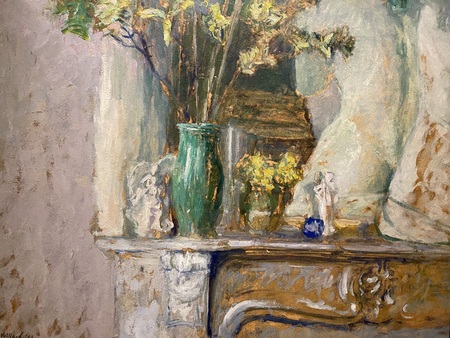 On green on my birthday.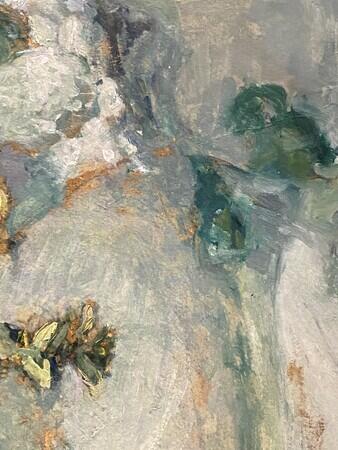 Yesterday, I traded green poems with @le_jardin_robo. They posted a Helen Frankenthaler I'd not seen, titled "a green thought in a green shade." Someone remarked the title and I commented that it's from an Andrew Marvell poem, "The Garden," which I remembered because I had unwittingly cited the poem earlier this year and someone had written, in turn, to tell me.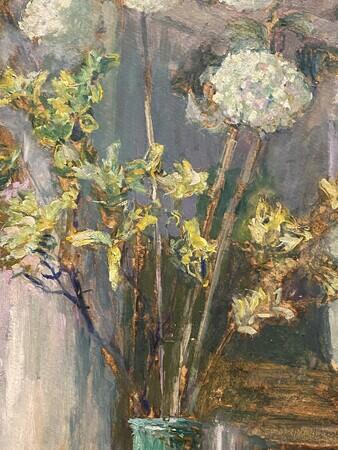 I looked up the poem to check the line, and followed the poet in his garden reflections, mid-seventeenth century and so complicated it will take me weeks to work it through. Two stanzas seemed where I would begin:
What wond'rous life in this I lead!
Ripe apples drop about my head;
The luscious clusters of the vine
Upon my mouth do crush their wine;
The nectarine and curious peach
Into my hands themselves do reach;
Stumbling on melons as I pass,
Ensnar'd with flow'rs, I fall on grass.
Meanwhile the mind, from pleasure less,
Withdraws into its happiness;
The mind, that ocean where each kind
Does straight its own resemblance find,
Yet it creates, transcending these,
Far other worlds, and other seas;
Annihilating all that's made
To a green thought in a green shade.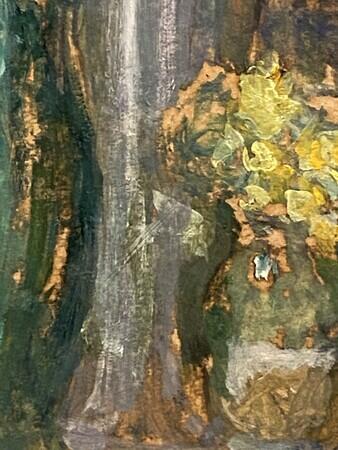 Yesterday, I went about my day. I taught my class, showed them some details of trees from Poussin's painting St. John on Patmos, 1640, a painting beginning to preoccupy me again, especially going back to T.J. Clarke's The Sight of Death. The students are finding their voices – through them I am learning about liberation struggles in Palestine; about black holes in interstellar space and a notorious prison in India called the Black Hole of Calcutta; about David Hockney's ipad drawing techniques – about freedom, in short, I am learning about freedom. And our beloved family is with us, for the first time in more than a year, and last night at dinner our theoretical physicist drew out for us a new possible understanding of how we might conceive of ten dimensions of the universe, and its finitude or infinitude. The children are all interested in shades of color and how to mix them and we have been doing a lot with colors while our painter is here, and in the evening, after the children were asleep, she explained the rules of a new game they have brought for us, called Hues, and we practiced yellow shades. Before sleep I looked at Gomswamy's Spirit of Indian Painting, and in the morning when I first woke I studied a painting by Nihal Chand, from c. 1735 that I hadn't seen before, "The Boat of Love," an astonishing verdant painting.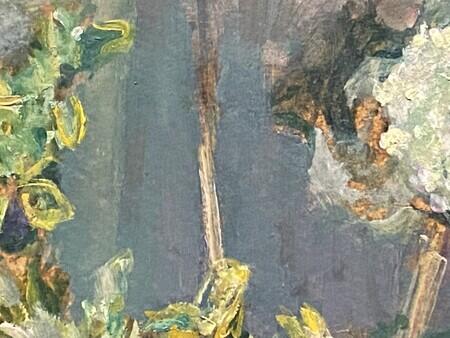 This morning @le_jardin_robo had traded me back my Andrew Marvell for a different green poem, Garcia Lorca's "Romance Somnámbulo," which, as translated by William Logan Bryant begins and ends:
Green, how I want you green.
Green wind. Green branches.
The ship out on the sea
and the horse on the mountain.
A magnificent revelatory poem that will also take weeks and months. And today is my birthday and I read it thinking of this green garlanding itself through and around life which is also death, and of how this year I want to read more Lorca and more Marvell and more other things. I exchanged birthday greetings with an old dear friend, another painter, who shares this same birthday. I began to think of this very particular green, array of greens, in a painting by Édouard Vuillard that I have been visiting, Guelder Roses and the Venus of Milo, c.1905.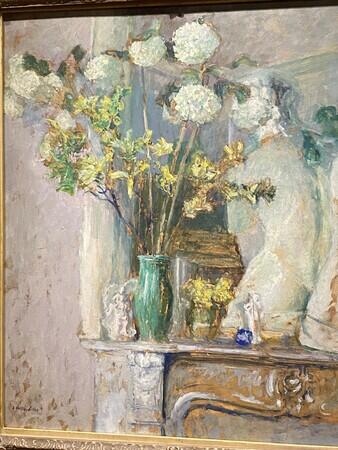 And I thought this was the painting for this birthday. See the green thought in the green shade, annihilating all that's made. I would love to go over it with you, that vase, look at that vase, its existence and green beliefs, but there isn't time, I must make haste.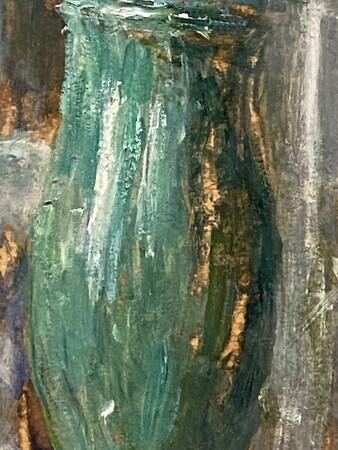 This morning I couldn't write even this much, I went to a board meeting of the Pozen Center for Human Rights, a board I have just the privilege of joining today, and I heard three people present their decade of work with the Prison Neighborhood Arts / Education Project, their work with artists, scholars, students inside and outside this prison. And I ran at the end of this board meeting to pick up our son, his immense dinosaur Greenie in our back seat, which some of his classmates wanted to stroke, Greenie is soft, their delicate fingers, it is all right now, for there to be touch. And driving back through our neighborhood we saw walking jauntily, cheerfully, my daughter, on her way to her learning group with her friend and their teacher, and pulled to the corner and she waved so happily and ran to the open car window because she had found a six-petaled lilac blossom, a tiny, tiny thing and wanted me to bring it home and press it, and she dropped it lightly through the window and went on to her group with her friend, and we brought this tiniest blossom home. Our family's painter, who was born in Russia, was just telling us a few days ago that in Russia the six-petaled lilac blossom is as lucky as the four-leaf clover – you eat it to bring the luck, but the children decided pressing was reasonable. And home we came, and he led me to measure the dame's rocket plants in our back garden, which are growing ebulliently, with abandon, inches in hours, now 57 inches high at the highest stalk, and we weeded a little, and he found a four-leaf clover and we pressed that, too, Irish and Russian luck circling around us, our families who fled Ireland and Russia when there were no more potatoes, when the British and Russian armies were too terrible, some would be born and others would not.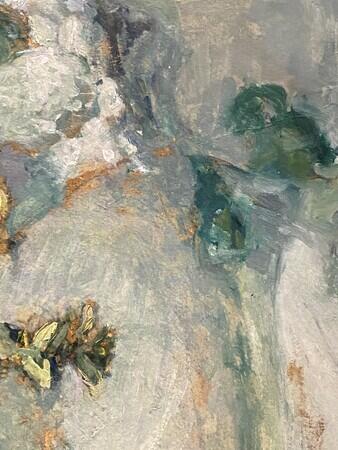 The day is fleeting, fleeting, I have been writing while my husband takes two of the household's children to pick up a cake, a caramel cake, here is the car they are returned.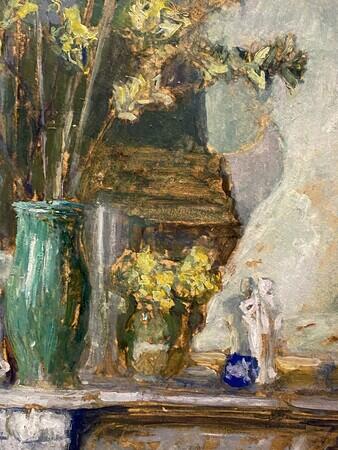 And here is the last green I want to add. Last summer, I wrote an essay partly thinking over a sentence that Lionel Trilling wrote about his students reading Jane Austen. He said he thought Austen seemed to them a "world in whose green shade life for a moment might be a green thought." A little after I published the essay, I got a kind note from Martha Bowden, professor of 18th century literature, to let me know that Trilling would likely have been thinking of Marvell's "The Garden," a poem I did not then know. I haven't thought much about the lines of green in the time since she wrote, but Helen Frankenthaler brought it back for me, and now I have two green poems, and these paintings like green strands running through.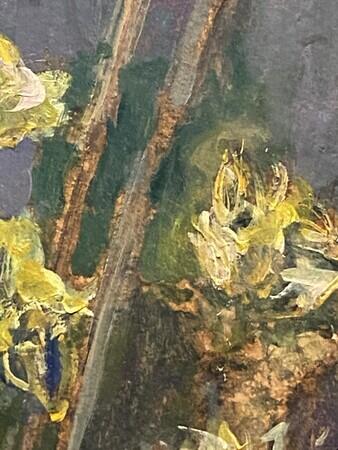 for Elina Mer, for Latham Boyle,
and for Peter Helm, on our shared birthday
Yesterday, I traded green poems...
Morisot, Occasionally
Friday, May 15, 2020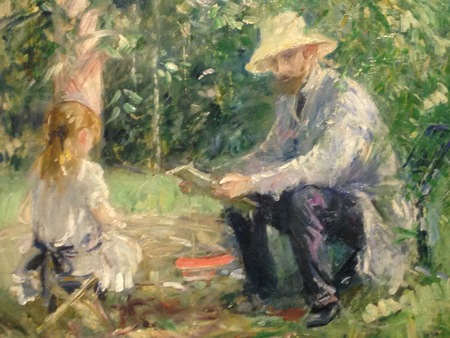 I went to Québec City in the summer of 2018 to cover Berthe Morisot: Woman Impressionist. I had never been to Québec City before, and I had not been away from the children for two nights in a row. Our daughter was then six, and our son three and a half.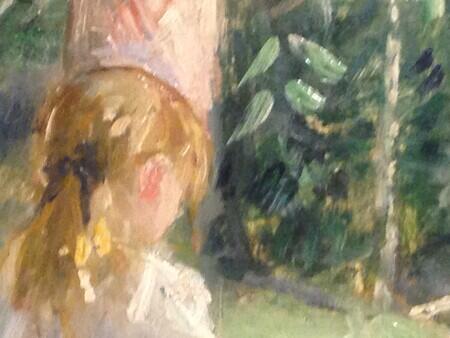 Both Québec City and the Musée National des Beaux-Arts du Québec (MNBAQ) were built with French models in mind, and then also built to be of a different place. So the buildings and collection assembled into the MNBAQ are connected to European museums, but are substantially built around the work of Inuit artists from the far north of the continent and of other artists working in Canada today and in the last century, and, in the city, the winding stone streets and battlements recall Normandy, but look at the Atlantic quite differently.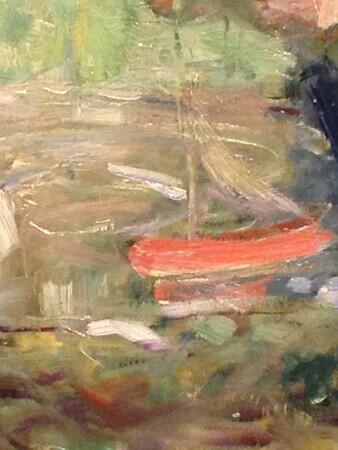 I did things I used to do all the time, and hadn't done so much of in recent years. I walked far, stood long hours in the museum, sat outside alone at a café. I was interested in my own thoughts, and I was bored by them. In this environment, it was possible to remember both the pleasures and failures of an old life, and to respond to a vigorous and interesting contemporary situation. Morisot, I thought, might have found it interesting to see her work in a place that drew on France and was not France. Just far enough away, just near enough by, to make space for reflection.
**
One of the paintings I photographed most in the show was this one that Morisot painted of her daughter and her husband in 1883.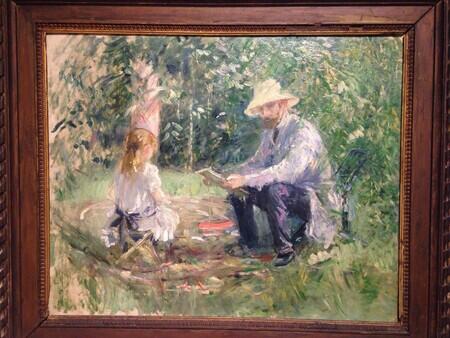 Her husband was Eugène Manet, it seems necessary to add immediately, brother of the famous painter Édouard Manet and himself a very fine painter, who was not interested in exhibiting his work. The daughter was Julie Manet, who would grow up to be a part of a rich cultural life, and important in establishing the legacy of her mother and of other painters. A quality of sustaining attention would already have been perceptible in the child, and to the child.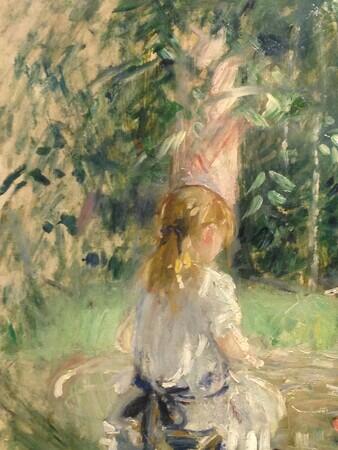 I loved the intimacy and directness of the painting – him facing the painter, her facing away. Their world, their world together. How it was just right for them is there in the painting, though no one else would live within it as the three of them had.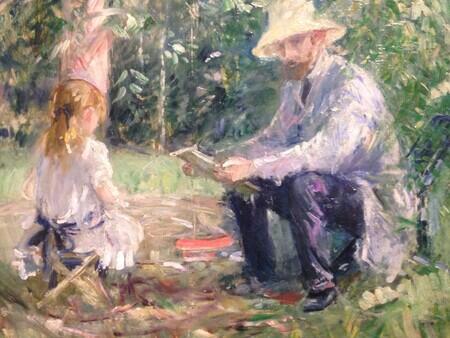 I loved the freedom of the paint – the radiant boldness of the little girl's dress, the dash of rose-orange in the toy sailboat, and especially the leaf or two that reach over his shoulder.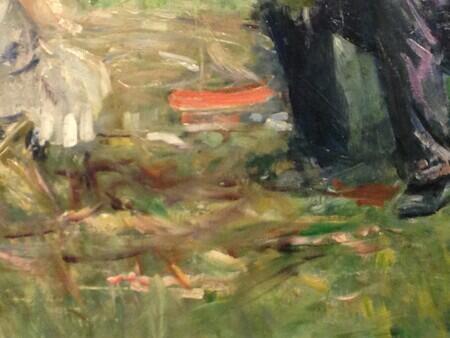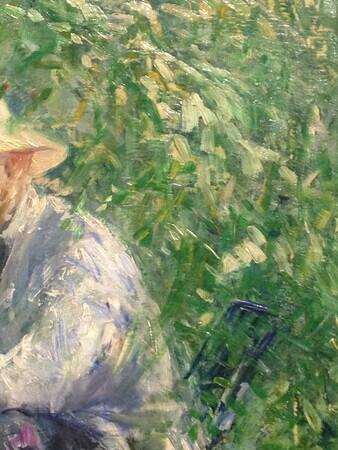 I went to the show three times, and for most of the paintings, I photographed them only once, but I made two complete sets of images of this one, beginning with the painting in its frame, and taking a dozen details. This morning it interests me that several of the pictures from the second set are sharper, as if, overnight, I had come to a clearer understanding of the painting, present when I saw it again the next day, but that some, both of the details and the whole, is best captured in the pictures I made first. A continual back and forth, shifting perspectives.
**
When the four of us get up in the morning, and go to the kitchen and begin the day, I often choose our coffee cups out of hopes for what the day may be like. This morning, for M, I picked a mug I brought back for him that says Québec City in ornate black letters on one side.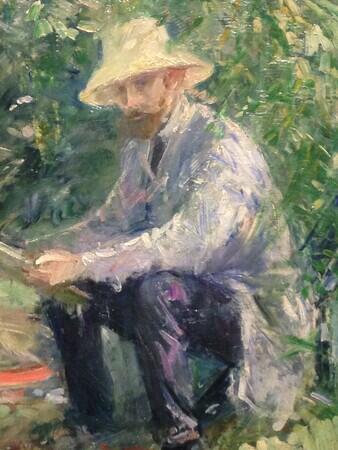 for Matt Boyle
Weekend Glimpse: Cézanne Bouquet for Mother's Day
Sunday, May 10, 2020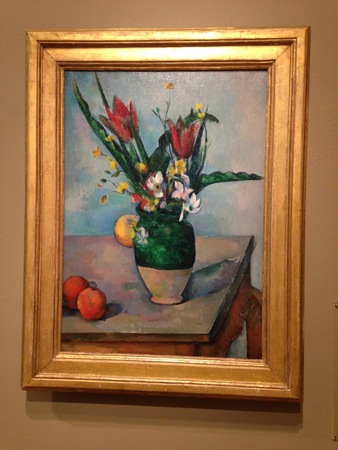 Here is a Cézanne, The Vase of Tulips, from about 1890. It is at the Art Institute of Chicago. I took the photos.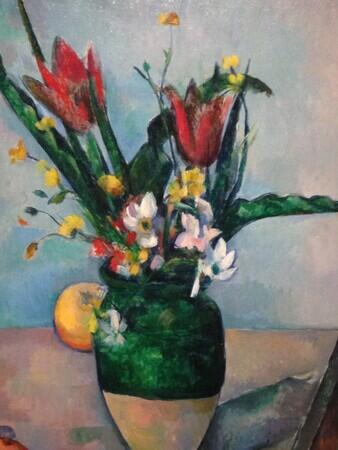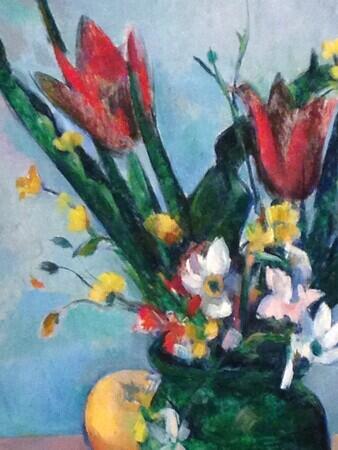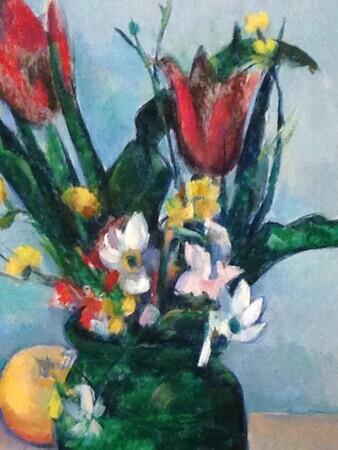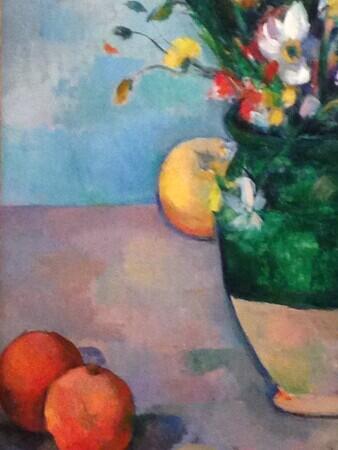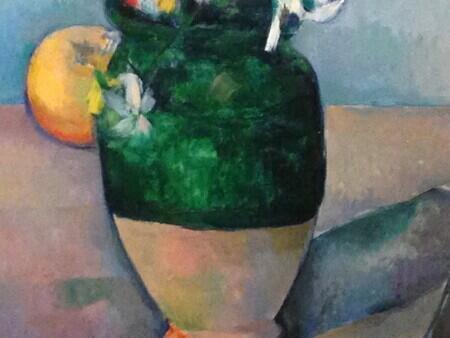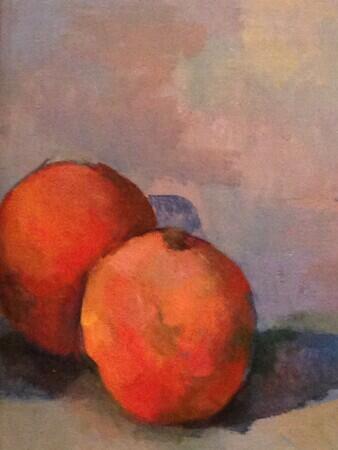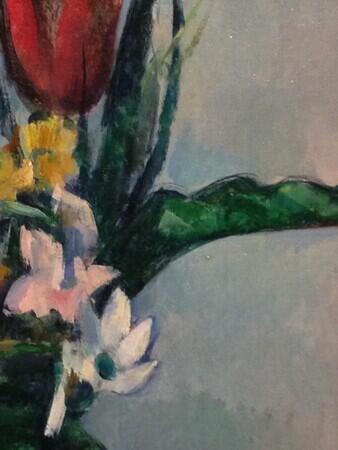 Happy Mother's Day
Beauford Delaney Close Looking
Thursday, April 23, 2020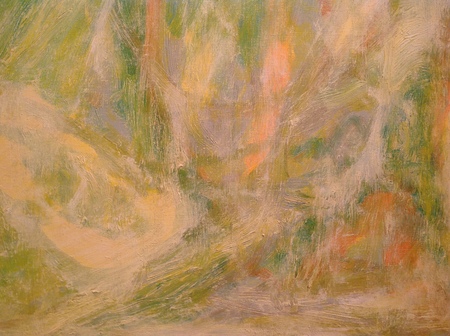 I had about a half an hour with it. The kind people who work at the Art Institute of Chicago had arranged an appointment. It was in the director's suite, behind an administrator, who typed away at her computer while I was looking and photographing. Which is by way of saying that the impression of calm is hard-won, mostly due to the painting, and to efforts of concentration.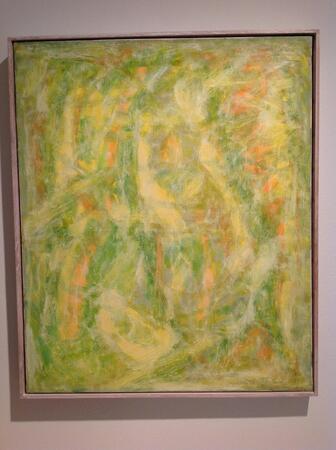 What a painting.
It's 21 x 26 inches (53.3 by 66 cm). A little taller than it is wide, a painting you could put your arms around. Here I photographed it in six sections, with the edges of frame.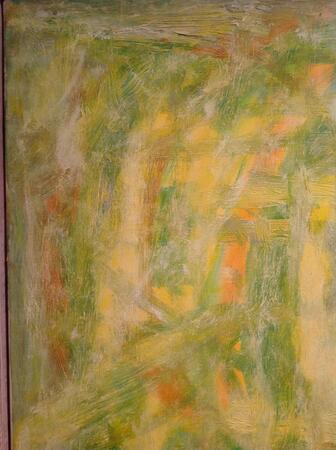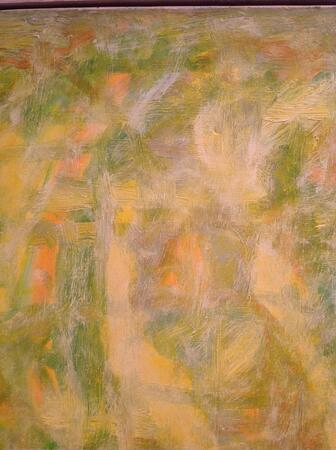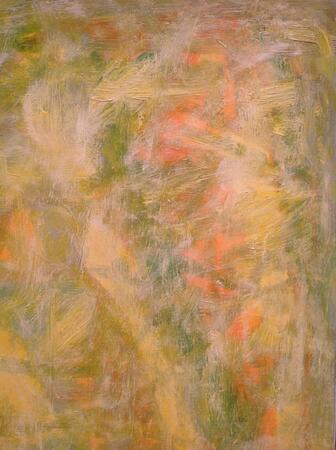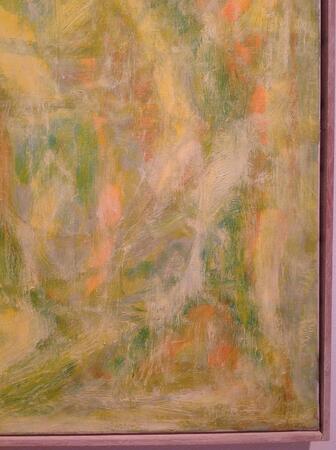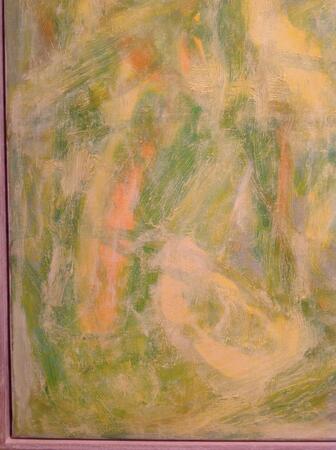 On seeing it, I was struck by the quality of the paint, thin and dry, which I think helps the layers to show through, many thin translucent layers.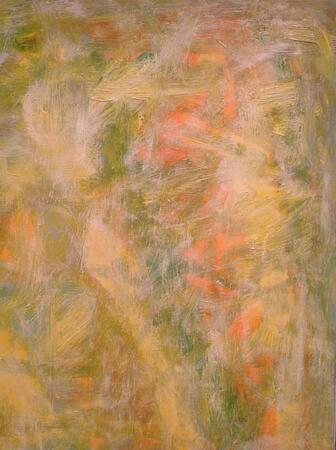 Standing quietly, you can trace the way each gesture in paint leads under and over others. You could paint over it, add layers, but it would be difficult to change the foundations, because it is an all-over painting, in free strokes. You could not scrape off an area you wanted to paint again. So it is an oil painting like a watercolor – you just lay it down.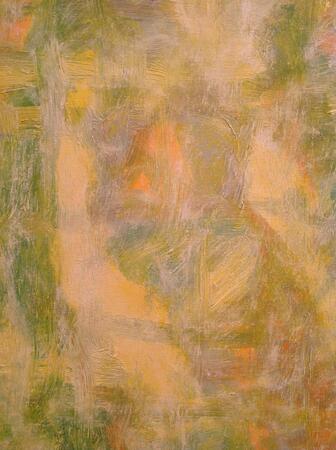 Which isn't to say it was quickly done. Delaney reworked his water colors a lot, returning to them sometimes years later. If he did that kind of long-term reconsideration with this painting, he would have had to continue to work with what's already there. His abstract paintings held the record of his thoughts about them in an unusually transparent way.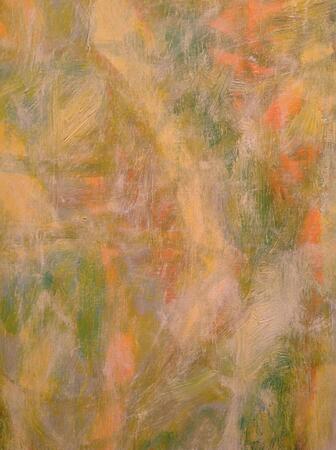 Painted in 1965. He had been in Paris for twelve years, and was now very experienced in a realm of complete abstraction.
Impressions of radiance and gentleness.
I think I started thinking of this painting today partly because I am tetchy, and also sad.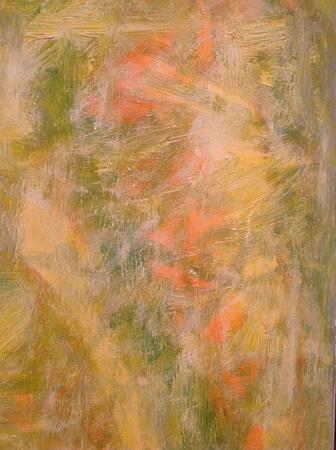 And partly because the tonalities that I came to yesterday in thinking about Poussin's Landscape with St. John on Patmos are close by. See the striking similarity in palette and quality of light to this area of the Poussin:
How much variety there may be among a handful of colors, closely held.
But really I just want to stop my busy typing and let you look.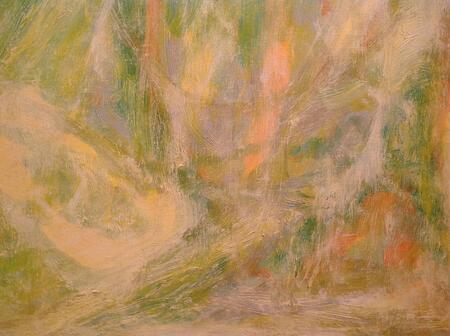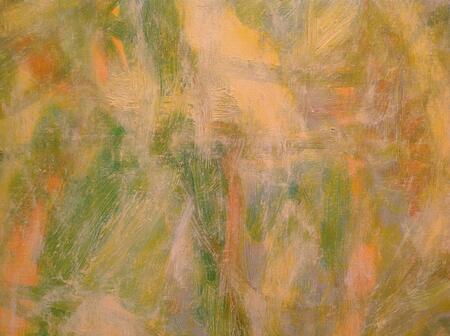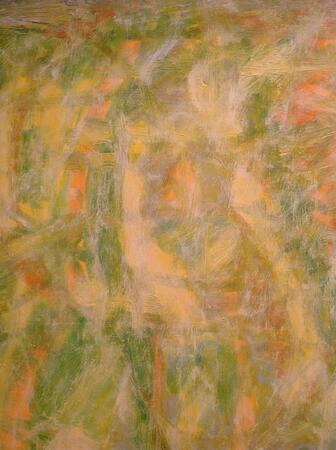 Here, the whole painting again, just before taking leave.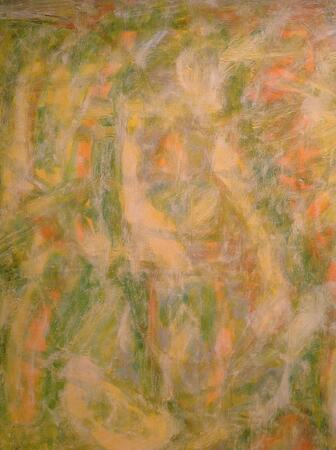 Frankenthaler Woodcut Color
Frederick Project: Colors and Collaboration
Friday, March 27, 2020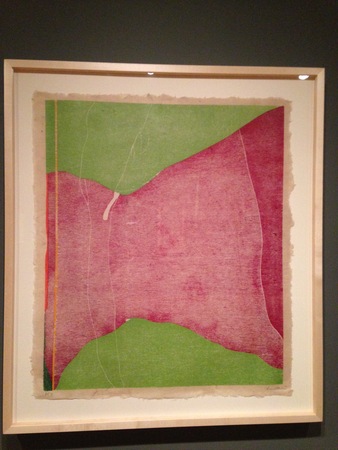 Helen Frankenthaler (1928-2011) worked with many kinds of material. Two springs ago, the Art Institute of Chicago held a show of her prints: Helen Frankenthaler Prints: The Romance of a New Medium. I went a couple of times, and once took our daughter, for whom colors are living presences.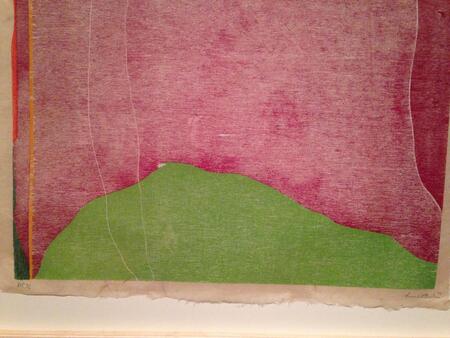 Frankenthaler started working seriously as a high school student, with artist Rufino Tamayo as her teacher. Tamayo, born in Oaxaca, painted in an abstract style, and was influenced by surrealism. Octavio Paz said that to say in one word what distinguished Tamayo's work from that of his contemporaries was to say "sun." Tamayo once told an art critic that using fewer colors increased the possibilities of those colors you used.
Frankenthaler began printing in 1961. She worked at a print workshop on Long Island called Universal Limited Art Editions (ULAE) that had been founded by Tatyana Grosman. Artists whom Frankenthaler was friendly with, Grace Hartigan and Larry Rivers, persuaded her to try the medium out. Together with the various master printers who were her collaborators, she printed seriously for the next seventeen years.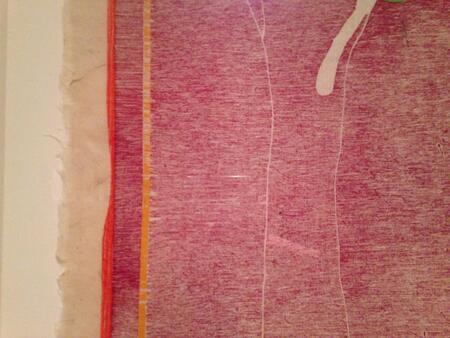 This one we've been looking at is called Savage Breeze. It was hard to get, she said, the hardest print she ever worked on.
Savage Breeze was printed by Bill Goldston and Juda Rosenberg. Pulling prints is extremely technically demanding and printers play a central role. In Japanese woodblock prints, the printer was always acknowledged as a fellow creator, as were those who carved the wood blocks. Mary Cassatt and Edgar Degas both worked with master printers. When I saw the Frankenthaler show, I was delighted by the little handwritten notes from her to the printers on certain draft prints, explaining the effects she was hoping for.
Color is not a given. A long process of trial and error. Savage Breeze began as Vineyard Storm.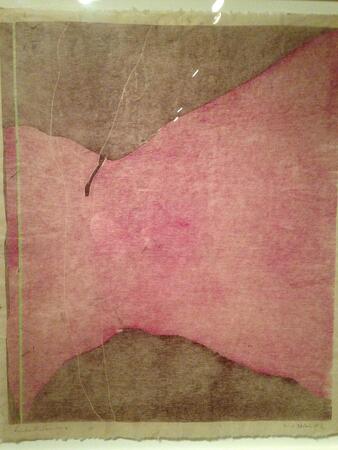 And even once she'd moved from brown to green, the colors still didn't look right. The wall text had a nice quotation from her:
Savage Breeze went dead like a lead balloon. So after many tries, I finally said, let's scratch it. I was almost exasperated. I couldn't get the light I desired. I knew the drawing was right. I knew the scale was right. Then I thought—why don't we whitewash the paper first and then print the other colors I'd mixed over it. We did. And it glowed.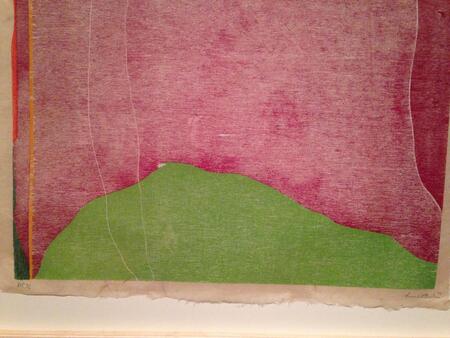 But the composition, the areas of color, still didn't work. They tried a darker burgundy block over the green, but Frankenthaler didn't like the result. In some places, she told them to cut back the burgundy block, and made crayon marks to show where. The cut away areas showed white in the final prints. In another spot, she attached a little green square of paper to show how she wanted it to look – color as edit.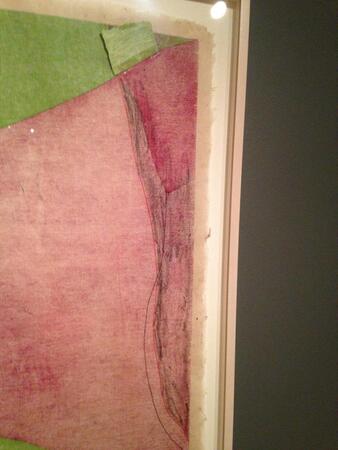 Here in Chicago, the day began with a thick fog and still there seems a layer of gray cotton over the trees and houses. We are waiting, so intently, for spring. Wash, pare, wait, pull the sheets again.
For Tara, sheltering on the Vineyard
In Chicago
Wednesday, September 7, 2016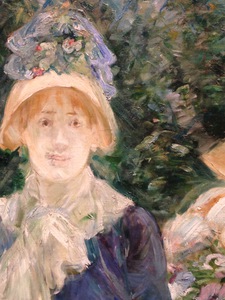 We have moved to Chicago. I went to the Art Institute soon after we arrived and was happy to see that the museum has a wonderful Berthe Morisot. I have wanted to keep thinking about her. I find that I remember vividly each experience I've had of her work in the last few years: two watercolors from the Clark, an exhibition at the Met that had several of her paintings, a visit to the Musée Marmottan while M played with S in the public gardens. The peculiar density of atmosphere that Morisot achieves seems like something to learn from. Perhaps I am affected by knowledge of her biography, and her early death, but it feels to me as if she knew there might not be much time, and that she put everything she knew, about a person, a child, a garden, a hat, into each painting.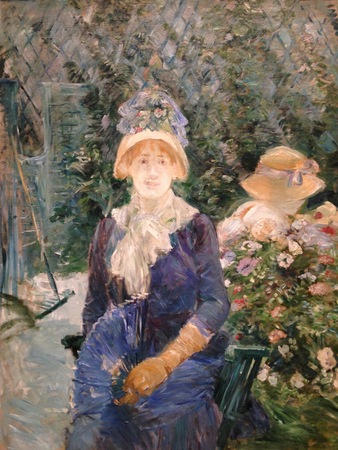 One thing, I think, is that she is able to keep everything in motion. This morning, a first day of school, the perpetual motion of everything and everybody – all our objects, all the four of us, all our places and people – feels overwhelming, but look at how she brings the garden to the dress, the fan away from and toward the dress, the dress itself toward blue, toward purple, toward the body and the air.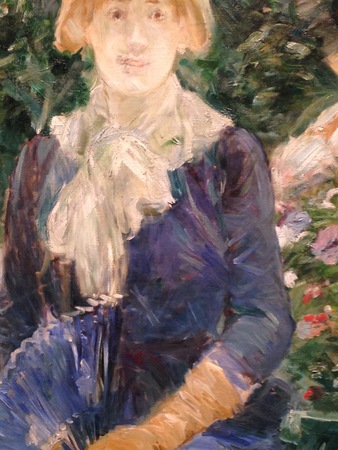 I don't think it is a photographic accident that the face of the woman becomes clearer and more meaningful when looked at with the hat and figure of the child behind her. Morisot has done something with the beige and white shades of their two heads and hats that allows my eye to make a relation between the two figures. The woman's face becomes less ghostly, I see what she thinks about and how she feels happiness and even love across those green strokes to the child.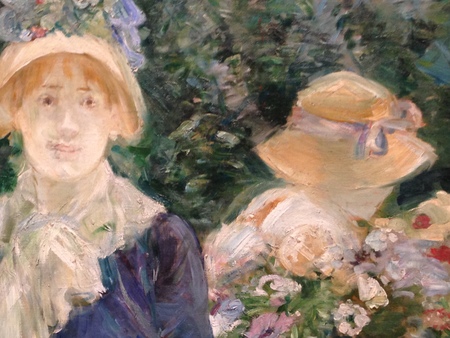 When I look back at our pictures of the summer, I see that we were often sitting where sand or green plants or water made a continuousness between us and the children. I feel I will miss this in the greater distinctness of fall.
In summer there is the challenge of making meaningful and definite that which is blurred by heat and continuity and abundance. Morisot has not forgotten the work of it. This morning, I am especially fond of that rake, like a paintbrush, like a pen, to one side.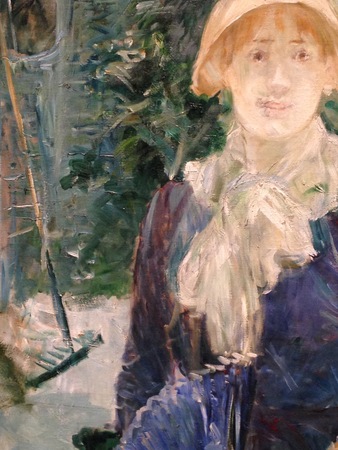 Garden Windows
Sunday, February 19, 2017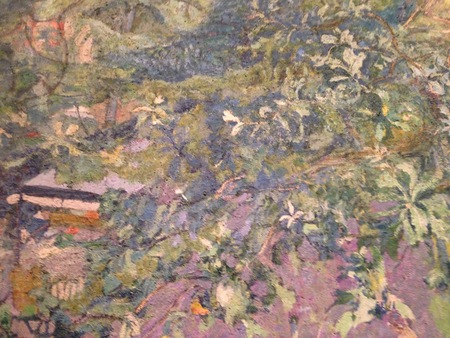 I was standing in our kitchen this afternoon, and the light from the garden was coming through the windows, garden light, unlike any other, and I started to think of painted gardens. How it is that sometimes the paint itself is even more beautiful than the real light.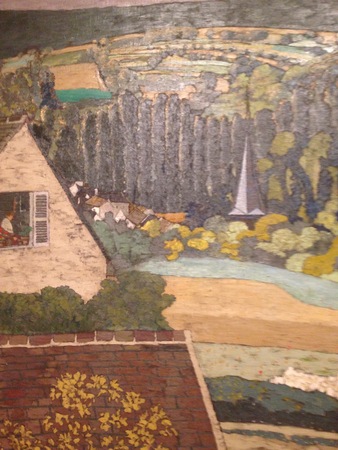 Yesterday and today the air is full of light, sixty-four degrees, sixty-seven degrees, days like April. The trees are rushing to throw off their silver February garb. Green shoots are already up in the garden, although next week it is to freeze.
A friend of my friend's has died. We are in different cities and cannot take a walk together. He wrote that it would be nice to go to a museum.
The last time we were in the same city – he was here, in Chicago – we went to the Art Institute, and looked at this and that, and what we were taken by was Vuillard. In one room, there are two beautiful earth-banners.
Landscape: Window Overlooking the Woods
, 1899, is twelve feet long, eight feet high.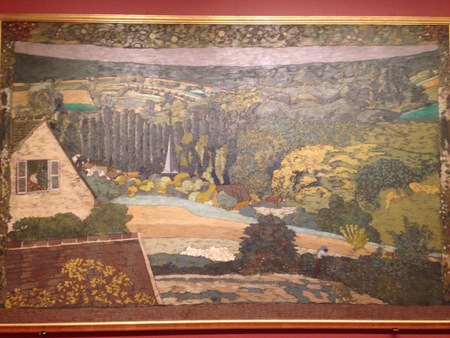 The other,
Foliage—Oak Tree and Fruit Seller,
1918, is a little over nine feet across, some six feet high. You could go every day to look at them.
I had just seen them for the first time a few days before my friend's visit, so we could begin together. There is a woman on the left side, with a child, there, back in the leaves, that is the fruit seller.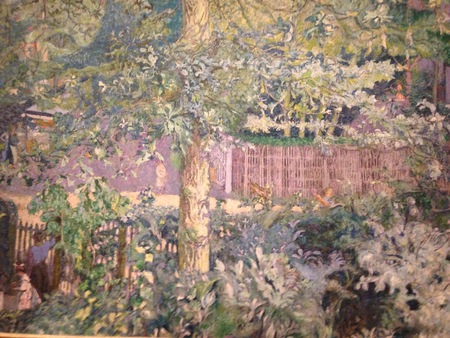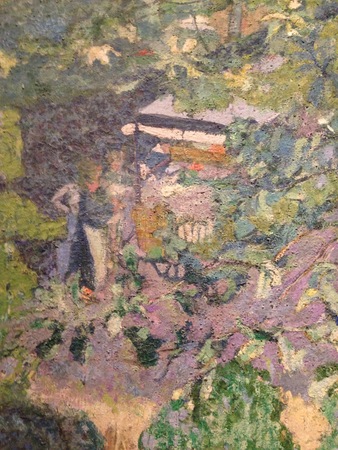 In making
Foliage—Oak Tree and Fruit Seller
, Vuillard used the medium of distemper, in which paint pigments are bound with melted glue. You have to paint quickly, it dries very fast. The wall text also points to the "closely ranged tones of the palette." Sage against olive against forest. In life, friends are like this, right up next to each other, in contrast and bound in their shared medium.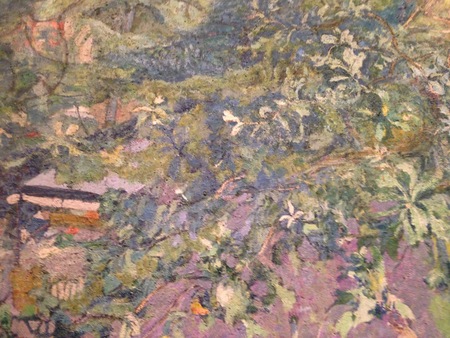 The abstraction of paint, that it may represent both the thing and the light, both the evanescent and the enduring, that would be a comfort, if we could go and look at it today.