Guest Post Lori Waxman
Fischli and Weiss and the Way Things Go
Friday, May 29, 2020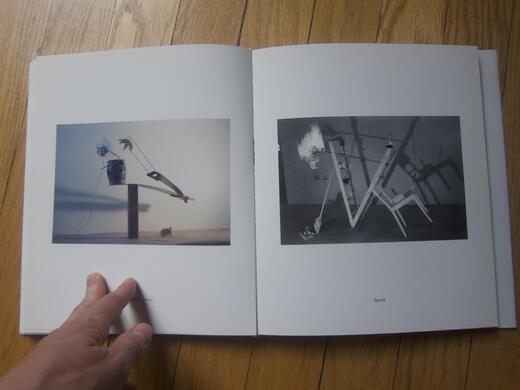 I was delighted that the wonderful art critic Lori Waxman accepted my invitation to write the first guest post for the Frederick Project. Here is her reflection on Fischli and Weiss and the Way Things Go. — RC
After the shelter-in-place order was issued here, one of the very first artworks I turned to was "The Way Things Go," a 1987 film by the Swiss duo Peter Fischli and David Weiss. I watched it with my son, who is six years old and likes to make inventions out of random crap he finds in our house and on the street. (Well, not on the street right now, but normally.) J found it as entrancing as I always have: thirty minutes of a single chain reaction, like an enormous game of dominoes but played with tires and tables and explosions and cans and rails and chairs and jugs and fire and bubbling and balloons and … You can imagine the appeal, yes?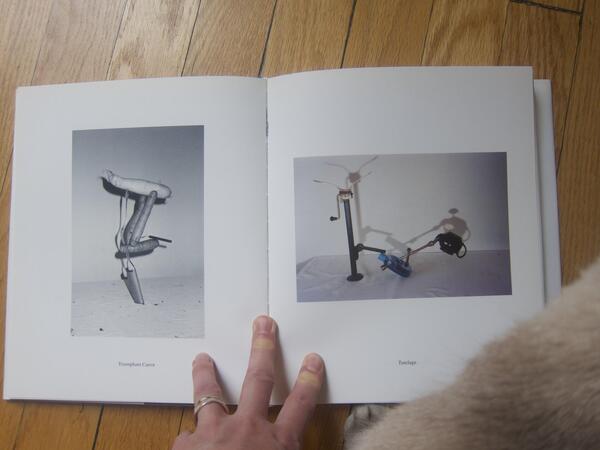 Fischli and Weiss, Equilibres, "Triumphant Carrot" and "Tutelage," with edge of cat Elsie. Photograph Lori Waxman.
Fischli and Weiss shot the footage in a hundred-foot-long warehouse, carefully editing together a number of takes into what looks like a continuous sequence. It doesn't really matter that it isn't. My son needed to see it because he is depressed about not being able to play with his best friend down the street, and creating new things out of old stuff is a terrific distractor from that situation. Plus we don't have to buy anything or go anywhere. I went looking for the video because, in between homeschooling J and his older sister R, I have been organizing the disaster zone that constitutes our library, and in so doing I came across a book of photographs, Equilibres, taken by Fischli and Weiss between 1984 and 1987. I love this book and have not spent time with it in years. Equilibres was published in 2006, and I believe it to be an expanded edition of a now-rare volume that first appeared in 1985 under the title Nachmittag (Quiet Afternoon). Both titles (well, all three) are apt, and I have no idea why they decided to rename it so many years later, but the gist of the images is always some irresistible combination of found objects, humor and momentary balance. Two kitchen knives, one skewer, one wire ladle, a wine glass, a potato and three eggs (raw, no doubt) stand upright, one tucked into the other. Two buckets, a tire and a chair hold one another horizontally in place across a wide doorway. A zucchini perches on a carrot which juts laterally out from a rakishly angled grater. All of these things are about to fall, which is a huge part of the charming tension of the series, and they all eventually did, sometimes right after the artists clicked the shutter, sometimes a little while later. When they fell, they made noise/broke/rolled away/knocked other things over, all of which I could call a release of energy if I were trying to work some homeschooling in, and the story goes that the recognition of this potential is what ultimately prompted Fischli and Weiss to create "The Way Things Go."
Fischli and Weiss, Equilibres, "Can I, May I Do Anything?" and "Talented." Photograph Lori Waxman.
Now, if you'll excuse me, J and I have a sculpture to make out of the tools and ingredients to be used in tonight's dinner. When it falls, I cook.
Lori Waxman has been the primary freelance art critic of the Chicago Tribune for the past decade. She teaches at the School of the Art Institute of Chicago and has a Ph.D. in art history from the Institute of Fine Arts in New York. Her 60 wrd/min art critic performance has been exhibited in dOCUMENTA (13) and a dozen cities across the U.S. She has received a Warhol Foundation Arts Writers Grant and a 2018 Rabkin Foundation award, and is the author, most recently, of Keep Walking Intently (Sternberg Press), a history of walking as an art form.
Three Pissarros Over Time
Monday, May 4, 2020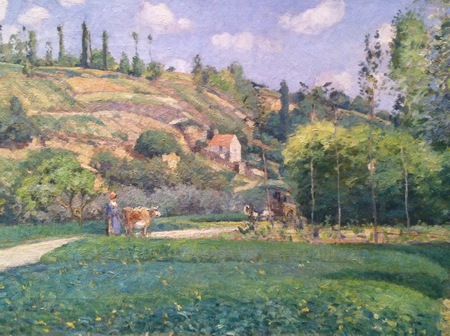 A Pissarro landscape has a special quality. As in a Monet, the vegetation has a lift, but this is even a bit more pronounced, so that there is a strong space around the leaves, which have a kind of brio.
Detail from Camille Pissarro, A Cowherd at Valhermeil, Auvers-sur-Oise, 1874.
As in a Sisley, there are glints, and the overall effect is quite bright, but the strokes are not quite as thin as Sisley's.
Camille Pissarro, Cotes des Grouettes, near Pontoise, probably 1878. Metropolitan Museum of Art. Photos Rachel Cohen.
*
To understand the painter who emerged in the 1870s, it is useful to look back a little into his history. Like all of the central generation of Impressionists, Pissarro followed Manet through the 1860s. Paint is smooth and areas of color fairly large, as here, in 1867, Jallais Hill. Beautiful, and with a certain opacity, something the eye moves over, but there is an incipient sense of through.
Camille Pissarro, Jallais Hill, 1867. Metropolitan Museum of Art. Photos Rachel Cohen.
Detail from Camille Pissarro, Jallais Hill, 1867.
Pissarro and his companion, later his wife, Julie Vellay had to flee Paris during the Franco-Prussian War. When they returned in 1872, they found that the Prussians had destroyed more than 1400 of his paintings done over twenty years. So the record of his early understanding of landscape, and of paint, is incomplete. Some think that these destroyed paintings would have shown the birth of Impressionism. This one from the Met is one of only 40 that remained, and becomes important in showing the great spatial and geometric clarity that underlay all his work.
Detail from Camille Pissarro, Jallais Hill, 1867.

Detail from Camille Pissarro, Jallais Hill, 1867.
By 1874, look how the mass is made with freedom and movement. How many colors are stippled through one another. This is how form and space are made.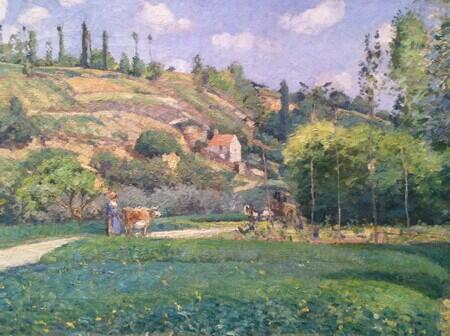 Detail from Camille Pissarro, A Cowherd at Valhermeil, Auvers-sur-Oise, 1874.
Detail from Camille Pissarro, A Cowherd at Valhermeil, Auvers-sur-Oise, 1874.
Detail from Camille Pissarro, A Cowherd at Valhermeil, Auvers-sur-Oise, 1874.
1874 is the year of the First Impressionist Exhibition, brought about in large part by Pissarro and his activity, his work as a uniting force. He was a primary articulator of the injustice of the old Salon system; he was always strong in his defense of working people as subjects of art; having grown up a child of Jewish shopkeepers in St. Thomas, he understood the dynamics of the colonial world and its cosmopolitan capitals, and this allowed him to see landscape, its cultivation and its colors, with a different kind of eye.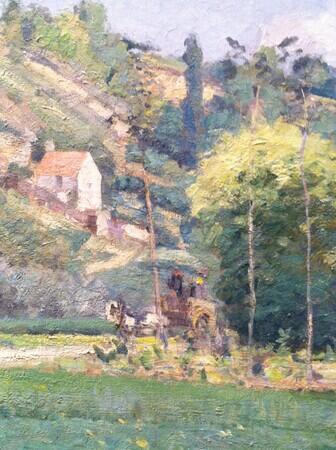 Detail from Camille Pissarro, A Cowherd at Valhermeil, Auvers-sur-Oise, 1874.
*
Pissarro, ever alert to new developments, joined Seurat and Signac in the pointillist movements of the 1880s, taking color juxtaposition to an extreme. Perhaps these theories felt like a confirmation of convictions he'd had all his life about how to make space by the application of small areas of color; he would say that he preferred the scientific to the romantic. The three landscapes I am looking at here are not from this pointillist period, but they are not disconnected from Pissarro's steady experimentalism.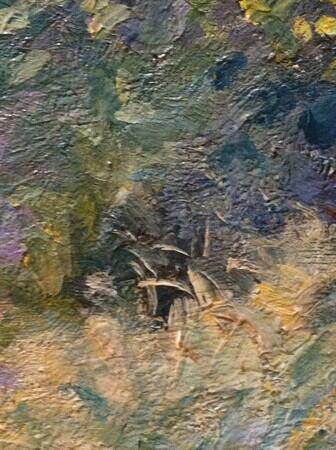 Detail from Camille Pissarro, A Cowherd at Valhermeil, Auvers-sur-Oise, 1874.
Going back through my own entries on Pissarro, I find that it was seeing these landscapes in 2013 that first allowed me to start my own method of photographing the details of paintings. Pissarro himself was not as interested in photography as Degas and Caillebotte and others who were serious photographers. But he was very modern.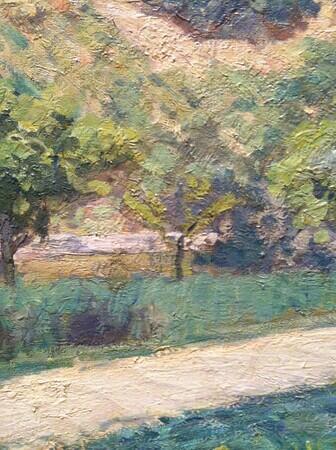 Detail from Camille Pissarro, A Cowherd at Valhermeil, Auvers-sur-Oise, 1874.
Landscapes by Pissarro might seem a little less than Monet, not as powerful in their color, not as complete and radical an accomplishment as Monet's great series paintings or his late abstract works. What makes them so strikingly modern is a little hard to identify.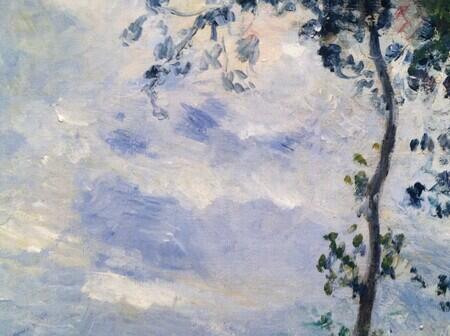 Detail from Camille Pissarro, Cotes des Grouettes, near Pontoise, probably 1878.
What I see thinking about these three paintings today is a definiteness and clarity, a structure in space that emerges over time, and comes not in spite of gentleness or nuance, but somehow together with these qualities.
Detail from Camille Pissarro, A Cowherd at Valhermeil, Auvers-sur-Oise, 1874.
Pissarro wrote a volume of letters to his son Lucien, a volume now famous, but at the time a strong record of the running thoughts of a gifted and impoverished man. [My edition is the one edited by John Rewald in 1943, and later translated by Lionel Abel.]
On November 20, 1883: Remember that I have the temperament of a peasant, I am melancholy, harsh and savage in my works, it is only in the long run that I can expect to please, and then only those who have a grain of indulgence; but the eye of the passerby is too hasty and sees only the surface. Whoever is in a hurry will not stop for me.
At Nadar's (but he was already gone)
Monday, November 11, 2013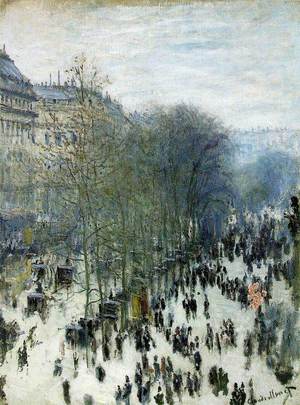 Possibly it was somewhere in two decades of reading and rereading Susan Sontag's
On Photography
that I absorbed a small but suggestive misimpression. In the midst of a passage on the relationship between photography and painting, she devotes a long footnote to Impressionism. This footnote begins, unexceptionably, "the large influence that photography exercised upon the Impressionists is a commonplace of art history."
[i]
Rereading the rest of the footnote I see, as is often the case with Sontag, that I have been thinking about what it contains for a long time without even remembering that she wrote it, and that I will probably now spend many more years arguing with myself about the details she's included in what is for her a brief excursus.
Here is her summary of what the Impressionists found in photography: "The camera's translation of reality into highly polarized areas of light and dark, the free or arbitrary cropping of the image in photographs, the indifference of photographers to making space, particularly background space, intelligible…" This was the "inspiration for the Impressionist painters' professions of scientific interest in the properties of light, for their experiments in flattened perspective and unfamiliar angles and decentralized forms that are sliced off by the picture's edge." Sontag, magpie, quotationalist, admirer of Benjamin, points out that Stieglitz said of the Impressionists, "they depict life in scraps and fragments."
And here is what led me astray, though, as I work this through, I'm beginning to think that the clarification of her small error of suggestion might actually affirm the rest of what she's said. The footnote comes to the following too-irresistible conclusion: "A historical detail: the very first Impressionist exhibition, in April 1874, was held in Nadar's photography studio on the Boulevard des Capucines in Paris."
This information, too, is a commonplace of art history, and if I first saw it in Sontag I've since seen it referred to often enough that when I began to think of keeping this notebook I pictured an essay depicting the scene. It was to be an exciting set piece: one after another the soon-to-be-famous painters would enter the studio, so full of potential. There they are, gathering around the far-seeing Nadar, who loves their work, and says 'you must have the show here,' generously taking down his photographs. They hammer, they arrange curtains, they call out to one another. I knew that the name of the movement came from this first exhibition. Perhaps Nadar himself, watching them at work, had said something that suggested the name...
Not so, not quite so, at any rate, and in a way that matters. A recent, thorough biography of Nadar by the French writer Stéphanie de Saint Marc makes almost no mention of the Impressionists in general. The only one that Nadar really knew was Manet. The biographer says Manet inspired Nadar as a model. She has a heavy description of the famous photograph: Manet's fine features and "romantically undulating chevelure" made a "counterpoint" with the hand "robust, almost peasantlike" seen in the picture's foreground, on the back of a chair.
[ii]
Nadar, Édouard Manet, 1863
This friendship, though, doesn't account for the presence of the Impressionists at Nadar's studio because, as is well known, Manet resolutely did
not
show with his friends in the 1874 exhibition; he was still fighting it out with the official salon. (I've often taken a kind of, probably unfair, satisfaction in Manet's absence from the show. His works seem to be obdurate where those of the other painters are fluid, though I do recognize that this is yet another of my difficulties with seeing Impressionism, as somehow what they saw in him led to what I see in them.)
In any case, I now hurried to John Rewald's
History of Impressionism
to read the chapter on the April 1874 show. The painters formed themselves into a group, not at all impromptu, carefully thought out and argued over, with the financial structure of a joint-stock company (Pissarro's idea,) and a deliberately un-school-like name:
Société anonyme des artistes peintres, sculpteurs, graveurs, etc.
(Renoir's idea.) Though the name Impressionism did arise from the show, it did so in a roundabout, emergent way, not because of a stroke of impressarial brilliance on the part of Nadar.
The name came about through an odd mixture of the offhand, the laudatory, and the vituperative. The catalog of the exhibition was edited by Renoir's brother, Edmond Renoir. Edmond Renoir remembered, in his unpublished recollections, that when he came to the group of pictures Monet had sent he was irritated by, "the monotony of his titles:
Entrance of a Village, Leaving the Village, Morning in a Village
...." Edmond Renoir objected and "the painter calmly told him: 'Why don't you just put
Impression
!'"
[iii]
A painting of Le Havre was called
Impression, Sunrise
, and critics, both the rare ones who liked the show, and the much more common ones who vied to outdo one another in piling up ridicule, seized the name "Impressionists," which the painters themselves accepted as close enough.
They weren't hanging around Nadar and excitedly studying his photographs; they simply needed a space. According to Rewald: "This presented itself in the form of the studios vacated by Nadar, who, according to Monet, lent them the premises without fee."
[iv]
Nadar's biographer confirms that at this period, though he no longer maintained a studio there, Nadar still sometimes sublet the premises. He was fairly friendly with the group of painters, whom he saw now and again at the café Guerbois, but, she says, he stayed "hermétique" with regard to their innovations. He was a fervent admirer of Daumier and Guys – both dear to Baudelaire – but never collected the painters who were to become even more fully the "painters of modern life," as Baudelaire had described Guys in the long essay in which he envisioned a kind of painting.
Baudelaire did write perceptively and admiringly about Manet, a figure with one foot in that earlier generation, and one reluctant foot in the Impressionist camp. But this earlier generation hardly threw themselves into promoting the new way of seeing made explicit in the pictures of Monet, Pissarro, Renoir, Sisley, Cézanne. Nadar may have known that the artists were penniless – if he lent them the studio for no charge that was a helpful generosity in a time when few were helpful to them. What the gesture meant, though, wasn't that the buoyant, insightful, commercially adept, scientifically inquisitive Nadar saw the future and passed the mantle on to his comrades. The show was in a place
left empty
by a great, declining photographer of the previous generation.
What I've been thinking about today is that it may be that the complicated relationship between Manet and the younger Impressionists, which has a strong bearing on the relationship between the movement of Impressionism and photography, could be expressed by these two now slightly refined facts: Manet was the friend of Nadar's; the others got themselves named when they had a show in Nadar's empty studio without Manet.
---
On Photography II
Saturday, October 5, 2013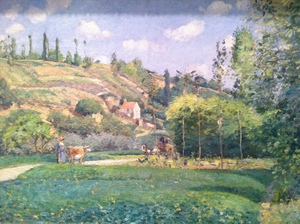 [This is the second installment of visual notes on this Pissarro, documented by iphone.]
Stretch of cultivated field down to earth:
Shape of path as it curves back:
Shape of hill crest, cypressed, below sky:
Step back to look at whole again:
Dark paint, just dashed on, group of trees:
Really dark, low dark hole, yellow grass across lower right corner:
Look again at dark paint just dashed on of upper tree:
Once having looked at these two dark areas, upper tree, lower hole, the whole right side of the picture has beautiful depth:
Now the interior looks quite different, rougher paint:
What would Pissarro have made of this fragmentary way of writing down the seeing of his picture? Would he know right away that, as happened in his own time, our new tools have changed the experience of sight? He was the great theoretician among the Impressionists, the one who articulated what they were after. But in all the letters to his son Lucien that are such a full statement of his thought I cannot find a single mention of photography.
He does, though, indicate how important the idea of the series was to his way of thinking. In a letter from the summer of 1895, he writes that he is sorry that Lucien has been delayed in getting to Paris for now he will miss seeing "the Monets. This is a great pity, for the Cathedrals are being much talked of, and highly praised, too, by Degas, Renoir, myself and others. I would have so liked you to see the whole series in a group, for I find in it the superb unity which I have been seeking for a long time." [June 1, 1895]