Cézanne
Close Observation
Monday, January 20, 2014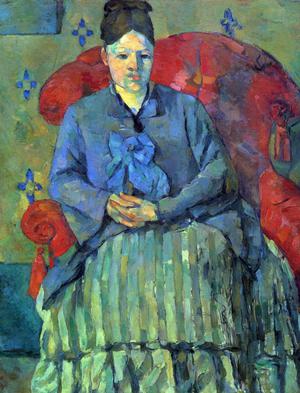 A woman, long blue shirt carefully tied over striped skirt, sits in a red chair. She leans a little to her right, our left, elbow on the arm of chair. Her hands are folded.
Cézanne's way of painting faces means that you can look at them or not. Everything has surfaces and depths. Much of the meaning of the figure is not in the face. The folded hands are important and beautiful.
Between the forefingers and thumbs are a green that relates them to the skirt below, a blue consonant with the blue shirt above. Shapes of laced fingers echo shape of dark what seems to be locket or pendant about neck.
Somewhere Roger Fry writes about the courage of Cézanne's face-on verticality. The painting ought to be static, there is so little motion in the way the figure and face are arranged. All the motion has to come from the paint itself.
The red armchair. Faces, designs, flowers in it. Begins to have an unusual kind of softness around her.
The model is Hortense Fiquet, for many years his mistress and eventually his wife. He painted her almost thirty times.
The skirt.
Another place of conjunction. Red tassel over yellow wall with blue wainscoting, edge of blue shirt over skirt. All this is beautiful, orderly, loved, observed, and yet paint.