Iskandar and the Seven Sages, from a Khamsa of Nizami
Saturday, June 27, 2020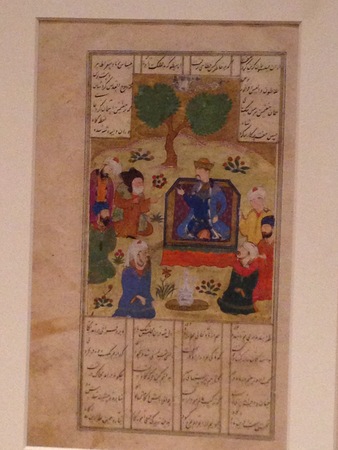 I just have four pictures, each poor in its own way. But I can't even find the work in the Art Institute's files, or 'pinned' on the internet, so this is the only way to show it to you. I know nothing about it beyond my impression of its incredible fineness, the perfection of the relationship of the calligraphy to the image, the beauty of the colors, and the grace of the situation of the figures in the landscape-page.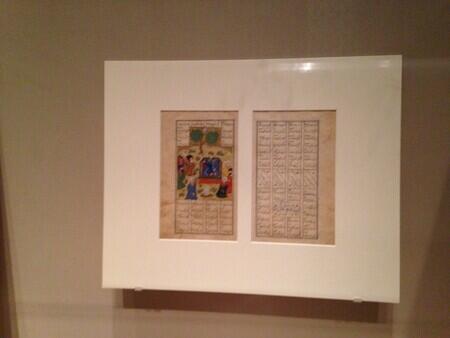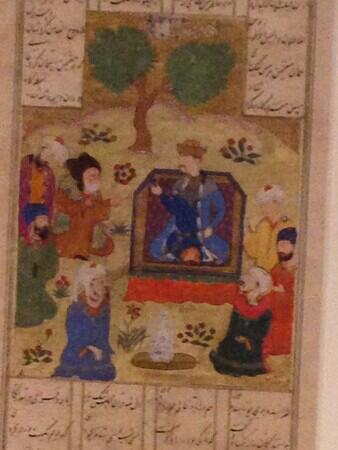 The text that accompanied it read as follows:
Iskandar and the Seven Sages, from a Khamsa of Nizami
1485
Iran
Opaque water color, gold, and ink on paper.
Everett and Ann McNear Collection, 1981.215
Many deluxe version of manuscripts were augmented by paintings and illuminations. These two pages come from an illustrated copy of the poet Nizami's Khamsa (Quintet), the last of whose five books relates the epic story of Iskandar, known in the west as Alexander the Great. In Persian legend Iskandar was transformed from a foreign conqueror to a great philosopher-king who prepared the region for the coming of Islam. This painting records a meeting between Iskandar and seven wise men, including Aristotle, Socrates, and Plato, to discuss the origins of the universe.