William Walker Public Art
Tuesday, April 21, 2020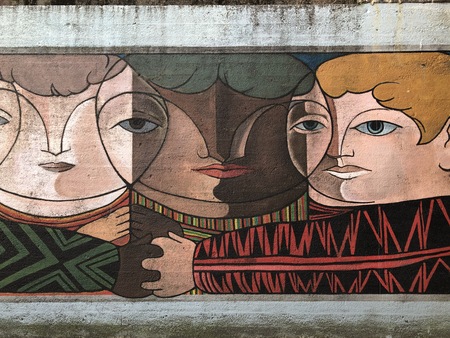 Today I want to think about public art. Art that I can still go visit, that anyone can still go visit, even though all the museums are closed. Often vulnerable and often unprotected, and also, beautifully, always there. Even in the dark of night, in snow, in a pandemic.
In our neighborhood of Hyde Park in Chicago, there is a masterwork at the 56th Street Metra Underpass. It is called Childhood is Without Prejudice, and it is one of the few surviving murals by William Walker, who was a foundational figure in mural art. Painted in 1977.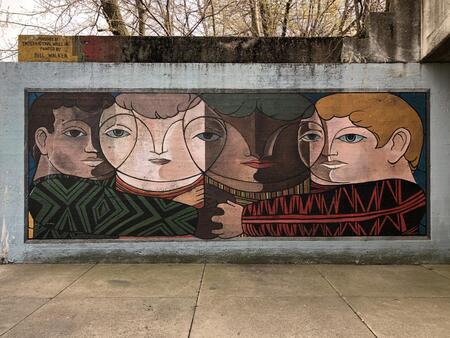 I learned about it from a student of mine not long after we moved here in 2016, and now I look at it several days a week. Glance, really, through a car window as I drive to pick up our two children from their school which is nearby. Sometimes, on foot, I pause for a bit.
The overlapping faces are moving. I feel one child leading to another.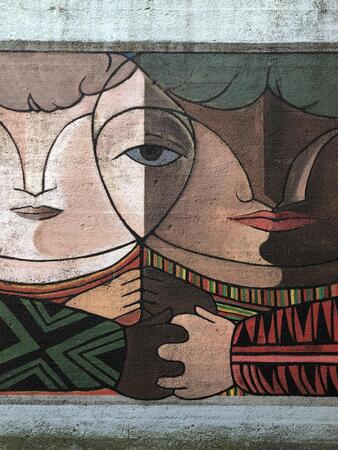 I love this join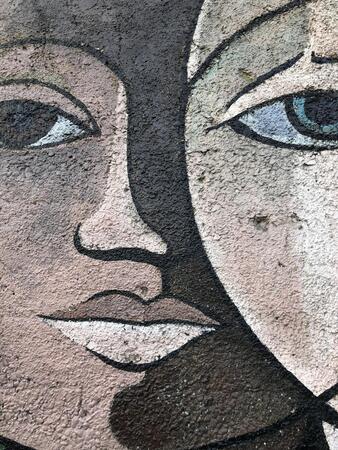 And these
The texture of the paint on the wall is wonderful.
*
William Walker was born in Birmingham, Alabama in 1927. He fought in the Korean War, studied fine arts at the Columbus College of Art and Design, was influenced by mural painters from the Mexican tradition, and helped to create the Organization for Black American Culture (OBAC) and the public art movement more generally in Chicago in the 1960s. He was one of the central painters for the Wall of Respect, which was a public testament of respect, with large-scale portraits of significant African-American figures on a wall at 43rd and Langley on the South Side of Chicago. It had a tremendous influence, leading to similar murals in cities across the country, some estimate as many as many as 1,500 community murals.
In a book called Walls of Heritage / Walls of Pride: African-American Murals by James Prigoff and Robin J. Dunitz, I read a beautiful passage of William Walker reflecting on the Wall of Respect, preserved in an interview with Victor Sorell in the Smithsonian Archives of American Art, 1991.
People had a great attachment to that wall. I suppose maybe it was because they didn't have anything. We came in the spirit of love and respect and giving. We didn't ask anything other than their cooperation, and once we got into it, we could even (safely) leave our paint on the scaffold…
That wall meant many things to many people. I saw a young man sitting in front of the wall. His back was just resting on the wall. So I said, 'How are you doing, brother?' He said, 'I'm gaining my strength.' I saw people cry. I suppose the people in that community realized they had something that other people wanted to share and deal with. I don't think we, the artists, fully realized what we had created in relation to how people would attach themselves to it. As far as doing anything to the wall, that was unheard of. When the wall was first executed, the people would come all hours of the night. It was a truly wonderful thing.
I often think of that man sitting against the mural, gaining his strength.
*
Walker painted Childhood is Without Prejudice on this particular wall on 56th Street and Stony Island Avenue because it is across the street from Bret Harte Elementary, where his children went to school. Many of his murals were self-sponsored. There are three panels, the other two are in a somewhat different style, also of children, but without the overlapping faces. The other two are more under the bridge, and less weathered. All three have been conserved through heroic efforts of restorers, particularly Olivia Gude, who is a muralist herself and has a mural on the other side of the underpass. Walkers' panels are about nine feet high.
Last December, I took our son's class of four-year-olds to visit the painting. I showed them slides of the painting first. There was a beautiful moment when we saw the mural and the children took off running for it. I wrote about this in a piece for the New Yorker online, published today. They tried to leap into the painting. In a lifetime of looking at art in museums, I have never had a feeling for a painting so jubilant, shared, and free.
The other day, I went by Childhood is Without Prejudice with our two children, to look at it, and to measure its height. Some homeless people had pots and pans and sleeping bags distributed under the underpass and in front of the painting. The people were not there, but their things were. Since then I have been thinking about the people who have slept in front of that painting over the years, their childhoods, their thoughts about paint.