Delaney and Lang, Over and Under
Monday, November 16, 2020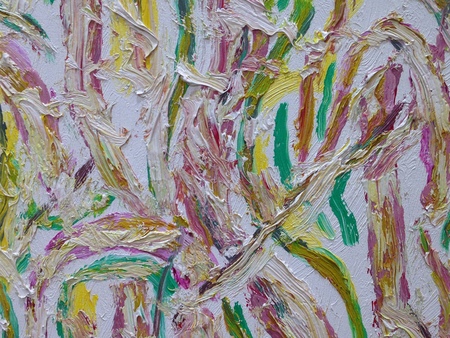 Monday, November 16th
More than twenty years ago, I heard a piece of music by David Lang called orpheus over and under. It's a mourning piece, for a friend of the composer's. I heard it live, in a small space in New York, performed, to the best of my recollection, by the piano duo that had commissioned the work, Double Edge, the two pianists Nurit Tilles and Edmund Niemann. This was in the late '90s. I do not believe I ever heard it again, but I have never forgotten it. I don't mean never forgotten in the usual way, that it has now and again come to mind, I mean that when I have really had to face mortality, in life and writing, this piece of music is a part of my consciousness. I thought of the music as I was trying to think what to call some thoughts about Beauford Delaney, about the second lockdown, time over and under.
You can hear the piece here, and I suggest opening it to listen while you read. It is very sorrowful and will not be for everyone now, but a lot of beauty turns through it as you go on. There is great generosity in the sixth minute, and if you listen for the whole twenty minutes you will feel that you are in contact with our losses, with the losses of your own that I cannot know about. You just press play.
https://davidlangmusic.com/music/orpheus-over-under
I believe it is the recorded version that Jeroen van Veen and Sandra van Veen made. When I heard it begin again, after these decades, I had been hearing it all along, it just came up to the surface.
The lines in this music are different than those in Beauford Delaney's Abstraction: Yellow, Green, and Brown Lines. Not a very large painting, horizontal, just over two feet wide, just under two feet high. Still, in endlessness over and under, the Delaney and the Lang belong together.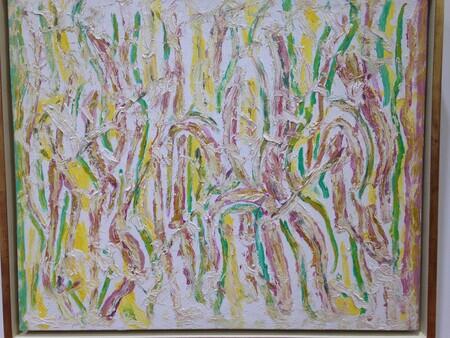 Beauford Delaney, Abstraction: Yellow, Green, and Brown Lines. Oil on canvas, undated. 21 ½ x 25 ½ inches.© Estate of Beauford Delaney by permission of Derek L. Spratley, Esquire, Court Appointed Administrator; Courtesy of Michael Rosenfeld Gallery LLC, New York, NY. All photos Rachel Cohen.
Today Chicago goes back into remain in place. In the charts we study each day, the lines of our infections and our deaths rise and cross over.
***
Saturday, November 14th
This morning we took a walk with some friends in the woods – a place with a hill, and many fallen trees, and a winding muddy path along a creek. They were telling us that that was actually the first place they had walked after the lockdown last March, and there was a sentimental quality to the return. November and March have much in common – the leaves are mostly down now, oak leaves were thick on the ground, it was cold, the wind was damp, the woods are endless lines of twigs and branches twining in and out of one another.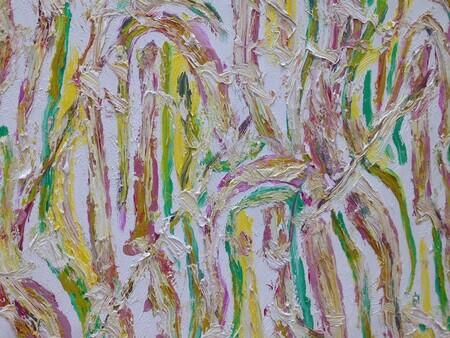 On Thursday our mayor and governor announced a stay-at-home order. It was inevitable, we knew it would have to come.
On Friday the Renaissance Society wrote that it was closing its exhibit 'Nine Lives' a couple of days early and would be shutting down the gallery. I had meant to go and see it. When I woke this morning, what was in my mind was whether I would go to the Art Institute again. We are instructed to go out for work, school, groceries, necessities. To see paintings is a part of my work, but is it sophistry to assert a right to go, it might it be endangering to me and other people to go. Probably it will not be up to me. Our Smart Museum closes, it is only a matter of hours before they all close.
I think it is harder to close down this second time. In one way, there is more hope, because a vaccine seems to be coming, because I believe there will be a new administration in January, because I have more grounds for hoping that basic tenets of truth and science will return to our government. But it is gray and cold and we have two months to get through with criminally negligent leadership and a huge wave of cases rising and cresting. Now I know, as I didn't last March, that to close down will save lives, but not nearly all the lives. Many livelihoods barely hanging on will not make it through a second closure. There is going to be a lot of death.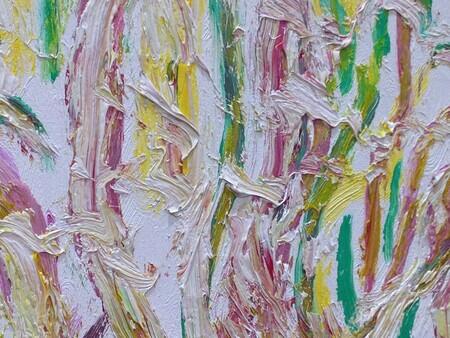 This is the 100th entry in the Frederick Project. I made the first one on March 16th, and it was about the work of Beauford Delaney. Delaney has been a companion. I wrote about his portrait of Ella Fitzgerald later in March, and about his self-portrait sketches in early April. In late April, I returned to his abstractions, and his use of ochre. In the first week of June, as the protests burst forth, I wrote about Delaney and streets, Delaney and James Baldwin, Delaney and eyes.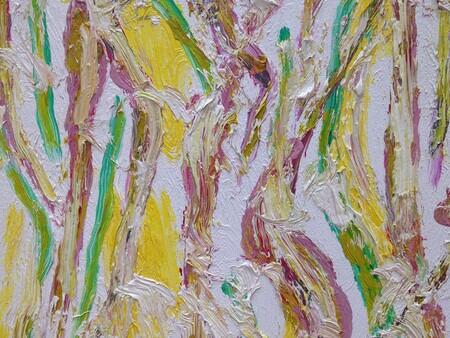 In the summer, I thought I would stop doing this project when I reached 100 entries, and I have been working to complete the cycle. It was to be enough. Enough of my talking in a room to people in their rooms. But, mournfully, I see that I am going on. I see that I did not really believe it would stop because, in the two months when I could go to museums I took pictures by the hundreds, rushing home to load them into my computer, poring over them and estimating their viability as a farmer might her storehouse of grain.
***
Sunday, November 15th
This Beauford Delaney painting was part of a special show mounted at the University of Tennessee in Knoxville in conjunction with a conference on Delaney and James Baldwin that I attended there. I had to skip a session to go down and spend an hour in this room.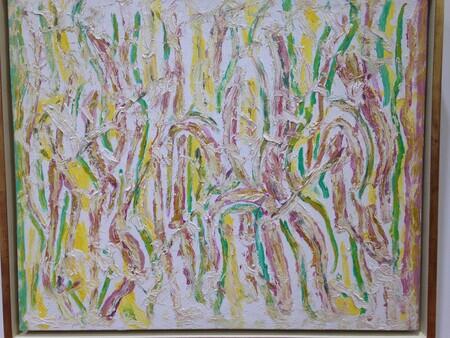 I loved this painting. I do not expect to see it again. The show was mounted to interest private collectors in purchasing the paintings; many had already sold.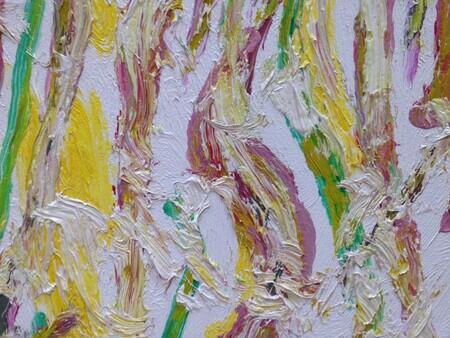 It reminded me of a painting that had hung in the little front room where my sister and I slept when we stayed at my grandparents' house, a painting of colored lines that were patterned over and under one another, a very sixties painting, though I didn't know that at the time. I would lie on my twin bed, following the colors over and under one another. I didn't like the colors really, they were bright for me, but that was the only place in the world where I could do that activity, following those colored lines in my mind, and I did it every time.
Is this a winter painting or a summer one? There is something of snow in it, something of the joy of color in a barren time, but there is also a sense of plenty, generosity. I think there is a lot to learn from the browns and yellow on the right hand side.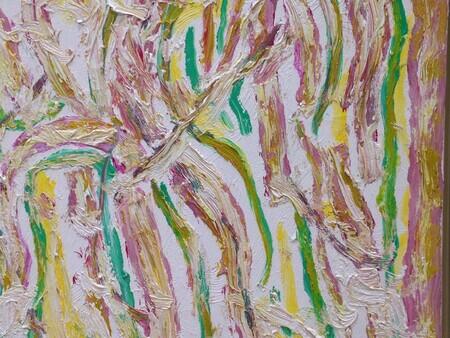 It might seem simple. Over and under. But I think Delaney knew that all the world and time might be in those two prepositions. I knew David Lang well in New York, and the more I have thought about the myth of Orpheus, the going down to the land of the dead, the walking out again, the turning back to see if the dead are there, which makes them disappear, the more sure I am that David's vast sense of the kinds of time in music is all in this work he made. Endlessness is a mood of these November days.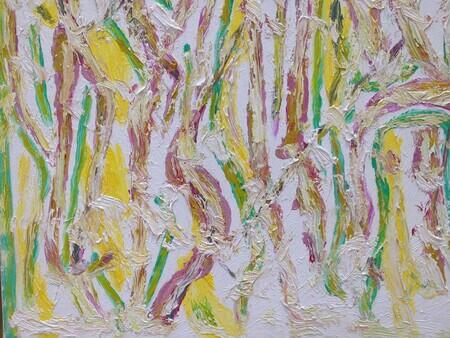 The Delaney has happiness, too, I felt great happiness on seeing it, and chose to live with it again now because I am drawn to its happiness. And there is the thickness of the paint holding the other colors, and also an absence into which the colors disappear. That, too, is over and under.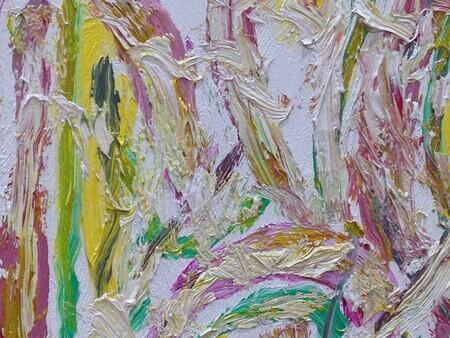 I am finishing this entry on Sunday the 15th, a day of incredible wind such as I have only known in Chicago. The huge sycamore tree belonging to our neighbors is beating and shaking in the wind, its gigantic brown and dry green leaves torn from its branches and smashing across the roof I look out at. I am going to go out of my room and into the wind.