Toledo Company
Saturday, October 24, 2020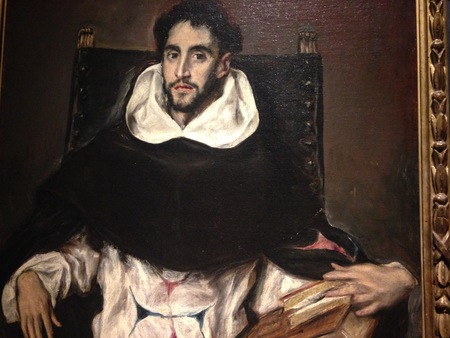 El Greco lived a life of some difficulty. He left Greece for Venice, Venice for Rome, Rome for Spain. These travels were arduous. The ways he wanted to paint were unlike any other painter. A manner that people loved and people hated and people who had commissioned his works sometimes refused to pay for. Quite often refused to pay for. He came to rest in Toledo, but it was an uneasy rest.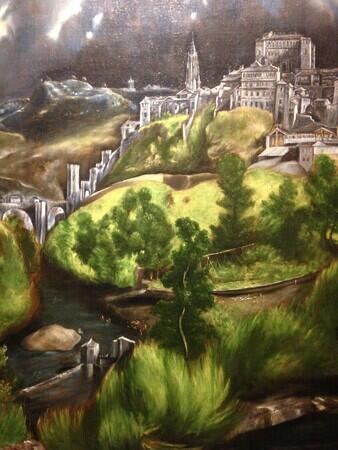 For the last few months in Chicago, there has been a show called El Greco: Ambition and Defiance. A wonderful show that encountered setbacks. The curator, Rebecca Long, began work for it in 2016. Last fall, when it was in Paris, there was a transportation strike. When it first opened in Chicago last March, it closed after six days because of the coronavirus. The exhibition was held over and the museum reopened in the summer, but I did not go until we had visited family and friends we were being extra-careful for. So I began in September.
The first day I went back to the museum, I went to this show, which I had been looking forward to for more than a year. Most of the rooms were devoted to the religious paintings with their immense vertical reach, but there was a room I didn't expect, in which portraits I had loved separately – at the MFA in Boston, at the Louvre, in an El Greco exhibition many years ago – of men one by one, in black clothes, or in priests' robes, were all assembled.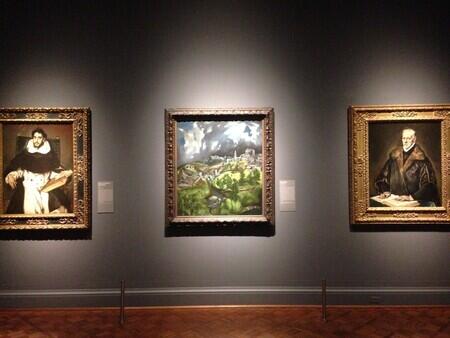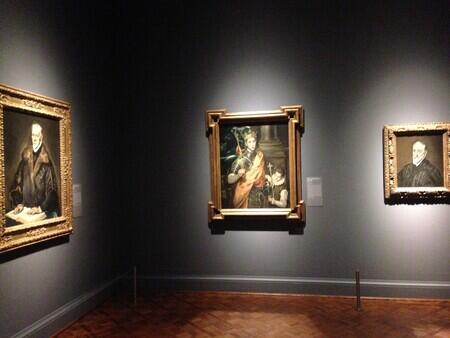 A room of friends. Companions of the decades while Doménikos Theotokópoulos (because I imagine they didn't only call him The Greek, as we do) lived in Toledo and waged his lawsuits with commissioners and filled the churches of Toledo with masterpieces. They were scholars, ardent men.
A scholar of Greek, Antonio de Covarrubias y Leyva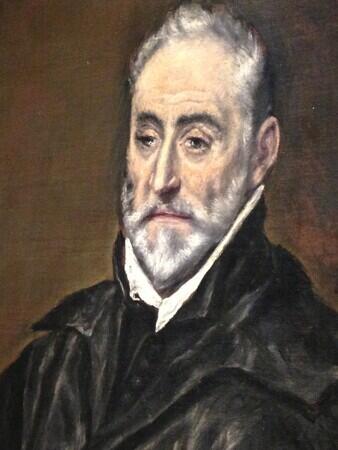 Portrait of Antonio de Covarrubias y Leyva, about 1600, Louvre Museum.
A man of convictions and considerations, the scholar Dr. Francisco de Pisa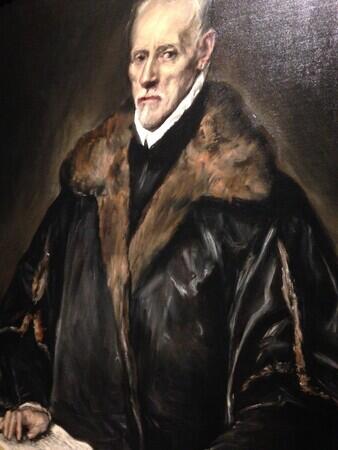 Portrait of Dr. Francisco de Pisa, c. 1610-14, Kimbell Art Museum.
A young man, a priest and poet, Fray Hortensio Félix Paravicino.
Portrait of Fray Hortensio Félix Paravicino, 1609, Museum of Fine Arts, Boston.
Who, after seeing this painting of himself wrote a poem:
... so lifelike, my very soul is torn
For with its nine and twenty years of life
Between your hand and God's, it stands perplexed
Not knowing in which body it should dwell
Some of the portraits in the room were from other times and places. This historical painting of King Louis IX of France and his page add further dimensions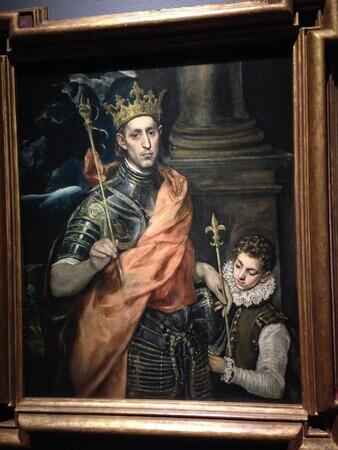 Saint Louis, King of France, and a Page, 1590, Louvre Museum.
This one of the Italian sculptor Pompeo Leoni seems to belong in the Toledo company -- he too is a portraitist.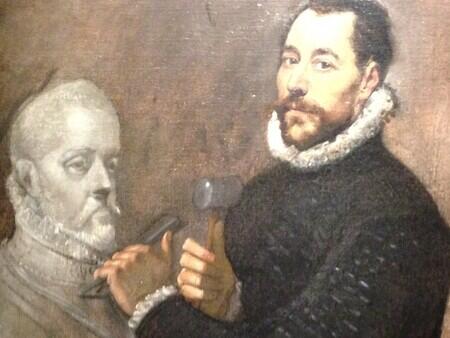 Portrait of a Sculptor (Pompeo Leoni) 1577 / 80, Private Collection.
They gathered in houses together, in the stony buildings of Toledo.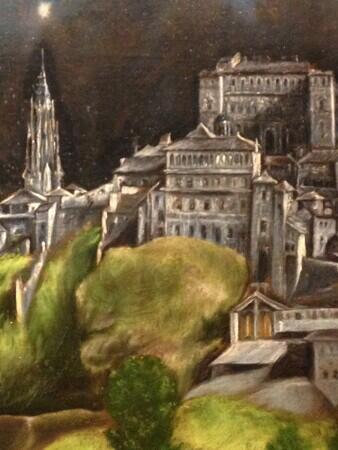 What a beautiful idea to put the place at the center of the gathering in the room at the museum. Their spirits have not been together in a long while. The priest-poet is in Boston, the upright man of consideration in Fort Worth, the scholar of Greek in Paris.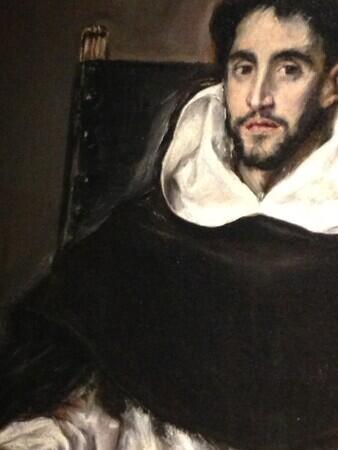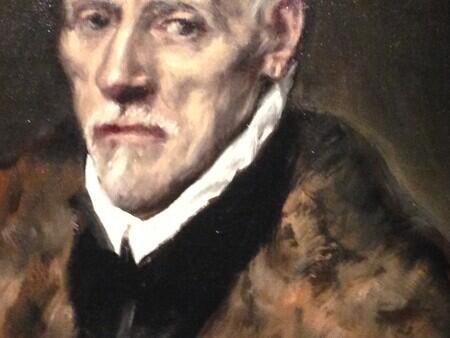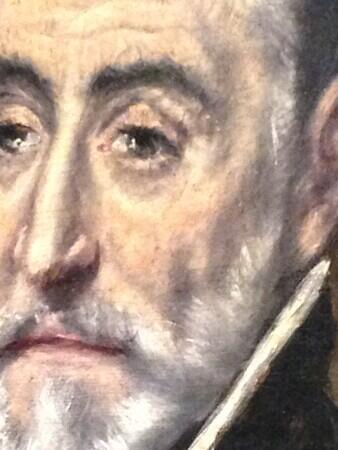 "Between your hand and God's, it stands perplexed." Hands in El Greco are always very active, directional, you follow the lead of the fingers and it makes a route through the painting.
Rebecca Long worked in three dimensions, and the hands of the figures point not only within the paintings but among them.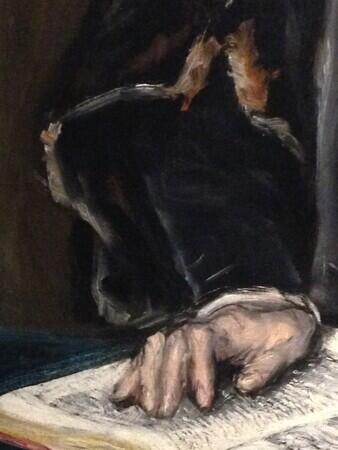 The curator worked, really, in four dimensions: the sense of time in the room was palpable, redolent.
Time of painting, time of friendship, time of exile, time atop the hill in Toledo, time of death and elongation, momentary time of return.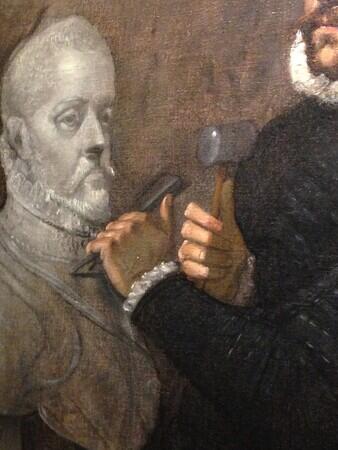 When people die, we say, what I would give to see them once more.
I don't know the order of their deaths, but I think these friends would each have thought this about the others – I thought I saw him this morning, just ahead of me on the stony street, how can it be that I will not see the scholar of Greek, the poet-priest, the painter again.
"Not knowing in which body it should dwell."
For a few months in Paris, a few months in Chicago.
Toledo was never easy to get to – a high stone bridge, a long twisting climb up.