Morisot Following Black
Frederick Project: Closed and Open
Sunday, March 22, 2020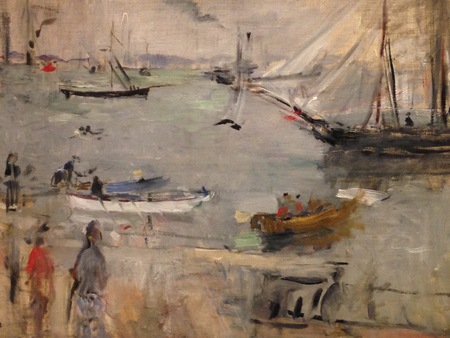 The first Morisot I ever really paid attention to was a small watercolor from the Clark Institute of Art (currently closed) that I happened upon in an exhibition of works on paper at the Frick (closed) in New York.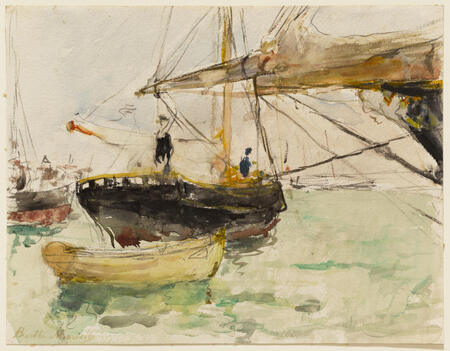 Berthe Morisot, Before a Yacht, 1875, Clark Art Institute, 8 1/8 x 10 9/16 inches.
I was taken by it.
And then, that afternoon, saw five of her paintings in a show on Impressionism and fashion at the Met (closed). By this fortunate set of circumstances, I was, in a single day, persuaded that I had missed one of the great painters in history, in a period I had studied extensively. It turned out that I was seeing an edge of transformation, after a century of consistent neglect, institutions and scholarship were beginning to attend to Morisot.
I set about repairing the absence in my own understanding – searching out her paintings in Paris (Musée Marmottan Monet, closed), in Chicago (Art Institute, closed), and then getting to spend many days in the 2018-2019 Morisot retrospective, which I covered for Apollo.
Now I could talk to you about Morisot for a day and a night. And I want to tell you everything, because there has never been anyone who handled paint with more freedom, and once you really begin to look at them, they blow space open.
*
This morning, I went back to my photos from the Morisot retrospective, which I first saw in the luminous installation at the Musée National des Beaux-Arts de Québec (MNBAQ closed). I wanted to follow the blacks of yesterday's Hokusai, those night-time blacks, which had an extraordinary boldness and freedom.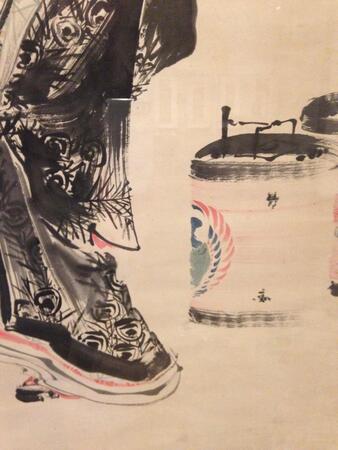 Katsushika Hokusai, Courtesan and Paper Lanterns, 1798/1800, the Weston Collection.
Detail photo Rachel Cohen.
Morisot would not have seen the Hokusai, but she was familiar with Japanese work of the Edo period, which was avidly collected in Paris. Some of the collectors were Morisot's friends Degas and Monet, and her brother-in-law Édouard Manet, another marvelous painter of black.
My eye lit on this harbor scene, English Seascape. It's probably from the same trip to England, in 1875, when she made the watercolor that first caught my attention. Morisot would go down to the harbor and sometimes go out on the boats, enjoying the challenge of working while she went up and down with the waves.
I don't have a picture of the whole, but this is all but the left edge: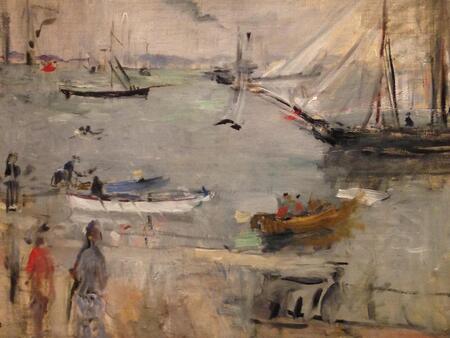 Berthe Morisot, English Seascape, 1875, European private collection, 17 inches x 25.
Detail photo Rachel Cohen.
Black holds this together. Stretches the space apart.
You stand at the lower left, with these two figures: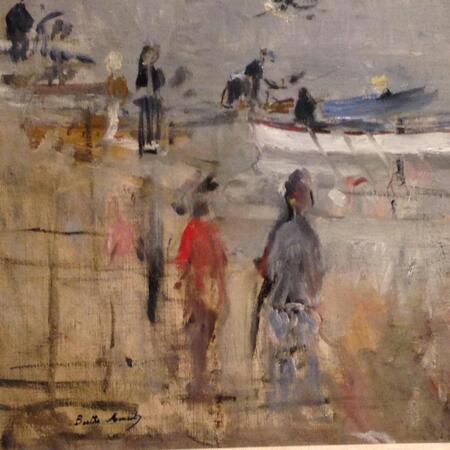 And before you is a great ship, dissolving into air: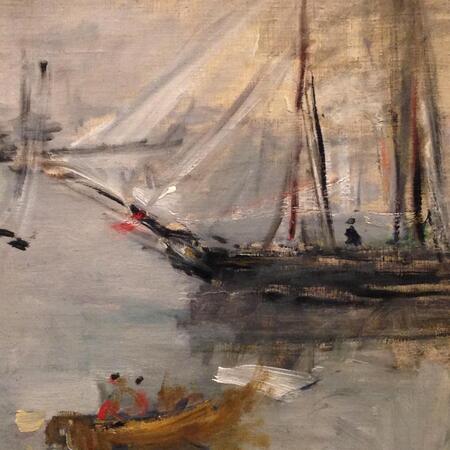 And just look at this space: