On green on my birthday
Wednesday, May 19, 2021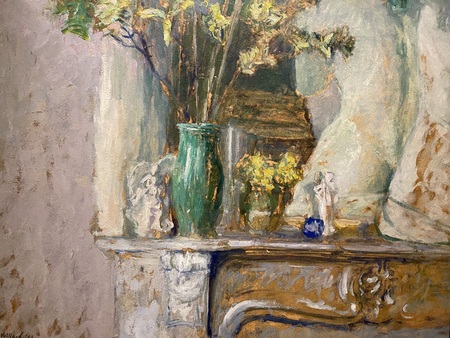 On green on my birthday.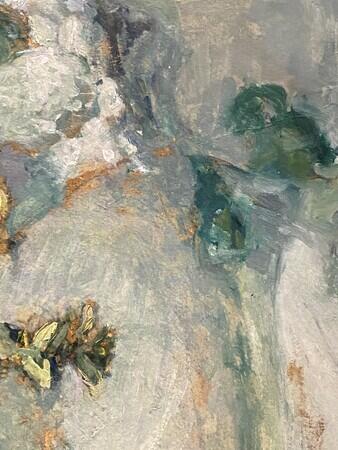 Yesterday, I traded green poems with @le_jardin_robo. They posted a Helen Frankenthaler I'd not seen, titled "a green thought in a green shade." Someone remarked the title and I commented that it's from an Andrew Marvell poem, "The Garden," which I remembered because I had unwittingly cited the poem earlier this year and someone had written, in turn, to tell me.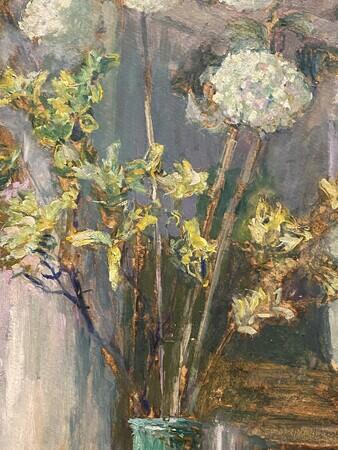 I looked up the poem to check the line, and followed the poet in his garden reflections, mid-seventeenth century and so complicated it will take me weeks to work it through. Two stanzas seemed where I would begin:
What wond'rous life in this I lead!
Ripe apples drop about my head;
The luscious clusters of the vine
Upon my mouth do crush their wine;
The nectarine and curious peach
Into my hands themselves do reach;
Stumbling on melons as I pass,
Ensnar'd with flow'rs, I fall on grass.
Meanwhile the mind, from pleasure less,
Withdraws into its happiness;
The mind, that ocean where each kind
Does straight its own resemblance find,
Yet it creates, transcending these,
Far other worlds, and other seas;
Annihilating all that's made
To a green thought in a green shade.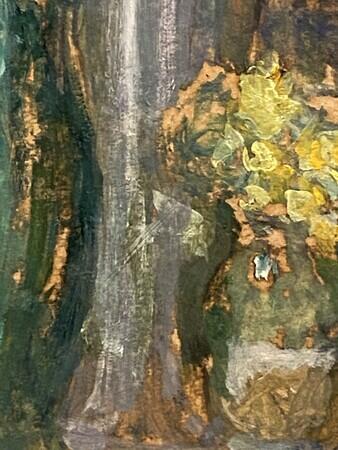 Yesterday, I went about my day. I taught my class, showed them some details of trees from Poussin's painting St. John on Patmos, 1640, a painting beginning to preoccupy me again, especially going back to T.J. Clarke's The Sight of Death. The students are finding their voices – through them I am learning about liberation struggles in Palestine; about black holes in interstellar space and a notorious prison in India called the Black Hole of Calcutta; about David Hockney's ipad drawing techniques – about freedom, in short, I am learning about freedom. And our beloved family is with us, for the first time in more than a year, and last night at dinner our theoretical physicist drew out for us a new possible understanding of how we might conceive of ten dimensions of the universe, and its finitude or infinitude. The children are all interested in shades of color and how to mix them and we have been doing a lot with colors while our painter is here, and in the evening, after the children were asleep, she explained the rules of a new game they have brought for us, called Hues, and we practiced yellow shades. Before sleep I looked at Gomswamy's Spirit of Indian Painting, and in the morning when I first woke I studied a painting by Nihal Chand, from c. 1735 that I hadn't seen before, "The Boat of Love," an astonishing verdant painting.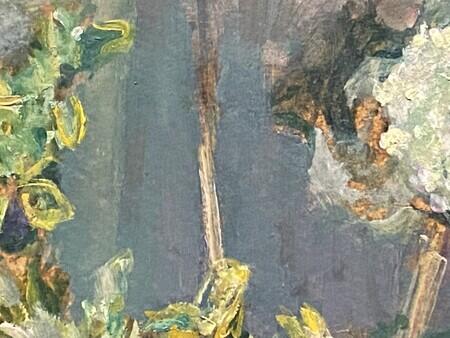 This morning @le_jardin_robo had traded me back my Andrew Marvell for a different green poem, Garcia Lorca's "Romance Somnámbulo," which, as translated by William Logan Bryant begins and ends:
Green, how I want you green.
Green wind. Green branches.
The ship out on the sea
and the horse on the mountain.
A magnificent revelatory poem that will also take weeks and months. And today is my birthday and I read it thinking of this green garlanding itself through and around life which is also death, and of how this year I want to read more Lorca and more Marvell and more other things. I exchanged birthday greetings with an old dear friend, another painter, who shares this same birthday. I began to think of this very particular green, array of greens, in a painting by Édouard Vuillard that I have been visiting, Guelder Roses and the Venus of Milo, c.1905.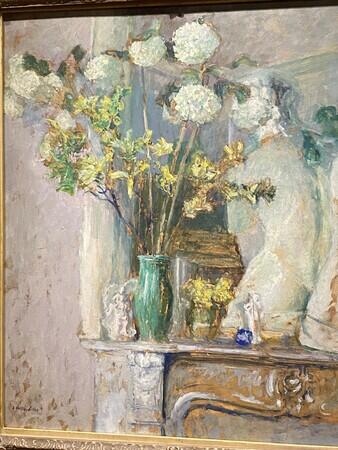 And I thought this was the painting for this birthday. See the green thought in the green shade, annihilating all that's made. I would love to go over it with you, that vase, look at that vase, its existence and green beliefs, but there isn't time, I must make haste.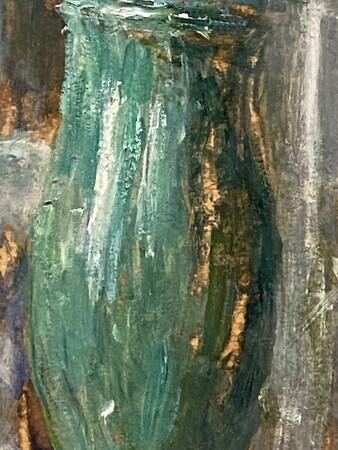 This morning I couldn't write even this much, I went to a board meeting of the Pozen Center for Human Rights, a board I have just the privilege of joining today, and I heard three people present their decade of work with the Prison Neighborhood Arts / Education Project, their work with artists, scholars, students inside and outside this prison. And I ran at the end of this board meeting to pick up our son, his immense dinosaur Greenie in our back seat, which some of his classmates wanted to stroke, Greenie is soft, their delicate fingers, it is all right now, for there to be touch. And driving back through our neighborhood we saw walking jauntily, cheerfully, my daughter, on her way to her learning group with her friend and their teacher, and pulled to the corner and she waved so happily and ran to the open car window because she had found a six-petaled lilac blossom, a tiny, tiny thing and wanted me to bring it home and press it, and she dropped it lightly through the window and went on to her group with her friend, and we brought this tiniest blossom home. Our family's painter, who was born in Russia, was just telling us a few days ago that in Russia the six-petaled lilac blossom is as lucky as the four-leaf clover – you eat it to bring the luck, but the children decided pressing was reasonable. And home we came, and he led me to measure the dame's rocket plants in our back garden, which are growing ebulliently, with abandon, inches in hours, now 57 inches high at the highest stalk, and we weeded a little, and he found a four-leaf clover and we pressed that, too, Irish and Russian luck circling around us, our families who fled Ireland and Russia when there were no more potatoes, when the British and Russian armies were too terrible, some would be born and others would not.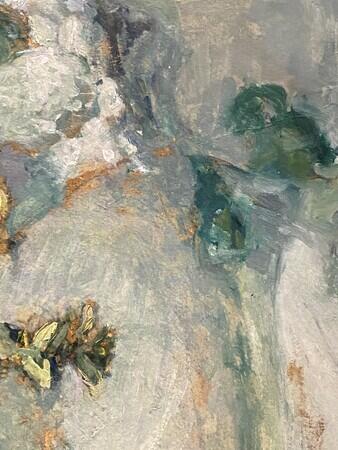 The day is fleeting, fleeting, I have been writing while my husband takes two of the household's children to pick up a cake, a caramel cake, here is the car they are returned.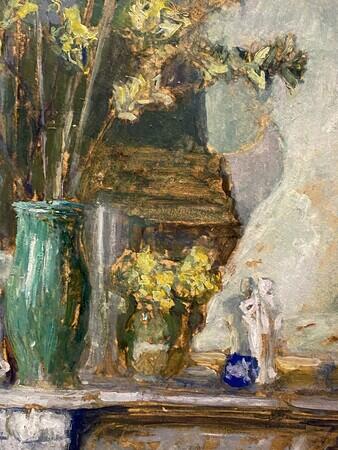 And here is the last green I want to add. Last summer, I wrote an essay partly thinking over a sentence that Lionel Trilling wrote about his students reading Jane Austen. He said he thought Austen seemed to them a "world in whose green shade life for a moment might be a green thought." A little after I published the essay, I got a kind note from Martha Bowden, professor of 18th century literature, to let me know that Trilling would likely have been thinking of Marvell's "The Garden," a poem I did not then know. I haven't thought much about the lines of green in the time since she wrote, but Helen Frankenthaler brought it back for me, and now I have two green poems, and these paintings like green strands running through.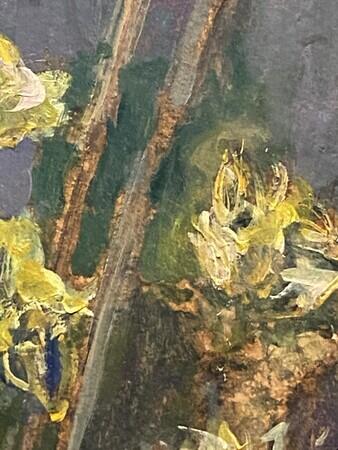 for Elina Mer, for Latham Boyle,
and for Peter Helm, on our shared birthday
Yesterday, I traded green poems...